You'd be surprised by how much helpful information can be learned from a seed package.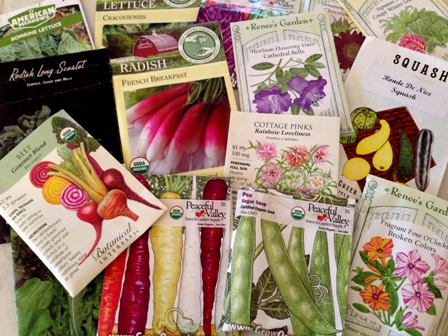 It ranges, of course. Some seed companies, such as Renee's Garden Seeds and Botanical Interests, offer a lot of helpful growing information on their seed packaging. Other seed companies offer much fewer details. Still, when you know how to read seed packets, you can find out some rather important stuff.
Wondering how to read seed packets? Here are seven things you should look for:
1. Plant name
Along with the plant name, you'll find the specific variety, if applicable. Keep track of what you grow so you can remember what performed best for you.
2. Appearance
Whether it's a finely illustrated drawing or a four-color photo, the seed packaging should show what the plant will look like. That isn't always the case, however. I have bought seeds from a well-respected company, which didn't have a plant image on the package.

3. Organic vs. conventional
The packaging can tell you whether your vegetable seeds were grown organically. If the packaging doesn't specifically say the seeds are organic, assume the seeds were grown conventionally.
4. Pack date
How old are the seeds? The label should tell you when the seeds were packed. Some plant seeds stay viable longer than others. For instance, tomato seeds will typically stay viable for 4 years while onion seeds may only stay good for a year. Of course, how you store your seeds will determine how long they remain viable, as well as other variables.
5. Growing tips
Many seed packages tell you the best times of year to sow the seeds, and often even the best times to harvest the plants. You can also learn whether the plant needs full sun or shade, as well as how deep to plant the seeds and how far apart. Pay attention to all these important details for best growing results.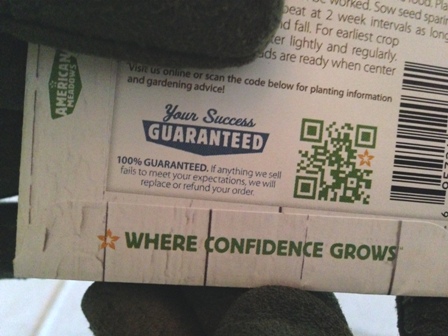 Some packaging will tell you how many days these seeds require to germinate. That means if the seeds were only supposed to need 7 to 10 days to germinate, and it's already been several months, you might want to plant more seeds.
6. Quick Response codes
Some seed companies offer more plant information and photos via a Quick Response (QR) code on the packaging. For instance, when you scan a QR code on the package with a smartphone, the code connects you to a website with more specific plant tips.
7. Warranty
If you're not happy with the performance, see if the company offers a guarantee. Some seed companies offer a 100% satisfaction guarantee right on the package.
Success With Container Gardening