Get advice directly from our drawing experts in Ask an Expert every Sunday! In this edition of our weekly series, professional artist Jennifer Gennari explains the best way to preserve your drawings, when to use a blending stump, how to get dark, even tones with charcoal and more. Come discover the answers and submit your questions for the answers you need!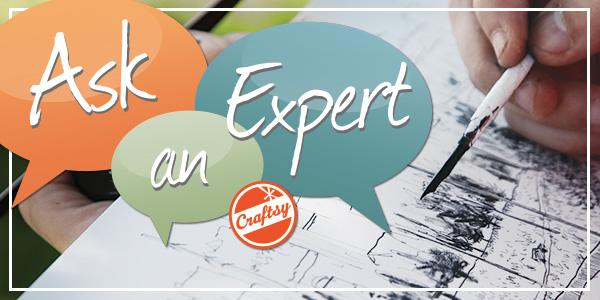 Meet this week's expert: Bluprint instructor of Traditional Portrait Drawing Techniques, Jennifer Gennari
Jennifer Gennari received her BFA from the Ringling College of Art and Design and went on to study under founder Daniel Graves at the Florence Academy of Art. After working as an illustrator for Hallmark, she moved to New York to become a painting assistant to internationally acclaimed artist Jeff Koons. She was named by Southwest Art magazine as one of the "21 under 31 Artists to Watch in 2013," and now teaches drawing and painting classes at the National Academy Museum, and Traditional Portrait Drawing Techniques here on Bluprint!
Now onto the must-have answers:
A Bluprint student asks:
What is the best way to get a reproduction for studio use?
Bluprint instructor Jennifer Gennari answers:
What I do is send my photo to FedEx online and have them print it on glossy paper. Ideally, it is best to use a live model, but whenever that is not a possibility, FedEx always provides me with great reproductions.

A Bluprint student asks:
I try to be sure the paper and the edge of the support are vertical no matter if I am drawing from life or a photo. The Bargue system is really consistent with my temperament, so to speak. Would there be any point in using a carpenter's level to check for plumb before beginning or is the "eyeball" method satisfactory for lining everything up before beginning?
Bluprint expert Jennifer Gennari answers:
You are welcome to use whatever tools you need that will help you with your measurements. I am used to only using my eyes and a plumb line, but if you feel that using a level will help you, then by all means, use it. I would be careful though, because I have seen many students become obsessed with measuring, and when working from a live model that kind of potential "obsessive" measuring doesn't allow you to move forward due to movements of the model. What might seem perfect one second will send up being off moments later. So, for now, I say if you need the level then use it, however maybe try and train yourself to not use it so much in the event you start using a live model and need to be a bit more flexible.

A Bluprint student asks:
Can you use the tip of a blending stump as a substitute for the chiseled end of a fan brush?
Bluprint instructor Jennifer Gennari answers:
I'm not personally a huge fan of the stump. What it does is just mush the charcoal around itself until it's smooth, while the sharp end of a brush lightly combines the charcoal while preserving all the values and structure. Loosing structure is one of the worst things that can happen to a drawing or painting, and you run a very high risk of that happening with a stump.
A Bluprint student asks:
In a portrait class with a live model, if the artist is a bit of distance away, using sight size would create a very small portrait. What other measurement techniques would you suggest if one has a smaller-size photo or is working from a live model positioned four to five feet away.
Bluprint instructor Jennifer Gennari answers:
I would rely on measuring. I would sketch out a rough gesture of the pose or portrait so you have some lines on the paper. After that, find common spots to compare. For example, lets say you're trying to figure out the width of the head; measure the width with your pencil or measuring tool and find another spot on the body that is the same width. Same thing with portraits. If you are trying to figure out the distance from the nose to the edge of the ear, find what other distance is the same; for instance, maybe the distance from the nose to ear is the same distance from tip of the nose to the hair line. Measuring and comparing as much as possible will give you the strongest result.

A Bluprint student asks:
Any tips for getting dark, even tones with the Nitram charcoal? I'm having a hard time getting it to go as dark as compressed charcoal or charcoal pencils.
Bluprint instructor Jennifer Gennari answers:
Sometimes if you don't build up the charcoal with the softer charcoal first, the harder charcoals almost seal the surface and make it hard to go darker, so make sure you didn't jump too quickly into using the HB or H charcoal. If that's not the case, make sure your points are always sharp, and also check to make sure there are no knots in the charcoal. A knot always makes it extremely difficult to go darker. If you have done everything right and all you can to push as dark as possible and it's still not enough, you can take some compressed charcoal and place it where you want it.

A Bluprint student asks:
How should I preserve my drawing? Is there a brand of fixative you recommend?
Bluprint expert Jennifer Gennari answers:
The best thing to do to preserve your drawings is to keep them flat with tracing paper over them, if you choose not to frame them. If you want to use a fixative, be aware that you run the risk of the fixative altering your values and making the drawing seem darker. But, I'd suggest trying Golden Archival Spray Varnish.
Any other advice before you go, Jennifer?
I tend to do a lot of reading, and presently these are two of my favorites and definitely worth sharing. I have just started "What Painting Is" and I like it quite a bit. But "The judgment of Paris" I have now read three times and it's better every time. I highly recommend both!

[box type="shadow"]

For more guidance from professional artist Jennifer Gennari, sign up for her online Bluprint class Traditional Portrait Drawing Techniques for 25% off today (a special offer for our blog readers!)

Gain exclusive, lifetime access to her insights and answers to all your questions!

Sign up now to save >>

[/box]