This is the time of year when I get a fluttery sense of urgency about my cooking. I fret about missing something; the perfect peach, a glut of fresh picked cherries, raspberry stained fingers, a box of soft jewel toned apricots and sweet plums.
The season passes quickly and there is so much goodness to enjoy. So, we turn to preserving. Sure there's making your own jams and jellies, but there's also pickles. That's right, pickled fruit.
Learn how to pickle fruit to take your favorite fresh seasonal fruits year-round.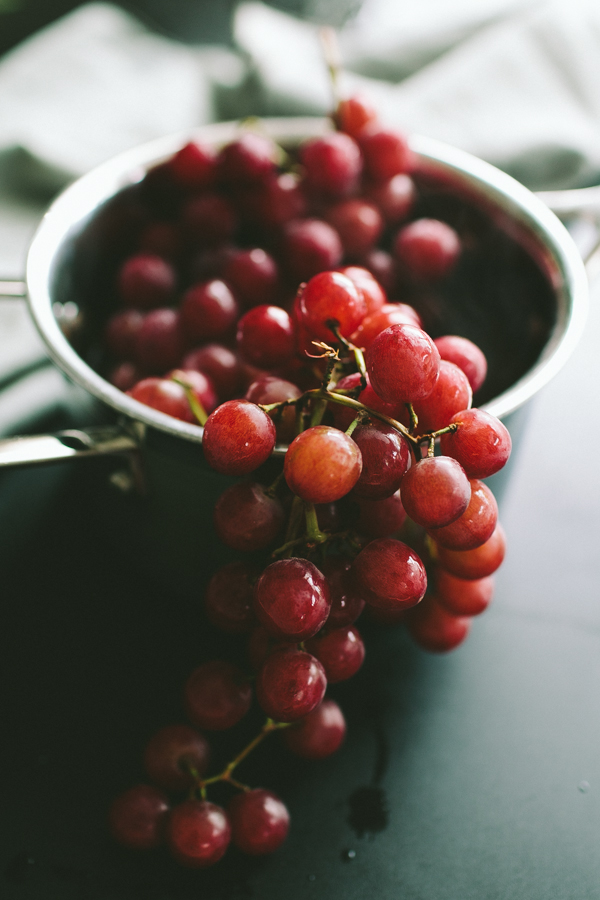 Pickled fruit makes a stunning appearance on cheese plates, they top tartines like a champ and add an interesting sweet and acidic bite to a bountiful salad. Or just simply on their own straight from the jar, they are pure magic.
Pickling fruit is essentially the same process as pickling vegetables, you just don't cook the fruit beforehand. Simply let the acidic brine infuse and soften the fruit. I recommend using a bit more sugar than you normally would, pairing the pickling liquid with sweet spices like cinnamon, anise, clove, nutmeg and ginger.
Although, I must admit, I have been known to throw in fennel and mustard seeds with my pickled grapes and habaneros to my peaches. The point is here is to experiment — play around and have fun with it.
Here I'm sharing two of my favorite pickled fruit recipes to get you going.

Recipe for pickled grapes
Serve these on a cheese plate or tuck inside a picnic basket for a refreshing bite. Here I've paired it with a beautiful Parmesan.
Ingredients:
1 1/2 cups cider vinegar
3/4 cup water
1/2 teaspoon ground cinnamon
1/4 teaspoon ground cardamom
1 teaspoon whole coriander
3 tablespoons dark brown sugar
Pinch salt
1 large bunch of red grapes
Directions:
Combine the apple cider vinegar, water, cinnamon, cardamom, coriander, brown sugar and pinch of salt in a small sauce pan and bring to boil. Turn off the heat and let cool for 10 minutes.
Submerge the grapes in the hot brine and let sit until cool. You can pluck the grapes off the vine and place them in jars and then top with the brine but I like to present the grapes on the stem.
Refrigerate the jars or the whole pot once cool.
Pickles are ready to serve once chilled or will keep refrigerated for up to one week.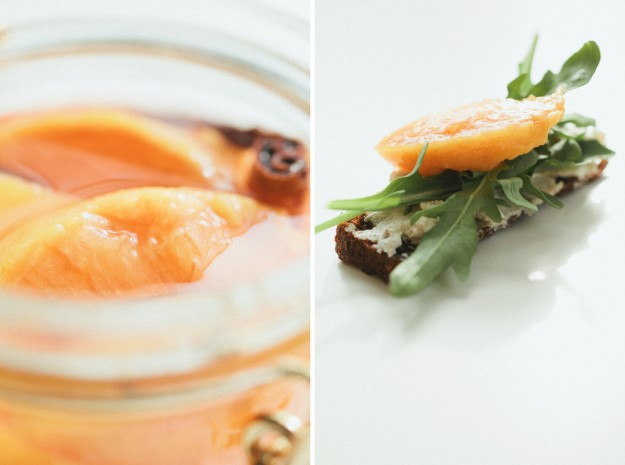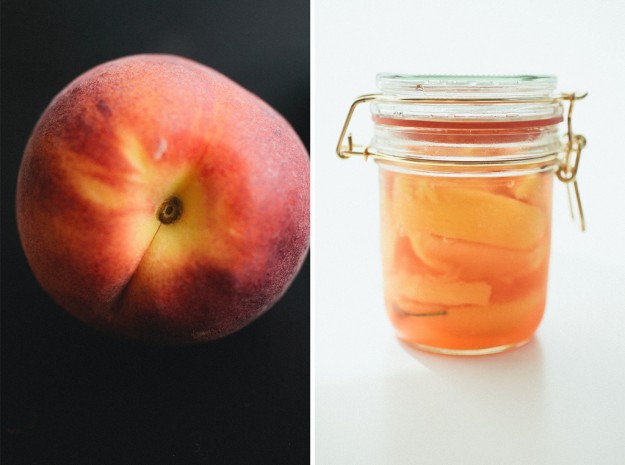 Recipe for habanero pickled peaches
Adapted from The Homesick Texan Cookbook
Ingredients:
3 pounds (roughly) peaches
1 cup apple cider vinegar
1 cup sugar
½ habanero pepper
2 cinnamon sticks
2 cloves
2 sprigs basil
Directions:
Sterilize two pint jars and their lids. Set aside on a clean surface.
Peel the peaches by cutting an x with a sharp knife at their base and submerge in boiling water for 30 seconds. Run under cool water then slip the skin off. If it doesn't come off easily you can peel with the help of a paring knife or submerge in the boiling water again.
Slice the peaches and place them in the jars along with ¼ of a habanero pepper (Lisa calls for half a habanero in each jar but I love the soft spice of just a quarter. Take great caution when working with this pepper. It is incredibly spicy. Use gloves when cutting or if gloves aren't available cover your hands with plastic bags as I did).
Bring the vinegar, sugar, cloves and cinnamon sticks to a boil. Stir to ensure sugar is dissolved. Pour the liquid into the jars. Tuck a clove and cinnamon stick into each jar as well as a clean sprig of basil.
Cover and refrigerate. I like their flavor the very next day. A week after is great too although the peaches start to break down a bit.
They will keep in the fridge for one month.
Looking for more ideas on how to preserve the seasons bounty? Then be sure to check out the online cooking class Jam & Marmalade: The Blue Chair Way, taught by award-winning cookbook author and owner of the Blue Chair Fruit Company, Rachel Saunders.
I'd love to hear where you go from there. Pickled apricots perhaps? Strawberries? So many options!