Have you ever been puzzled by a knitting pattern asking you to "pick up stitches"? No need to worry. You're not the first knitter to wonder how to pick up knitting stitches!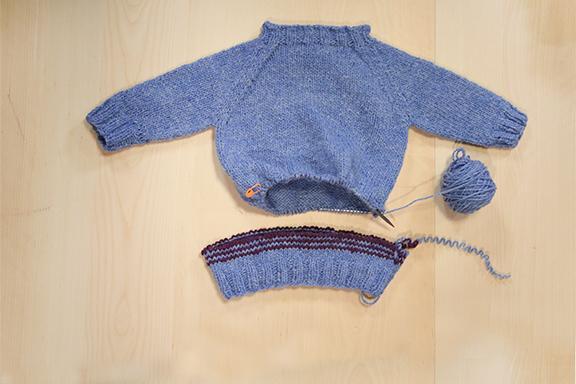 Bluprint instructor Carol Feller changing the length of a sweater in her class Sweater Surgery
Learning how to pick up knitting stitches takes a little bit of practice, but once you get the hang of it, you'll never look back. Picking up stitches can help you with many advanced knitting techniques, from adding a collar to adding sleeves, changing the direction of stitches, and even picking up stitches for a sock heel.
Ready to give it a try? See how to pick up knitting stitches from a top edge.
How to pick up stitches
Begin with your existing knitting. This could be a sweater neckline, sweater hem — anything you want to add extra stitches onto. For this how-to, I'm picking up stitches along a straight edge that's knit with stockinette stitch.
Remember that you're adding on to an existing piece. For this piece, I'm picking up stitches to knit a collar that goes all the way around the neck of a sweater. I'll be working with the back of the sweater for this how-to.
Tip: When picking up stitches for collars, I use a needle that's one size smaller than the needle I knit the sweater with. For instance, I used a size 3 needle to knit this sweater; I'm using a size 2 needle to pick up stitches and knit the collar. This keeps the collar nice and tight. No droopy collars here!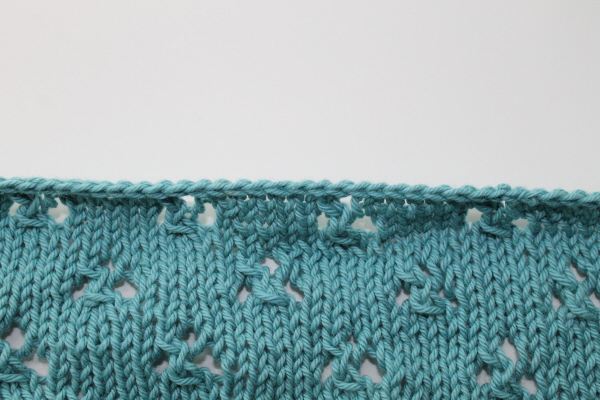 1. Identify the V in each stockinette stitch. With the right side of the work facing you and the yarn at the back of the piece, insert your knitting needle into the center of the first stitch, sliding it right through the V of the stitch.
Tip: If you're worried that your yarn tail will unravel as you pick up stitches, tie a slip knot in the end and slip it on the needle to keep the yarn from sliding through the very first stitch, as I've done here.
2. Wrap your yarn around the needle just as you would when knitting. Again, the wrapping is happening on the back of the work.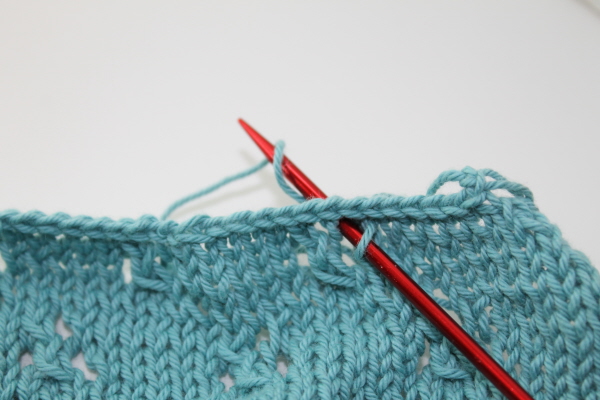 3. Pull that stitch through the V to the right side of the piece.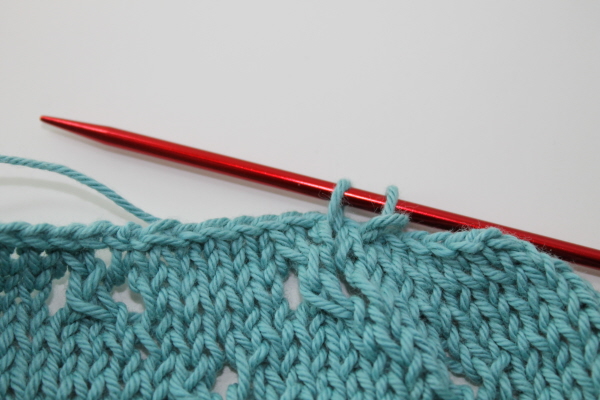 4. Repeat Steps 1-3, continuing across the edge. Your needle should be full of nice, neat loops!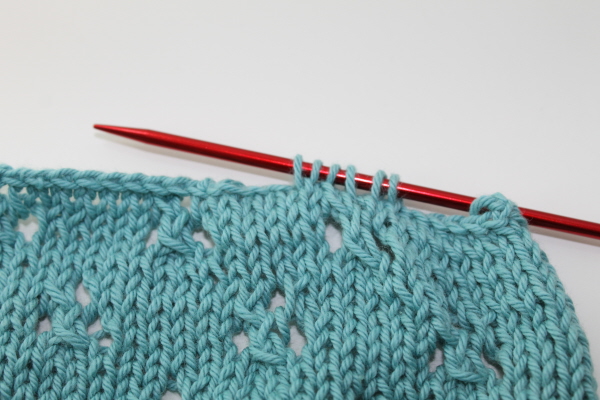 Tip: Keep the loops on the needle as even as possible so that the first row you knit with the stitches looks neat and tidy. Too-loose stitches can result in droopy collars or adding stitches that don't match your original piece.
5. Once you've picked up the required number of stitches, knit from the needle as you normally would, treating the loops like a row of cast-on stitches.
You won't believe how handy picking up stitches can be when you're performing surgery on an ill-fitting sweater. Get instructions for everything from adding pockets to adding length to a sweater — super easy if you know how to pick up stitches — from Carol Feller in her online Sweater Surgery class.
When do you most often find yourself picking up stitches?