In my experience, when it comes to photography, men are much less excited about having their photo taken than women, at least in a formal portrait setting. This means you may have to do a little extra work to get a great shot unless you're working with someone who is very confident or experienced in front of the camera.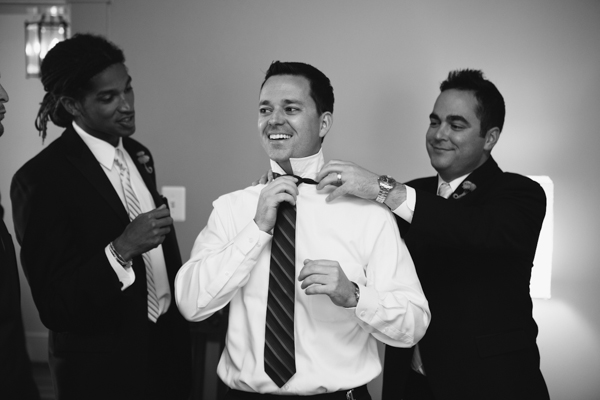 Here are ways to make the average guy feel good being photographed:
Clothing
Part of the reason men (and people in general) freeze up in front of the camera is because they just aren't sure if they look good. Help to ease their fears by giving them some guidelines on how to dress. For business settings, I give very detailed instructions: black or gray suits, a light colored shirt and a solid or simple patterned tie.
I don't want wrinkled clothing or flashy colors and I want the subject to be themselves — but the best looking version of themselves. Some men need help with the details. Ask them to tuck in their shirt, straighten their tie, or button their jacket.
Complimenting the man you are photographing on his choice of shirt, tie, facial hair, etc. can go a long way in building rapport and making them feel confident. Don't over-do the compliment, because that can make them feel uncomfortable. A quick comment can be enough to carry you through the shoot.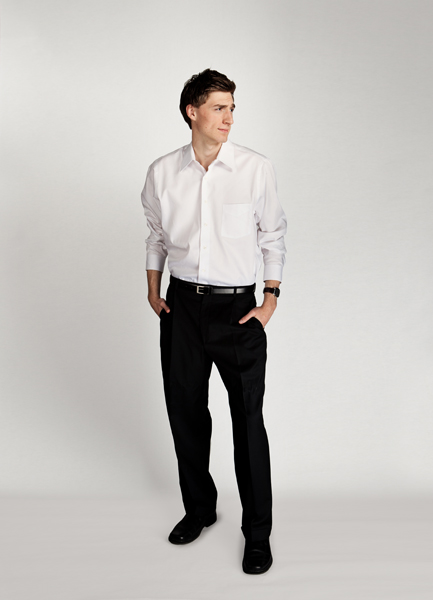 Posing
Many men fear being portrayed in an unmanly way by their photographer. So, unless you know the person pretty well or the situation really calls for it, don't ask them to do anything silly. Most men would rather look like an action hero or a cool guy so putting them in that kind of pose let's them know that you intend to make them look good.
Asking them to stand up straight and hold their head high is a great start. Standing with feet shoulder width apart is a classic stance but you could also have them resting their weight on one foot or the other. Give them something to do with their hands. I am totally fine with a guy putting his hands in his pockets, loosely, but he could also be resting against something or have hands folded in the front or the back. Hands on hips can look feminine so generally avoid that. Whatever you do, make sure they are comfortable and then slowly tweak the look from there.
Jawline is important for the look of a man. If your subject is able, have them lean in toward you or push their neck forward a bit. This will pull the skin around the jaw a little tighter and give you a more defined shape.
Groups
Groups of guys, like you would commonly shoot for a wedding party or business portrait, require some extra care. Men in a group are even less likely to do something perceived as feminine, out of fear of ridicule from the rest of the group. Give them something to do with their hands, like pockets or crossing arms or adjusting cuffs. Find out if they are comfortable touching each other before you get them in too close together. You can get some really awkward looking photos by asking guys who don't know each other very well to get that close.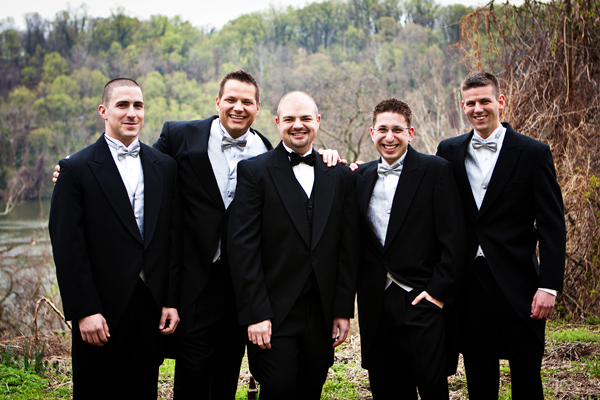 I love having male clients that are so relieved after a portrait session, engagement shoot or wedding portrait that they didn't have to do anything silly or girly and that none of their fears came true. It makes me look like a hero and makes my clients want to come back for more photos.
[box type="shadow"]Master portrait photography with help from Bluprint's online photography classes. Check out Portraits With an On-Camera Speedlight with Neil van Niekerk, Studio Portrait Lighting with Kirk Tuck or Kirk Tuck's FREE mini-class Professional Family Portraits.[/box]
What helps you to get great portraits of men?