I have a fabric stash that looks much like a little boutique, just waiting to be used up. And yet, sometimes I still find myself buying more fabric. Why? Because matching the fabric to the pattern you want to use can be serious business.
For me, I usually start with a pattern I have in mind – perhaps it's for a special occasion or for a specific time of year – and then choose the fabric best suited for the style. But it can go the other way as well, where you are deeply inspired by a fabric, then search for the best pattern to showcase the print you've fallen in love with.
Either way, it can be tricky to pair the best fabric with the best pattern design. I've searched the Craftsy Sewing Pattern section for the perfect examples of patterns for a wide-range of fabric situations, so if you find a match to a fabric you own, you can get going right away by instantly downloading the file. Okay, let's begin!
The biggest considerations when pairing fabric to a pattern are:
A) The number of details the pattern has
B) The number and location of seams
C) The type of fabric that the pattern was designed for
D) The direction and grainline of each piece
First, let's talk about details on a pattern.
If there are many elements like collars, bows, tucks, ruffles, and the like, choosing a large-scale print can render these details nearly invisible, as they will get lost and eaten by the print.

Photo via Craftsy member Pattern Runway
The front gathering and pocket details on the Coffee Date Dress by Pattern Runway will be totally lost if made with a large print. Look for a fabric with negative space between the elements, like on the dress above. That plain background showcases the details well.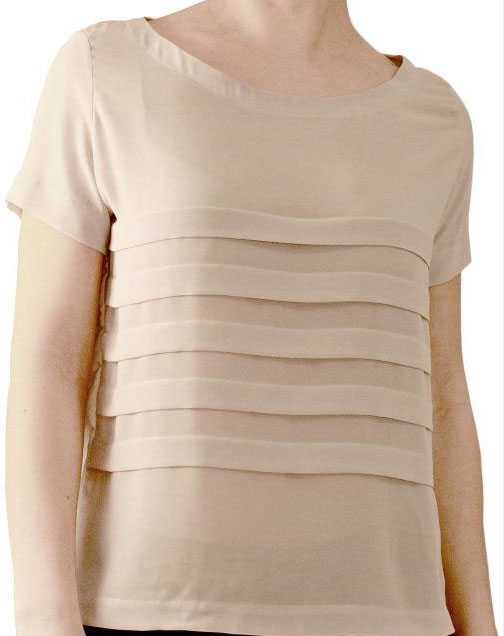 Photo via Craftsy member Salme Patterns
For a garment with tucks, such as the Pleated Sleeveless Dress by Salme Patterns or their Pleated T-Shirt, it's best to avoid striped fabrics, both vertical and horizontal, as the tucks can look imperfect and unbalanced when paired with a stripe fabric. Tuck details are best suited for solids and small-print fabrics, as they will show off the details best.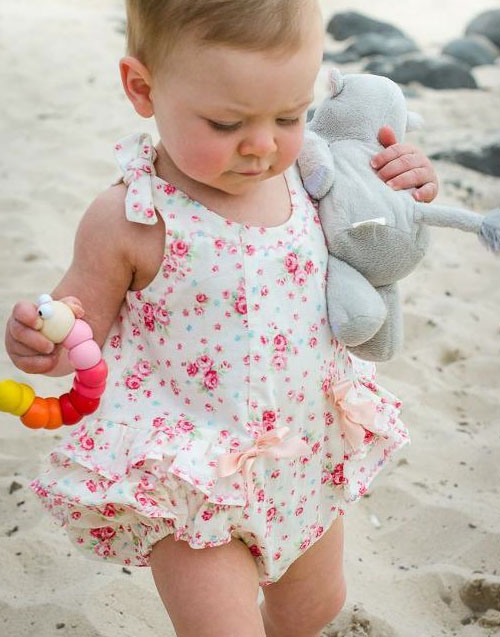 Photo via Craftsy member Felicity Patterns
For patterns with small elements, like the adorable children's Rose Bud Romper by Felicity Patterns, the same holds true. Pair this pattern with a small print or a solid, so the ruffle details and small size of the pattern pieces are not taken over by a huge print.
Learn how to sew an adorable romper like this and adapt it to five different looks in the Craftsy class Kids Romper Revamp with Shelly Figueroa.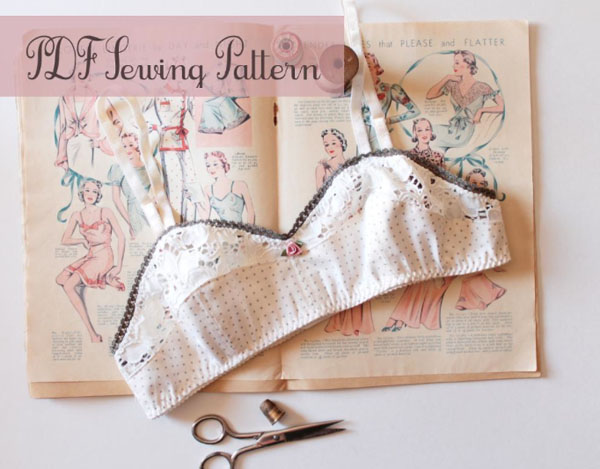 Photo via Craftsy member OhhhLulu
Small pieces on adult garments are perfect moments to use a favorite small print, such as the Bambi Soft Bra by Ohhh Lulu. The pieces are little and if you use your favorite big pattern, it will be cut up and will lose what you love about it. So pick something with small details to equal the size of the pieces.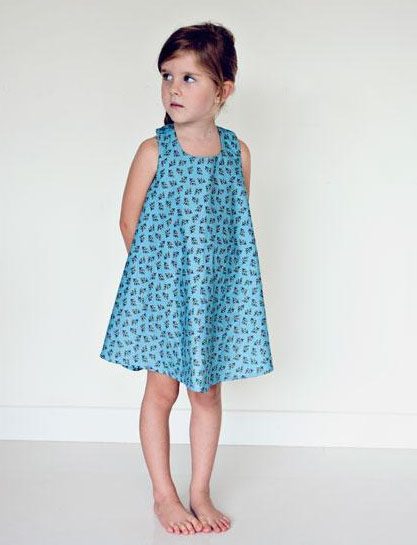 Photo via Craftsy member Cali Faye Collection
This brings us to the second consideration, the number and location of seams.
For children's wear, such as the Rose Bud Romper above, there are much smaller pieces, making it best for something smaller in scale. But there are exceptions to the rule, like the Racerback Flare Dress by Cali Faye Collection. This dress is mostly made up of one piece on the front and two pieces on the back with a center back seam. This is an ideal situation to showcase a larger print, as it will only be broken up on the side seams and the center back seam.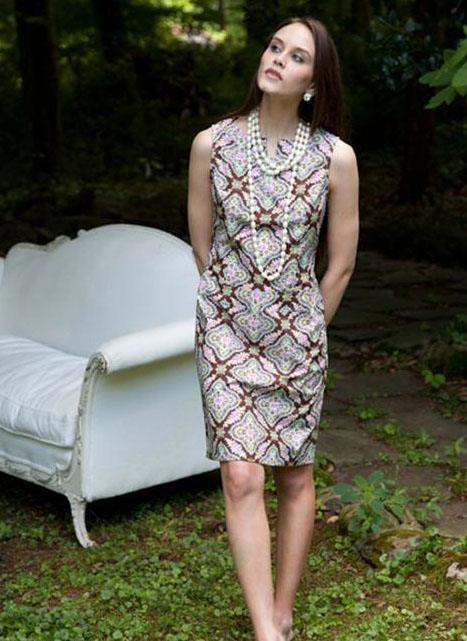 Photo via Craftsy member Sis Bloom
The same is true for the Rebecca Shift Dress by Sis Boom Patterns, as it too is mostly made up of one front piece and two back pieces. This is a perfect moment to use a favorite print that you can't bear to cut up into little pieces.
Taking the type of fabric into account is, of course, a huge issue, as each pattern is best suited for certain types.
Be careful to read the instructions for the weight of fabric that best suits the cut of the pattern, and equally importantly, be sure to use only woven fabrics or knit fabrics when the pattern calls for one or the other. Rarely does a pattern qualify for both, so this is key for choosing fabrics.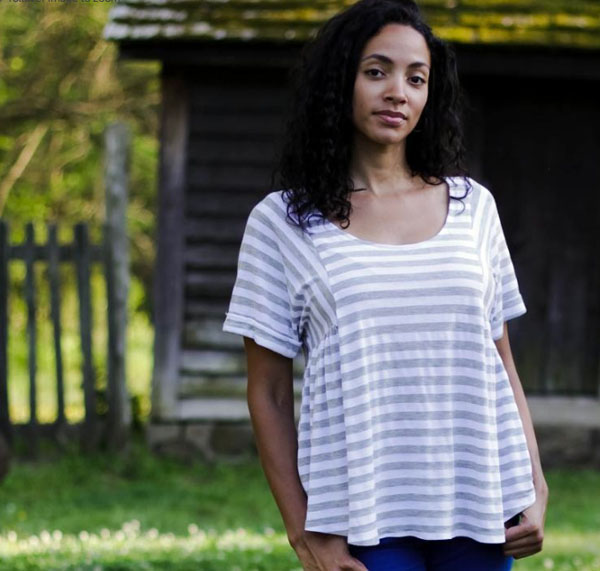 Photo via Craftsy member Meg McElwee
 A super cute knit fabric would work well for the Paloma Top by Sew Liberated, as it is designed for a stretch knit fabric. This pattern is also well suited for a smaller print or a stripe, so you can see all the seam lines and gathering details designer and Craftsy instructor Meg McElwee has included.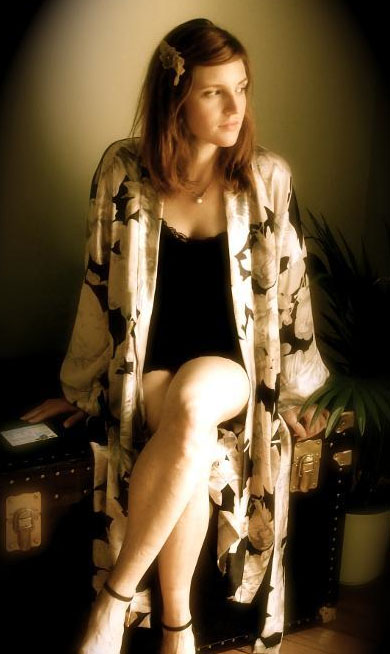 Photo via Craftsy member Atelier Joy
The classic Kimono Robe from Atelier Joy is perfect for a soft, draping fabric, like silk or satin, and because of it's large pieces, lack of seams and clean design, it's also a great candidate for a large-scale print, as pictured in the sample photo.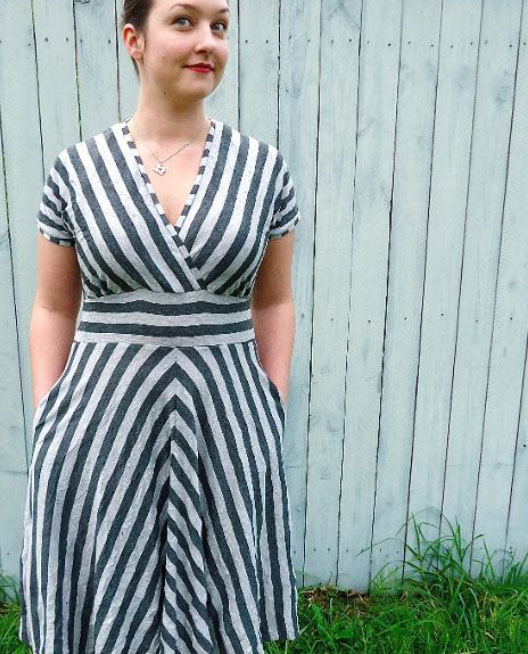 Photo via Craftsy member Sewing Cake
Considering the direction of each piece is an opportunity to utilize the print to make an even bigger statement.
For example, the Tiramisu Knit Dress by Sewing Cake is not only designed for knits, but the pieces on the skirt front and back and the bodice front and back are all cut on the bias. This is a perfect opportunity to use the grainline to create chevron stripes, as illustrated on the sample photo.

Photo via Craftsy member Sis Boom
Lastly, there are those "blank canvas" garments that are basically good for any size print, any direction of print, or even a classic solid color.
The Meghan Peasant Dress by Sis Boom would look great in nearly every color and in any size print.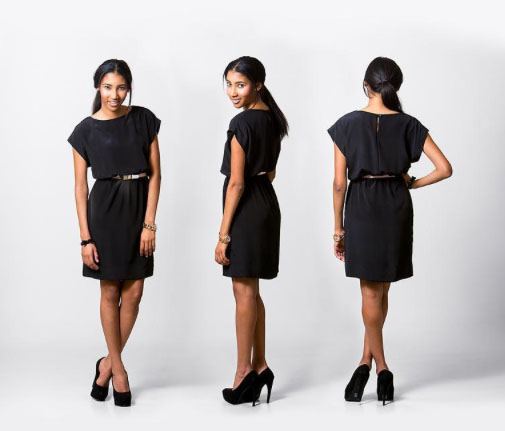 Photo via Craftsy member Pattern Runway
Another perfect choice for nearly any print or color of fabric is the Easy Short Sleeved Kimono Dress by Pattern Runway. It has very few seams and very few details, and would look ideal in a fun bright print, or made up in classic black, as in the sample, for a great little black dress option in your closet. Note that you still need to consider the content and weight of the fabric for both of these choices, as neither would be well-suited for something thick and heavy or for knit fabrics.
I hope this helps inspire you to start thinking about your stash fabrics and possibly downloading one of these awesome independent designer patterns! The joy of the PDF pattern is its instant gratification. So check them all out, pair one with something in your pile, and whip up a new outfit for your next summer get-together.