Have you ever tried to paint with stencils? If not, they're a great approach to have in your art arsenal, because there are a lot of benefits to this approach — the biggest being that it's easy to replicate over and over again, allowing you to create repeating patterns on a variety of surfaces.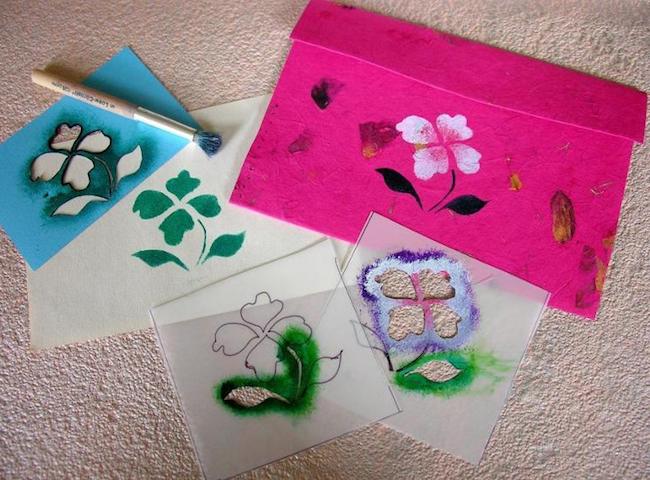 Image via Craftsy Two Lucky Cats's Pattern Store
Like every technique, there are tips and tricks that will help you make the best stencils possible.
They're easy to master and you'll be using stencils like a pro in no time flat. 
The most important thing, however,  to remember is to take your time — this goes for positioning your stencil and painting it, too. See some of the top tips for how to paint with stencils below.
Tip #1: Try store-bought or homemade stencils
Making a stencil for use on artwork or canvas is simple. For this, the best material is thin but sturdy and can hold up to pigment. Mylar, or acetate, is a great choice for a stencil because it can be cut easily with an X-Acto knife or scissors. You can find them for a low price at many art supply stores. Plus, once you're done painting, you can wipe it down to clean.
Tip #2: Make your stencils shine with the right materials 
Great materials for stenciling don't have to be fancy — there are very few "special tools" you need for this technique, but having the right ones will make it easier. 
Stencil brushes: This is the most important of the supplies because they'll help control pigment. Stencil brushes are commonly flat-tipped (all one length) and domed brushes (slightly tapered near the ends). 
Paint tape: To help keep your stencil in place. 
Paper towel: You'll use this to get rid of excess paint. 
Acrylic paint
Paint palette
Tip #3: Placement is key
Determine the position of your stencil and tape it to the surface of the paper. Don't be afraid to play around and reposition your design — the painter's tape should ensure that you don't mess up your paper.
Taping will keep your stencil secure and ensure that it won't move as you paint inside of it, keeping your pigment from bleeding outside the edges.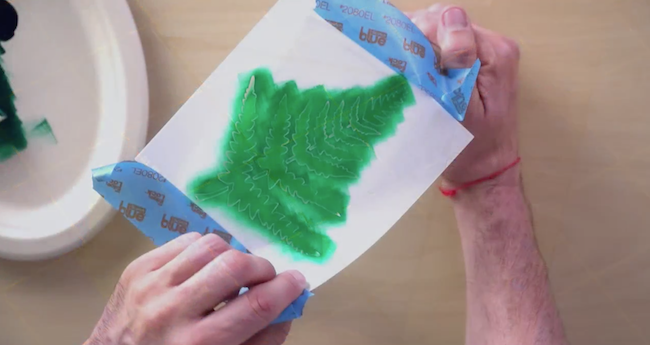 Image via Ed Roth
Tip #4: Monitor your paint usage 
Don't overload your brush with paint. At its core, stenciling is a dry brush technique. Before you apply any pigment, first dip your brush into the paint and then dab it on your paper towel or rag to remove any excess. 
Tip #5: Dabbing will do
When applying your paint in the stencil, dabbing your brush is more effective than stroking the paper. Along the edges of the stencils, make light, quick strokes — this will prevent your paint from bleeding.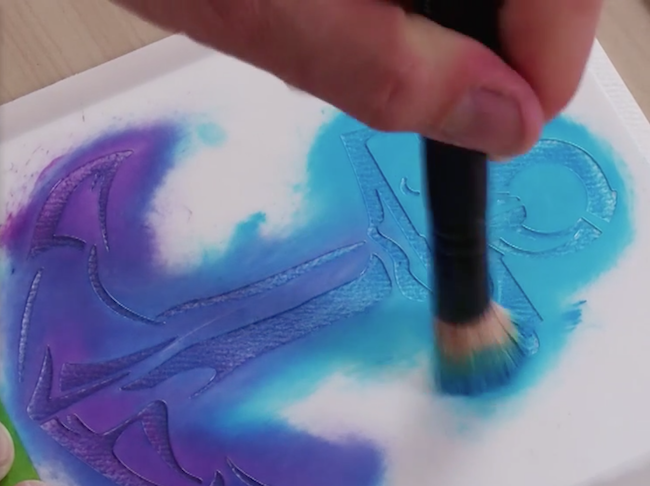 Image via Ed Roth
Tip #6: Beware of the edges
As you work along the edges, always angle your brush in toward the middle of the stencil and not towards the outside. This will also help to prevent bleeding. Once you're in the middle of the stencil, paint as you normally would to make sure that the entire design is evenly covered with paint. Take your time as you complete this process. 
Tip #7: Clean up!
Plastic stencils are great for multiple uses — as long as you clean them when you're done. So, wash up using soap and water. 
Upgrade Your Art With Stencils!
Learn to stencil on walls, clothing wood and more with Ed Roth, THE stencil master. Enroll today »