Nowadays, tattoos are becoming an increasingly common way for people to express themselves. It creates a challenge, however, for us artists, as it's one more thing we need to learn to paint! Don't worry — these types of designs are fun and easy to incorporate into your figure paintings.
Learn how to paint tattoos with this step-by-step tutorial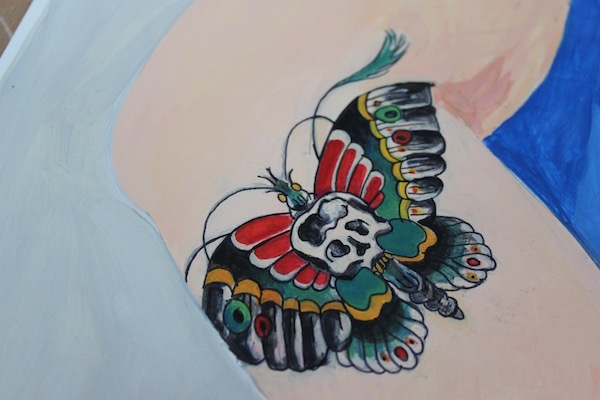 Tools for this tutorial
I love working in acrylic paint — it dries quickly and is easy to manipulate with a number of mediums. It's what I'm using for this painting, plus brushes in a variety of sizes, including a liner brush for the tiniest details. I've also grabbed a waterproof pen for the last step of my painting.
For a painting surface, I've used matte medium to prepare a piece of bristol paper. The surface will be able to handle the pigment without a problem.
Paint Realistic Portraits in Acrylic
Improve your acrylic portraits as you build your painting skills!Get My FREE Guide »
Step 1: Create a sketch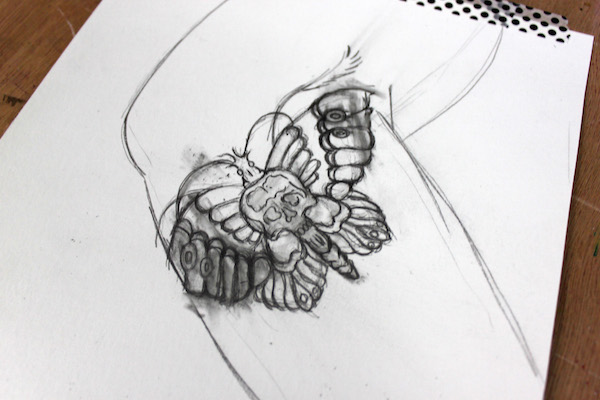 Using your favorite pencil, create a sketch of your figure with its tattoo. I used a photograph I took as a reference for my painting, which obscures most of the body in favor of showcasing the tattoo on the subject's forearm.
For this stage, it's important to take your time and get the drawing correct. It's a lot easier to correct any mistakes with an eraser rather than painting over them. You'll see that my drawing has a lot of smudges (I erased a lot!). Don't worry about these — the acrylic pigment will mask them without a problem.
Remember: Some areas of the tattoo might appear distorted because of rounded body parts.
Step 2: Paint the skin tone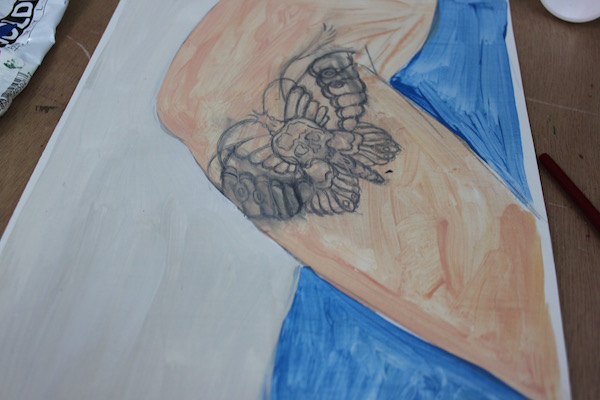 When tattoos are applied, the pigment is inserted into the skin with a series of pricks by a needle. So, it makes sense that before we start to paint the tattoo, we lay a skin-color foundation.
Determine a mid-range tone for the skin (here's our guide to mixing skin tones), and then dilute it with water. It should still have some color but will be transparent enough that you can still see the details of the tattoo. Brush the pigment over the entire figure.
Afterward, paint a layer of color for the rest of the picture, like clothing or background.
Step 3: Apply color glaze for your tattoo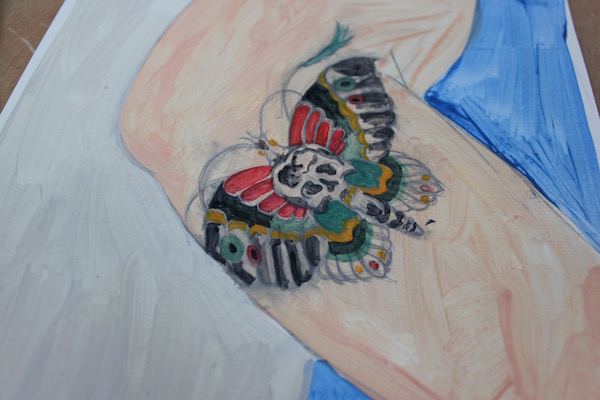 In tattoos, the color red doesn't always look red. Depending on the tone of skin, it could appear darker or lighter, warmer or cooler.
With this in mind, begin layering pigment on top of the skin tone you just painted. This will create the impression that the painted tattoo is etched into the skin, just like the real thing.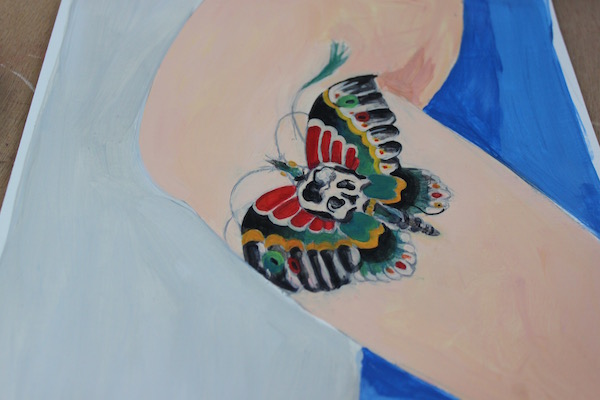 Tip #1: Apply layers gradually. You still want some of the skin-tone pigment to show through the non-natural colors. Not all real tattoos evenly color the body. Having these imperfections will add to the realistic quality of your painting.
Tip #2: Not all tattoos are covered ink — some use ink sparingly. The areas within the tattoo that don't have pigment will be left as the color of skin.
Tip #3: A popular type of shading in tattooing is feathered shading. This is where glazing comes in handy! Build up your color to mimic this effect, where the darkest parts will gradually fade into the lighter areas.
Step 4: Tighten the tattoo by lining it with skin tone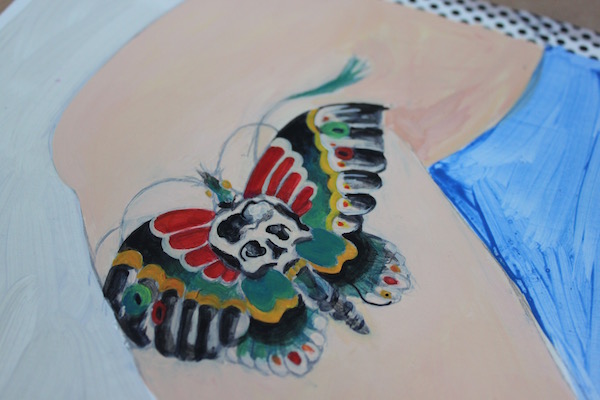 Once you've painted the color of the tattoo, go back and tighten up its design. Using a liner brush and skin color, outline areas that should tattoo-less. This will make the tattoo stand out, yet look like it's still on the body.
Step 5: Line the tattoo using a permanent pen or marker (optional)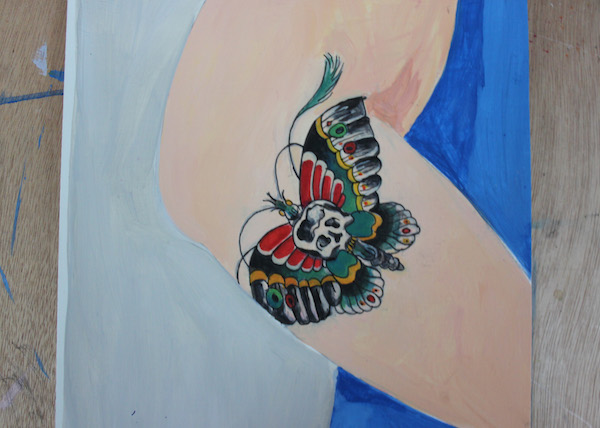 This step is optional but helpful if you're painting a tattoo with thick, dark outlines. Using a non-water soluble pen or marker, trace the design and add any small details.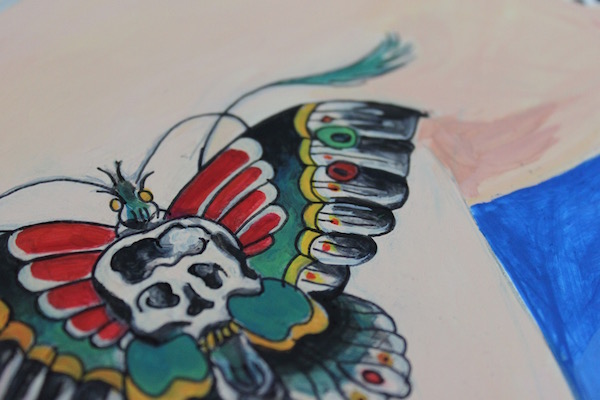 Paint Realistic Portraits in Acrylic
Improve your acrylic portraits as you build your painting skills!Get My FREE Guide »