Creating realistic watercolor effects is a challenge but also very rewarding when you succeed. It will often seem daunting until you take some time and plan how to accomplish the result you hope to achieve. It can then be surprisingly easy and enjoyable to see your idea become a reality.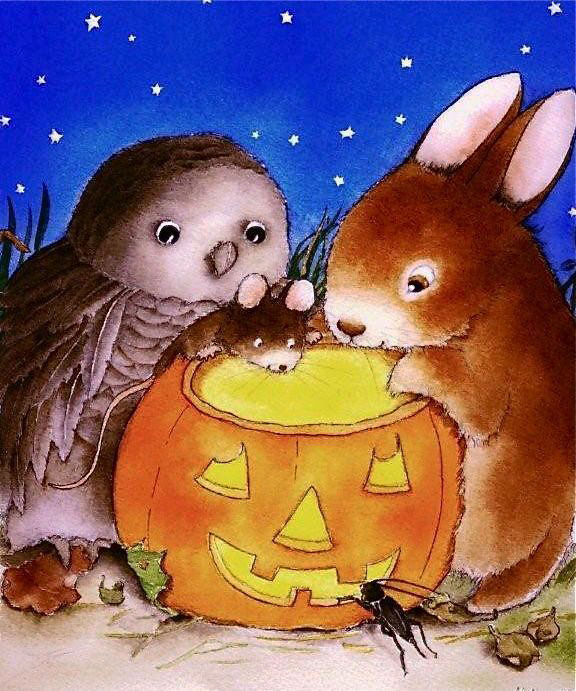 How to create a glowing effect:
To paint a glowing jack o' lantern (or anything else you would like to make glow) is an effect you can produce in a simple way or more elaborately, but this basic method will work however you wish to apply it with watercolors. I would even say that you can adapt this method to any other medium.
Make a plan
1. Taking this simple sketch, I want my jack o' lantern to be the center of attention and my focus will be to have him illuminate the whole scene. I want him to glow in deep night shadows.
This sketch has my first round of ink applied, (I usually start with a basic outline in ink and add more as I work) but not too much in the area where his light will be brightest, over top of him. This will help remind me not to put too much paint behind where I want the glowing effect to reach.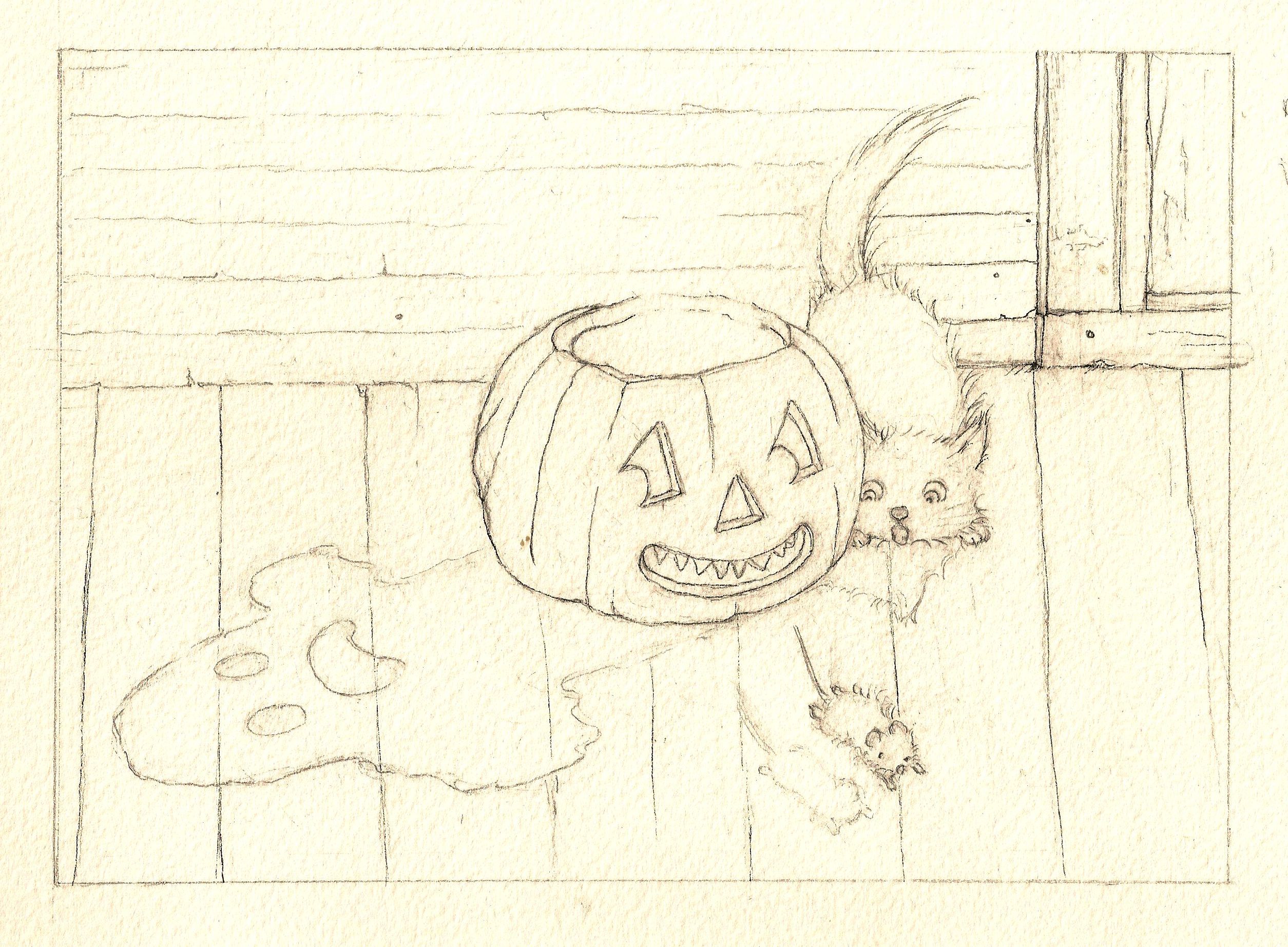 2. Before I apply any color to the prepared sketch, I again take mental note of where I want my illumination to flow, and will remember to not saturate too much color or detail in that area. Below is a Photoshopped illustration of my vision.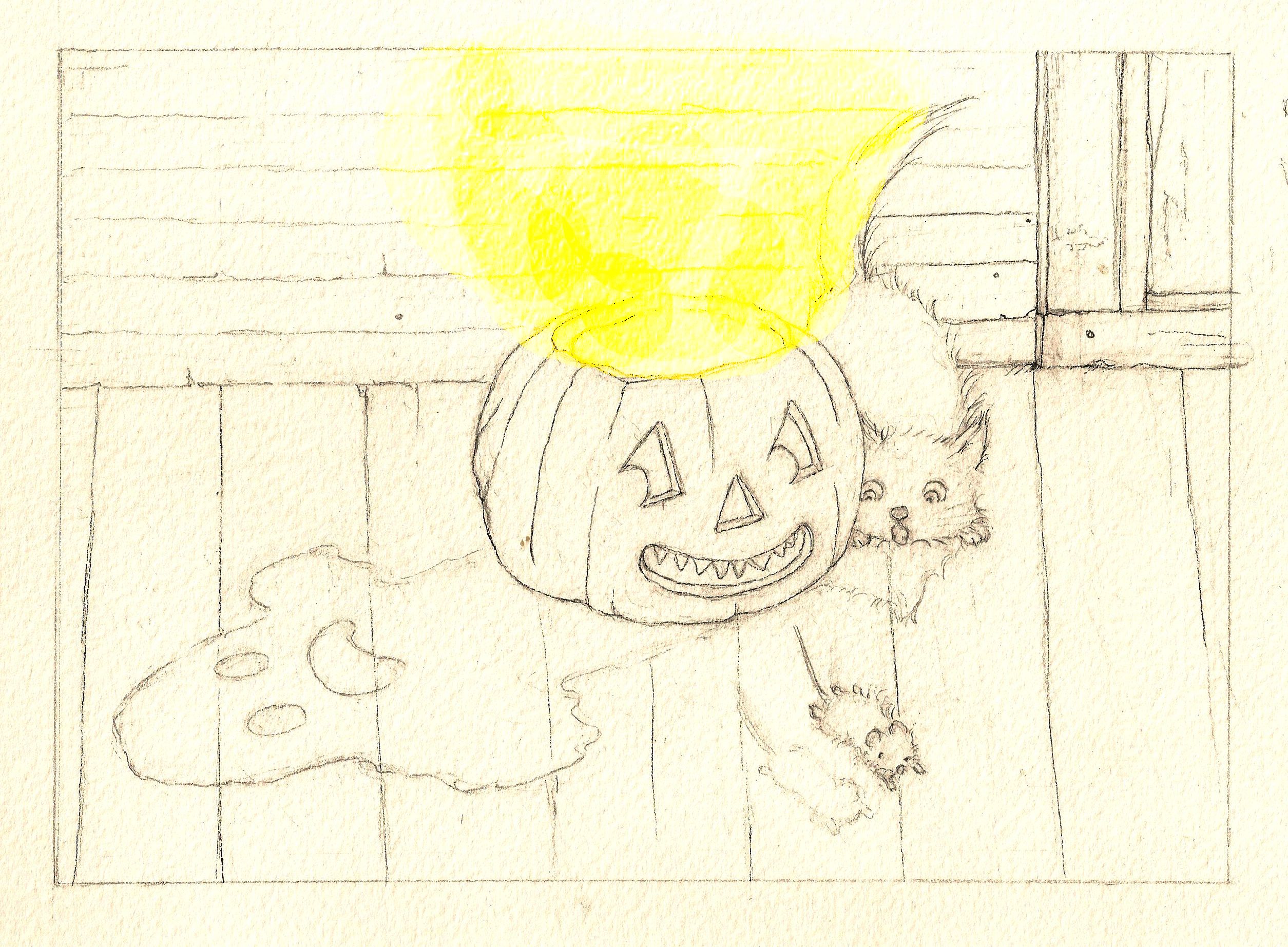 Laying down the foundation colors
Now my base colors are applied to the artwork with some nice bright lemon yellow in the planned glow area.
Later, while I am detailing the painting, I may fill in a little more color and ink here and there. The glowing yellow wash underneath will help keep that area nice and bright, even with a little more detail behind it. For now, I want as little detail there as possible.
You will also note the penciled instructions/reminders I often put on the side of my work. This is a helpful way to remember ideas you may have to achieve the results you want with your paintings. Color ideas, steps for effects, even for remembering to add the whiskers to little creatures after the painting is done.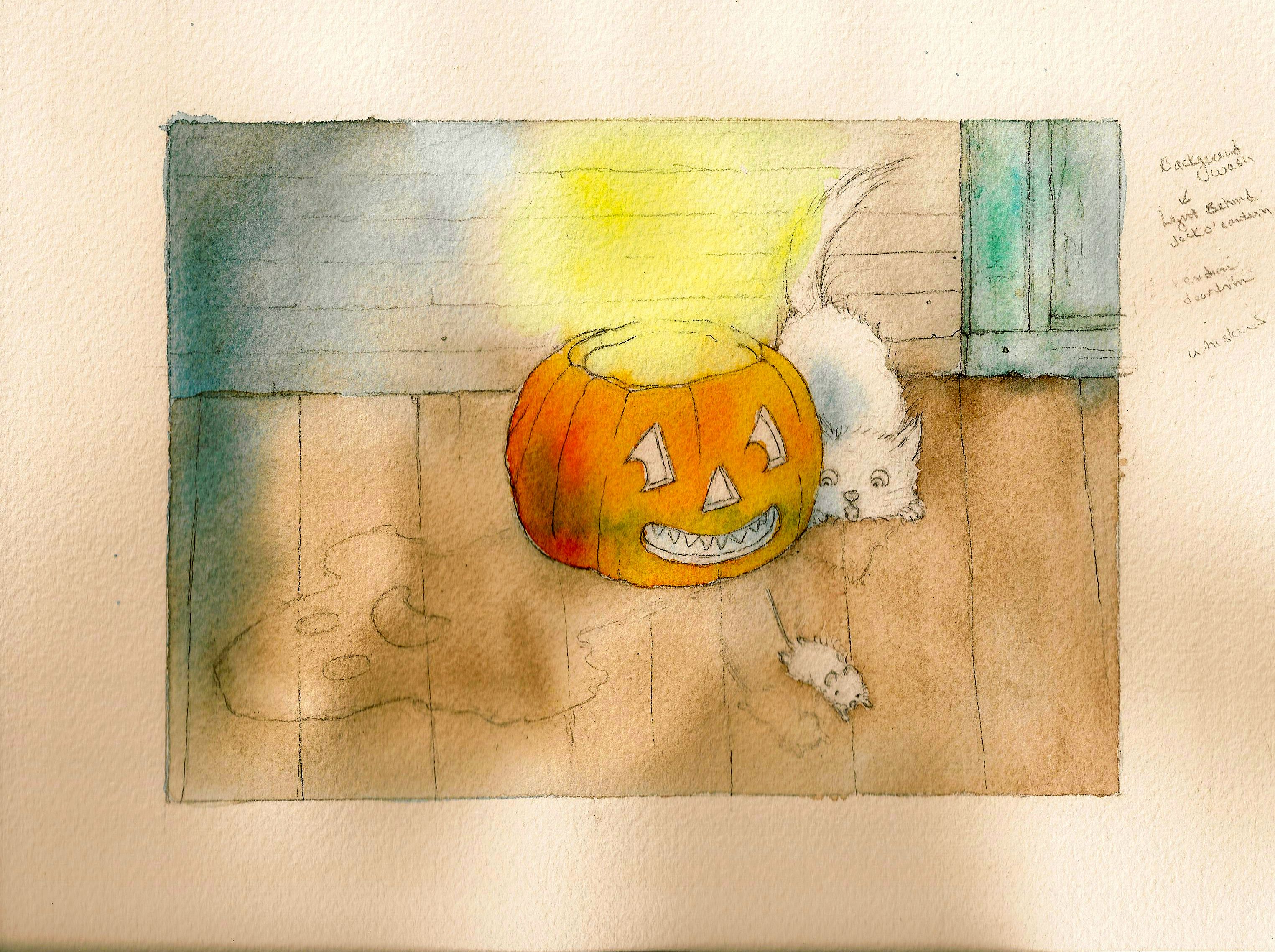 Building up contrast
As you can see, I am adding more color and building up layers and shadows all the while focusing on the brightness I want to preserve and enhance.
It is a good idea to stop working from time to time, stand back and take a look at your progress. In this case, it will help me to decide where I want to deepen my shadows and add more contrast.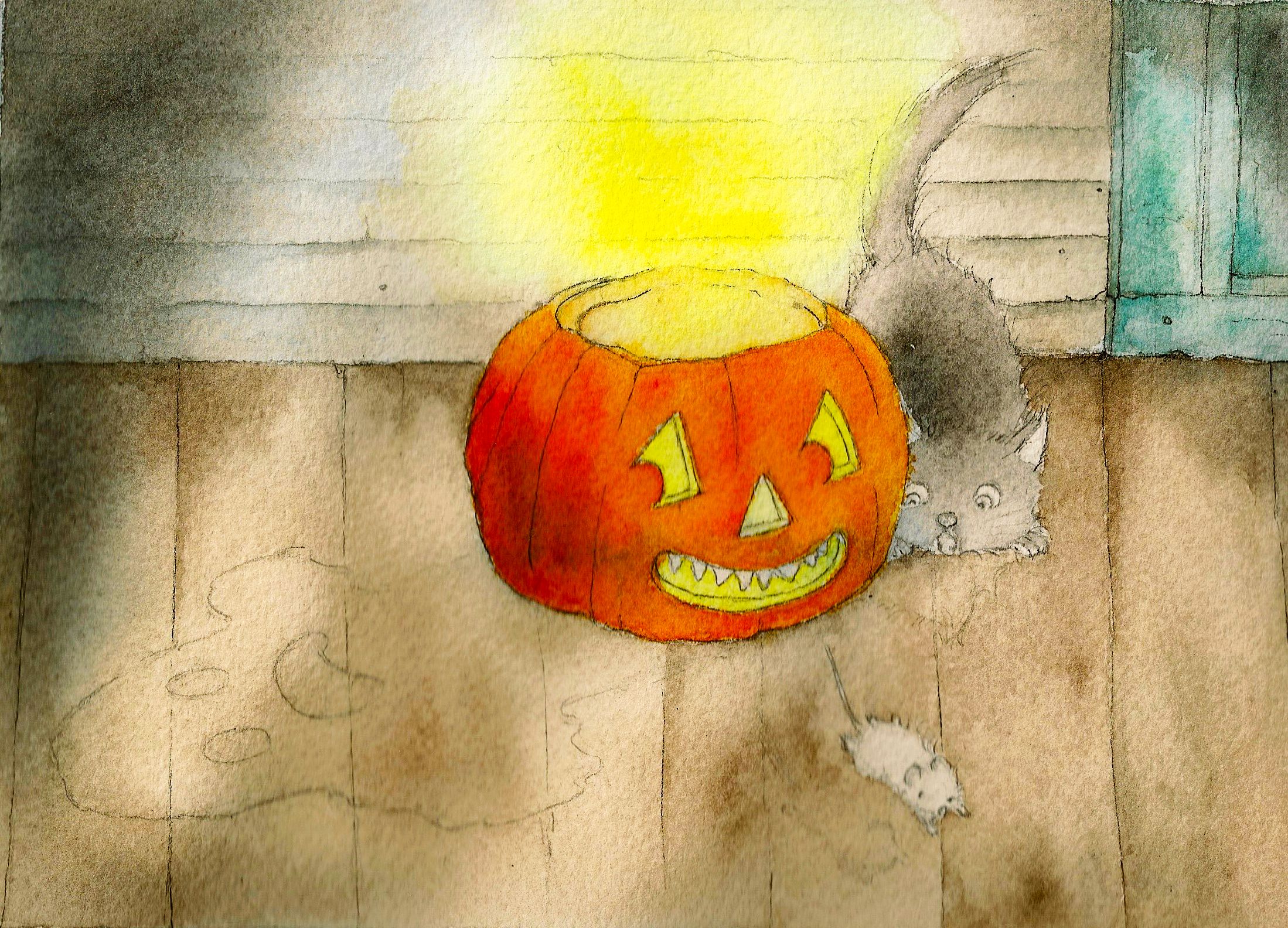 The grand finale
Even with hundreds of paintings behind me and lots of experience creating glowing effects, I still hold my breath and hope my painting works out the way I hoped. The planning is still key for me.
I have erased any pencil lines behind the pumpkin's glow and added a little bit of ink in broken lines to make the glow look uneven. The cat's tail is catching some of the illumination but still has a some definition on that side.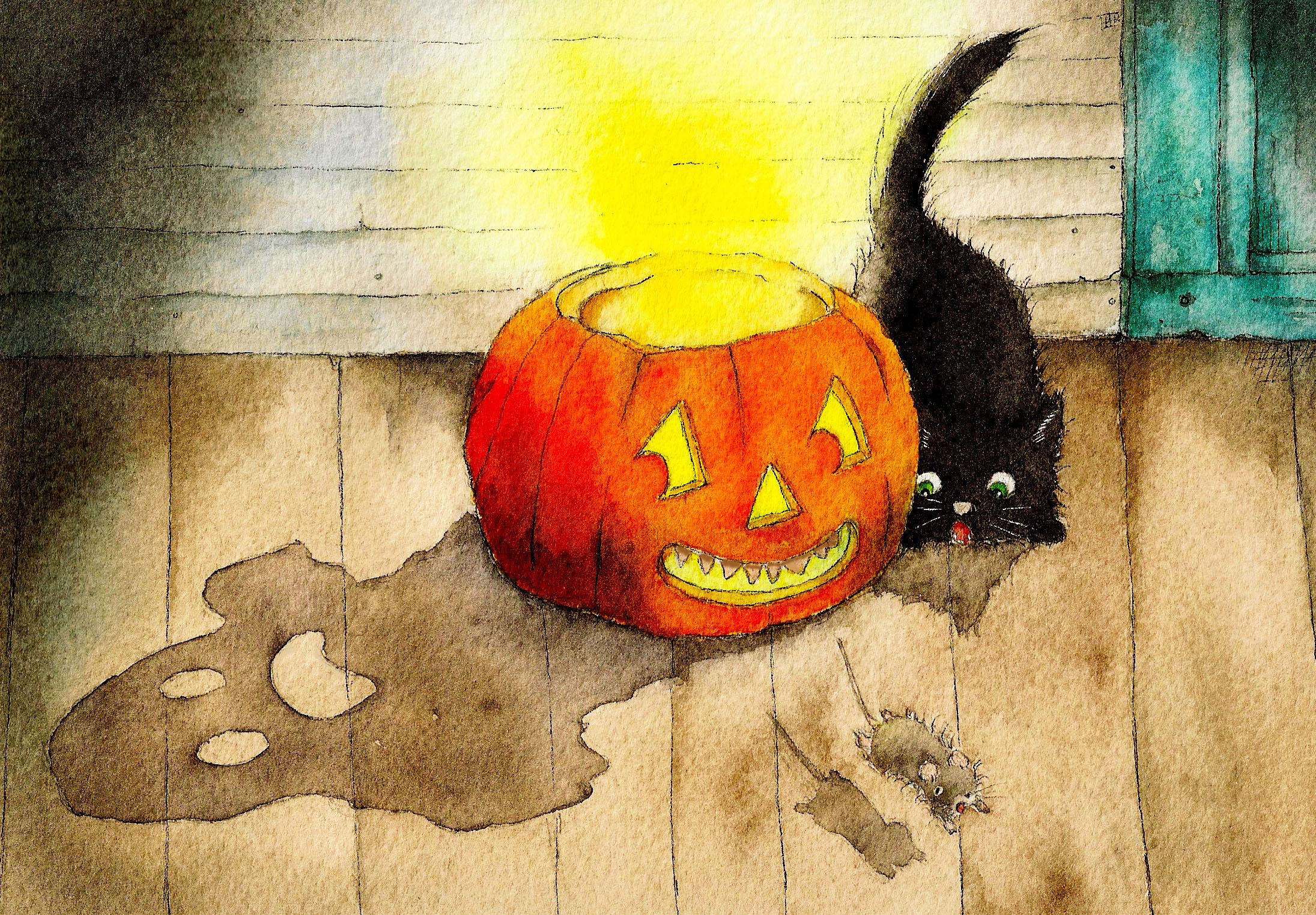 What other materials would be good to paint a glowing effect?