Who would argue that fruits and vegetables make perfect subject for artists? They are bright, colorful and come in a variety of shapes. Moreover, they are always available for painting from life.
I set up three simple still lifes, picking pairs that complement each other in shape and color.
The goal I set here is to show how good these fruits and vegetables taste. I often recall the words of my art school teacher: "You know you've succeeded in painting food if you want to eat what is pictured on your painting."
In my opinion, a quick, expressive technique along with bright colors is a perfect way to accomplish that goal and capture the freshness and juiciness of the produce.
Follow along to learn how to paint fruits and veggies that look good enough to eat!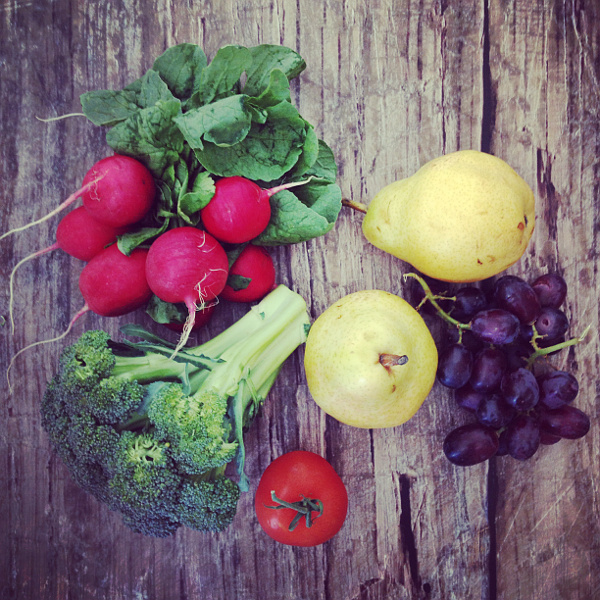 Here are some things to keep in mind during the work process:
It should be quick and fun
The brush should be filled with fluid but not too watery of a color
Let the colors flow, mix and blend with each other. Don't correct those precious accidental watercolor things.
Every next wash should be added after the previous one has dried completely. This is where a hair dryer comes handy – but be careful not to blow the drops of color away!
Keep the layers transparent, so the painting remains luminous.
The fewer the layers, the fresher the painting.
Don't try too hard, the brushstrokes should be easy and effortless.
To make a brushstroke, press the body of the brush against the paper, rather than just using the tip alone.
Materials:
Two soft round brushes, bigger and smaller in size.
Colors:
Cadmium red, cadmium orange, cadmium yellow, yellow ochre, cobalt blue, ultramarine, permanent carmine, sap green, viridian green
Broccoli and tomato
Step 1.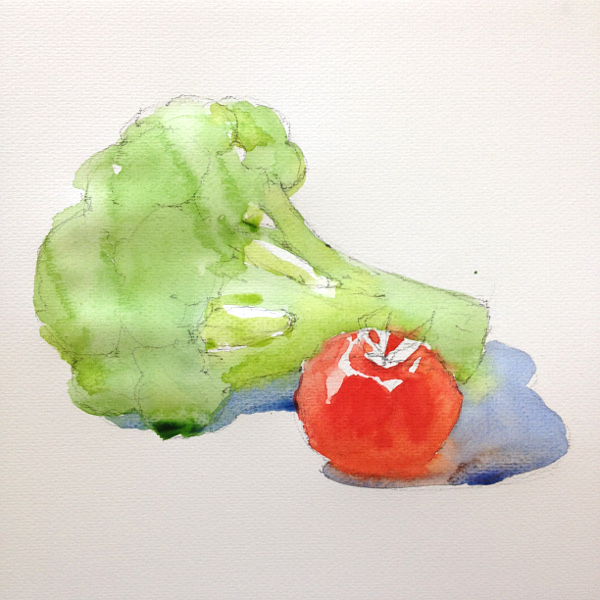 I started painting the broccoli with a light wash of Sap Green and a drop of cadmium yellow. For the tomato I decided to go with just a single strong wash. I applied cadmium red on top, leaving some dry white paper for highlights. Then I painted down to finish the tomato, adding a little cadmium orange.
Notice, that the bottom of the tomato is a bit lighter than a central part, since the white surface reflects in it.
While broccoli and tomato were still wet, I painted the cast shadow with cobalt blue. A little bit of paint from the vegetables seeped into the shadow, adding a reflected color to it.
Step 2.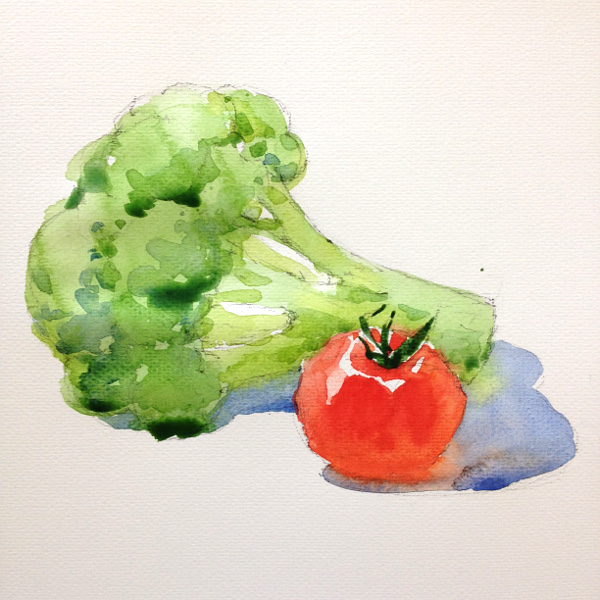 Once the first washes were completely dry, I defined broccoli florets with a mixture of sap green and cobalt blue. Using a smaller brush, I painted the tomato stem, mixing sap green and ultramarine.
Step 3.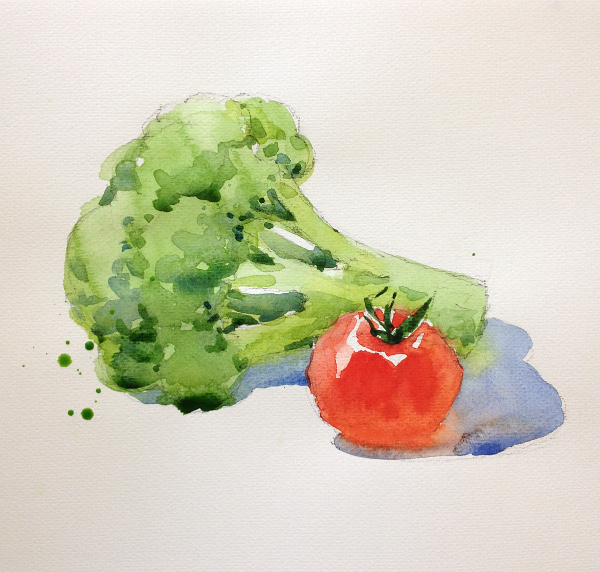 I added some more details and shadows to the broccoli and figured a few splatters of green color would give the painting a fresh, unique feel. It was easily done by shaking the brush vigorously against the painting surface.
Grapes and pear
Step 1.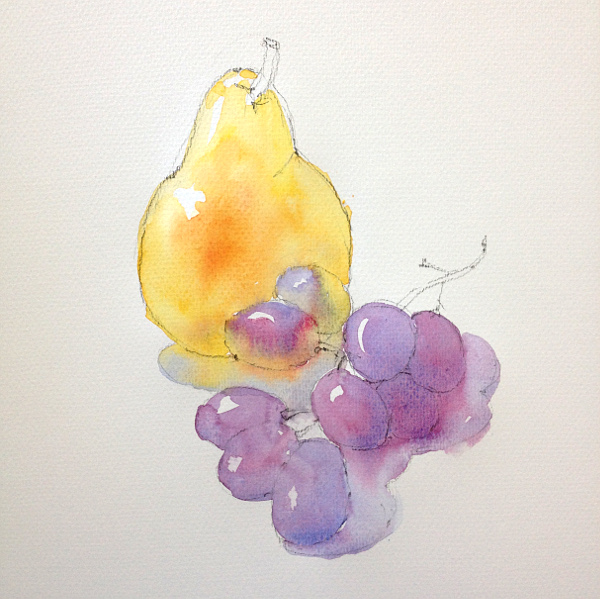 I started painting the pear in the light area, using very moist cadmium yellow around the highlight. Then I reloaded my brush and finished the fruit, adding yellow ochre and a drop of cadmium red to suggest its ripeness. On this step, I also applied the first wash of cobalt blue and carmine to the grapes, painting them as a single shape. The cast shadows were painted right after that. Some yellow seeped into the shade and grapes, which is exactly what I wanted.
Step 2.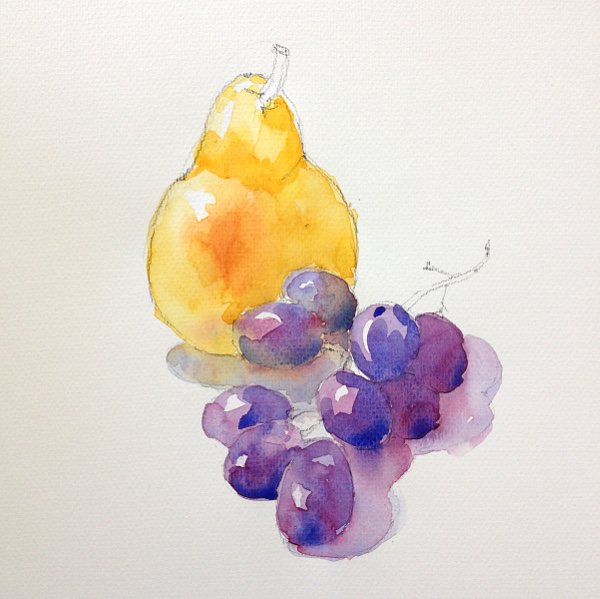 I added some overwashes on the pear and grapes with a light hand, using a mixture of cadmium Yellow and ochre for the pear and carmine and ultramarine for the grapes.
Step 3.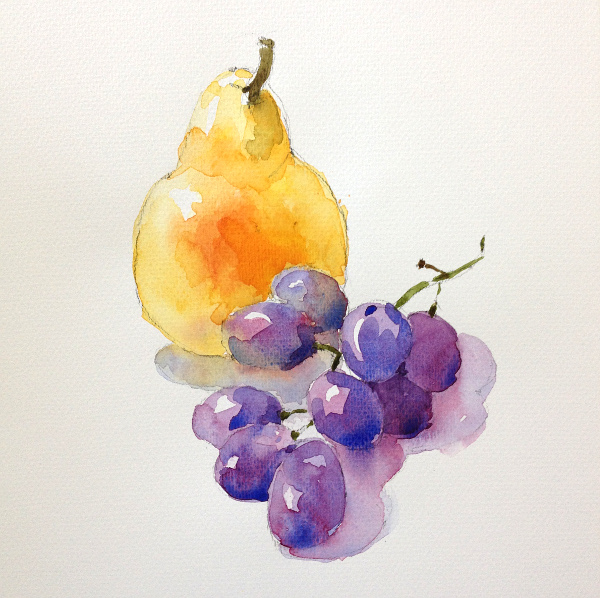 With a smaller brush, I painted the stems with a mixture of sap green and cadmium red. A few more details and shadows were added to the grapes and pear.
Radish
The way I worked on the radish was pretty much the same as the process described above. I started with light washes of sap green, carmine and cobalt blue, then added a couple overwashes using plenty of fluid carmine, viridian green, sap green, cobalt blue and ultramarine. A few splatters of carmine provided a nice finishing touch to the composition.
Step 1.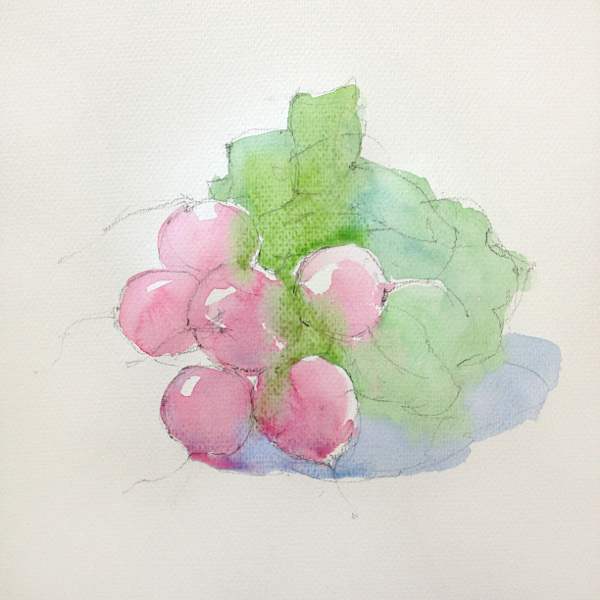 Step 2.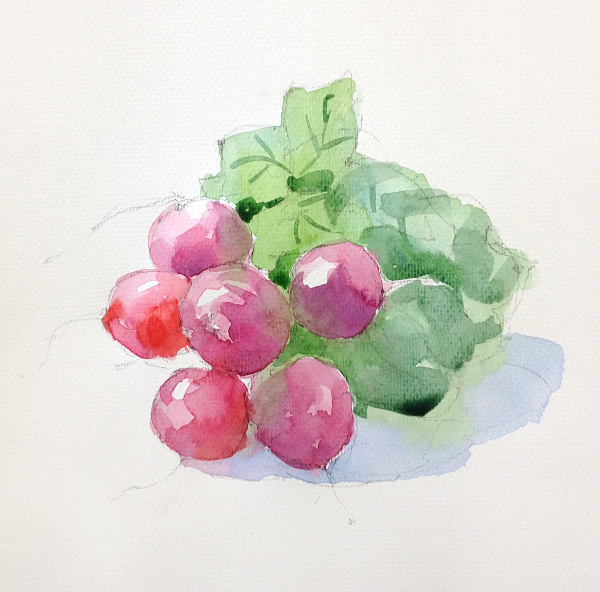 Step 3.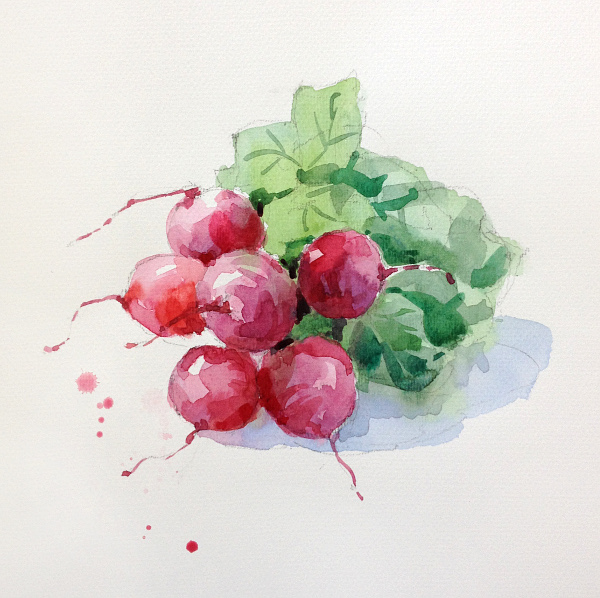 By the time I finished my work, I was craving something green and juicy. Not only these paintings make a lovely addition to the kitchen, but also promote healthy eating habits!
What are your favorite fruits and vegetables that you would like to paint?