This Valentine's Day will be even sweeter, because you're about to learn how to make conversation hearts.
Yes, it's true: those iconic sugary wafer candies shaped like hearts and bearing sweet messages can be made in the comfort of your home with this easy conversation hearts recipe. The homemade candies can be tinted and flavored to your liking, and taste far fresher than commercial varieties. Very little cooking skills are required!
Not only is this a fun project, but it's awfully unique to get creative with your decoration, too. Making your own heart candies allows you to choose what messages you'll write on them; whether it's a sweet sentiment, a tongue-in-cheek message, or even just a drawing, these candy hearts can reflect your own unique and sweet heart.
The finished conversation hearts make great gifts, but they're also a fantastic component for cake decorating, creating the perfect garnish for a Valentine's day themed cake.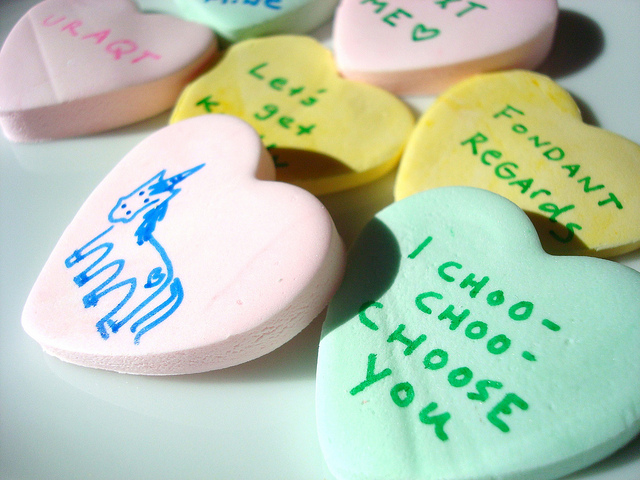 Photos via CakeSpy
How to make conversation hearts —
Makes 50 to 100 hearts, depending on size.
Ingredients:
1 packet (¼ ounces, or 2 teaspoons) unflavored gelatin
½ cup water
1 tablespoon light corn syrup
2 pounds (a typical weight for a large bag) confectioners' sugar, plus extra for dusting your work surface
Additional supplies:
Assorted flavoring extracts of your choice (we used clear vanilla extract)
Assorted food colors of your choice (we used liquid food coloring)
Heart-shaped cookie or fondant cutters
Food coloring markers (such as Gourmet Writer Food Pens, readily available at craft or cake decorating supply stores)
Step 1:
Place the corn syrup, gelatin and water in a small saucepan. Heat on medium heat for about 30 seconds to 1 minute, stirring constantly, until the gelatin is completely dissolved. Remove from heat.
Step 2:
Pour the gelatin mixture into the bowl of a stand mixer fitted with the paddle attachment, or use a large bowl with a wooden spoon.
Note: A hand mixer is not suggested for this project, as the dough will be so thick that mixing it will be difficult with the less powerful mixer.
With the mixer on low, add the confectioners' sugar, one cup at a time, mixing until the sugar is completely incorporated. As you add the sugar, you'll think it's an obscene amount, but you'll be surprised at how it "disappears" into the dough. Pause to scrape down the sides and bottom of the bowl with a rubber spatula as you add more sugar. You'll see it progress from a thin consistency, like a glaze, to a thick, opaque dough with a texture like clay, and once handled, you'll find it very firm but pliable.
Step 3:
Dust a work surface with confectioners' sugar. Dust your hands, too.
Remove the dough from the mixing bowl, and knead the dough as if it were bread dough, folding it over itself, turning, and then pushing down, rotating, and repeating the process. Add more confectioners' sugar to the work surface or your hands as needed to prevent the dough from sticking. Knead until the dough is no longer sticky, but smooth and with a satin-like sheen on top.
Step 4:
Now, decide how many colors and flavors you'd like to create. Divide the dough into that many portions, and roll them into balls. Cover the dough with plastic wrap until you're ready for each portion, to keep it from drying out.
Note: If you'd like to flavor and tint all of the dough the same flavor and color, you don't have to divide the dough — you can simply knead in about 1 teaspoon of flavoring and several drops of your chosen color.
Step 5:
Grab your first ball of dough, and knead it with a few drops of food coloring and a small dot of flavoring until the color is evenly distributed.
Note that you don't need much food coloring to tint this dough, as traditionally the candies are pastel-hued. As for the flavoring, assuming you've divided your dough into 4 or 5 portions, 2 to 4 drops should do, depending on how strong you'd like the flavor of your candies.
Also, you may want to wear gloves during this step, unless you want hands that look as though they've been tie-dyed and smelling like flavoring extracts.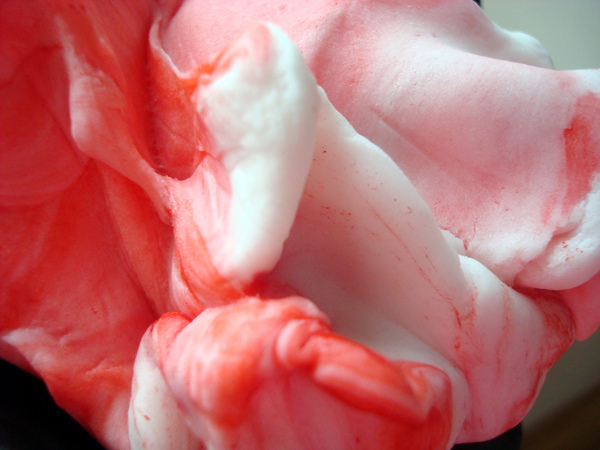 Repeat the tinting and flavoring process with the remaining portions of dough. Cover each portion with plastic wrap when it is not in use, so that they don't dry out.
Step 6:
Now, it's time to dust your work surface and a rolling pin with confectioners' sugar and roll out some dough. Roll out one of the candy balls to your desired thickness — it really is up to you. They could be about 1/3-inch thick for nice, fat candies, or 1/4-inch thick for thinner ones. Just be aware that the thinner the candy is rolled, the more fragile the finished candies.
Step 7:
Use your heart shaped cutters to cut hearts from the rolled dough. Cut the hearts as close together as possible, because this dough is not extremely well suited to re-rolling; you can do it, but the dough may not be as pliable an can crack slightly, like the surface of this one: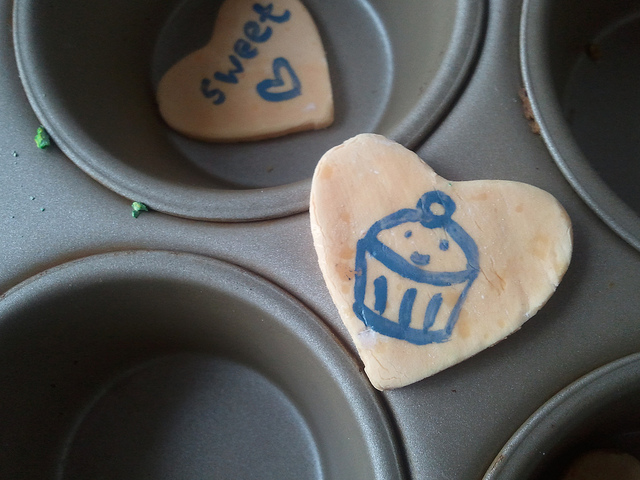 The size of the hearts is up to you. You can use tiny cutters for an authentic look, but these ones are harder to write on.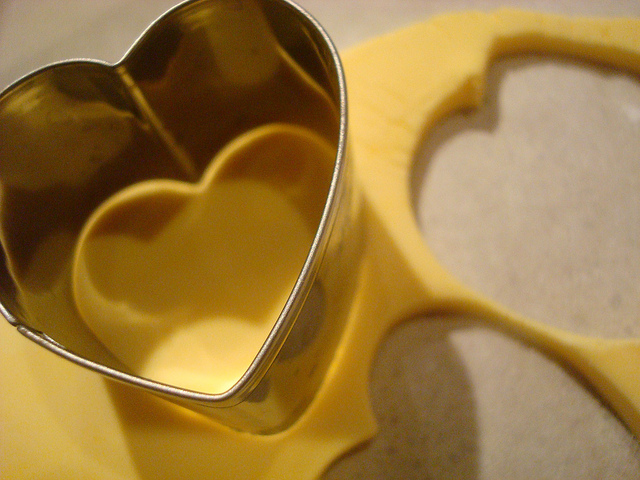 Note: It's very important that you wait 24 to 48 hours before writing on the hearts. Even though they will become firm and "set" quite rapidly, they will still bleed when written on.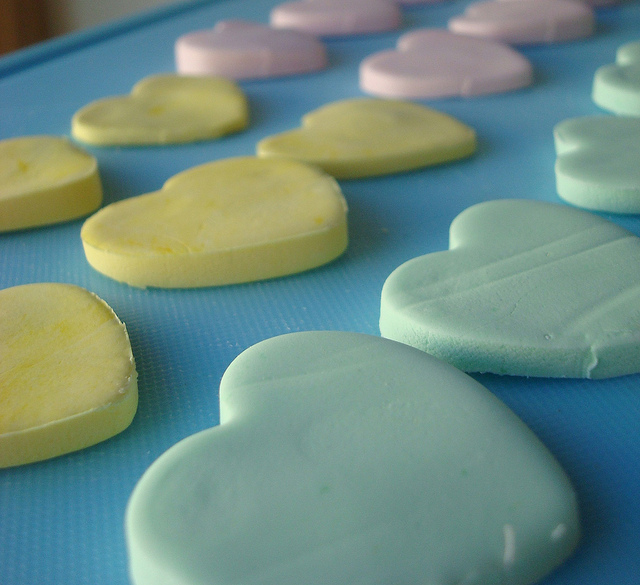 If you're unsure, give it a test on the bottom of one of the hearts by writing on it and letting it sit for about 10 minutes. If it doesn't bleed or bleeds only a tiny amount but is still readable, you've got the green light to write on the hearts.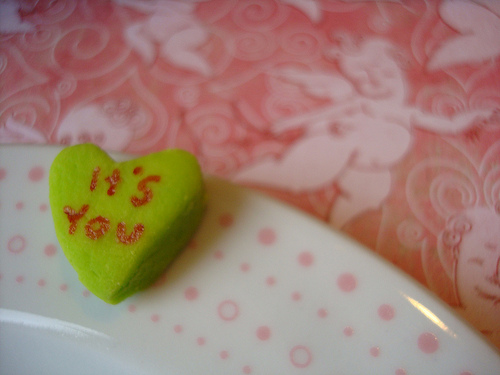 Step 8:
Once dried and tested, use the markers to write messages from your unique and sweet heart. Let dry for about 30 minutes to allow the ink to set. Store the conversation hearts in an airtight container at room temperature. They won't last forever, but they will safely last at least a few weeks if stored properly.
You might also enjoy our post on how to make homemade sprinkles.
What is your favorite conversation heart message?