Every given Middle Easter food a try? You should! And this recipe for za'atar flatbread is the perfect place to start.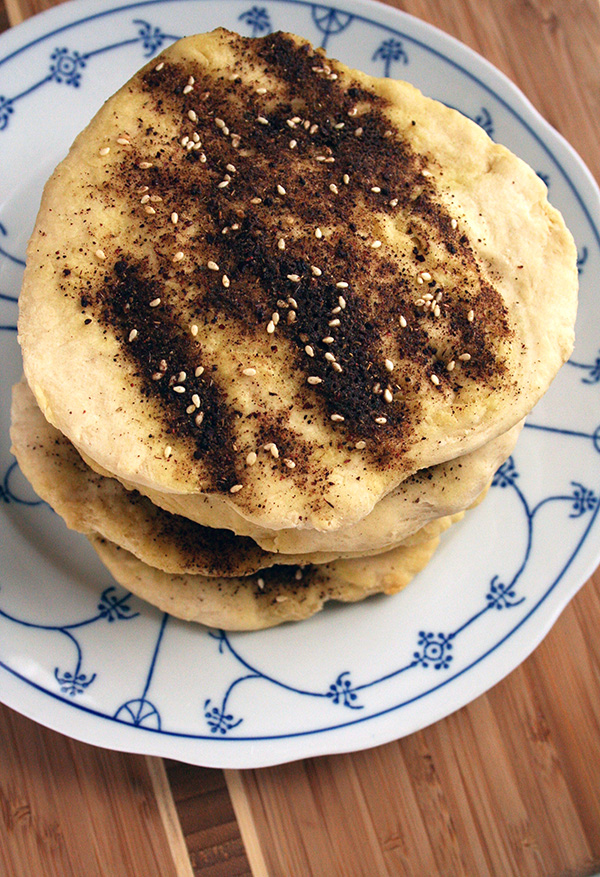 Photos via CakeSpy
What is za'atar?
Za'atar is a spice mix which is in frequent rotation in Middle Eastern cooking. It can be used as a flavoring ingredient in a recipe or treated as a condiment. In this za'atar bread recipe, it's the key ingredient.
Typically, the flavorful mix includes thyme, sesame seeds, and sumac, but it's one of those things that everyone mixes just a little differently. Some mixes may include oregano or marjoram; some might even call for lemon zest. There isn't necessarily a right or wrong; it's something that if you decide to make yourself, you can play with the ratio of ingredients to find the precise mix that works for you.
This za'atar bread recipe starts with homemade flatbreads, which are coated with olive oil and liberally sprinkled with za'atar before baking. The bread and oil act as the perfect delivery vessel for the spice, both absorbing the aroma of the za'atar so that its bright, warming yet zippy flavor is front and center.
This particular recipe is inspired by the time I spent working at a Middle Eastern restaurant in Brooklyn, New York, where we served a similar item as an appetizer. This bread is perfect eaten alone, or it makes a fantastic accompaniment to hummus. It is flavorful enough to be served alongside the bold flavors of Middle Eastern or even Indian cuisine, or you could just keep it simple and add mozzarella to make a memorable cheesy flatbread.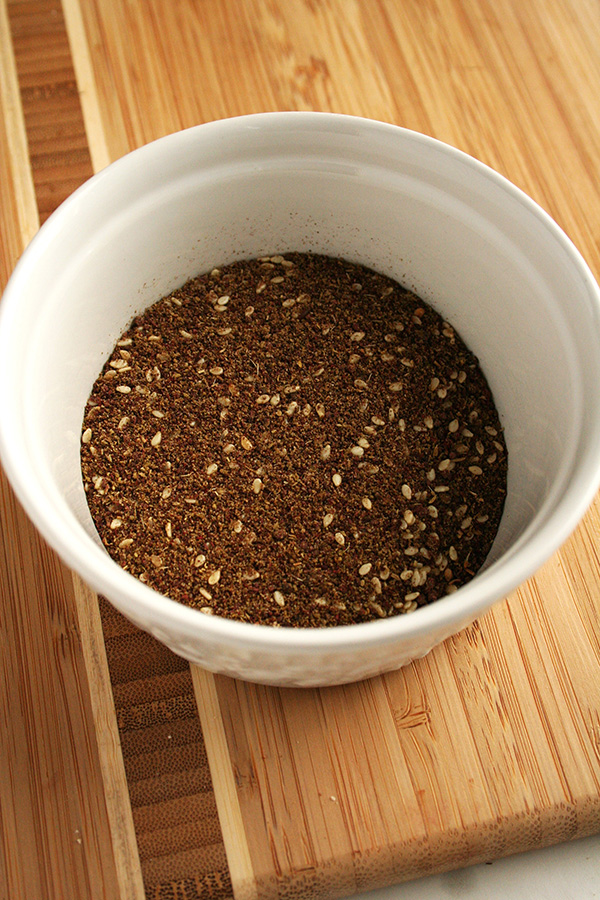 Recipe for Za'atar Bread
Necessary components to make za'atar bread
1 batch dough (see recipe below)
Za'atar spice mix, purchased, or mixed at home (see recipe below)
About 1/4 cup good quality olive oil, for brushing the surfaces of the breads
For the za'atar spice mix
Adapted from About.com
1/4 cup sumac
2 tablespoons thyme
1 tablespoon roasted sesame seeds
2 tablespoons marjoram
2 tablespoons oregano
1 teaspoon coarse salt
For the dough
Adapted from King Arthur Flour
1 packet active dry yeast
1 cup water, plus 1/4 cup, divided
1 teaspoon salt
3 cups flour
2 tablespoons olive oil or melted butter
Note: International readers may enjoy our handy metric conversion guide.
Step 1:
If making your own spice mix, place all of the ingredients in a skillet. Turn the heat on low, and let the spices warm, stirring the entire time, until fragrant (this won't take long). Remove from heat and let cool to room temperature. Transfer to a jar. If not using right away, store it in your spice cabinet.
Step 2:
Make the dough. Combine the yeast and 1 cup of warm water in a large bowl. Once the yeast begins to bubble lightly, add the salt and flour. Once lightly mixed, add the oil or butter. Mix thoroughly. The mixture will progress from a shaggy mixture to a cohesive mass. If the dough feels too dry, you can add up to 1/4 cup more water.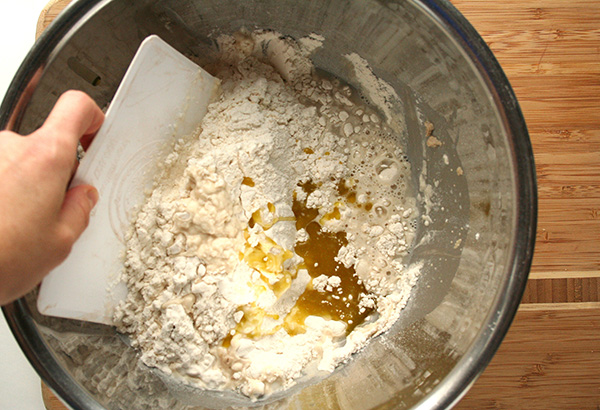 Step 3:
Knead the dough by hand for about 5 minutes. The dough will become smoother and easier to work with.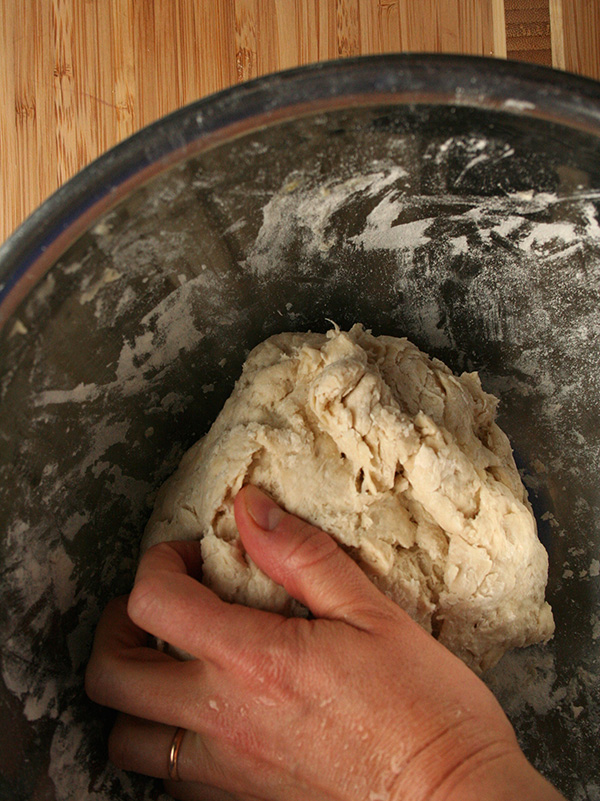 Step 4:
Place the dough in an oiled bowl, and cover with a cloth. Leave at room temperature for about an hour. It may not double, but it will become larger in size.
Step 5:
Remove the dough from the bowl and divide into eight equal portions. Roll each into an approximately 5-inch circle. Place on greased or parchment lined baking sheets. Gently press around the perimeter of the dough to form a slight "well" so that the olive oil won't drip off the sides.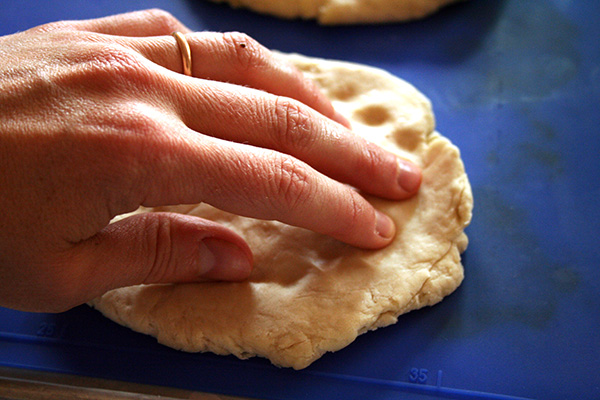 Step 6:
Brush each one generously with olive oil (it's OK if a little drips over), and sprinkle all over with za'atar mix. Author's note: sometimes, if I am feeling it, I will add a couple more drops of olive oil on top, just to moisten things a little more.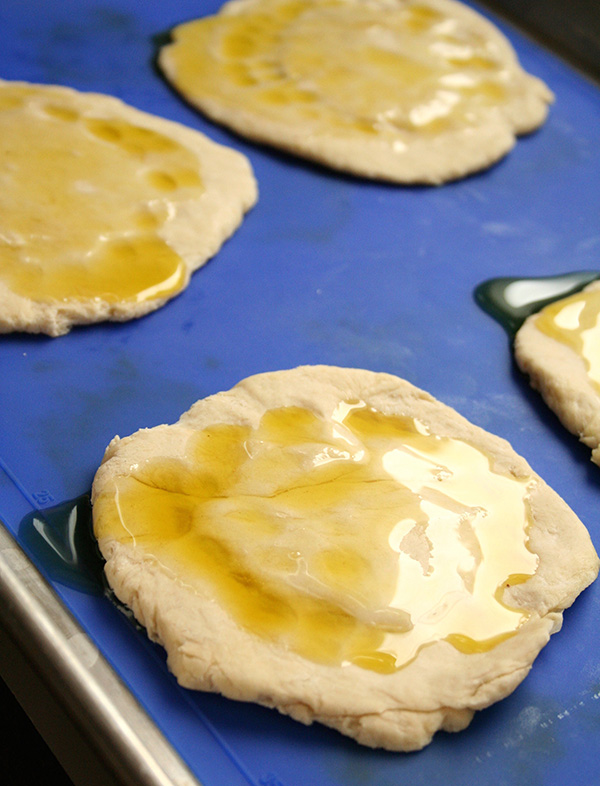 Step 7:
Let the oven preheat to 450 F. Let the breads rest meantime. They may puff up slightly around the toppings.
Step 8:
Once preheated, bake the za'atar bread for 5 minutes, or until browned to your liking. Serve warm.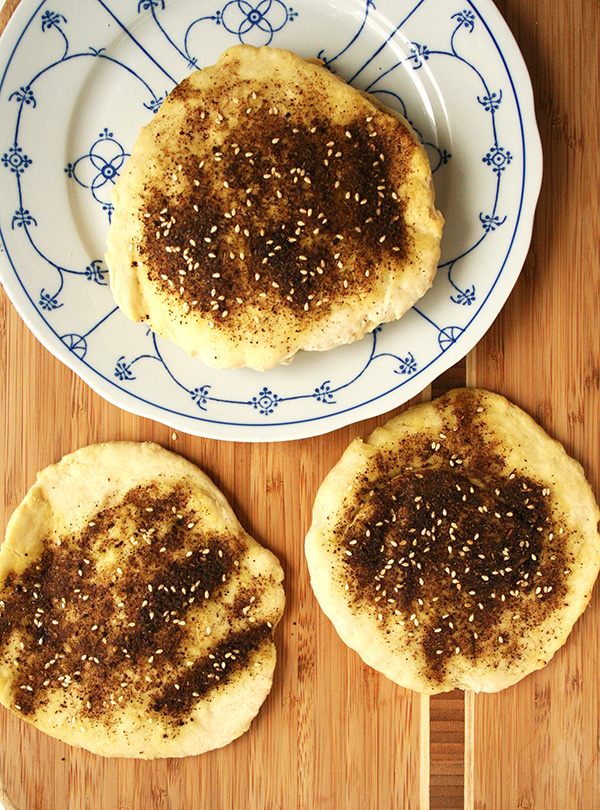 Loving this recipe? Download the directions and ingredients in easy, printable PDF form, and enjoy it anytime, anywhere, forever!
No Comments