Making your own flour is not only totally accessible, but can also take your baked breads, cakes and more to the next level of fresh.
Read on to discover the secret to making flour at home, using three different kitchen appliances.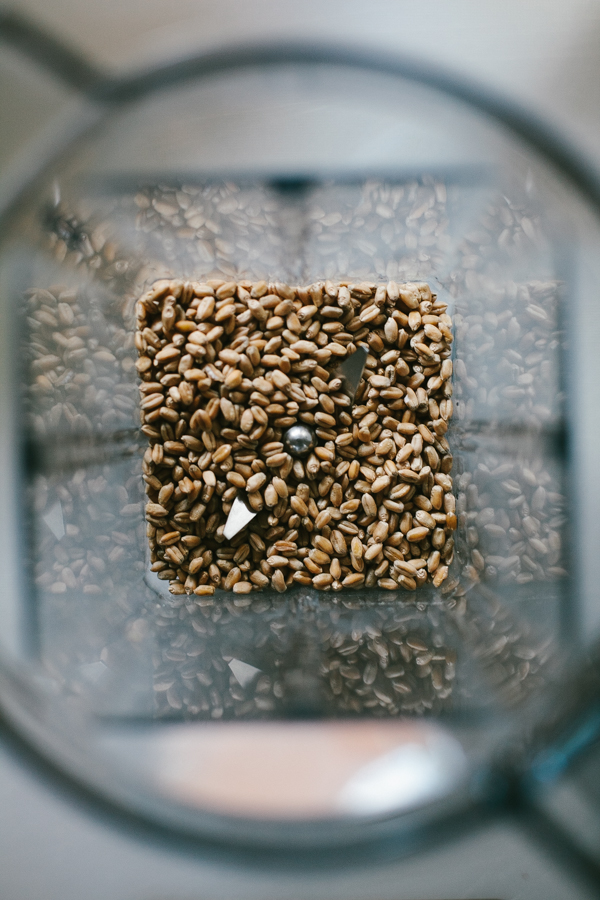 Recently I went on a tour of a facility in northern Washington state that focuses its attention on the merits of whole grain. They work with farmers trying to find the best applications for their particular variety of wheat the farmers grow. In order to understand the value of each variety they grow over 40,000 different types of grain in their test fields.
The facility employs a full-time baker who works in the Bread Lab where he bakes up loaf after loaf of bread. And the kicker? The bread is 100% whole grain and yet it's light, full-flavored, sweet and completely irresistible. Typically whole wheat bread is dense, heavy and the taste – well, it tastes healthy. But this bread had a deep flavor one that I would reach for not because of its nutritious boost but because it was one of the best pieces of bread I've ever had.
All of this he credits to the freshness of the flour. You see the whole wheat flour we buy at the store has most likely been sitting on the shelves for months so that by the time it reaches your kitchen it is already rancid. Not a pleasant thought, right? Freshly milled flour has a sweet, nutty smell which it shares with whatever it is baked into.
I've known that whole wheat flour tends to stale quickly and because of this I have always kept it in the freezer and thought I was good. But now that I know how whole grain flour should smell and tastes even my frozen flour isn't cutting it.
So what's the solution? Let's grind our own flour.
I walked away from that tour coveting the beautiful wooden flour mill shipped over from Austria but my husband isn't too sure about that investment. I understand, although he didn't try the bread. So instead I set out to find an appliance in my own kitchen that would do the job.
I tested three appliances in my kitchen to see which one would get me the freshly milled flour I now craved.
Each machine was fed 1/2 cup of wheat berries. Once I added the wheat berries I turned the machines on for 45 seconds because I wanted to compare the results.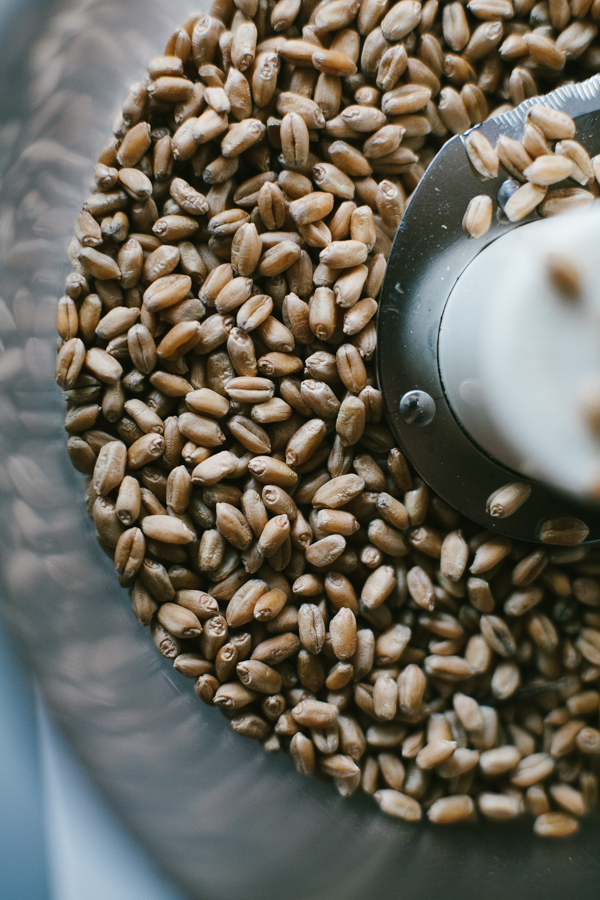 Test 1. Food Processor
As you can see from the picture it still looks like wheat berries. I even gave the machine a second chance by pulsing and blending for an additional 45 seconds and still, no flour.
Don't throw out your processor though. It does a fine job with nut flours. Simply grind up nuts to a fine meal (and before it turns into a nut butter). Sift the nut flour if you like it to be precise and fine.
As for whole wheat flour my food processor just didn't cut it.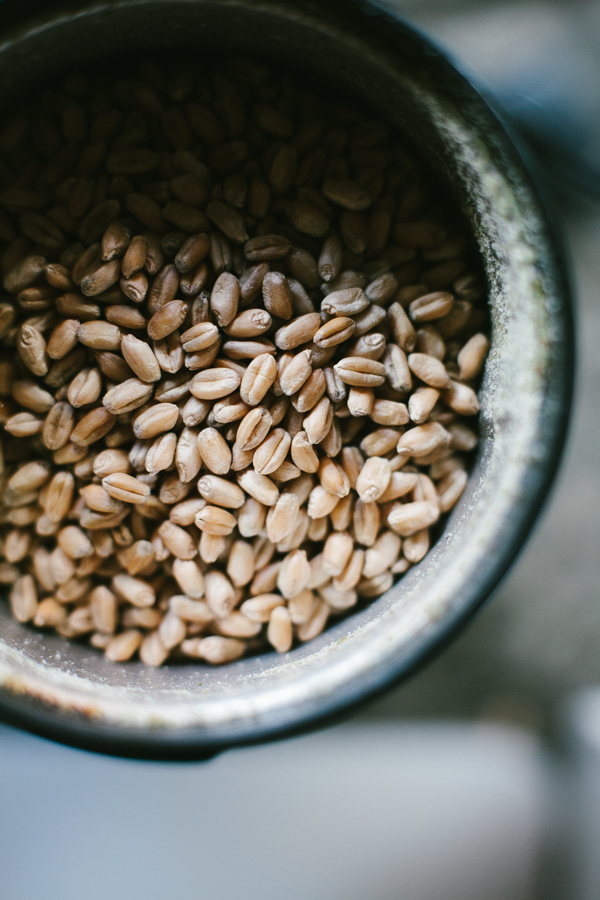 Test 2. Spice/Coffee Grinder
This worked great! It was quite coarse after 45 seconds but I kept on blending a bit more after this picture was taken and was able to get a beautiful whole wheat flour.
If you want it perfectly consistent and quite fine then I suggest sifting it through a fine sieve.
After 45 seconds of grinding
Test 3. Vitamix
It came as no surprise but this was the best method I tested by far. After 45 seconds I had a beautiful sweet smelling flour that had me questioning why I ever bought whole wheat flour in the first place. Now I realize a Vitamix is quite spendy but if whole wheat flour is important to you (as well as silky purees, speedy dressings and nutritious smoothies) then investing in a great quality blender may be a good idea. However, you can buy a grain grinder for quite a bit cheaper than a great quality blender.
If this all seems a bit too much to bother with, I understand. I am sure I'll still be buying the occasional bag of whole wheat flour but I will be sure to look for the ones that call out the fact that they are freshly milled and I will buy in smaller quantities so that I go through it before it has a chance to stale.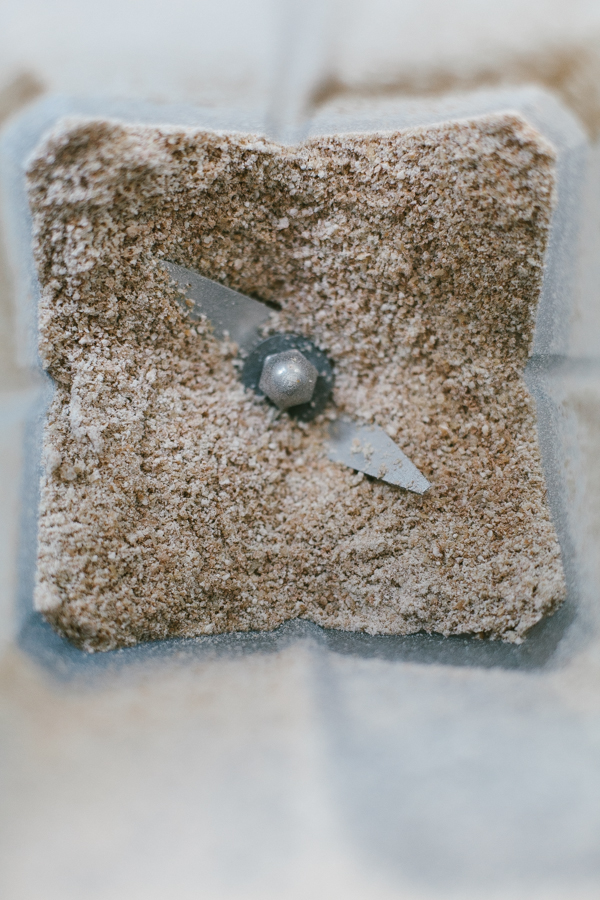 For all the information and recipes you could ever want on the subject I recommend checking out The Homemade Flour Cookbook by Erin Alderson.