Cocktail rings, dainty little pinky rings, thumb rings – they're all so pretty, and are one of the pieces of jewelry that YOU can see when you wear it — I think that's why we like them so much!
In this post, let's look at how to make wire-wrapped rings with stones. 
Master Designer Wire-Wrapping Techinques!
Learn exactly the tips & techniques you need to take your wirework to the next level! Enjoy interactive instruction from designer Aga Kruk in 7 fun HD video lessons. Enroll Now »
First, a few notes on supplies:
Pliers
The most important tool for wire could arguably be the pliers you use. The biggest thing to remember with pliers is to keep full contact with wire when using them, to avoid misshaping the wire. I tend to use Lindstrom pliers because they're easy on my hands – but any kind will do! The bent nose pliers work great for getting the right angle without twisting your wrist all around.
See more wire-wrap tool recommendations here.
Wire
Using artistic wire instead of a precious metal wire allows a lot of leeway in design, so specific measurements aren't necessary. Smaller amounts of wire are harder to control; but really long wire (longer than your arm, for instance) is also difficult. For the average size 6 ring, about 1 foot of wire should be enough.
Beads
I like using fire-polished Czech beads, usually in two-tone colors. They're strong and beautiful, and the facets catch the light and make your work a little fancier. And who doesn't like a little bit of fancy?
Mandrel
You probably need a real ring mandrel for this unless you can find something else that you know is the right final size (a fat marker, a dowel, etc.).
With those basics behind you, it's time to pick your pattern.
There are several ways to wire wrap a ring with stones in it – either by adding a bead directly to the wire ring, by creating a base and wiring beads over top, or by creating full-on wire prongs, similar to what a goldsmith or silversmith would do. Let's look at each one!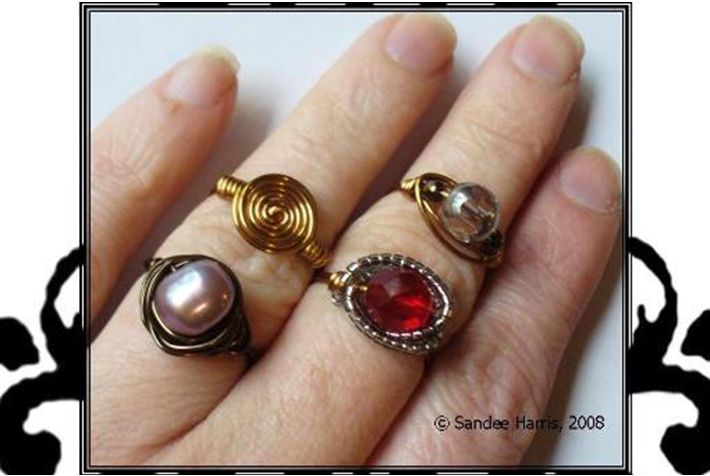 1. If this is your first wire wrapped ring with a stone in it, I recommend you start with the Rings of Wire pattern from designer ssandeelee. She gives you a method that can be adapted for FOUR different rings, including a beautiful pearl ring that is just the ticket to help you get started on this stone ring thing.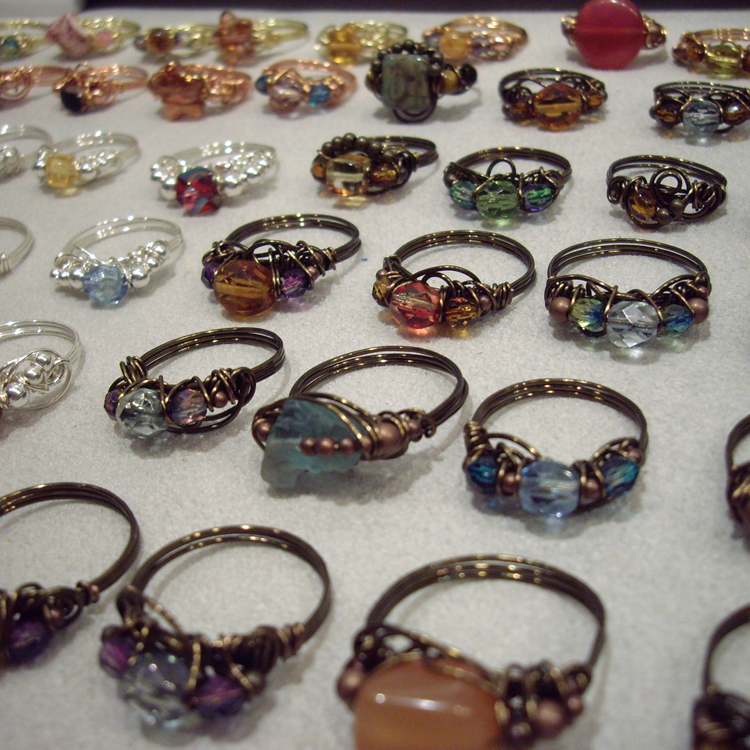 2. Next up, I'll toot my own horn with my Million-Ring Design. I've sold thousands of these tutorials (and WAY MORE of the rings) and people LOVE it. It's just slightly different, where you make a base and then wire the beads on. I've made some utterly gorgeous rings with stones using this technique – and you can too!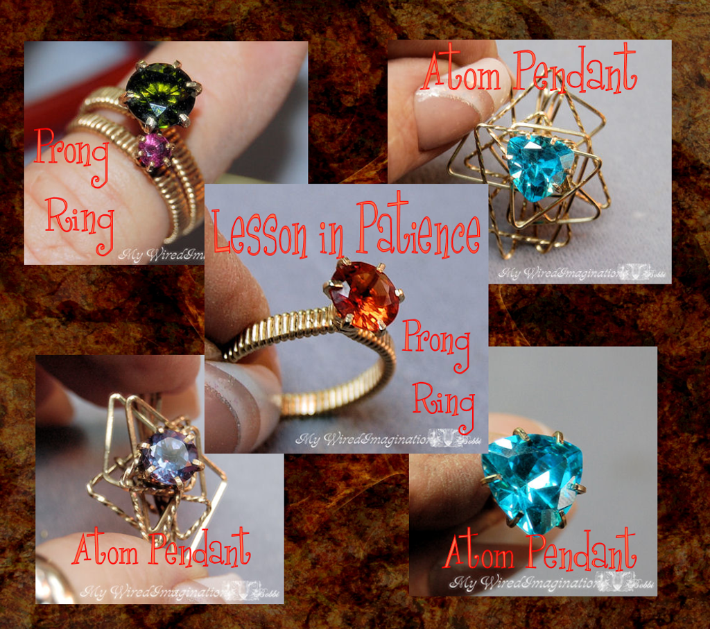 3. Finally, there's the amazing value of Bluprint member BobbiWired's Prong Ring & Pendant Wire Wrapping tutorial. FIVE different rings and pendants using wire prongs, this is not for the faint of heart. But BobbiWired is an excellent teacher and I have faith in you!
So there you have it. Three very different ways to make a wire wrapped ring with stones. What can YOU make this weekend?
Master Designer Wire-Wrapping Techinques!
Learn exactly the tips & techniques you need to take your wirework to the next level! Enjoy interactive instruction from designer Aga Kruk in 7 fun HD video lessons. Enroll Now »