Washer jewelry is bold, distinctive and an easy gateway into metal jewelry making. Whether you use steel washers or the more elusive and malleable copper washers, you can easily turn these metal donuts into stunning accessories in just an afternoon.
If you're wondering how to make washer necklaces, you're in luck –– just check out the step-by-step tutorial below. Once you're done, you can customize your pieces with colorful enamel, nail polish, liquid polymer clay or alcohol inks. You can even use metal stamps to hammer words and designs into your washers for an enduring style statement.
How to make washer necklaces
Ready to get started? We'll be working with copper, since it's softer and easier to use, to make a sophisticated, antiqued necklace. 
Step 1: Arrange your washers
Pull out a variety of copper washers and arrange them to your liking, in as large a grouping as you like. This group is about 2″ across.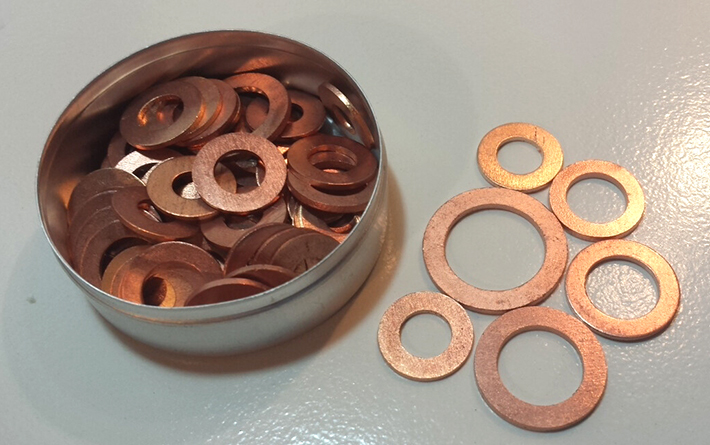 Step 2: Hammer & add texture
Use both ends of a jewelry chasing hammer to add texture to your washers. Vary the angle, position and strength of your blows to make distinct patterns on each washer –– the more you experiment, the more unique your necklace will be.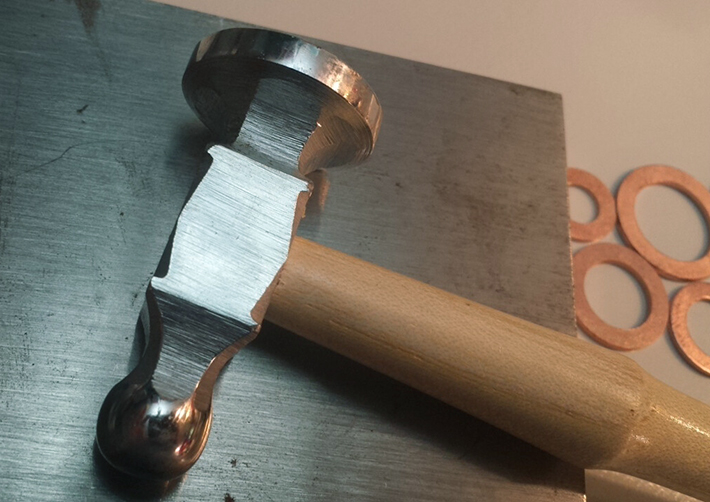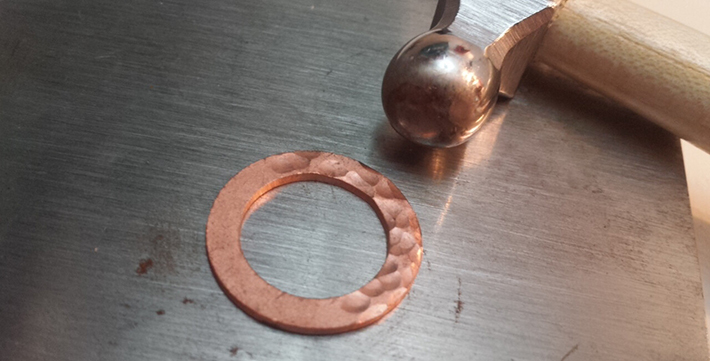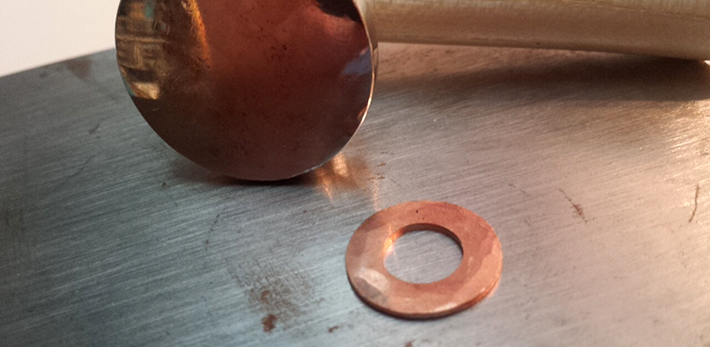 Then, take another look at your washer arrangement –– don't be afraid to play around until you find a design you really love. If you're struggling, remember that your necklace doesn't have to be symmetrical: abstract shapes can add eye-catching appeal to your piece.
Step 3: Time to bind
Using 24-gauge bare copper wire, bind the washers together at each join (wherever they touch each other). You can aim for precision, but since I like the messy look, I've used a single wire throughout and varied my binding numbers and techniques, from wrapping around two washers to using a basket weave between them.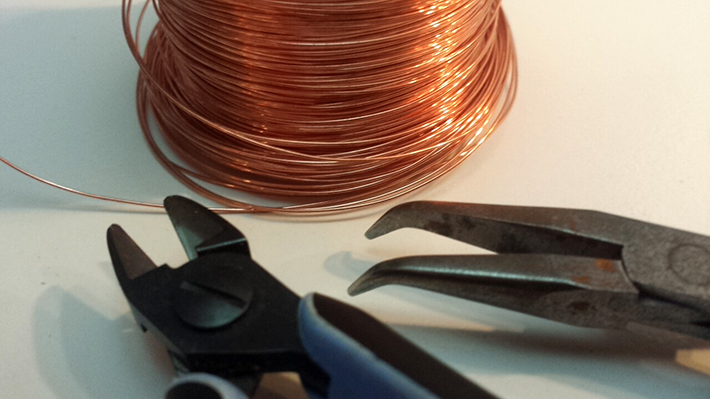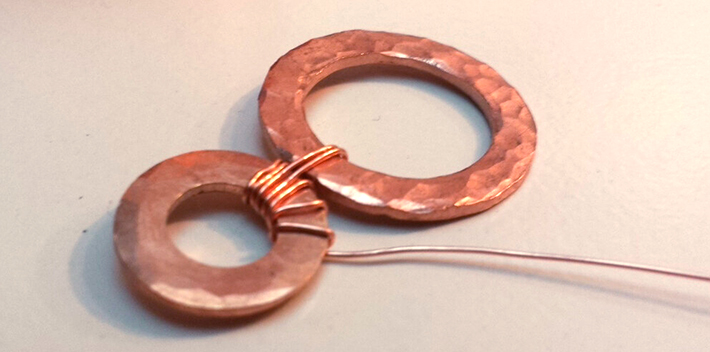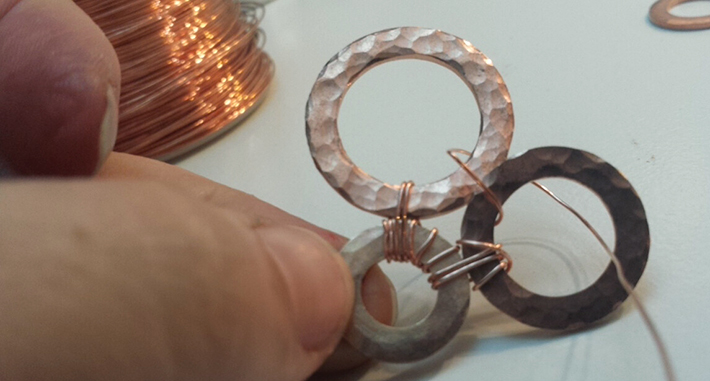 Step 4: Take two — hammer again
Don't stress if your wraps are messy and a little loose –– I've got a simple fix. Use your wire and a pair of pliers (not shown) to make s-curves on the back of your washers, and push the wraps closer together on the front. Then, lay the whole thing on your hammering surface and give it a few whacks! It'll tighten up the look and the structure of the piece.

Step 5: Antique-chic
Our next step is my favorite! You have a few options for adding an antique finish to your piece; you can use liver of sulfur, but I've found that the Swellegant Darkening patina is a little faster and gives similar results. (It's also especially useful when you're working on a single piece). Simply dab it on your washers with a brush, let it darken to the desired degree and dunk the whole thing in water to stop the process. You'll end up with a completely black piece, but don't worry! Using a kitchen scrubbie, start scrubbing the patina until you get a look you like, with just the crevices remaining dark.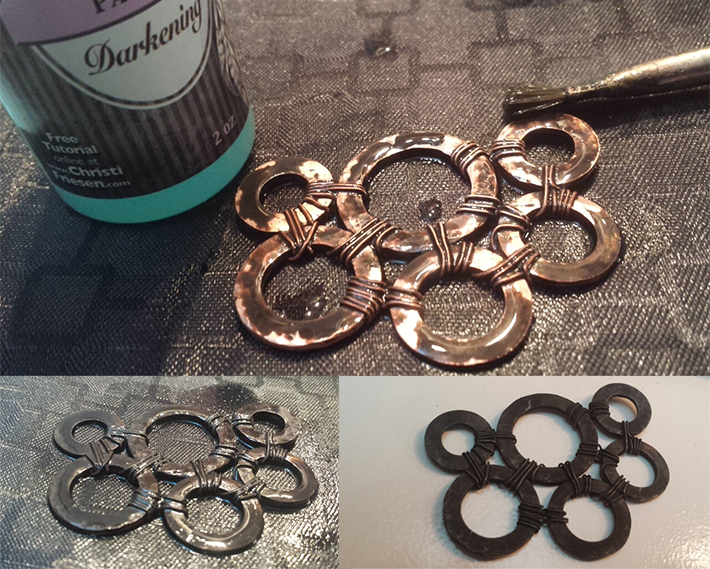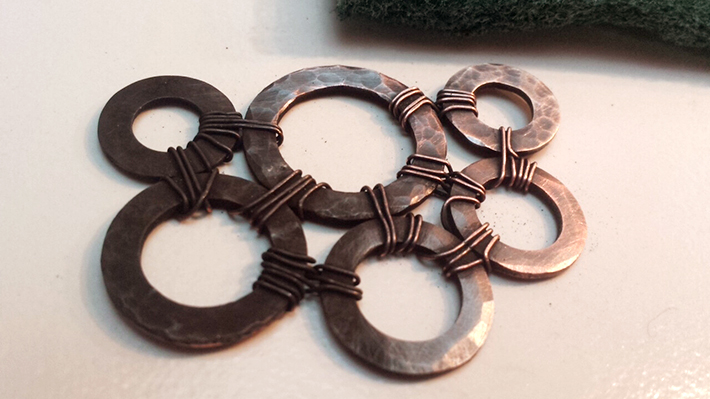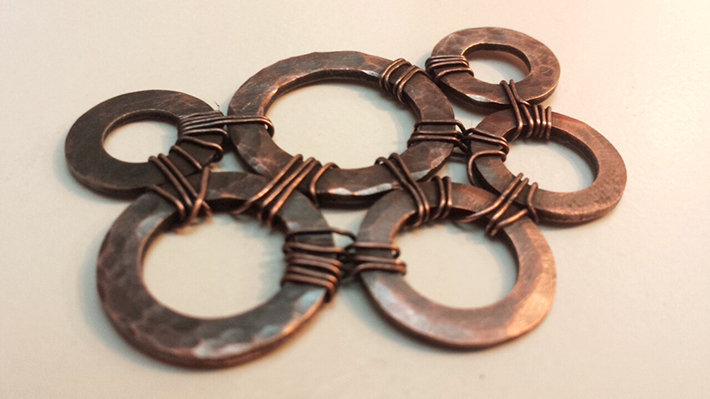 Step 6: Add a chain…and admire your work!
Use a couple of jump rings to add a length of chain to the two sides of your piece, making it a necklace. And that's it! It's simple, fun and fast to make washer necklaces at home, and even easier to find a reason to wear them.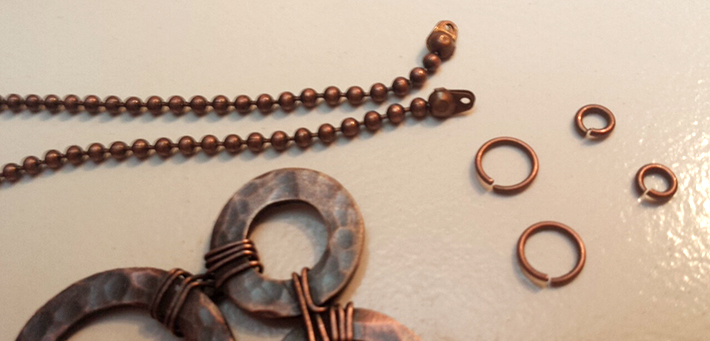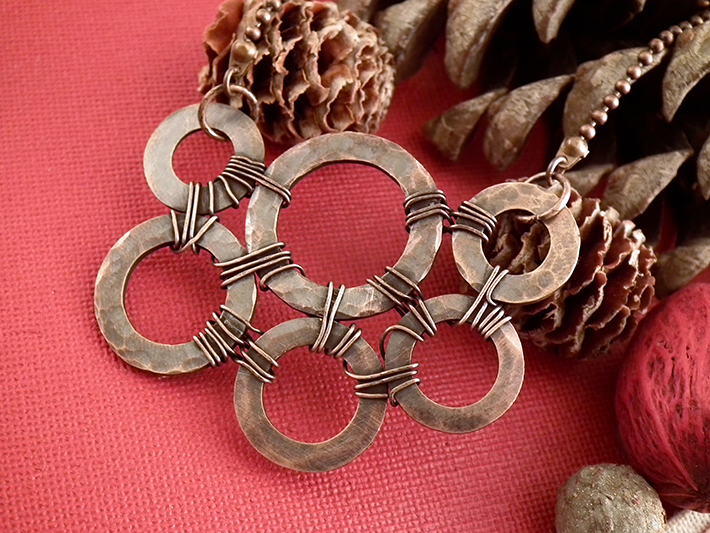 You might also enjoy our post on how to make a washer bracelet.