If you follow any special kind of diet, you get really good at asking questions at restaurants, reading labels and being cautious about what you eat. If you are vegetarian or vegan, these questions seem to often revolve around one or two simple questions: "Does this contain meat?" and "Is this vegetarian?" Pad Thai is one of those strangely confusing works of Thai cooking because it seems vegetarian, but actually isn't. Learning how to make your own vegetarian pad thai can eliminate the confusion without sacrificing any of the flavor.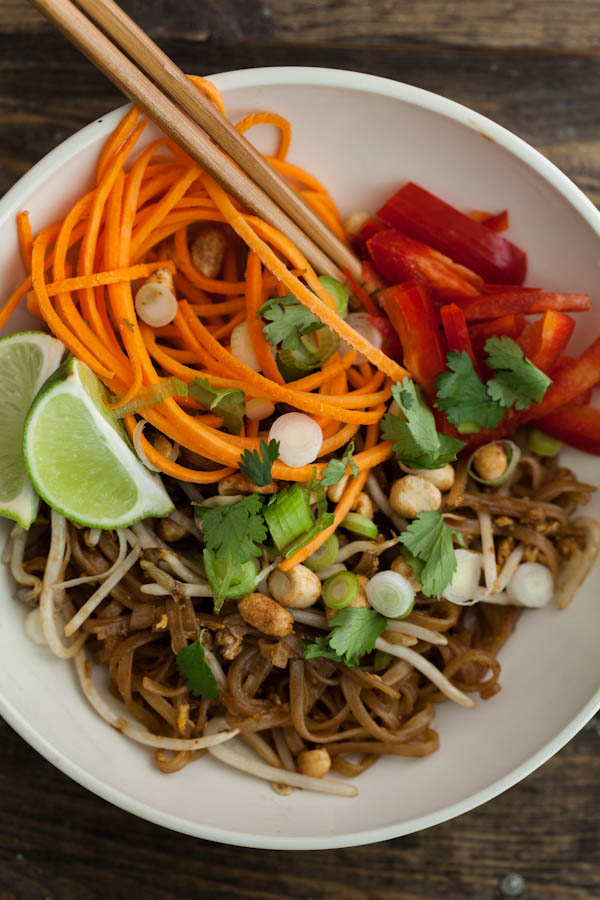 Avoid the confusion and make your own animal-product-free vegetable pad thai at home!
So why is ordering vegetarian at a restaurant so confusing? Take Parmesan cheese for example. While there are a small, select few brands that are vegetarian, the majority of Parmesan cheese isn't (it's made using animal rennet.) Or say you're at your favorite Mexican restaurant, the tortillas and refried beans could potentially contain lard. No bueno.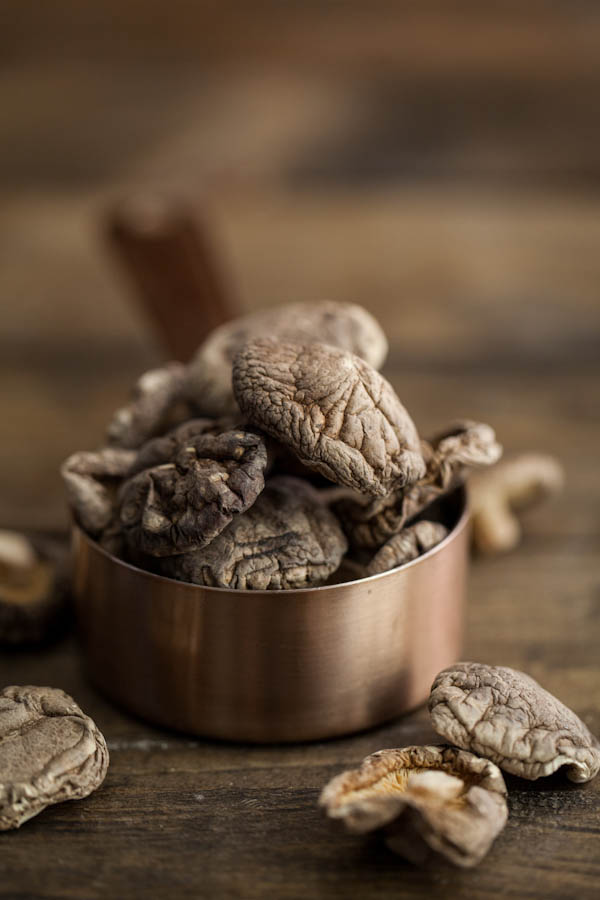 Why isn't most restaurant vegetable pad thai vegetarian?
And then of course, there is pad thai. I have a major weakness for Asian noodle bowls brimming with vegetables. These meals are often perfect for a light dinner or a filling lunch (and in my mind, usually better as leftovers). However, even if it's labeled "vegetable pad thai," it doesn't necessarily mean it's vegetarian.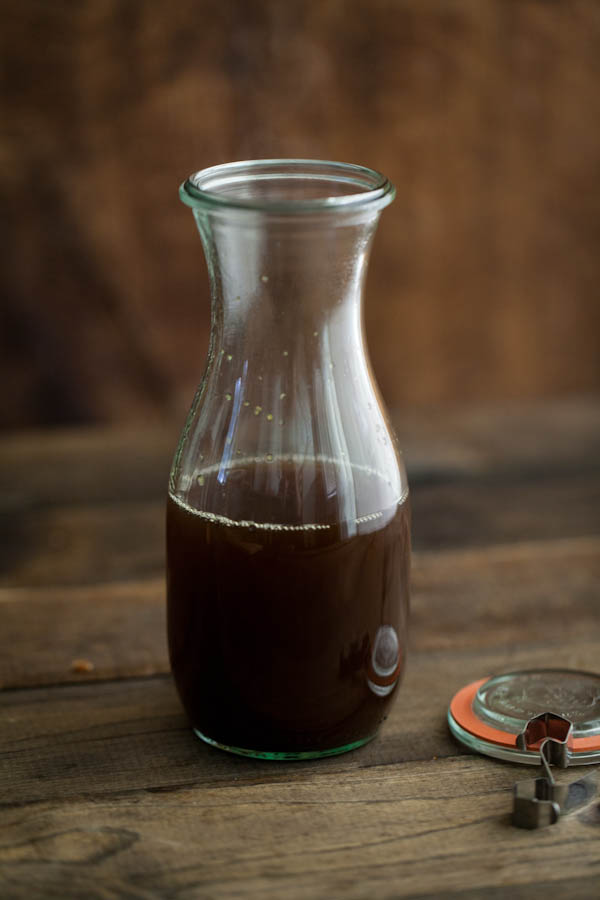 Whether you're a vegetarian or just love your greens, Craftsy's healthy cooking page can inspire your weeknight meals with tips, tricks and recipes that are good for your waistline and your tastebuds!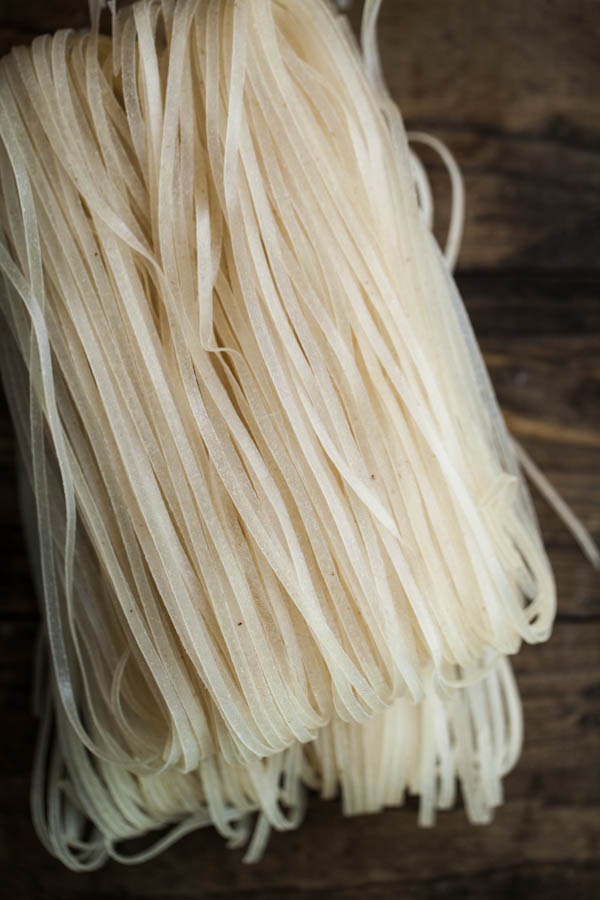 The sauce is really what makes pad thai and if you dig into the ingredients, you'll find that part of the overall taste comes from fish sauce, making the pad thai non-vegetarian friendly. However, finding a good replacement for fish sauce can be kind of tricky.
The fish sauce in the pad thai recipe imparts a subtle earthy and salty taste that can't easily be replicated with vegetarian ingredients. Most recipes call for using soy sauce or tamari in place of the fish sauce to keep the saltiness of the pad thai, however, you lose the great undertone of earthiness.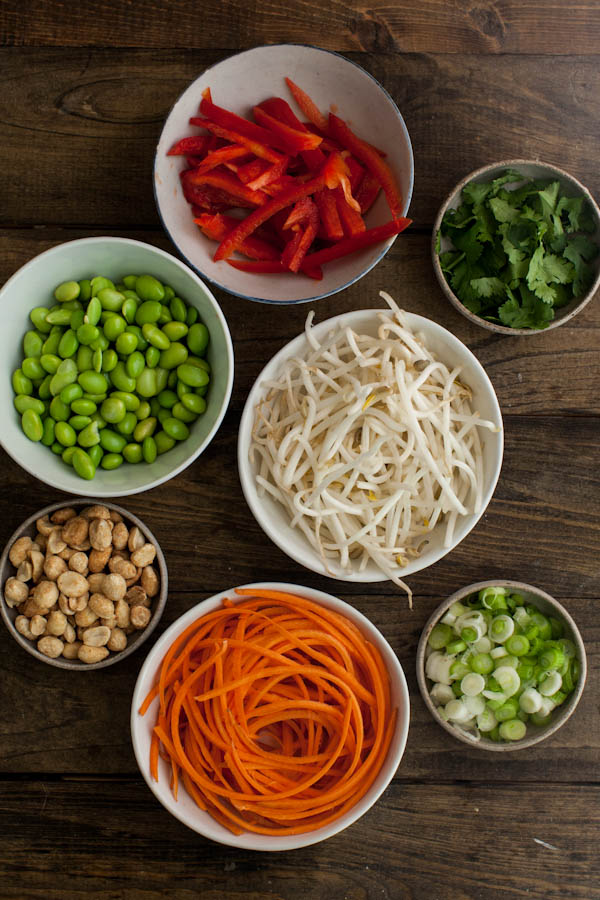 Re-creating the flavor of pad thai without fish sauce
After a bit of research and experimentation, I paired two key items that, while not exactly fish sauce, help me keep the undertone of earthiness without using fish sauce: mushrooms and kelp flakes. The mushroom broth, from dried mushrooms, brings the earthiness, while the kelp flakes adds the "ocean flavor" often hinted at with fish. Both can be found in most health food stores or your local Asian market.
Alone, this sauce isn't too special, but when it's mixed in with the tamarind paste and sugar, it creates something pretty divine.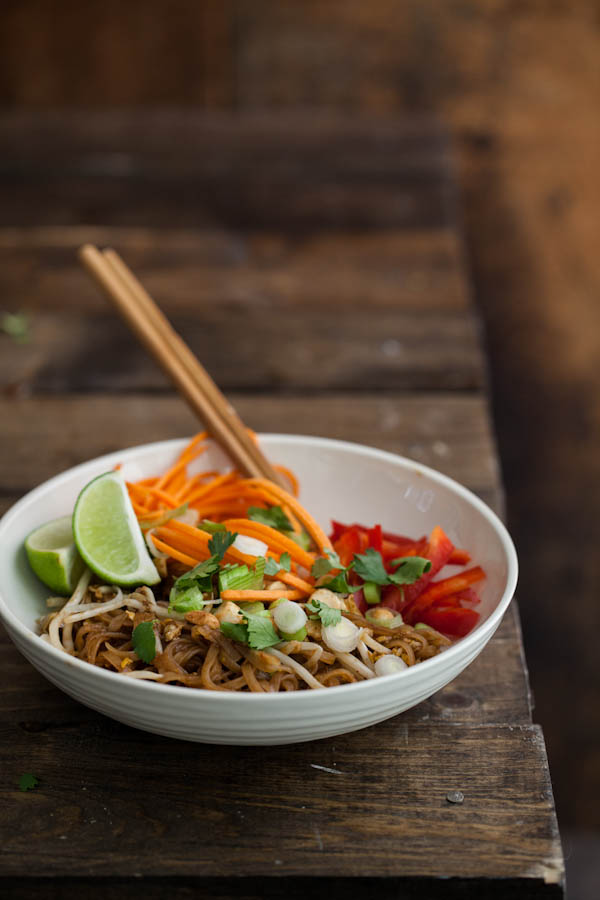 Vegetarian pad thai recipe
Recipe adapted from America's Test Kitchen
Serves 3 to 4
Ingredients:
8 ounces pad thai rice noodles
1 tablespoon peanut oil
1 shallot, minced
2 cloves garlic, minced
1 cup bean sprouts
½ cup shelled edamame
Pad thai sauce:
3 tablespoons mock "fish" sauce (see recipe below)
3 tablespoons turbinado sugar (or brown sugar)
3 tablespoons water
1 tablespoon sriracha
1 tablespoon tamarind paste
Toppings:
1 carrot, julienned
4 scallions, thinly sliced
½ red pepper, thinly sliced
¼ cup chopped roasted peanuts
3 tablespoons minced cilantro
Lime wedges, for serving
Step 1:
Cook noodles according to package instructions, making sure to not overcook them into mush. Drain and rinse with cold water, so they do not stick. Set aside.
Step 2:
Whisk together ingredients for the pad thai sauce and set aside.
Step 3:
Heat peanut oil in a wok or large skillet over medium heat. Add shallots and garlic, and cook until fragrant, 30-60 seconds. Stir in the noodles and sauce. Cook for 2-3 minutes, occasionally flipping the noodles while you fry them. Add in the edamame and bean sprouts, continuing to cook for 1 more minute.
Step 4:
Divide the noodles into two bowls and top with the julienned carrot, green onions, red peppers, roasted peanuts and cilantro.
Serve in a bowl with 1 to 2 lime wedges. If you like a bit more sauce with your noodles, make some extra and serve on the side as well.
Vegetarian mock fish sauce recipe
Ingredients:
3 cups water
½ ounce shiitake mushrooms
2 teaspoons kelp flakes
1 tablespoon sea salt
3 tablespoons soy sauce
Step 1:
Combine ingredients in a pot. Bring to a boil, reduce heat slightly, and continue to cook until the mixture has concentrated, reducing by roughly half.
Step 2:
Pour mixture through a sieve, discarding the shiitake mushrooms and leftover kelp flakes. This can be stored in the refrigerator until your ready to use if for your pad thai sauce.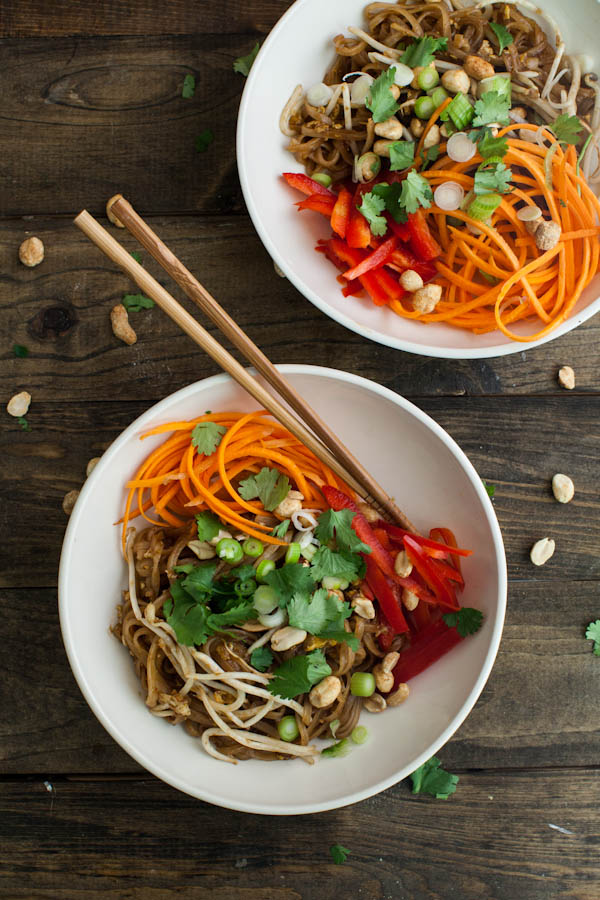 Be sure to check out Craftsy's fantastic thai cooking class, Thai Cooking Essentials, for tips on cooking this delicious Asian cuisine as well as some veggie-friendly recipes!
What's one of your favorite restaurant dishes to re-create at home?