Turon (also called banana lumpia) is a popular Filipino snack made with bananas and jackfruit, wrapped in spring roll wrapper and fried.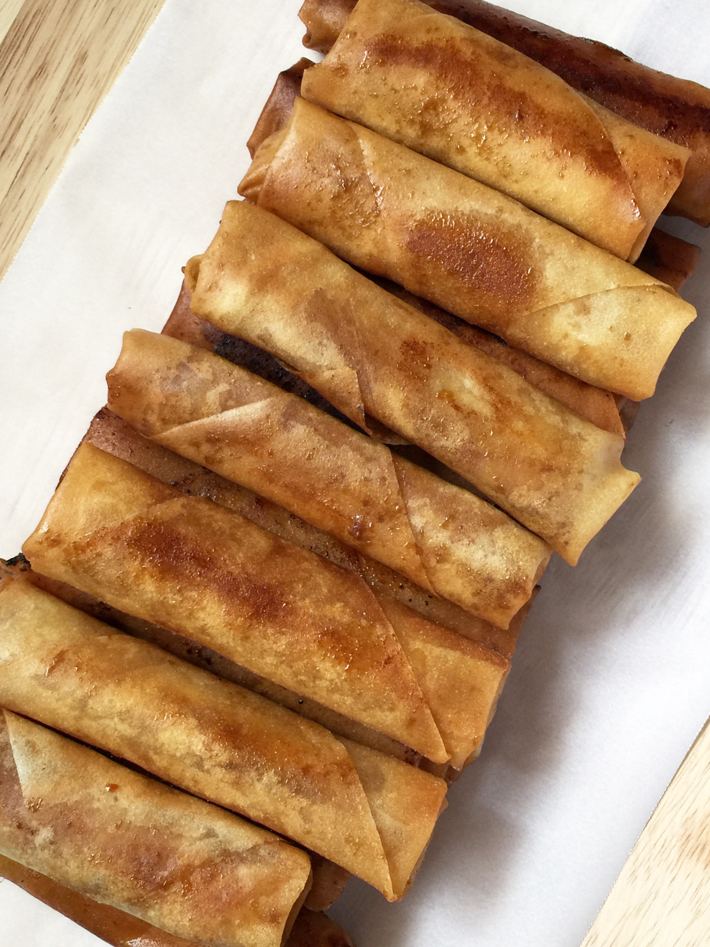 It's a lot like its more savory cousin the meat or veggie-filled lumpia. You'll find that this popular street food is quite filling and tasty!
Learn how to make turon with this recipe and tips!
Before diving in, let's first talk about the ingredients. There are only four ingredients in turon. Yup, only four! Brown sugar will likely be the most familiar ingredient. I'll give you a quick briefing on the other three.
Bananas
There are many varieties of bananas aside from the regular sweet bananas commonly seen at grocery stores. In the Philippines, different varieties of bananas are plentiful. Bananas are a staple food included in many cooked dishes because they provide starch. It's a little like the inclusion of potatoes in American dishes.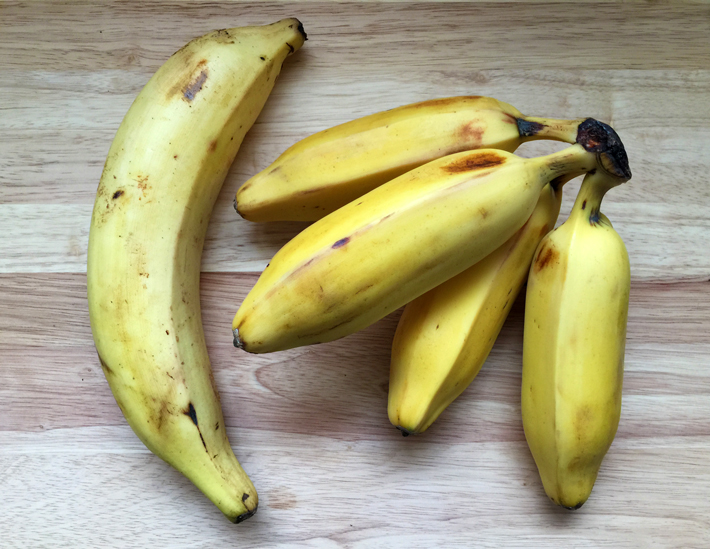 At Asian markets, there are usually four or five types of bananas to choose from. For turon, choose the less sweet and more starchy saba bananas, or cooking bananas (they're sometimes called cardaba bananas).
These bananas are larger than regular bananas, but not as large as plantains. I've placed a plantain next to a bunch of saba bananas for size reference. Ripe saba bananas are very yellow but the tips, corners and edges will be brown.
Saba bananas are traditional in turon, but you can use regular bananas too. Just keep in mind that they're already very sweet and mush very easily, unlike the saba.
Jackfruit
Jackfruit isn't a fruit you usually see at your grocery store. It smells like a combination of overripe peach, mango and pineapple and tastes very sweet and tropical. Jackfruit, better known as Langka in the Philippines, is the largest tree-growing fruit in the world.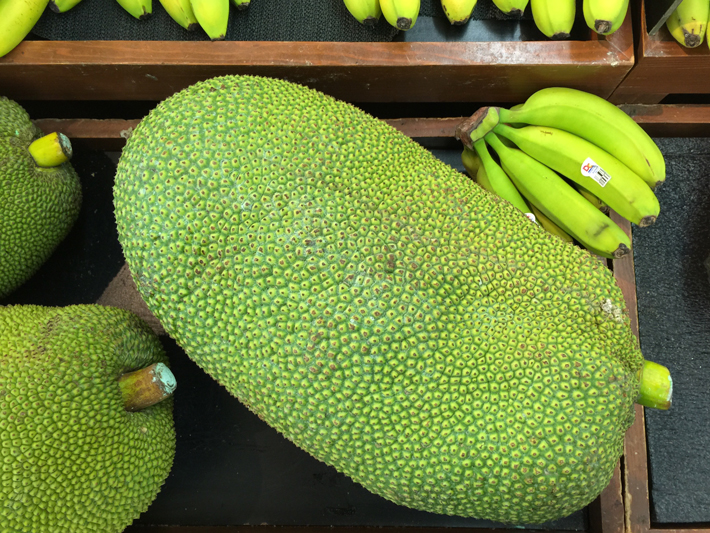 They grow to be quite large. I've included a bunch of regular Dole bananas in the photo above for reference. This jackfruit probably weighed at least 40 pounds.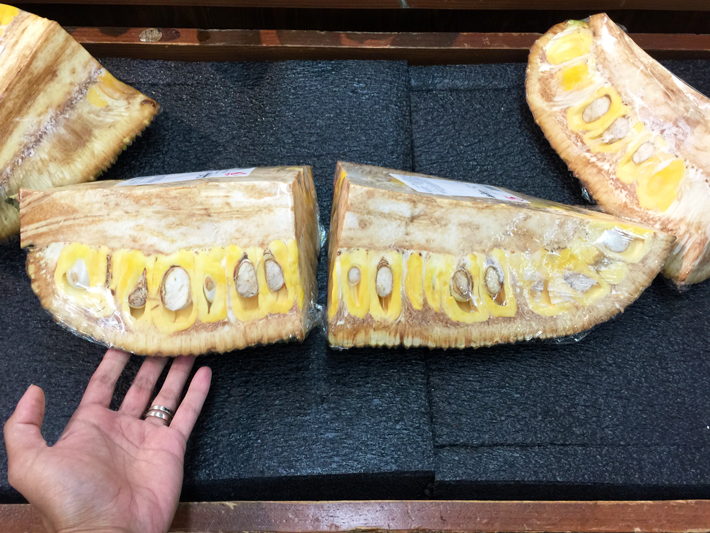 The Asian market I went to also sold fresh jackfruit in smaller, easier-to-handle pieces. The yellow bulbs are the edible parts.
Fresh jackfruit is preferable with making turon, but it's not necessary. It's easier to find canned or jarred jackfruit in the Asian section of your grocery store.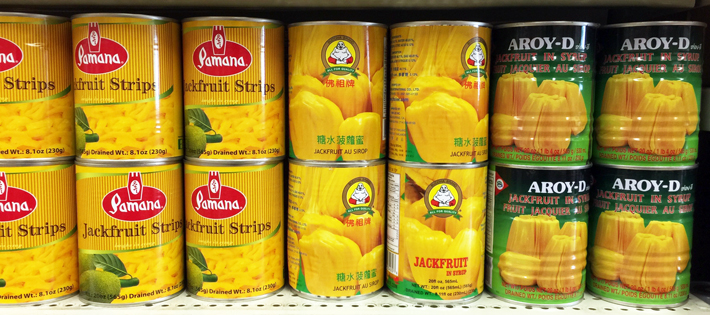 There are many different brands of jackfruit, either whole or sliced, and they're usually packed in syrup. I always buy the whole pieces and slice them into strips myself.
Lumpia wrapper
After being introduced to lumpia wrapper, you may want to wrap everything in it. The crunch is incomparable and so satisfying in itself.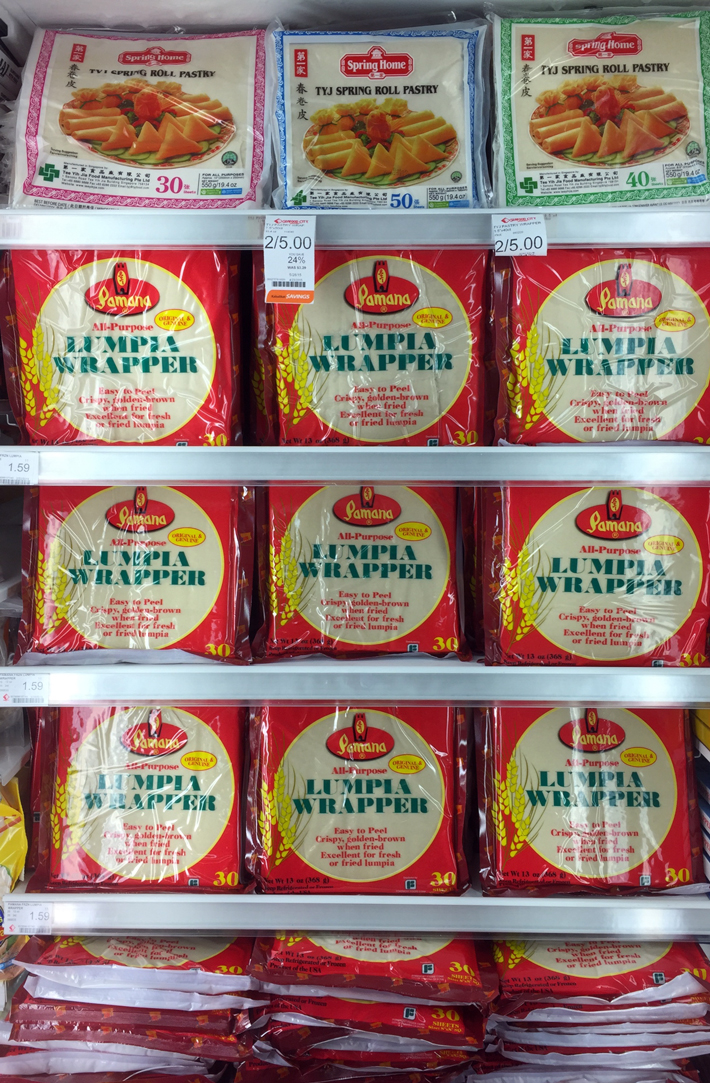 Lumpia wrappers are might be labeled as spring roll wrappers, lumpia wrappers, spring roll shells, spring roll pastries, etc. They're all the same. I buy the square ones (versus the round).
Let's get started with making this goodness, my mouth is watering already!
Turon Recipe (Banana Lumpia)
Makes 16 rolls
Ingredients:
4 ripe saba bananas
½ cup brown sugar
1 can of jackfruit
16 lumpia or spring roll wrappers
Vegetable or canola oil for frying
Step 1:
Thaw lumpia or spring roll wrappers. Peel them apart so now to make preparing the turon easier.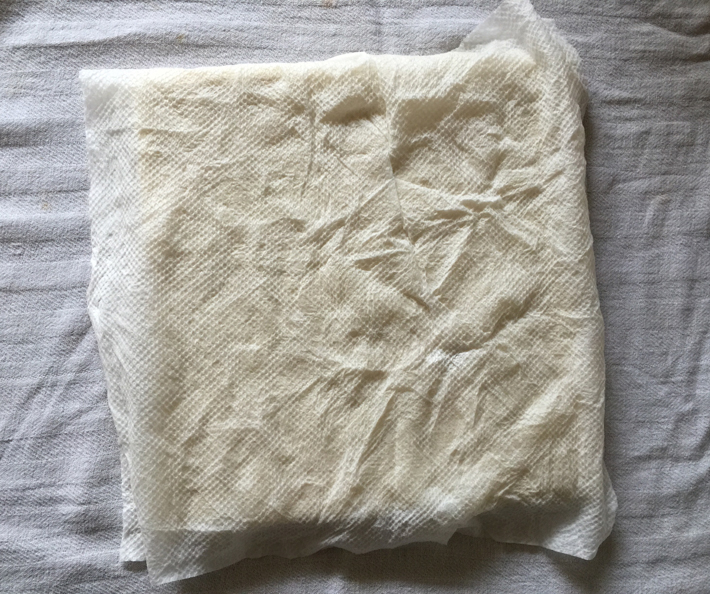 Once they're peeled apart, cover them with a damp paper towel so they don't dry out.
Step 2: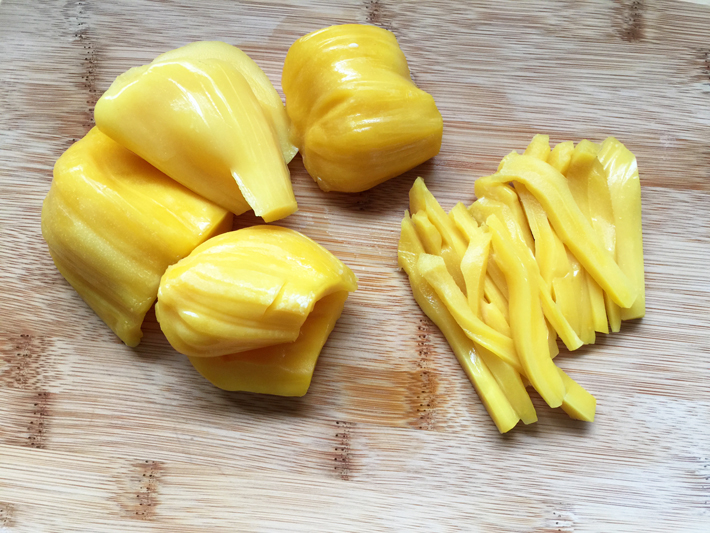 Drain canned jackfruit and cut into strips, if it is not pre-cut into strips already.
Step 3: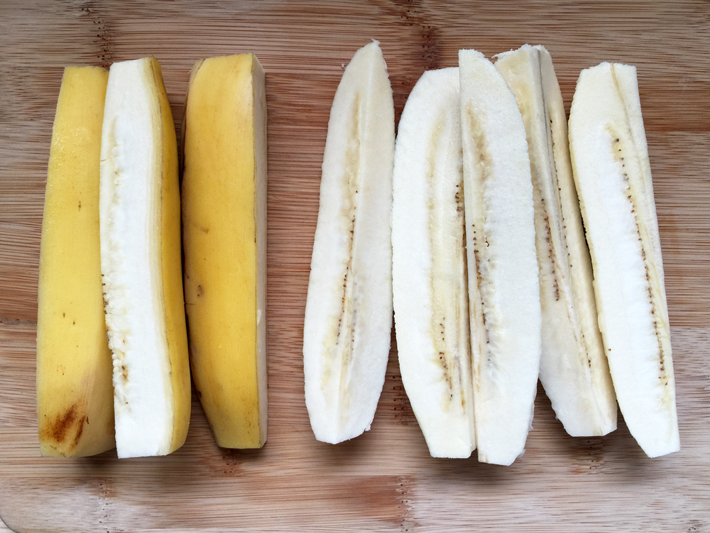 Cut each saba banana into four pieces lengthwise. I find it easier to leave the skin on, cut the ends and cut into the four pieces before peeling the skin off each piece.
Step 4: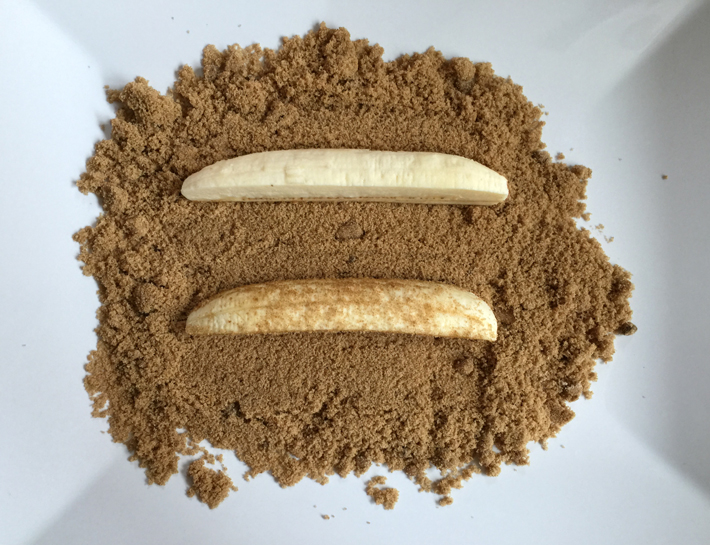 Spread brown sugar in a shallow dish. Roll the banana slices in the brown sugar, making sure each piece is covered with a generous amount of sugar.
Step 5: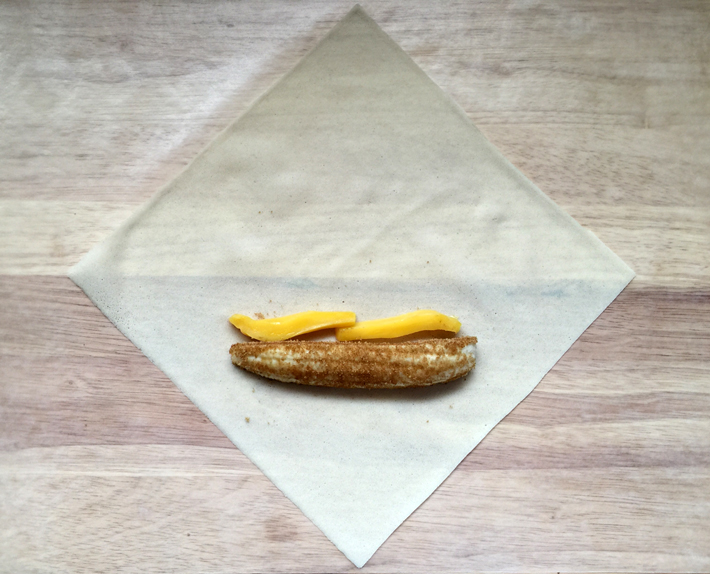 Place a lumpia wrapper in front of you, then place a banana slice on the wrapper ⅔ of the way down. Add two or three strips of jackfruit along the length of the banana.
Step 6: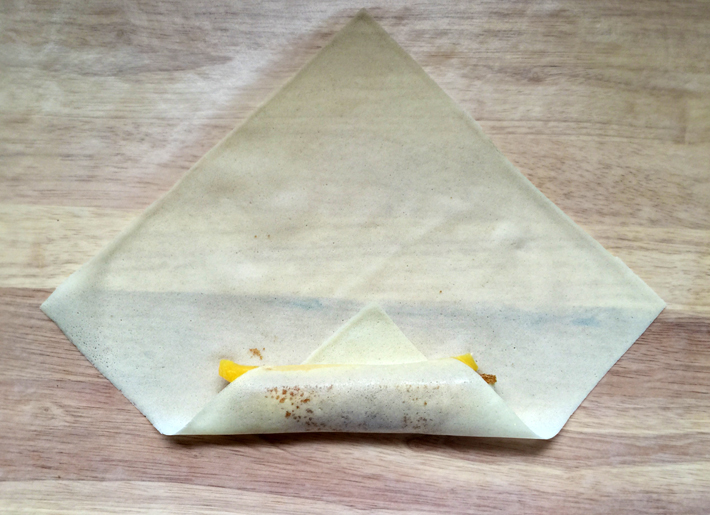 First, fold from the bottom up. We want to wrap it tight.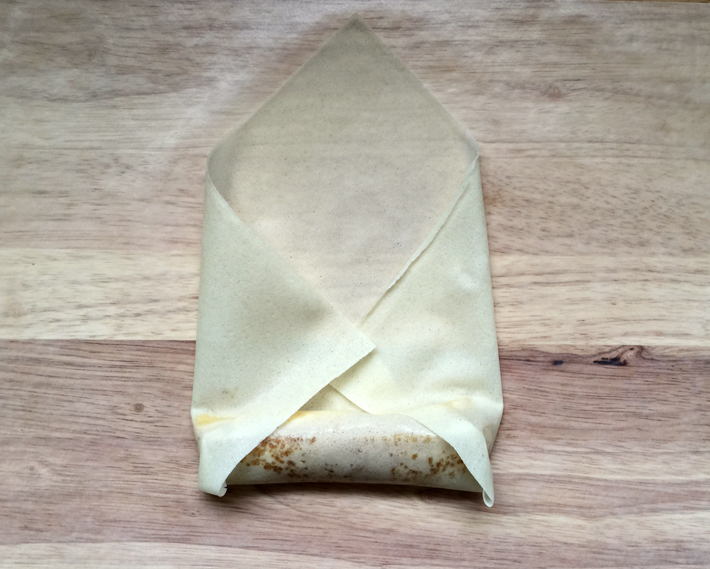 Next, fold the sides in and continue to roll up. Use some water to moisten the top inch before rolling it up completely. 
Step 7: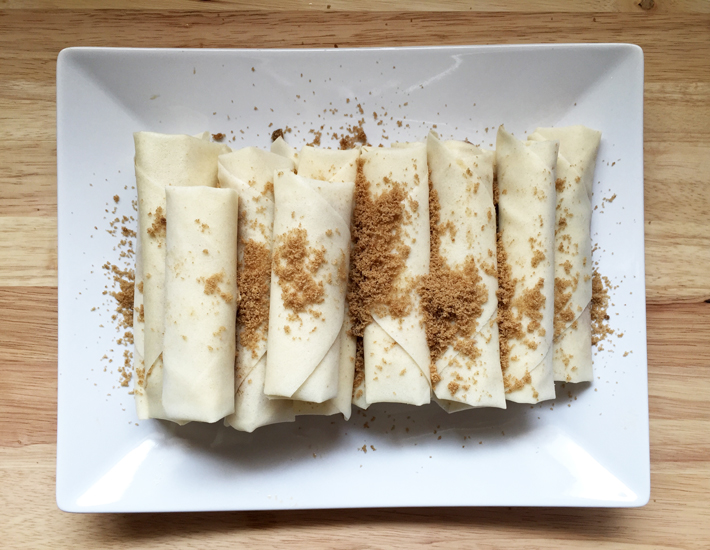 Once you've rolled all the banana slices, dust the rolls with the remaining brown sugar. This will give it a light glaze and a bigger crunch.
Step 8: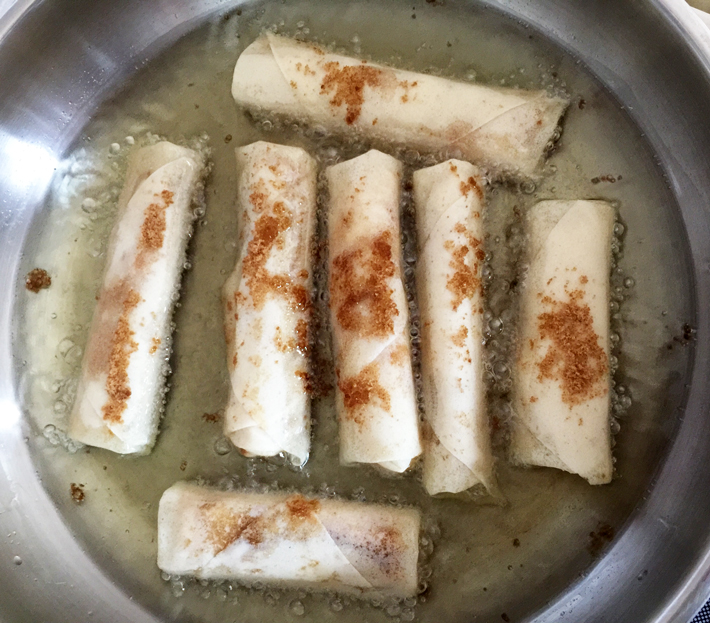 Heat about an inch of oil in a pan over medium heat. Fry the turon on each side, turning as needed, until they are golden brown, about two or three minutes. Place in a metal colander or on a wire rack with paper towels under it to drain (they will stick to paper towels).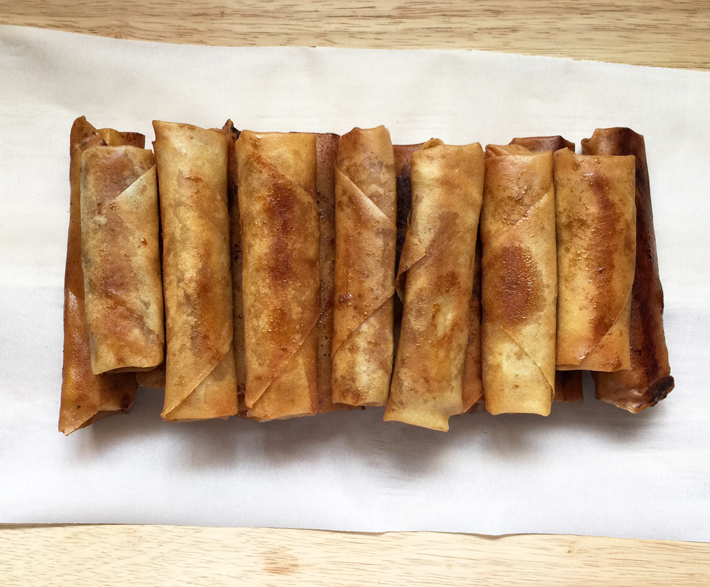 Let cool and serve immediately.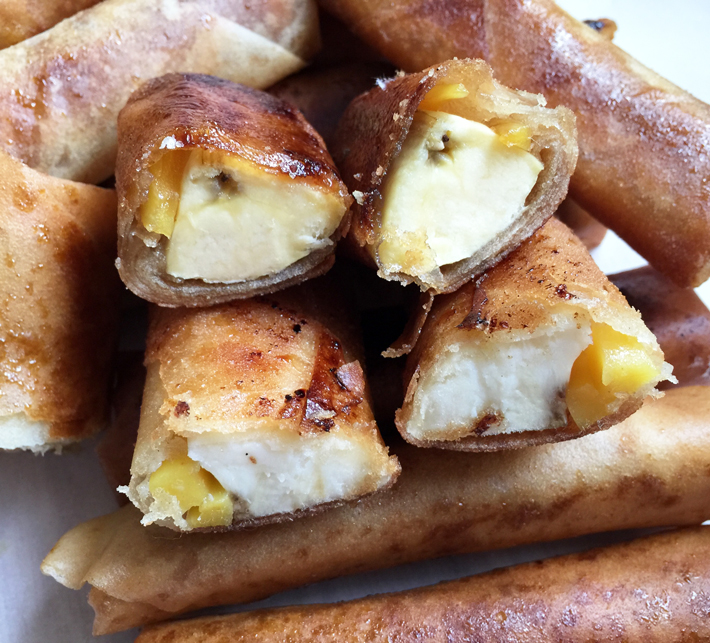 Yum! Leave a comment below, I would love to know how you liked this recipe!