Welcome to the season of sunshine. And what better way to celebrate the first day of summer than with these easy-to-make sunshine cake pops. As an island native, these summer cake pops were inspired by my love for the Pacific skies and my fondness of the outdoors. These are the perfect treat for for backyard barbecues, beach-themed parties or any type of fun-in-the sun gathering!
With this tutorial, I'll teach you how to make sun cake pops in a snap!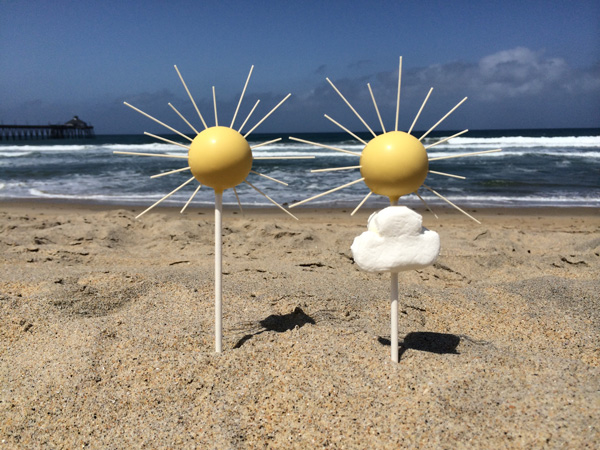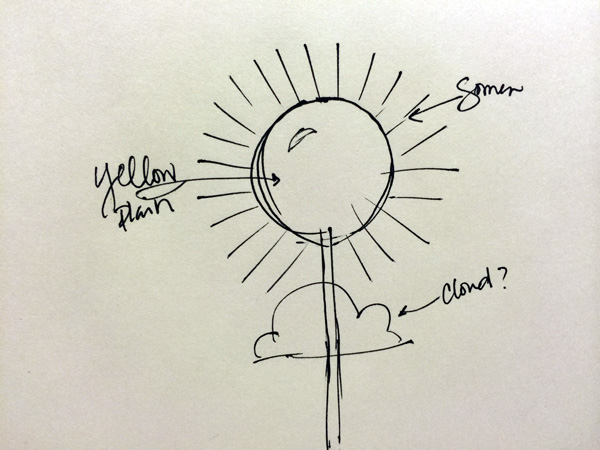 Hello, sweet summer sun!
This is an easy tutorial, perfect for beginners, but can also be spruced up for an additional challenge. We'll be working with very few items, including Somen noodles. I like using these noodles specifically for cake pops because they're very thin and easy to eat in a dehydrated state as opposed to pasta, which can't be bitten into safely or enjoyed until cooked in boiling water. Somen noodles are inexpensive Japanese buckwheat noodles that can be found in the Asian or Ethnic section of your nearest grocer.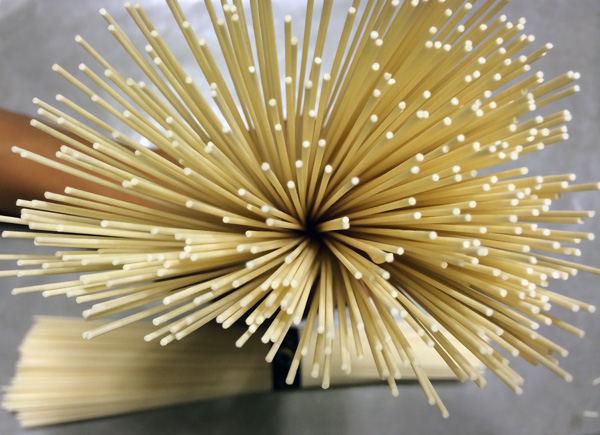 You will need the following:
Cake pop dough shaped into balls
Lollipop sticks
Yellow candy coating
Somen noodles
Wax paper
Cake pop stand or styrofoam block
For an added challenge, you'll also need:
StackerMallows Marshmallows
Scissors
Step 1:
First, roll your cake pop dough into balls. If you're new to cake pop making or not sure how to properly make cake pop dough and form shapes,
If you need some help molding your dough, check out my tutorial on how to shape cake pops.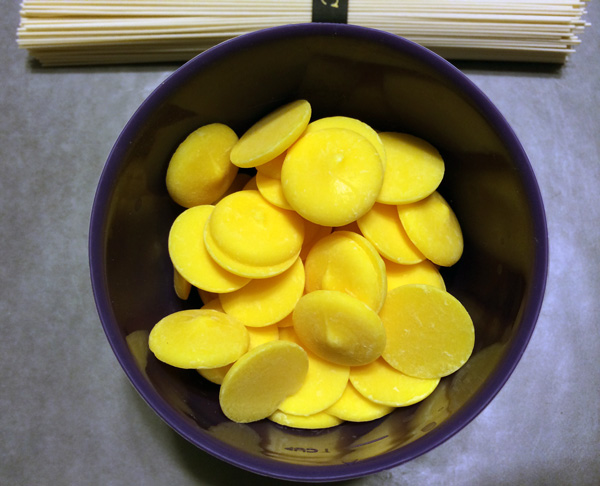 Step 2:
Refrigerate your cake balls for at least 5 minutes. While they're chilling in the fridge, use this time to to melt your yellow candy coating. If you need help with melting and thinning candy coating, let this cake pop dipping tutorial be your guide!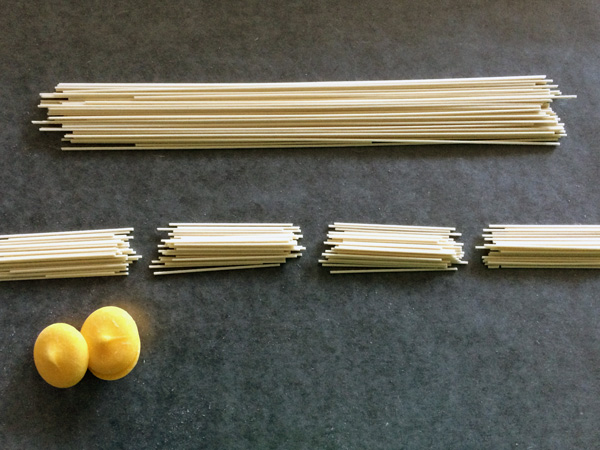 Step 3:
Next, carefully snap a few Somen noodles into smaller pieces. I like to snap the length into four equal pieces. Don't worry if they're not exactly equal lengths. You can cut them down more as soon as the cake pops have set and dried.
Step 4:
Remove the cake balls from the fridge. Dip a lollipop stick, about ⅓" into the melted coating, then push it in until it's about halfway into the cake ball. Repeat this step for the remaining cake balls.
Step 5:
Once all the sticks have been inserted, the cake pops are ready to be dipped. This part may be a bit tricky because you'll need to stick all of the somen noodles into the cake pop right after dipping, while it's still wet.
I like to cover my work surface with waxed paper and place the Somen noodle pieces on my work surface near the bowl of candy coating, so there's very little lapse in time from coating to placing the noodles into the cake pop.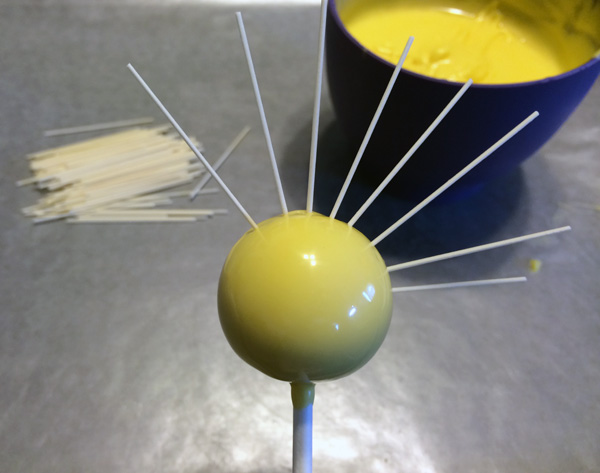 Step 6:
Hold the cake pop upside down and submerge, in one motion, into the candy coating until you see the coating cover the entire ball and meet the stick. Then lift up to remove from the coating. Let the excess coating drip back into the bowl using an up and down motion with your arm. Turn it right side up. Hold it over the wax paper and carefully push the noodles into the cake pop.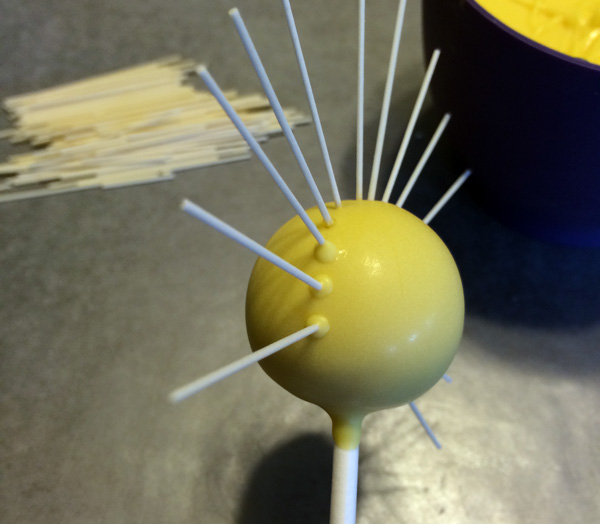 Cake decorator's tip: If you find your coating has dried, but are not done with adding the noodles, dip the tip of the noodle into the candy coating and push into the dried coating. Some excess coating might continue to drip off onto the wax paper as you do this. Place on the cake pop stand to dry.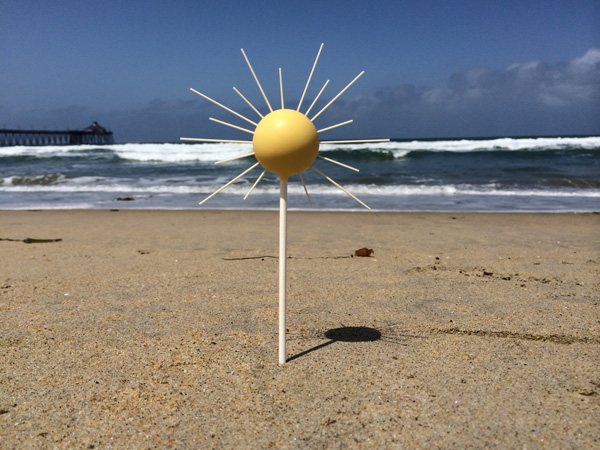 Step 7:
Once they're completely dry, carefully even out the lengths of the sunrays by gently nipping off pieces using your fingers.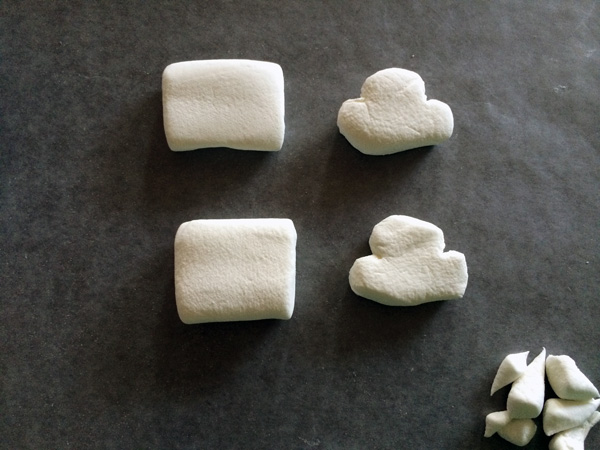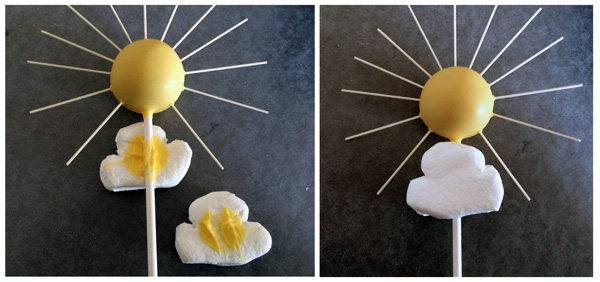 Step 8:
For an added touch, add some marshmallow clouds! I used scissors to cut two square StackerMallows marshmallows into two fluffy clouds and sandwiched the stick with both marshmallows just below the cake pop using candy coating to adhere them together.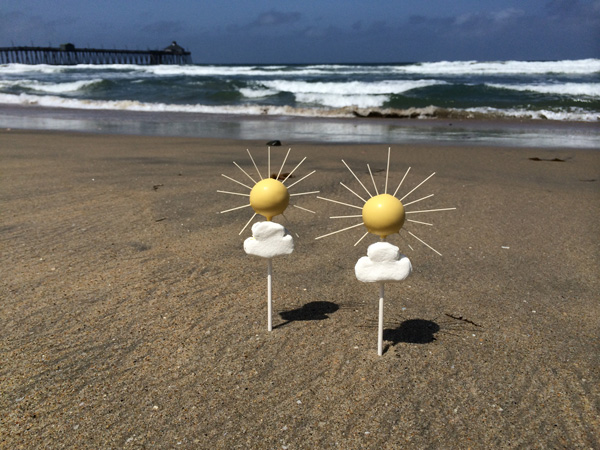 What memories would you like to make with these sunshine cake pops?