Big flowers are in for cake decorating! Whether there is a sole large flower, or if it's accompanying many smaller sugar flowers, and whether they are whimsical or realistic, sugar flowers are a beautiful complement to any cake.
And the good news is: it's easier to learn how to make sugar flowers than you think!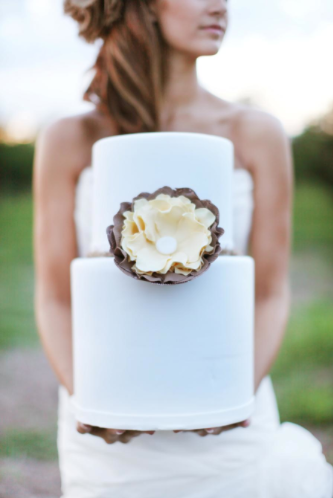 Today we are going to make whimsical and fun sugar flowers, because that is my style. But if you are hoping to make realistic sugar flowers you should check out Nicholas Lodge's amazing Bluprint classes: Classic Sugar Flowers and The Ultimate Sugar Rose.
Here's how to make a fun white sugar flower that could later be brushed to add color and life. Plus, we'll also look at how to make some cute sugar sunflowers!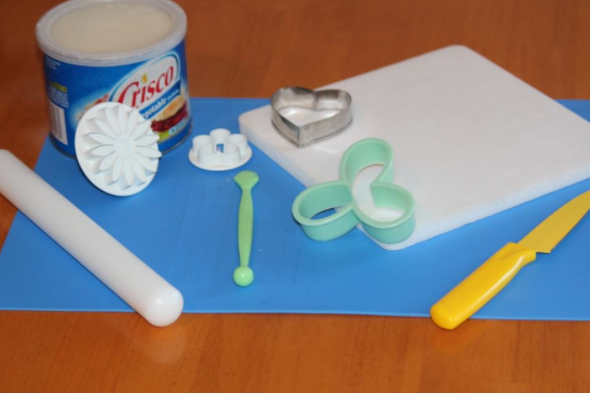 Supplies you'll need:
Gum paste (You can buy it or make it. Try out Nicholas Lodge's Gum Paste Recipe. Jacqueline Butler also shares her personal recipe in her Bluprint class Handcrafted Sugar Flowers)
Flower cutters of your choice. We will be using the green 3 petal cutter shown above.
Fondant roller
Ball tool
Foam mat (found in craft stores or online)
Forms to place your flowers in so they can dry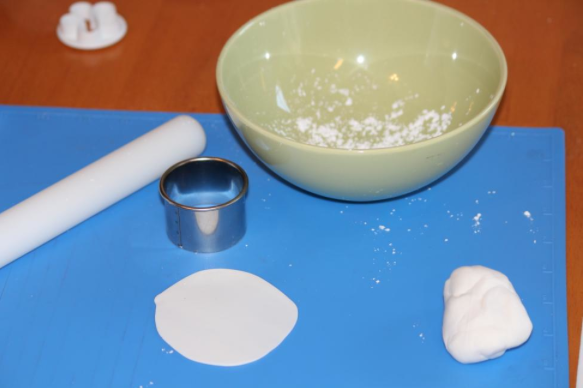 Step 1:
The first thing you need to do is choose a form to hold your flower. You can buy forms at craft stores, or you can get creative and look around your kitchen. For large flowers I like to use these green bowls I found at IKEA. They are cereal bowls, but they have a nice rounded bottom inside to give the flower a similar shape.
Before you get started cutting out your flower petals, fill your bowl or form with a light dusting of powdered sugar- or all that work will break to pieces when you try to get it out.
Wait! Don't cut out your petals yet. Since we are not going to be putting wires in this flower or drying the petal separately, it means the flower might be weak and break more easily. So, we need to prepare for that by cutting out a circle of gum paste. We want this circle smaller than your final flower, but large enough to protect the back of the petals; this way, when you pick the flower up, you are touching the circle on the back instead of the fragile petals.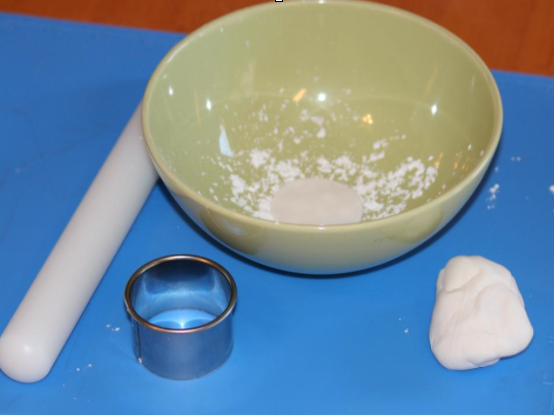 Step 2:
Place your circle in the bottom of the form. Now we can cut out the petals! One of the best things about gum paste is how thin you can get it, so keep rolling until it is almost paper thin.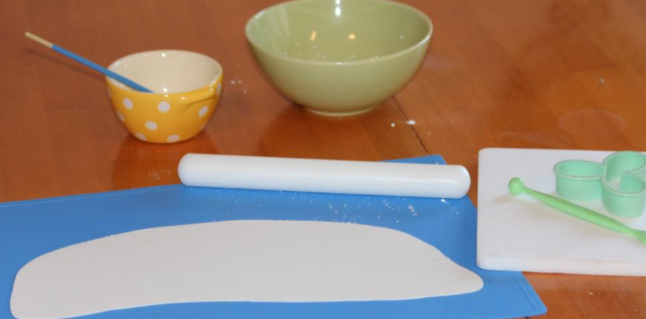 When you use your cutters, remember to press hard and then while pressing down, move the cutter back and forth gently to remove the frayed edges.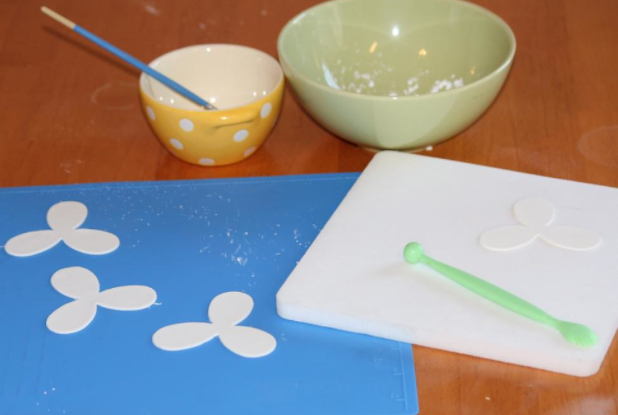 Step 3:
Once you have the petals cut, transfer the first one to the foam mat. Using the ball tool with half the ball on the mat and half on the edge of the gum paste, glide the ball tool around the edge of the petal. You can apply quite a bit of pressure, just be careful to not push too hard or push in one place for too long or it will rip the gum paste.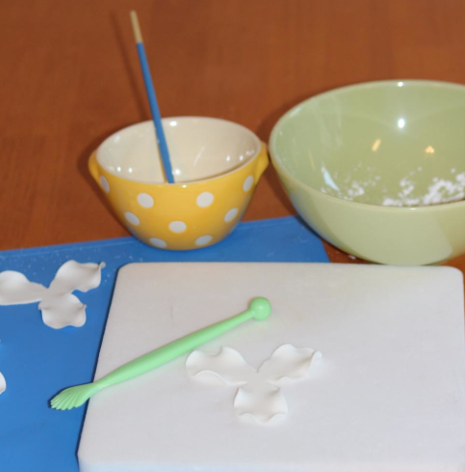 Step 4:
Once you have frilly edges, use a paint brush and brush your circle that is in the bowl with lemon extract or vodka.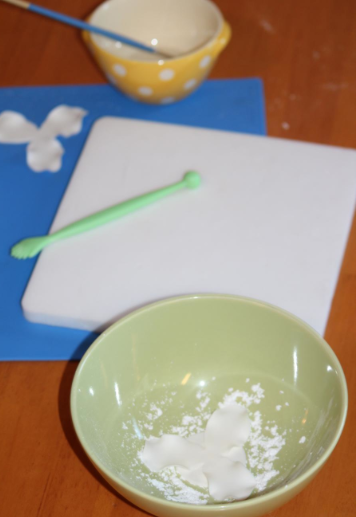 Step 5:
Gently pick up the petals and place them on the circle. Arrange the petals the way you would like them, and then repeat with the next set of petals. I brush a small amount of lemon extract between each layer of petals.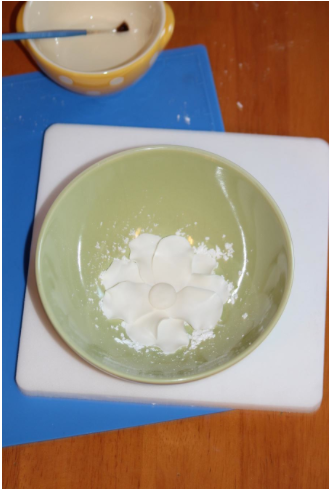 Step 6:
Add a center and let your sugar flower dry for at least 24 hours. I try to let my flowers dry for 3 days or longer. Then, once they are dry you can paint them or brush them with luster dust. When working with large flowers like this, it is the center of the flower that needs to dry. The petals will likely be dry in a few hours, but the center is what takes a long time and that is what will give the flower the strength to stay on the cake.
One more little hint: If you let your flower dry for over 24 hours and then you decided to remove the flower but it won't budge, just leave it alone and let it dry for another day or two. Sometimes they just need to dry longer.
When making whimsical flowers, you can use any shape of petal. In fact, for the large flower in the picture at the top, I used a heart shaped cutter and just ruffled the edges, then layered the heart petals. So have fun with it!
How to make sugar sunflowers
My favorite flower is a sunflower, so here is a fun quick way to make sugar sunflowers!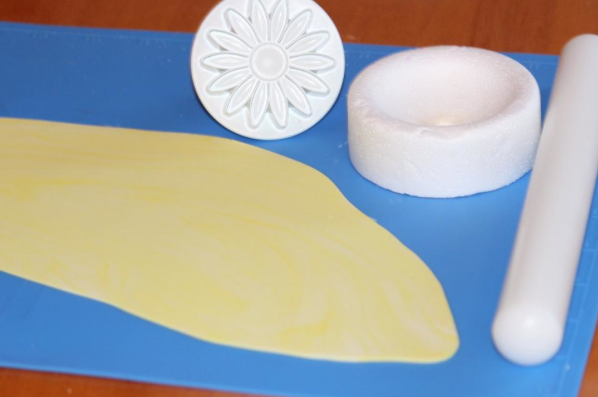 Step 1:
First, we want to roll out our gum paste so that it is really thin. Then place the plunger cutter on the gum paste and press firmly on the cutter part. Don't press the plunger yet! Once you have cut the flower, move it back and forth just a little to remove the edges. Now you can plunge! Press firmly on the plunger then release and lift the cutter. Now you have a super cute sunflower…almost.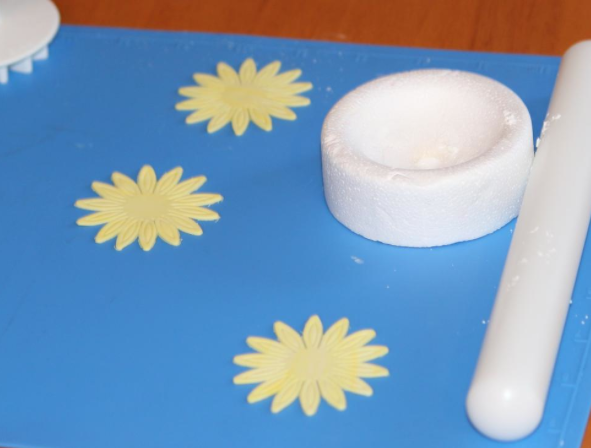 Step 2:
Make sure you dust your form with powdered sugar then place your flower in the form to dry. You can do these as a single layer, or double them up for more dimension.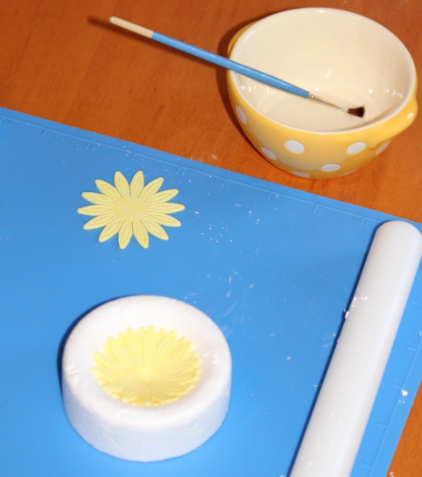 Step 3:
Add a center made out of chocolate fondant or brown gum paste and you now have super fun sunflowers! Who is ready for spring?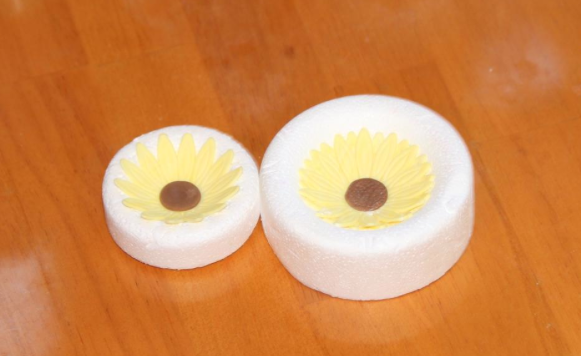 Did you Bluprint's YouTube Channel is full of free, quick video tutorials?
Check out this one on how to make sugar flowers with Bluprint instructor Joshua John Russell. 
See more on Bluprint's YouTube Cake Decorating Channel.