One sweet fruit comes to mind when I think of summer — strawberries! Strawberries are the star of the warm season, refreshing, sweet and very satisfying! Learning how to make strawberry cake pops is exactly what summer ordered.
I'll teach you to make this delicious fruit in cake pop form (using mini pretzel sticks and gummies as an added touch) for a sweet summer treat that's as fun to make as it is to eat!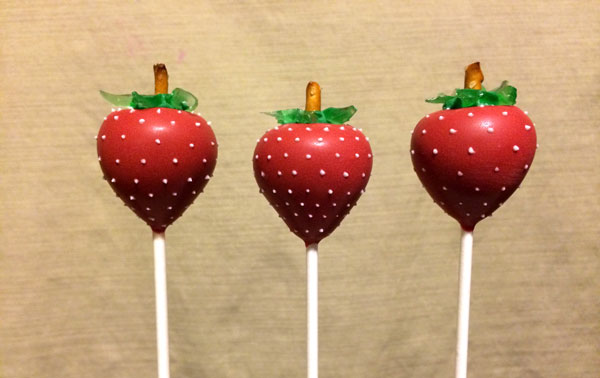 Strawberry-shaped cake pops, ripe for the pickin'
This strawberry cake pop tutorial is my favorite version of the different ways I've made them in the past. Pretzels are always a welcomed food, and my use of the gummy bears for the leafy part makes each cake pop unique and adds a rustic feel to these cake pops.
You'll need:
Cake pop dough
Lollipop Sticks
Candy wafers in red
Candy wafers in white (approx. 20 wafers)
Candy wafers in green (approx. 20 wafers)
Paramount crystals
Mini pretzel sticks
Gummy bears or worms – green pieces/parts only
Scissors that have been cleaned
Angled tweezers (optional)
Toothpicks
Wax paper
Zip-top bags
Styrofoam block
First things first. Always line your work surface with wax paper. This creates a sanitary surface where candy coating doesn't stick! It also makes for a super easy and quick clean up.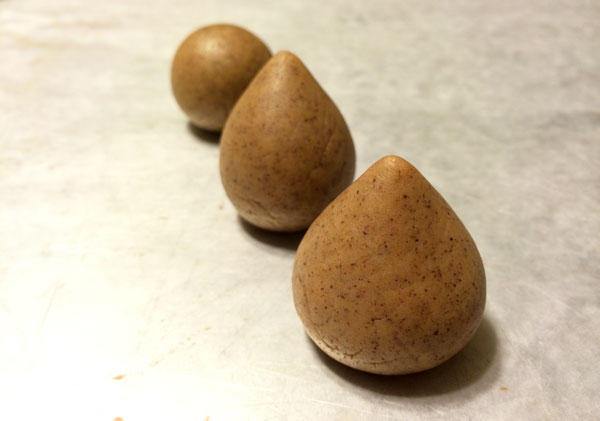 Step 1:
To start, use a cookie scoop to portion the cake pop dough. Roll the dough into a ball then into a teardrop. Using your finger tips, gently push the rounded end down on your work surface to slightly flatten. Do this for all the cake dough portions and refrigerate.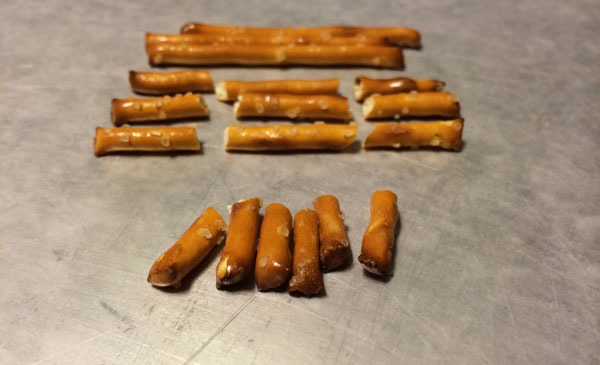 Step 2:
Let's do some prepping!
First, we'll prepare the pretzel sticks. I like to only use the ends of the pretzel sticks for this because I'm Cakepopzilla. I snap off each end to the length of about ½-inch. The pieces in the middle are "discarded," which most definitely means eaten. Snap as many pieces as you have cake ball portions. This will be the strawberry stem.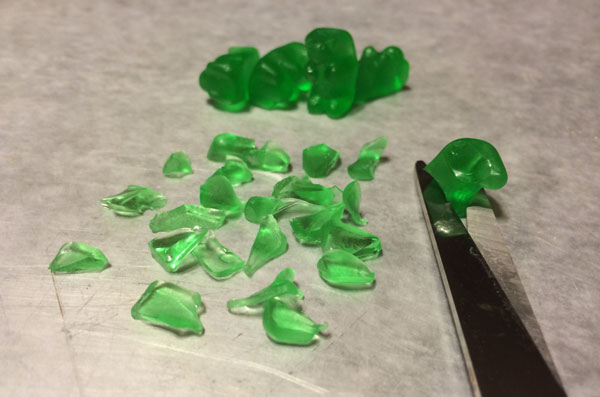 Step 3:
Next, take your green gummy bears or worm pieces and cut them into long random and pointy pieces. We're going to use this for the leaves around the strawberry stem.
Remove the formed cake balls from the fridge and let sit at room temperature, as you do Step 4.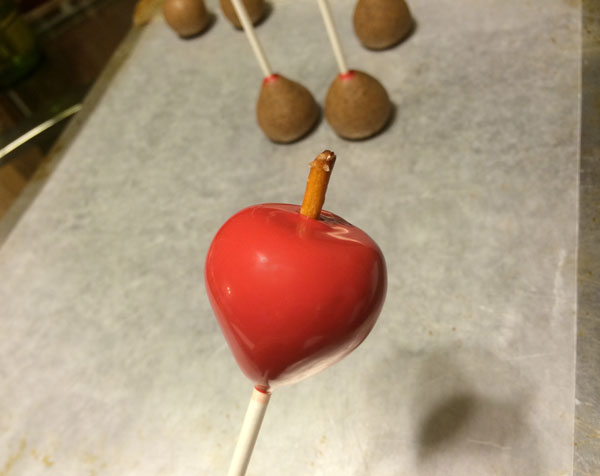 Step 4:
Red is one of the more difficult colors to work with across every brand. It's just the nature of the beast, so here's a tip for making red a little bit more pleasant to work with. (Note: This also works well with other stubborn colors, with the exception of black — we'll save that for another tutorial.) Melt the red candy wafers in a microwave-safe plastic bowl or cup with approximately 10 white wafers. This will help give it a creamier smoother consistency and surprisingly won't change the color much. Then thin it out with paramount crystals like you regularly would to get the consistency to your liking.
Dip about 1/3-inch of a lollipop stick into the candy coating, then insert the stick into the point of the strawberry cake ball and push until about halfway into the shape. Repeat for all the pieces.
Now you're ready to dip. Keep your pretzel sticks nearby. Dip the cake ball into the red coating and hang upside down gently shaking to let the excess drip off. Use a toothpick to burst any air bubbles in the wet coating. Turn right side up and stick a pretzel rod on the top. Place on the styrofoam block and let dry completely.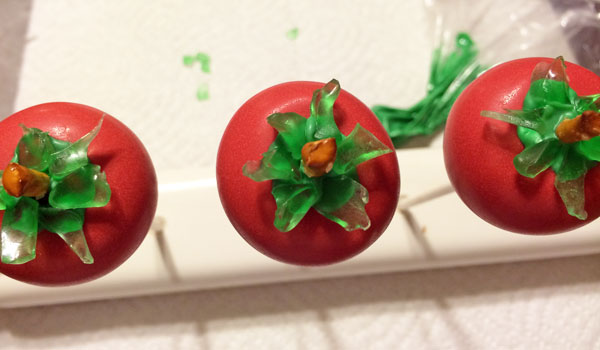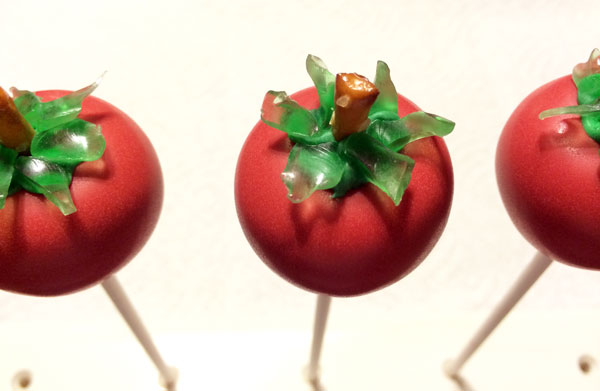 Step 5:
Place the green candy wafers in a corner of a zip-top bag. Place in the microwave for 30 second intervals at 50% power until it's just melted. Knead the bag with your fingers in between intervals.
Snip the corner and use the green to "glue" the green gummy pieces around the pretzel rod stalk. Use angled tweezers to position the gummies if you'd like. Let dry completely.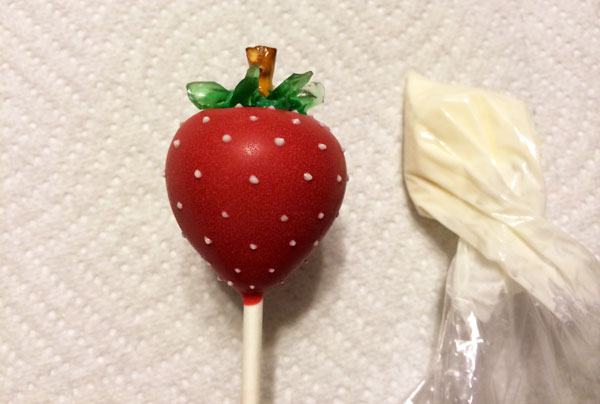 Step 6:
Place the remaining white candy wafers in a corner of a ziplock bag. Place in the microwave at 30 second intervals at 50% power until it's melted, kneading the bag with your fingers in between intervals.
Snip the the corner and make white dots all over each strawberry. Let dry completely.
I hope you enjoy making — and eating — these adorable strawberry cake pops!
Any cake pop tutorial requests? Please let me know and leave a comment below!