Putting a creative spin on your stationery, business cards and birthday wishes has never been so easy! Beautiful, bright lined paper has been popping up everywhere from trendy stationery shops to designer wedding invitations. When thinking about how to make stationery at home, this colorful option was first on my list.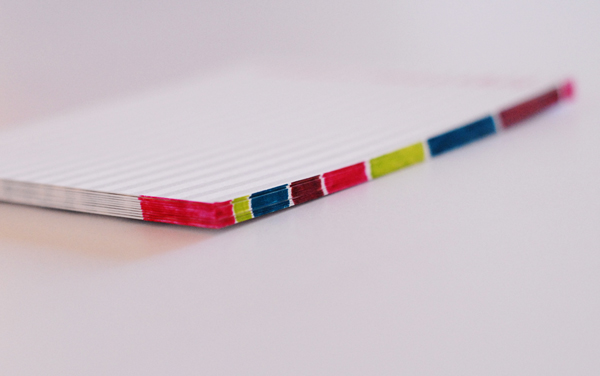 The bright lines inject a fun, festive feel to any blank or under-designed paper, and the colors can be customized to make your own perfect stationery rainbow. I am partial to this bright combo that match my desk accessories perfectly.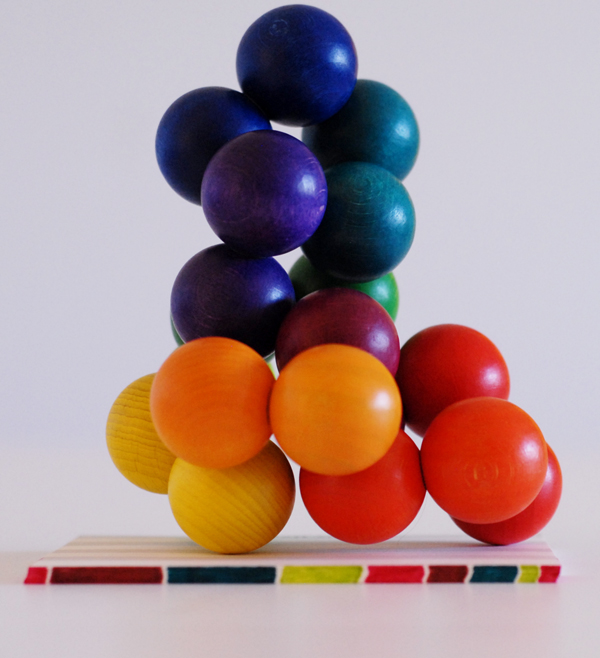 My stack of color lined stationery was made with a handful of personalized note cards that needed a bit of fun. The cards look amazing stacked with their rainbow side showing and they are just as pretty when handed out one by one.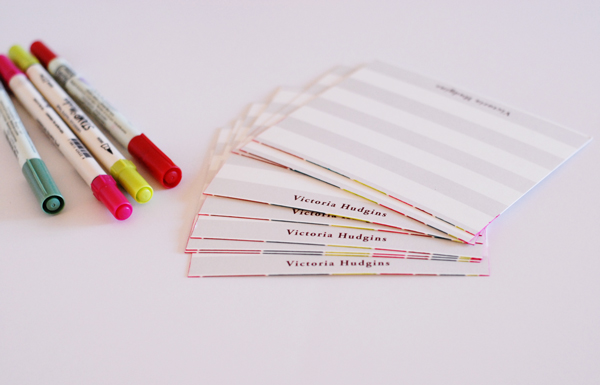 This easy paper crafts project is a great way to gussy up a BBQ invite this summer, or to make your business cards really shine. You can create a gorgeous new note card stack by cutting down a few pieces of card stock and adding the bright lines to one side, or all four sides! That's a note pad I would definitely want to jot my best thoughts on.
How to make stationery that's colorful and personalized:
You will need:
Stationery of some sort (cards, invitations and envelopes work for this project)
A set of markers in bright colorful hues (we used a set of calligraphy pens — their saturation is nice and bold for the project, but any set of well-saturated markers will work)
A ruler and rubber band (optional)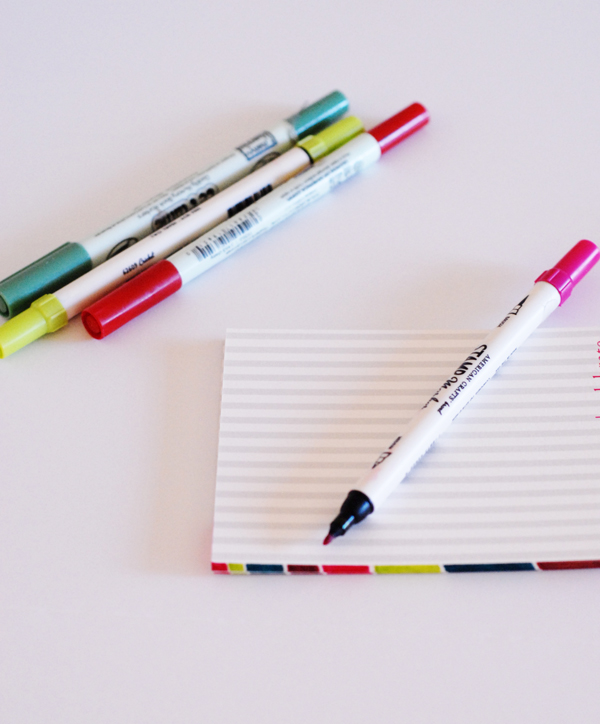 Step 1:
Start by marking off one paper as your header for the line measurements. Determine how far the lines should be spaced. We did a progression from small lines to large ones across the paper, which helps achieve a more dramatic look. The lines can be more evenly spaced if you desire. Use a ruler and pencil to mark off where each line should start and end. It helps at this step to determine what colors will be used in which spaces as well.
Step 2:
Grasp the stack of papers firmly in one hand and start coloring! I found it easiest to color a straight line down the sides of each mark and then fill in the line as I went. If the paper stack is too large to hold, you can use a rubber band to secure it into place while coloring.
Look to make deep saturated marks on the paper and be careful the stack stays closely together so the markers will not bleed through to the tops of individual papers. The lines can span one side of the paper or bleed over to the congruent sides. (I love this look!) You can even take the colored lines all the way around the stack if so desired. Anyway you line it, the bright and festive colors will jump right off the page.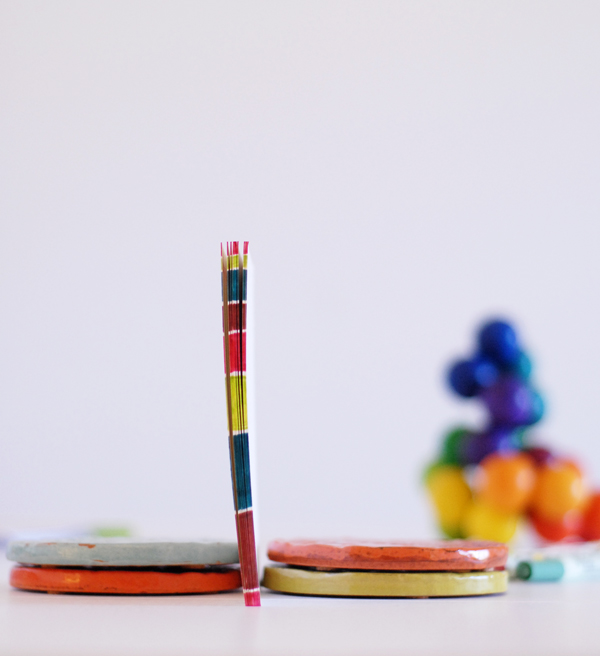 I love this stack so much, I almost don't want to use the papers. I am thinking the project will make great gifts for everyone I know with an office and a desk. In fact, I may end up taking this project all the way to that stack of printer paper that is looking so sad and white across the room.
[box type="shadow"]
Discover more fun and easy paper crafts in the Bluprint class Paper Arts. You'll learn advanced gift-wrapping techniques, pop-up greeting card designs, paper decor and more, with instruction from TV personality and 2008 Scotch Brand Most Gifted Wrapper Alton DuLaney.
[/box]
What colors will you use to liven up your paper stacks?