If you think that the avocado's primary function is to become guacamole, you're wrong. To prove it, we've got a super easy and delicious recipe making roasted avocado slices. Avocado will never be the same.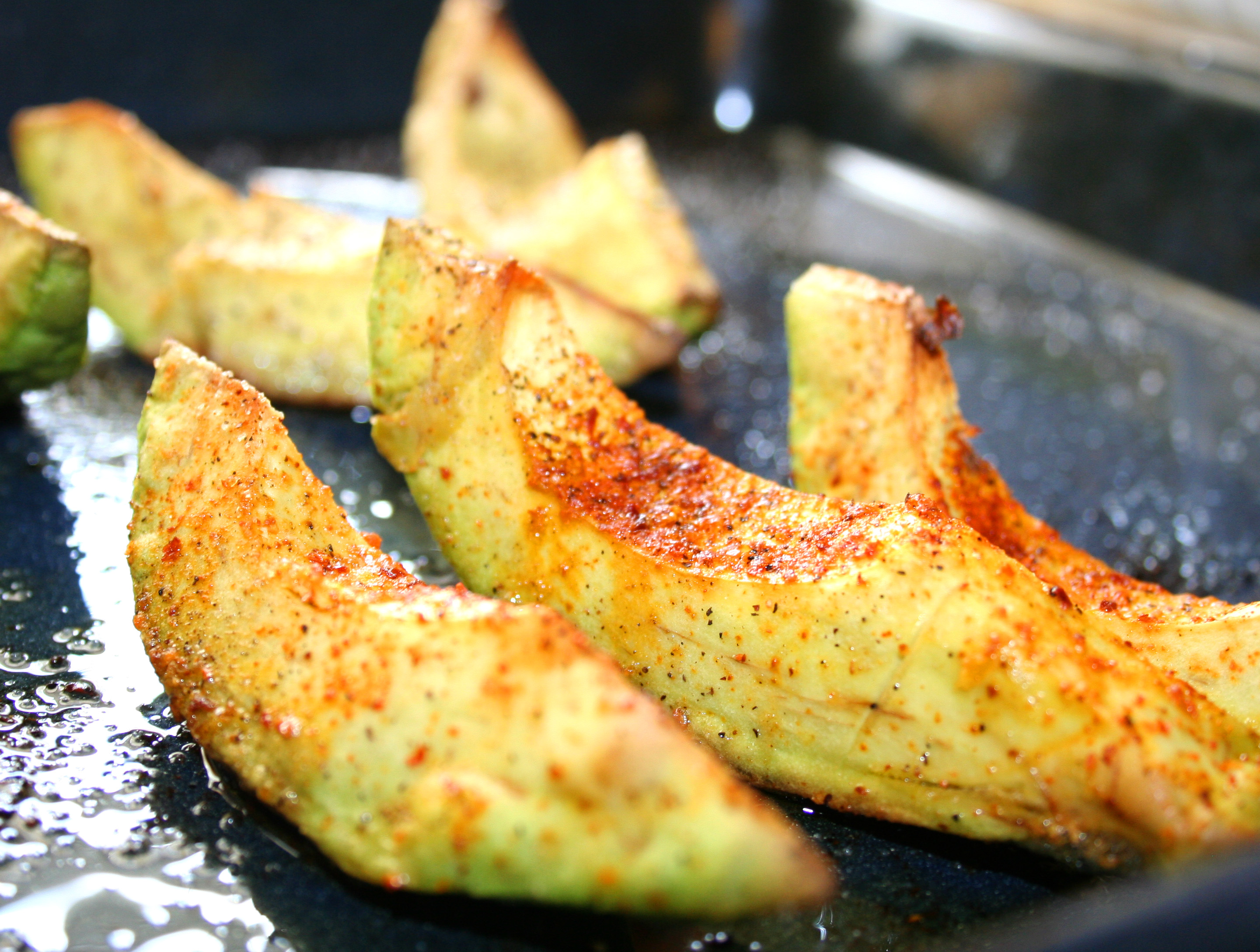 Photos via CakeSpy
These savory slices couldn't be easier to make. All you have to do is slice an avocado, dress it up with olive oil, salt, pepper, and any other seasoning of your choice, and roast until toasty in a preheated oven. The exterior of the slices will get a nice, toasty finish, but the interior will remain creamy and rich. Even if you think you're familiar with the flavor of avocado, this is a whole new experience.
Delicious enough to please any palate, these avocado slices are naturally vegan and gluten-free. They're suitable to serve at a game night, as an appetizer, or even as an after school snack.
Recipe notes and considerations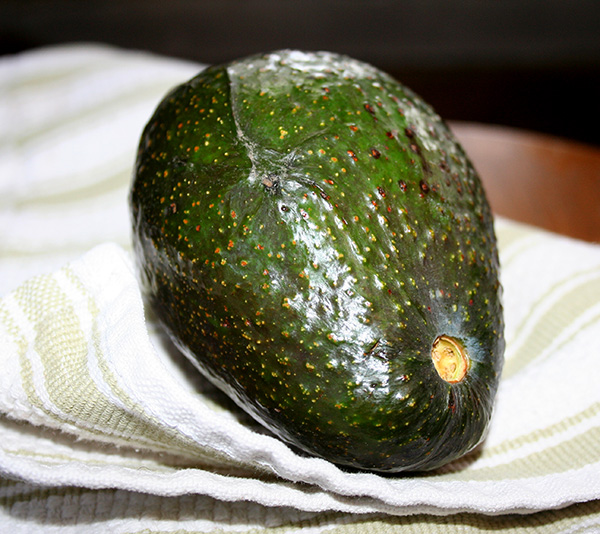 How should you serve your roasted avocado slices?
Since they're seasoned, these slices taste delicious all by themselves, but they work well with other flavors, too. Serve alongside salsa, hummus, or even ranch dressing or flavored mayonnaise. Keep in mind that while the avocado slices taste great with toppings, they're not necessarily the sturdiest for dipping. Consider keeping toppings in small ramekins with spoons so that toppings can be spooned on to taste.
How ripe should your avocados be?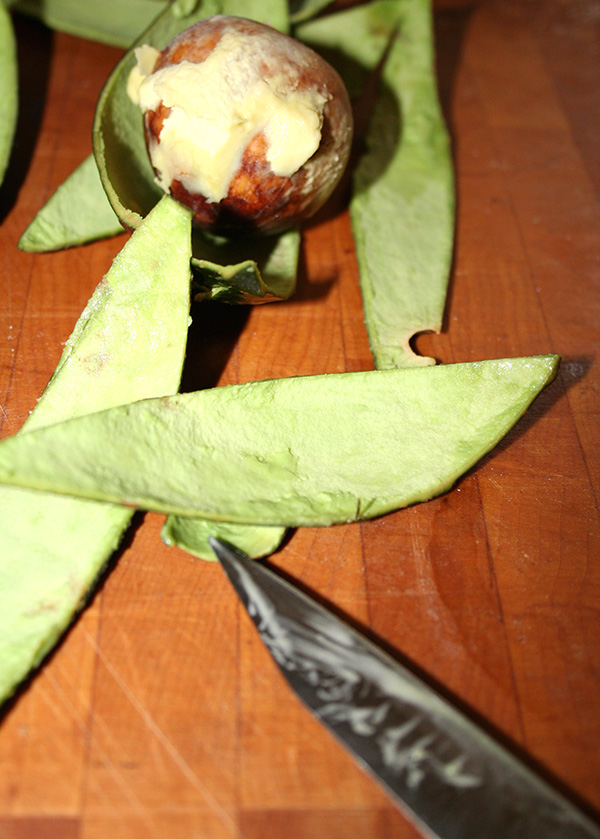 For this recipe, you'll want them on the firmer end of the spectrum–ripe, but just barely so. Ideally, the peel and stone will remove from the fruit with minimal resistance, but the avocados will be firm enough to hold their shape cleanly when sliced.
Can these slices be made in advance?
As stand-alone snacks, these will taste best the same day made. They'll lose some of their crispiness within a few hours, so if you have leftovers, they're best employed as an addition or side to a recipe: for instance, sliced and added to an omelette, or added to a sandwich.
Can I adjust the quantity?
This recipe is easy to adjust. You can make as few or as many avocado slices as you like.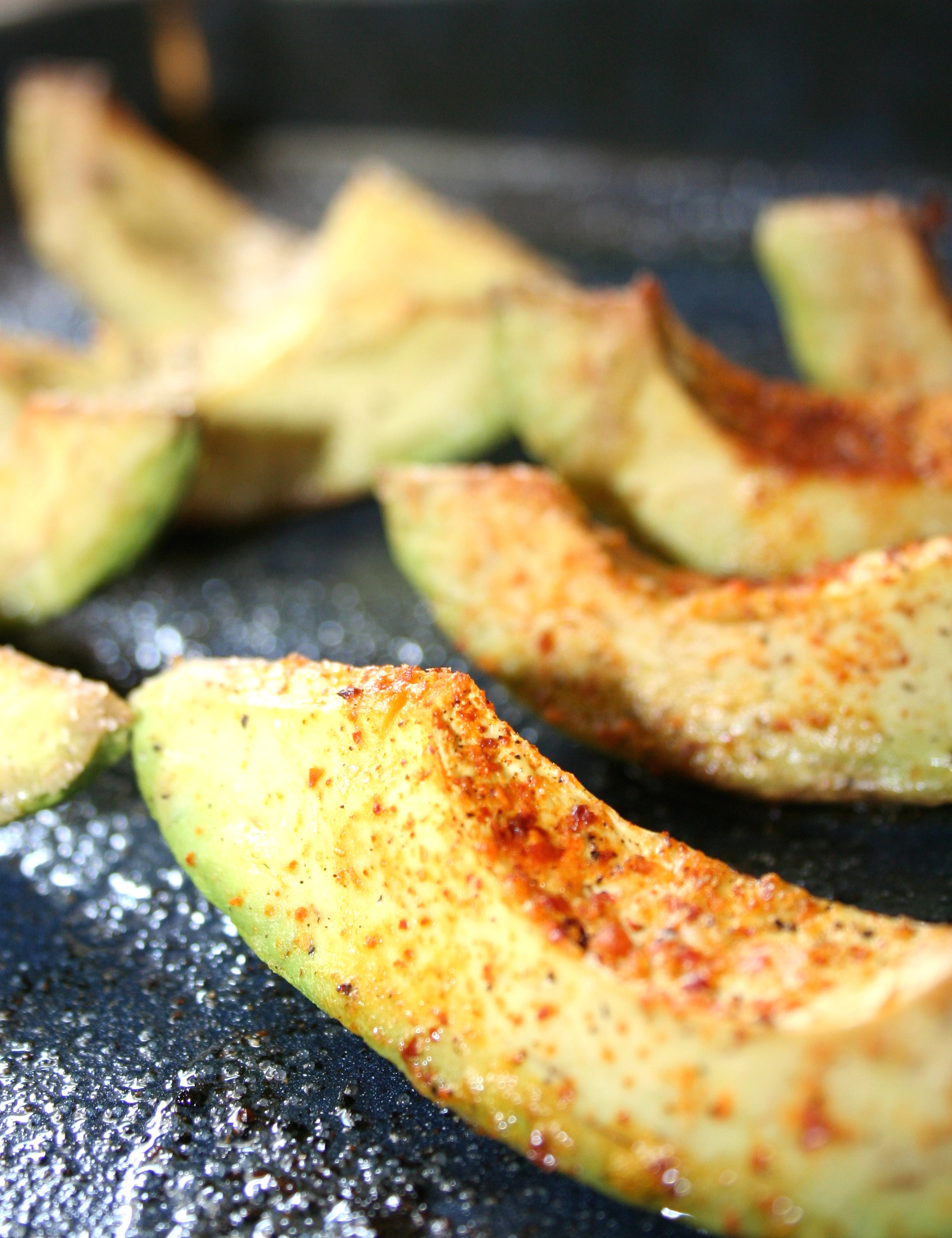 Roasted Avocado Slices
Makes approximately 16 slices
Ingredients:
4 medium avocados, fairly firm
Extra virgin olive oil
Flaky or coarse sea salt
Pepper
Other spices, to taste
Note: the olive oil and flavorings do not have quantities listed, as they can all be added to your taste.
Step 1:
Preheat the oven to 400 degrees F. Lightly spray a rimmed baking sheet with non-stick spray, or gently grease it with olive oil. This will ensure easy removal of the slices later.
Step 2:
Cut each avocado lengthwise into fourths. If your slices seem too large or too wide (this may happen if you are using large avocados, like the one pictured) you can slice each of the fourths in half lengthwise, so that you have eight long strips of avocado.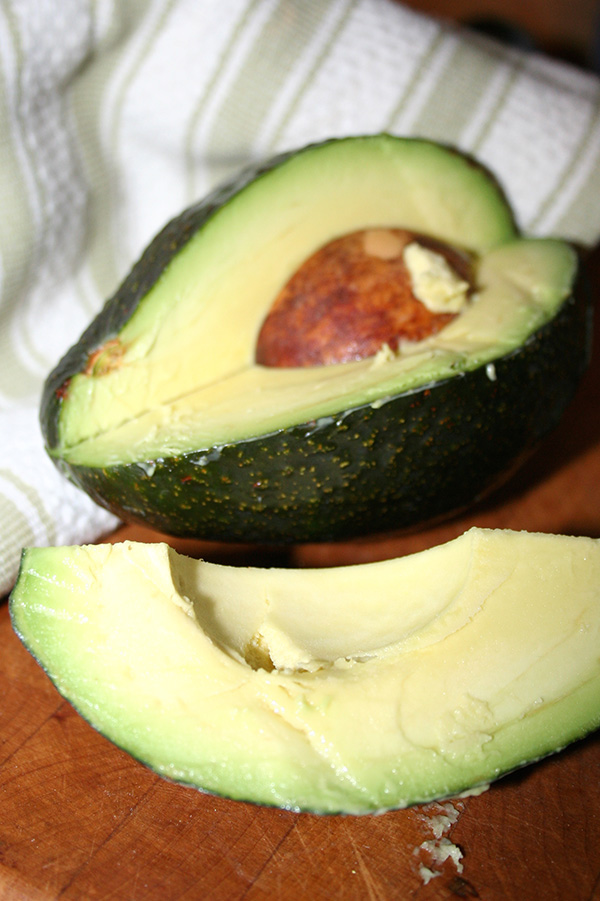 Toss the stone and peel.
Step 3:
Drizzle the slices with olive oil, and season generously with salt, pepper, and any toppings of your choice.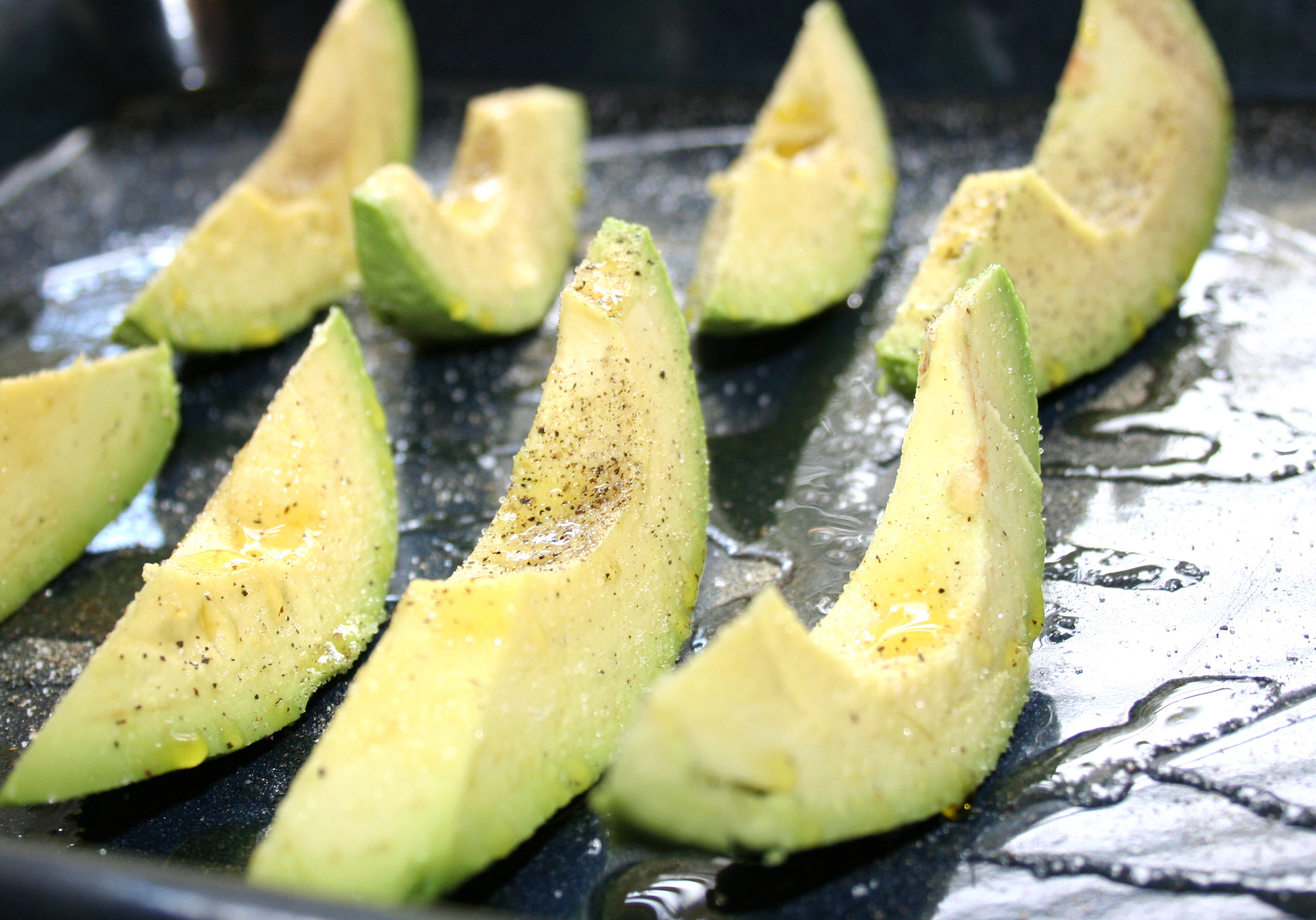 Note: In the photos, you'll notice some of the slices have a red seasoning on top. I have used a Piri-Piri style spice mix (Pequin chiles, Spanish paprika, salt, lemon peel, garlic and Greek oregano) on some of the avocado slices, and they came out deliciously. It's highly suggested if you like spicy foods.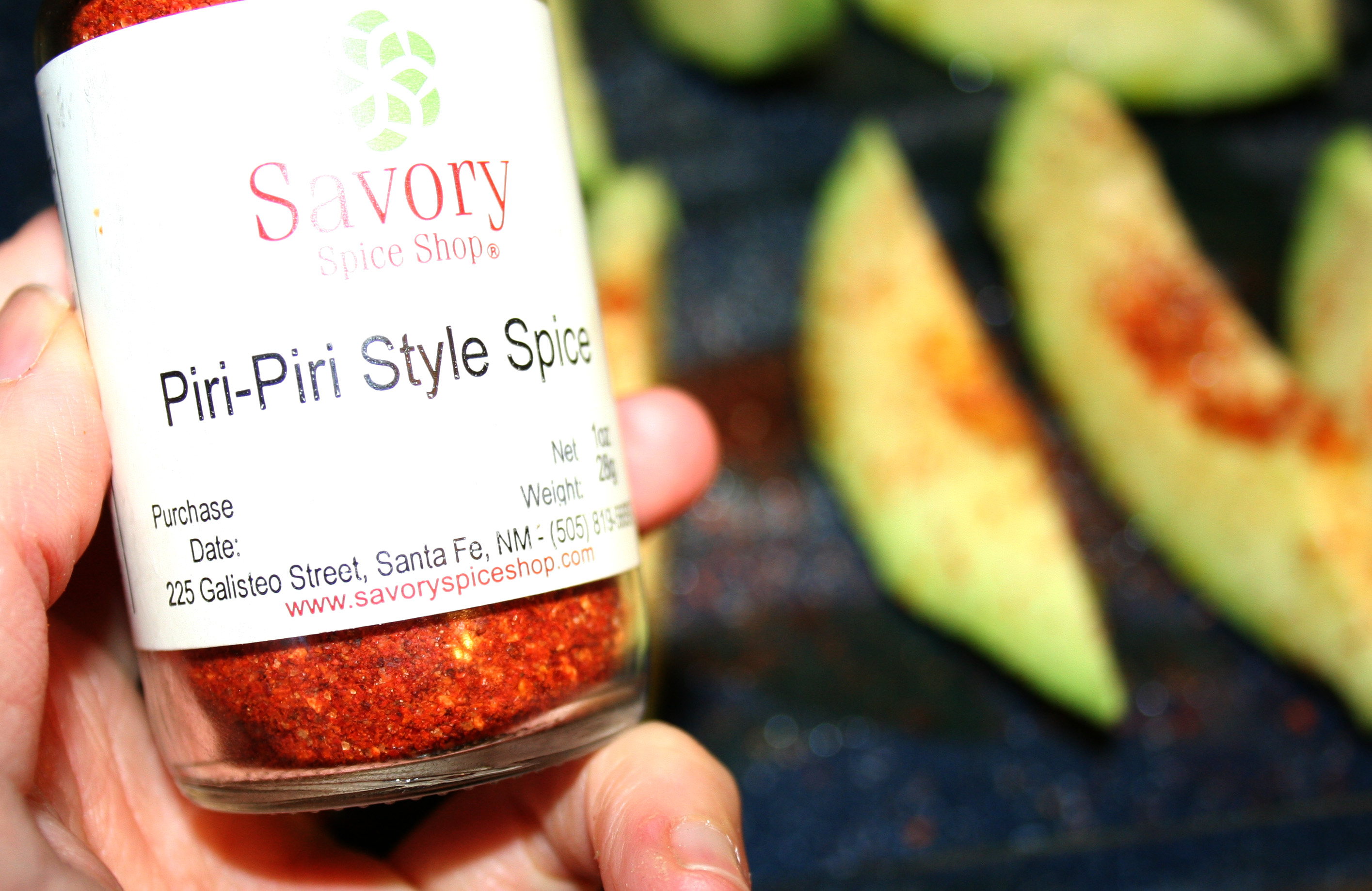 Step 4:
Bake for about 15-20 minutes, or until the slices have begun to take on a toasty appearance. If you like the edges crispier, you can let them bake a little longer.
Step 5:
Remove from the oven and let cool for a few minutes, but serve warm.