"Pâte à choux: Make a roux, add some eggs and now you're through."
I can't make these light little French pastries without repeating that over and over in my head. I was working at a little deli at Pike Place Market where I first heard that jingle and first watched humble ingredients turn into a dough that puffs, lightens and creates the perfect interior to hold vanilla speckled cream or ice cream.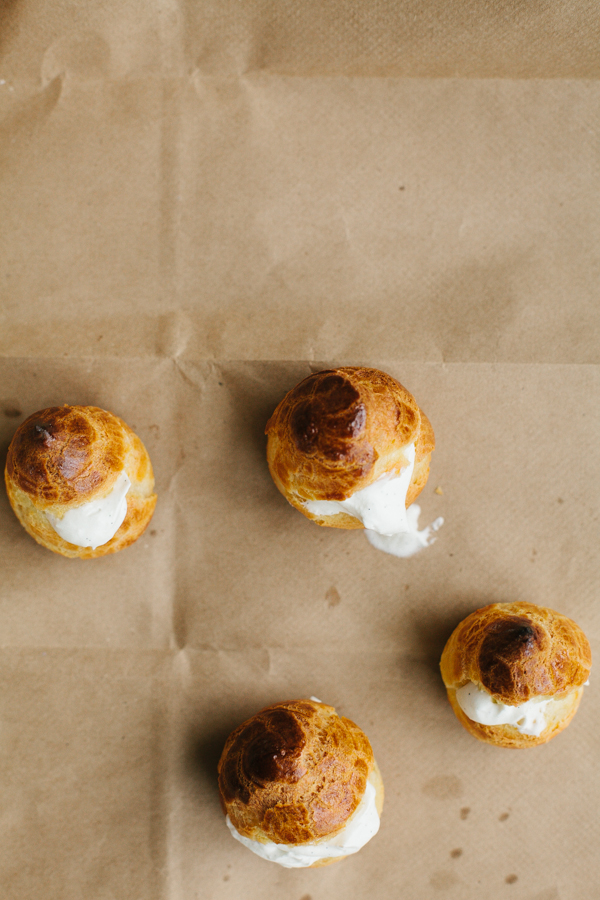 Making a roux step by step
To make a choux pastry recipe, you start in the same way you would if you were making a roux for a cream sauce or soup base. Milk (or a mixture of milk and water) goes into a large, shallow pan along with butter. Once the butter has melted and the mixture has come to a boil, add flour, a bit of sugar and salt.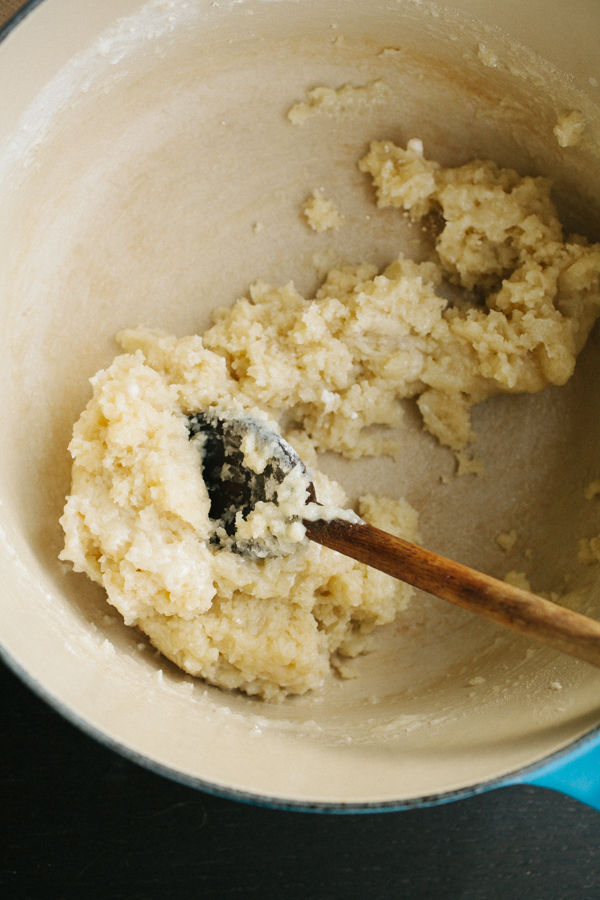 This is just after the flour has been added. The dough looks wet and the texture is inconsistent.
Stir for a couple of minutes…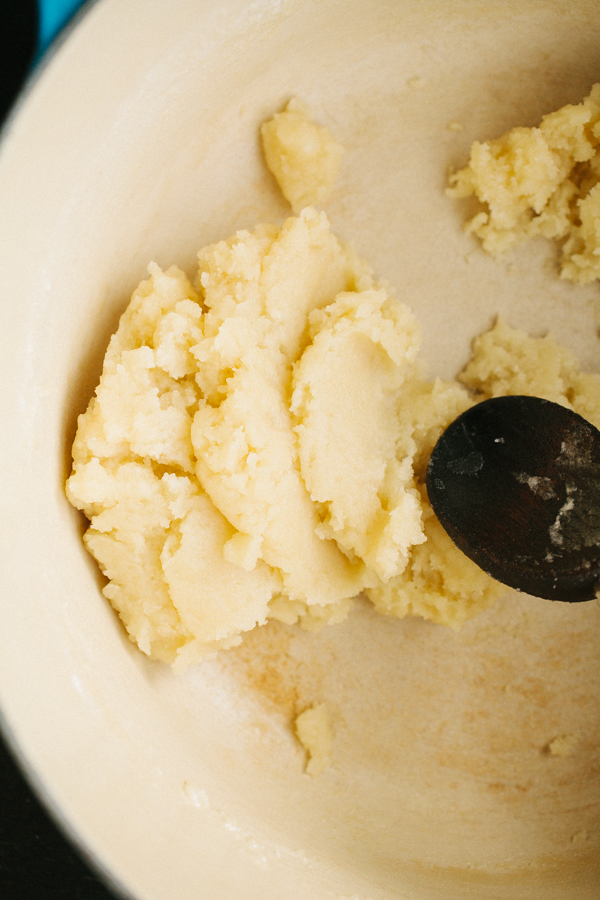 …then the dough looks like this. Cohesive and just starting to stick to the bottom of the pan. At this point, remove the pan from the heat and allow to cool for a few minutes before adding the eggs. You can either beat in the eggs by hand or transfer this dough to a stand mixer.
Add the eggs one at a time. It takes a good amount of mixing to work in the eggs. Don't be alarmed when the dough looks like this: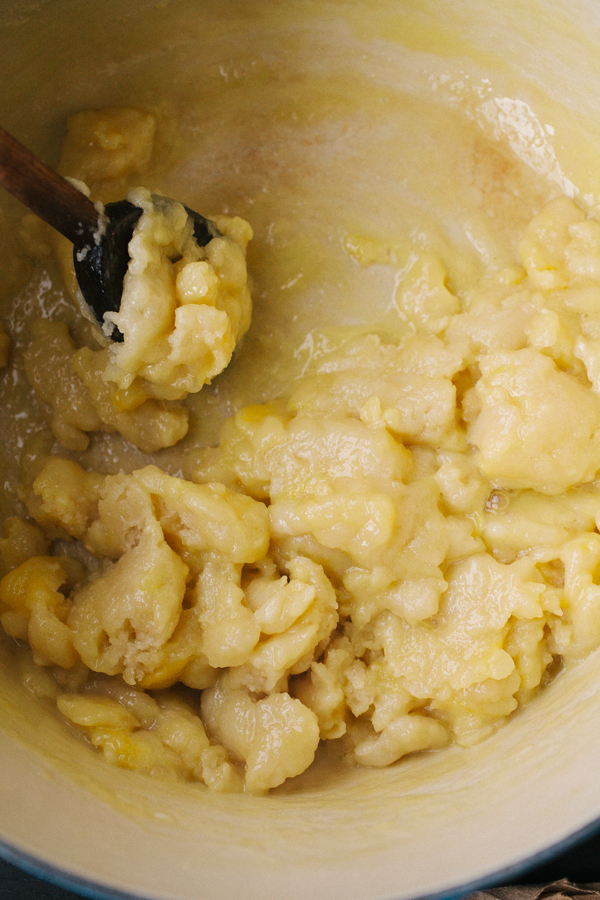 As you add more eggs and continue to beat, it will look like this: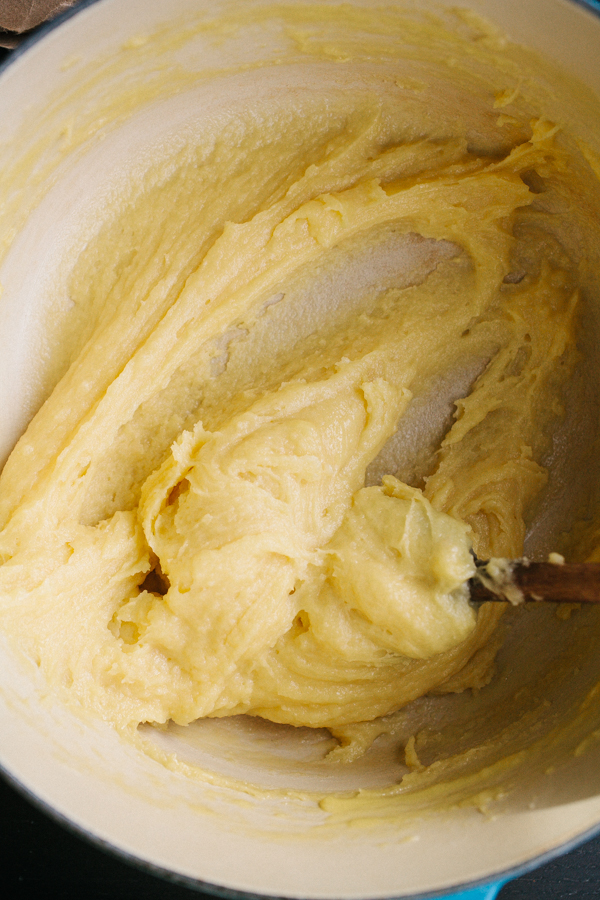 Use your thumb and forefinger to test the dough. You want it to pull at least 1 inch before it breaks.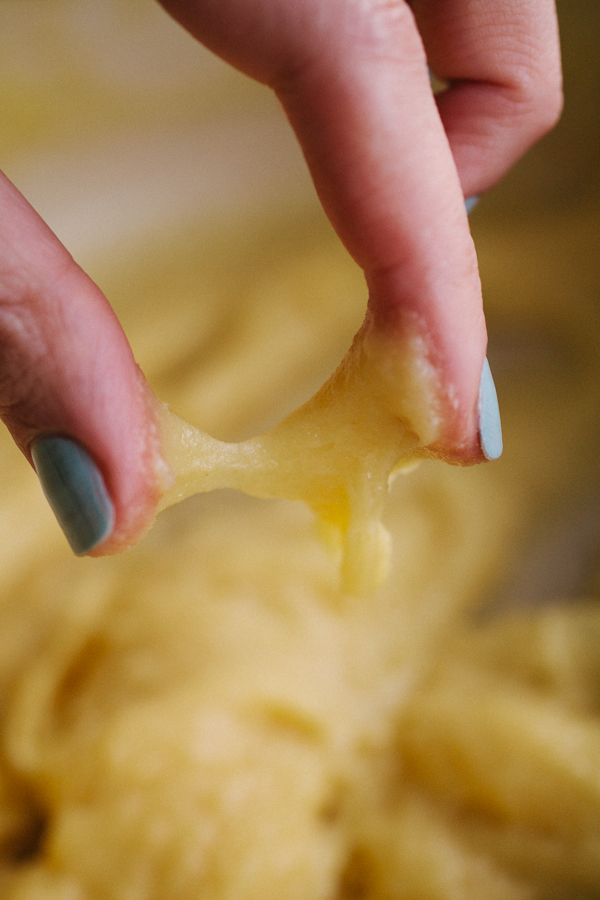 Fill a piping bag fitted with a ¼" tip halfway up with the batter. Pipe the batter in a beehive shape on a parchment-lined sheet tray. This shape encourages dramatic lift and airiness.
Leave plenty of space between.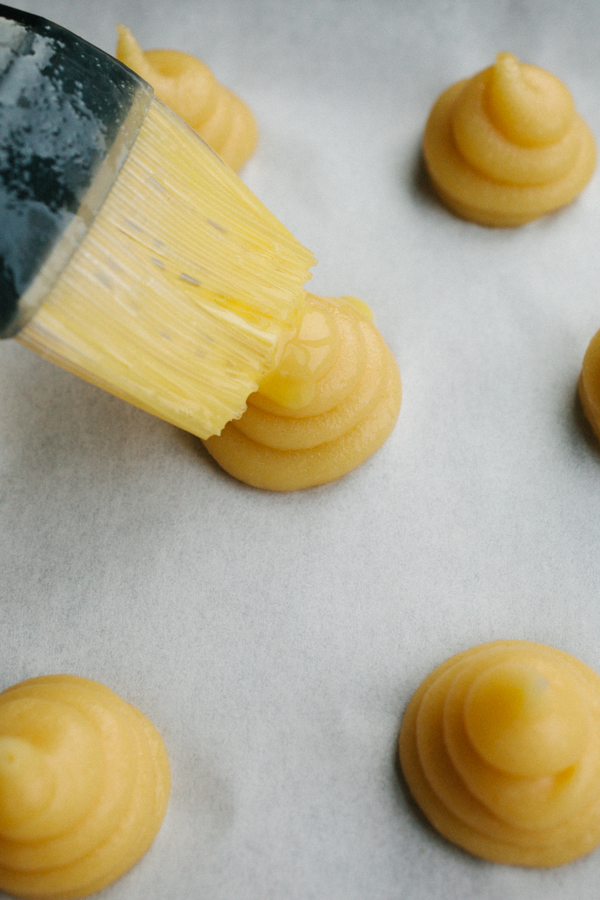 Brush with egg wash, then bake in a hot oven until deeply golden and baked through.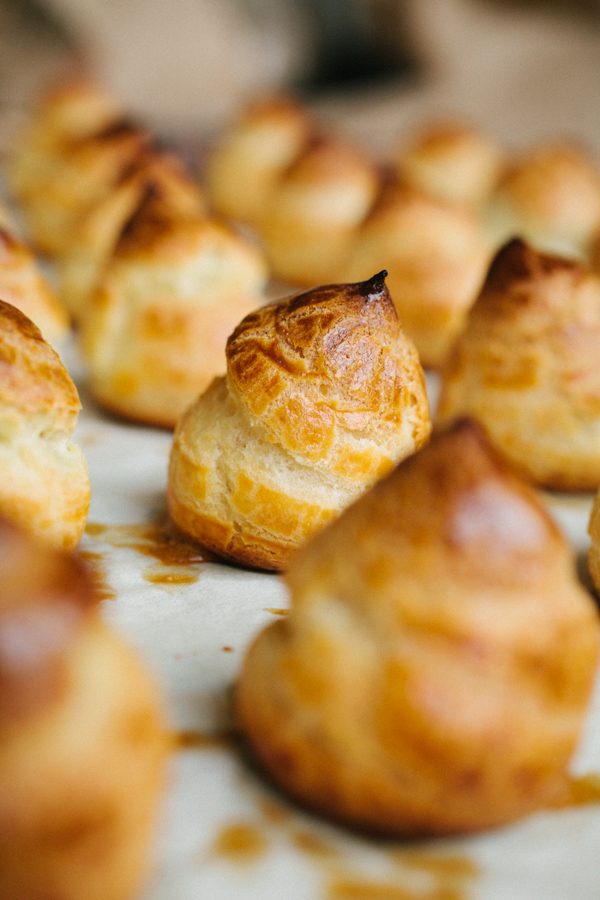 Let these cool completely before filling with ice cream (to make profiteroles) or lightly sweetened and vanilla seed flecked whipped cream (those would be cream puffs). Whatever you don't use can be frozen for at least 1 month.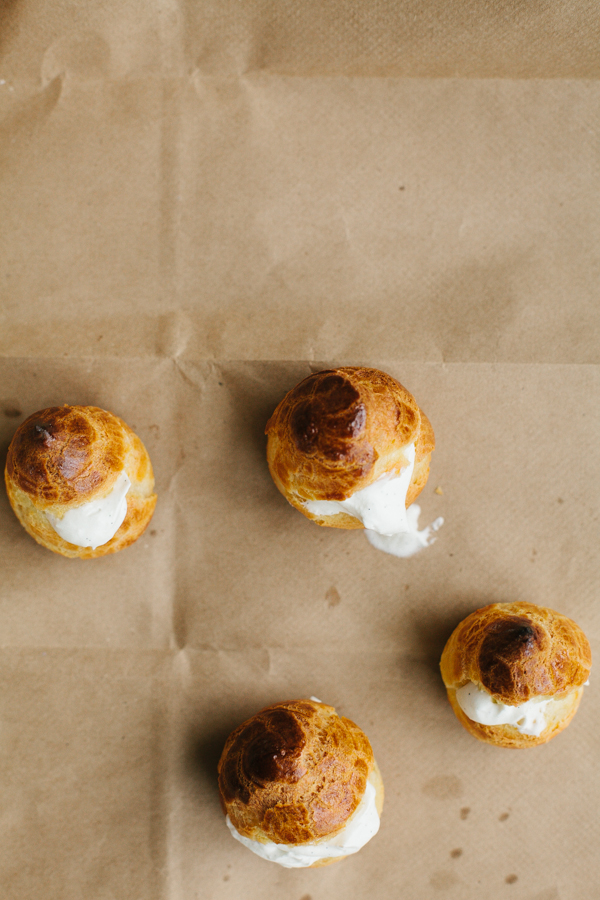 Choux pastry recipe
1 cup milk
¼ pound (1 stick) unsalted butter
½ teaspoon kosher salt
1 cup all-purpose flour
2 tablespoons sugar
4 extra-large eggs
1 egg plus 1 yolk, lightly beaten for egg wash
Step 1:
Preheat the oven to 425 F.
Heat the milk, butter and salt over medium heat until scalded. When the mixture comes to a simmer, add the flour, sugar and salt all at once and beat it with a wooden spoon until the mixture comes together and forms a dough. Cook, stirring constantly, over low heat for 2 minutes. The flour will begin to coat the bottom of the pan.
Step 2:
Dump the hot mixture into the bowl of a stand mixer fitted with the paddle. Beat for one minute to cool the mixture slightly. Add the eggs one at a time and mix until the eggs are incorporated into the dough and the mixture is thick.
Step 3:
Spoon the mixture into a pastry bag fitted with a large plain round tip. Pipe in "bee-hive" shape mounds 1 ½ inches wide and 1 inch high onto a baking sheet lined with parchment paper. You should have about 18 puffs. (You can also use 2 spoons to scoop out the mixture and shape the puffs with damp fingers.)
Step 4:
Brush with an egg wash before baking.
Step 5:
Bake for 20 minutes, or until golden, then turn off the oven and allow them to sit for another 10 minutes, until they sound hollow when tapped on the bottom. Make a small slit in the side of each puff to allow the steam to escape. Set aside to cool.
Make More Pâte à Choux Pastries
Master cream puffs, eclairs & more with online video lessons from Craftsy instructor Gesine Bullock-Prado. Enroll Today!
No Comments