Sweet, silly and hardly scary, these easy buttercream iced monster eye cupcakes will delight kids and adults alike! Dig out your piping bag and get ready to whip up some cute monster fun.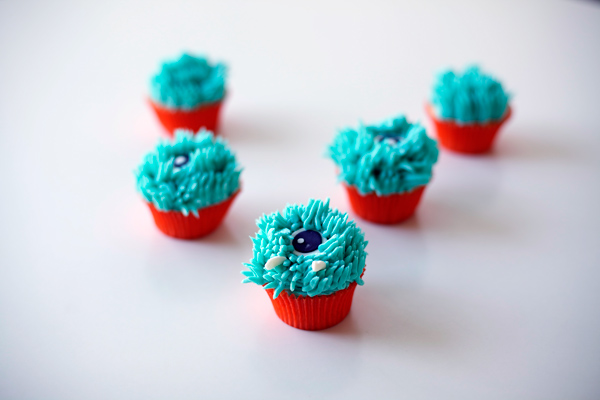 Photos via Coco Cake Land
How to make monster cupcakes
Supplies:
A dozen cupcakes in any flavor you like, baked in colorful cupcake liners
Buttercream tinted in a fun color (I used Wilton gel color in Sky Blue)
A piping bag fitted with a multi-opening tip (also known as the grass tip or hair tip)
White fondant for making eyeballs and teeth
Black fondant for making eyeball pupils
Mini circle cutters for cutting out eyeball shapes (I use the large end of piping tips in various sizes as my mini circle cutters)
Instructions: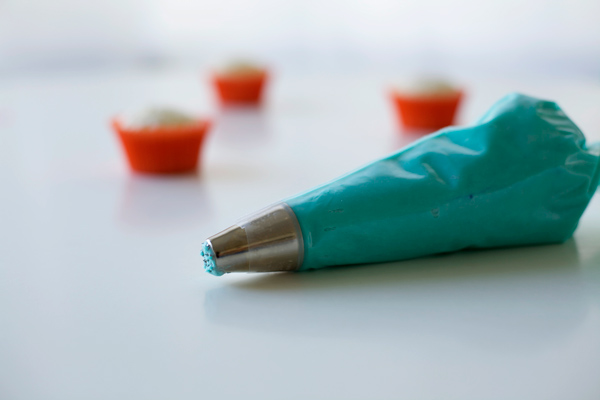 Step 1:
Fit your piping bag with a multi-opening tip and fill with colored buttercream.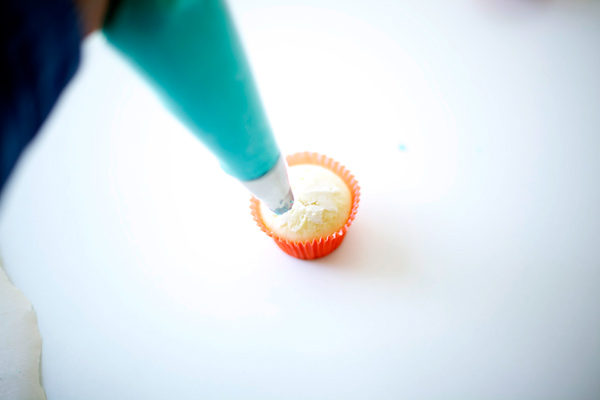 Step 2:
Begin by piping a base layer onto your cupcake.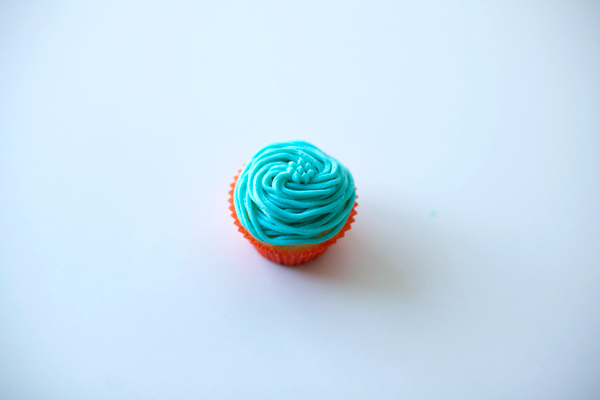 Simply pipe as though you were creating a classic swirl cupcake. I do this to add height to my cupcake. You won't see it in the end product.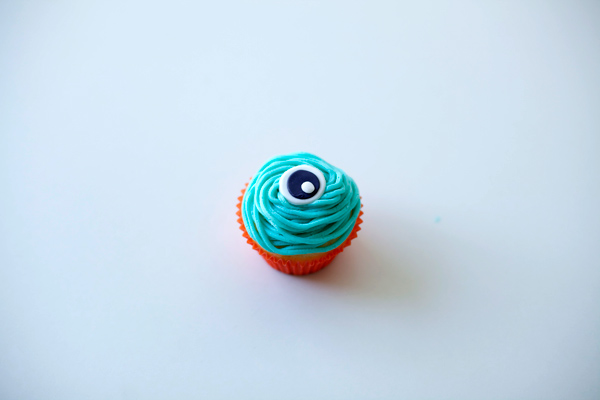 Step 3:
Roll out some white fondant and punch out some circles using your mini circle cutters or piping tip openings (for those who are newer to fondant, it is relatively easy learn how to roll out fondant. Just make sure that your fondant is the proper texture. Roll out some black fondant and punch out smaller holes for the pupils. Adhere this to the white circle using a little bit of water. I always add a tiny white dot of white fondant as an eyeball "reflection," again, use a tiny dot of water to secure this to the eye.
Step 4:
Begin piping "hair" around the eyeball and on top of the base swirl. Pipe all the way around until you've covered the whole cupcake, leaving the eye visible, of course.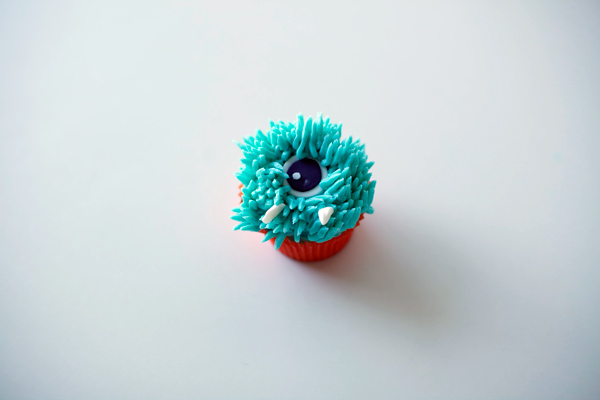 Step 5:
Make some white triangle teeth out of fondant and plunk those into your monster face. Keep on piping and adding details to your faces, and soon you will have a whole monster cupcake family!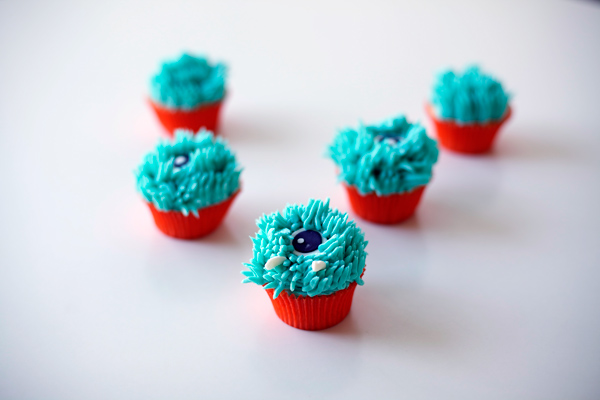 More monster cake fun: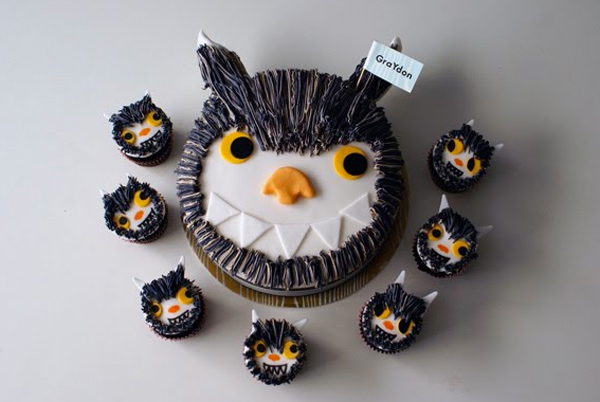 Photo via Coco Cake Land
Where the wild things are cake and cupcakes:
Another example of cute, silly and supposed-t0-be-scary! These cakes feature fondant triangles for sharp teeth and monster horns, and a piping bag filled with two contrasting colors of buttercream was used to create dark monster hair. Yellow eyes always signify something scary in the dark, too. The cupcakes are buttercream iced and topped with white fondant discs, which have both fondant and edible marker details.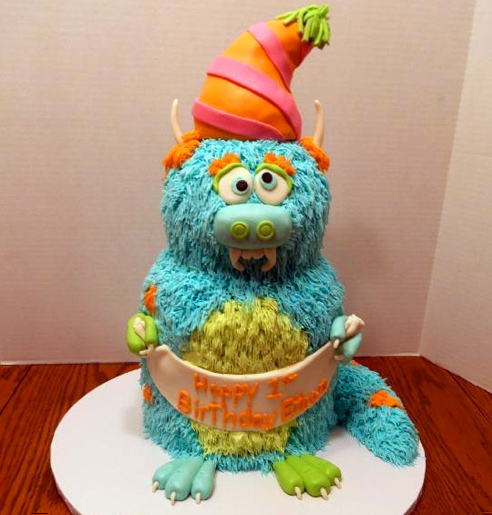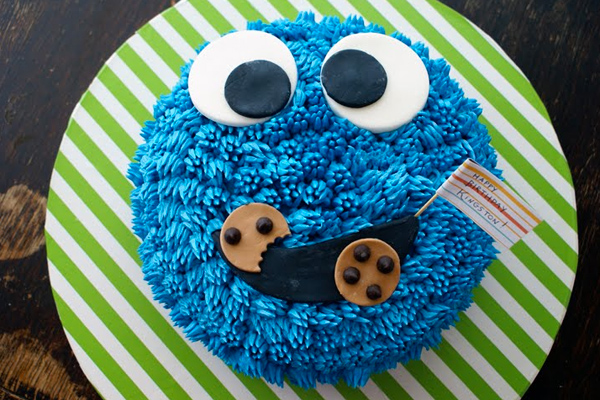 Photo via Coco Cake Land
Cookie Monster cake:
This googly-eyed cookie monster cake features brown fondant cookies created by cutting out fondant circles and adding real chocolate chips. The "bite" of the cookie was made using a scalloped circle cutter. A piping bag fitted with a mulch-opening tip made the perfectly fluffy looking blue buttercream "hair" and the googly eyeballs and black mouth are made from fondant.
Tip: Place fondant details on top of buttercream closer to when you are going to serve or present the cake to a client. Fondant on buttercream can develop a "melting" look after a while, so definitely leave your cake in a cool place, too.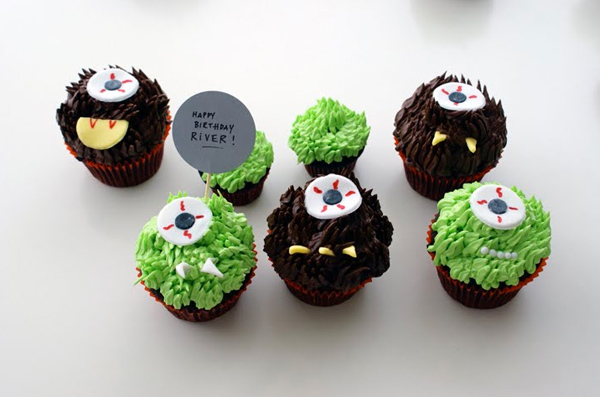 Photo via Coco Cake Land
Kooky monster cupcakes:
These monster cupcakes feature the same hairy fur treatment, with red-veined eyeballs, which were drawn on with red edible marker, and various types of teeth made from fondant or white drageé candies.
Monsters, Inc. Cake via lisascakes
Monsters, Inc. cake:
This cake has fantastic texture, and a modern feel, too — created with buttercream, modeling chocolate and gum paste. The characters were made using modeling chocolate as part of Lauren Kitchens's class "Intro to Modeling Chocolate."
Feeling inspired to put together some furry monster cakes with googly fondant eyes and other gnarly details? Use Catherine Ruehle's awesome class Cake-osaurus Rex! as the foundation to sculpt your own crazy monster cake!
Do you prefer your monster cakes scary or cute?