Horchata is a traditional Mexican drink that is sweet, creamy, spiced with cinnamon and surprisingly refreshing in summer heat. If you go deep into history, you will find traces of Horchata's origins in Egypt where a similar drink was made from the chufa nut, also known as the tiger nut. 
Now, the classic Horchata is made from soaked rice, almonds, vanilla and cinnamon. A quick recipe search brings up a variety of ingredients — some use milk, others leave out the almonds, some soak the rice whole, others swear by blending the rice into a fine powder, some even include lime zest.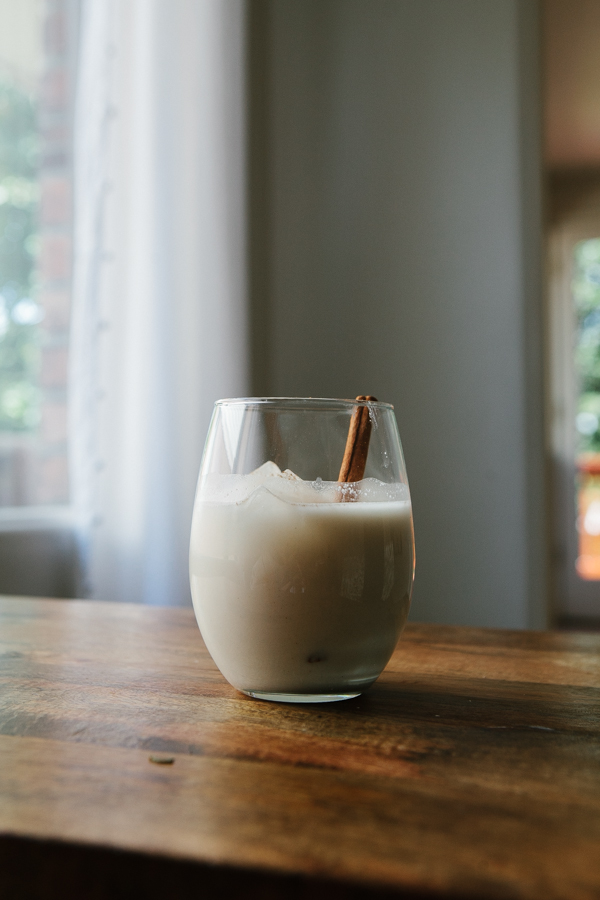 In the recipe I created, I took bits and pieces from many sources and mashed them together to create a Horchata recipe that is traditional, delicious and can easily be tailored to suit your taste. Like more spice? Add more cinnamon. Can't have dairy, no problem, it's creamy and light on its own. Like it extra creamy? Sure, throw in the some milk.
The one step we should all agree on is the toasting of the almonds, cinnamon stick and some of the rice. This step gives this Horchata a deep, rich flavor and is nutty, caramel-y and so delicious. 
Plan ahead when making Horchata because I do think the overnight soak is really key. It allows the cinnamon and vanilla bean to really infuse and gives the rice and almonds time to soak up all the water which will ultimately leave you with a very creamy horchata.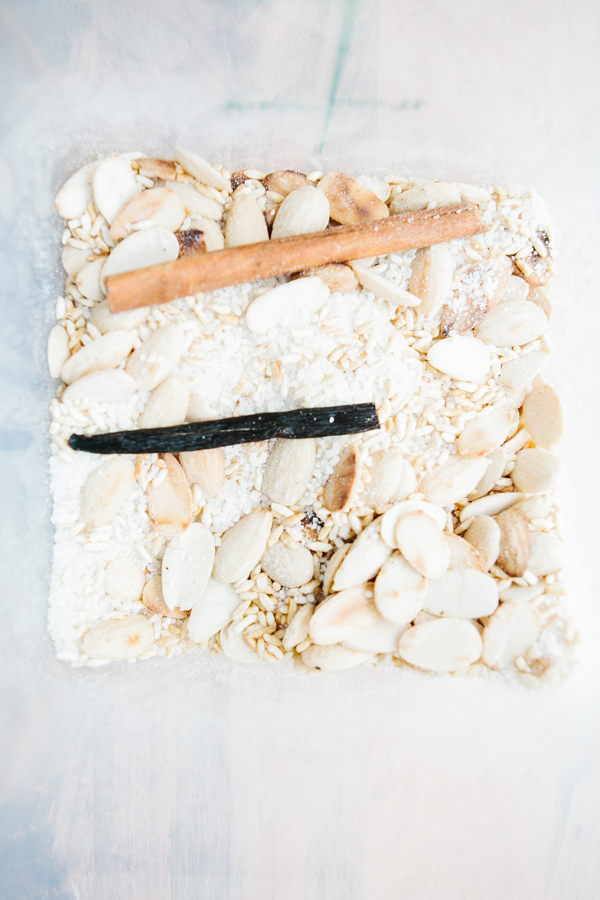 Horchata recipe
Makes 1 quart.
Ingredients:
1 cup rice
1 cup almonds
1 cinnamon stick
1/2 vanilla bean, split in half
3 cups hot water
1/4 teaspoon ground cinnamon
1/4 teaspoon kosher salt (or more)
1/2 cup sugar
4 cups water (or milk)
Step 1. 
In a spice grinder or blender, pulverize 1/2 cup of the rice until powdery.
Step 2. 
In a large skillet set over medium heat add the almonds, 1/2 cup rice and cinnamon stick. Toast until everything is golden brown and very fragrant. 

Add the ground rice, toasted rice, almonds, cinnamon and half of a vanilla bean in a large jar or container. Then top with 3 cups of hot water. 
Step 3. 
Put the lid on and let it sit overnight.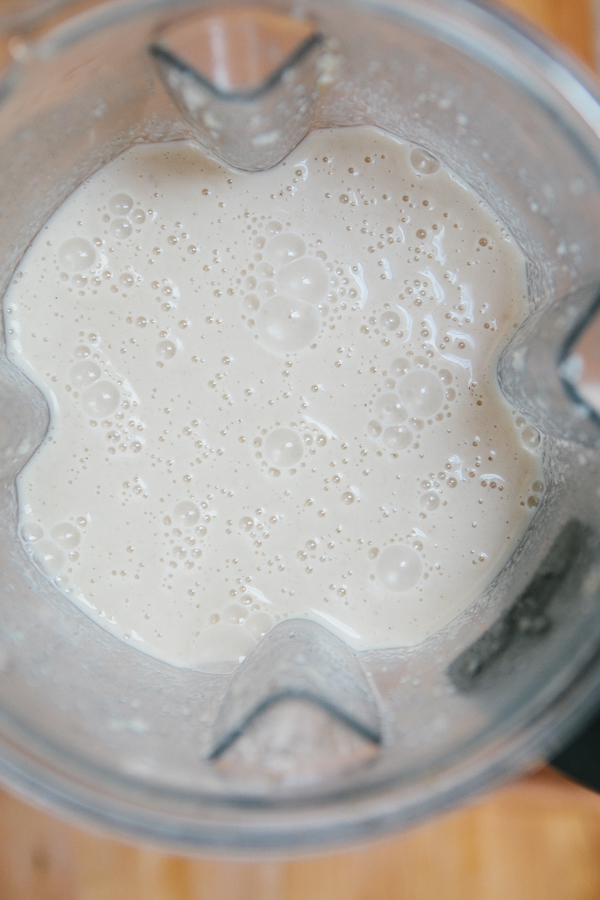 Step 4. 
In the morning remove the cinnamon stick and vanilla bean then add the contents of the jar to a blender along with 4 cups water or milk or a combination of the two, 1/4 teaspoon ground cinnamon, salt, and sugar. Blend until very smooth. Taste and adjust the sweetness to your liking.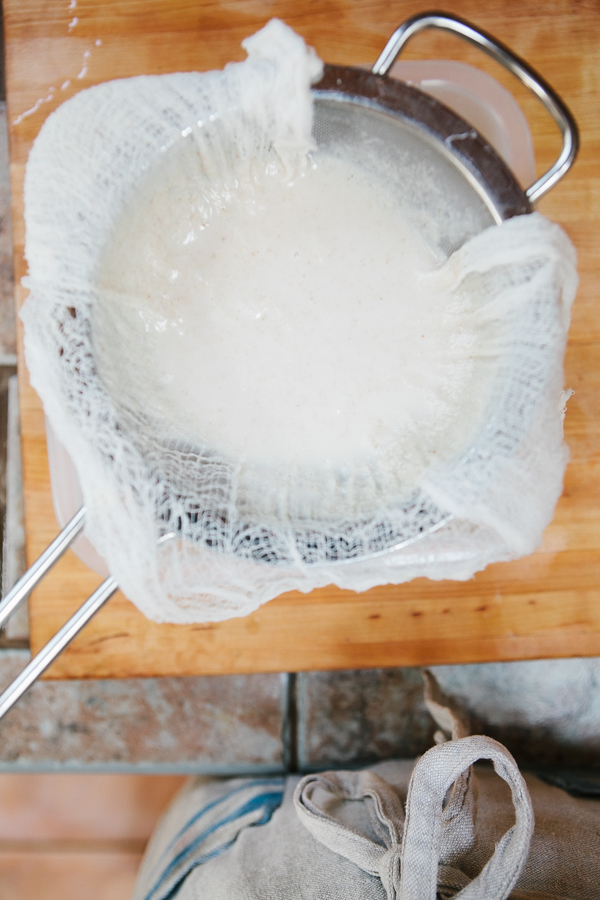 Step 5. 
Strain into a container through three layers of cheesecloth. I strain mine multiple times until it is very smooth.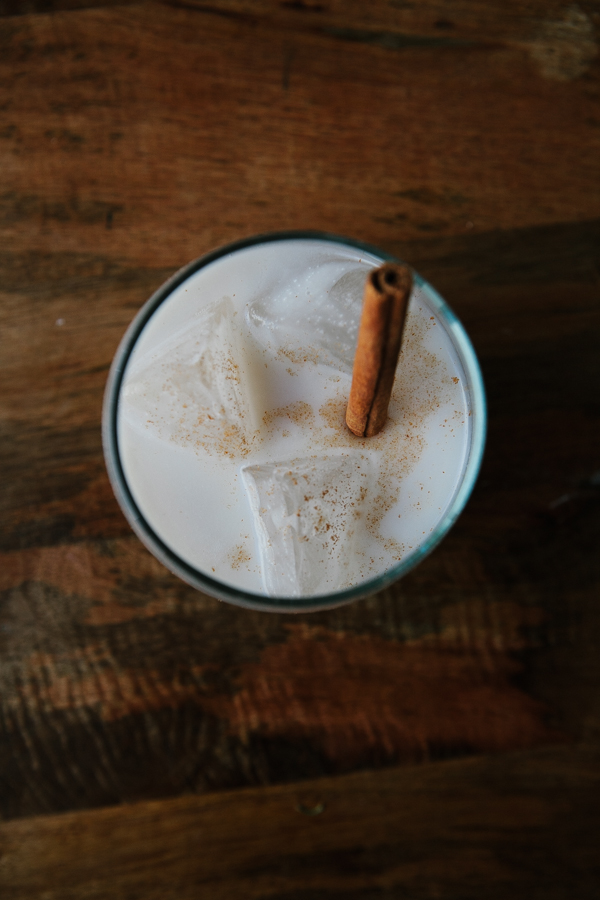 Step 6. 
Chill until completely cool. Drink with ice and top with more ground cinnamon.