It's always the right time of year to learn how to make homemade truffles. True, they're especially timely at this time of year as a wonderfully romantic gift for Valentine's Day, but they are special and tasty enough to make any and every day more delicious.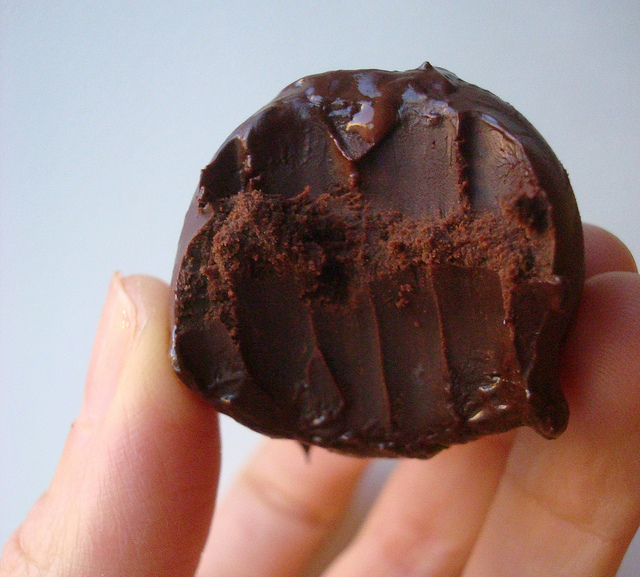 Photos via CakeSpy
Though they taste and look expensive, making homemade truffles is actually quite an easy cooking project, requiring far fewer ingredients than a decadent chocolate cake. Really, all you need is ample counter space, good-quality chocolate and cream, and some patience — while not difficult to make, both the filling and coatings do require significant time to "set" to the perfect consistency.
You can also incorporate your cake decorating skills into handmade truffles, by either piping designs or letters on top or creating delicate fondant toppers.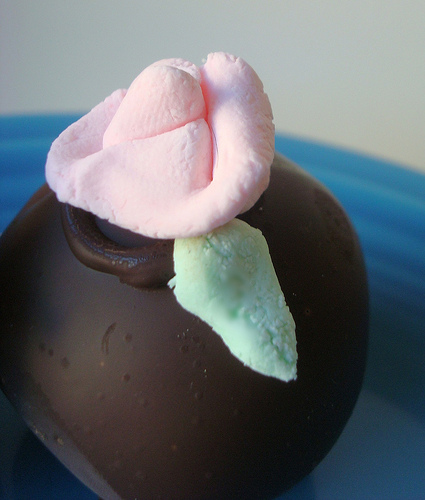 Easy chocolate truffles
Makes about 20 1-inch truffles
For the filling
8 ounces good quality bittersweet chocolate, finely chopped
½ cup heavy cream
For the coating
8 ounces good quality dark chocolate, finely chopped
Step 1:
Place the chocolate for the filling in a medium to large sized heat-proof bowl. Set aside.
Step 2:
In a small saucepan, heat the cream over medium heat until it comes to a boil. Remove from heat, and pour over the chocolate in the bowl. Let it sit for about 2 minutes, then whisk until smooth (you'll be glad you used a big bowl when you do).
Let cool at room temperature until it becomes firm, about 2 to 3 hours, or overnight. You can hasten the process by refrigerating for about 1 hour, but be sure to keep the mixture away from strong smelling items that may impart a flavor. When the mixture has turned firm, it is ready.
While it will look very firm, a spoon should be able to go through the mixture easily.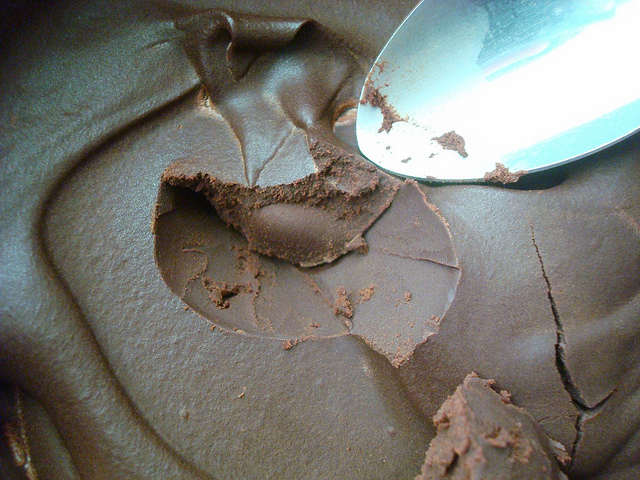 Near the end of the cooling period, line a baking sheet with parchment or waxed paper.
Step 3:
Grab the bowl of chocolate filling. Spoon out a portion of the chocolate, and roll it into an approximately 1-inch ball by hand. Place it on the prepared sheet. Repeat with the remaining chocolate mixture until you have used it all. You should have around 20 1-inch balls. Return the sheet to the refrigerator for about 30 minutes.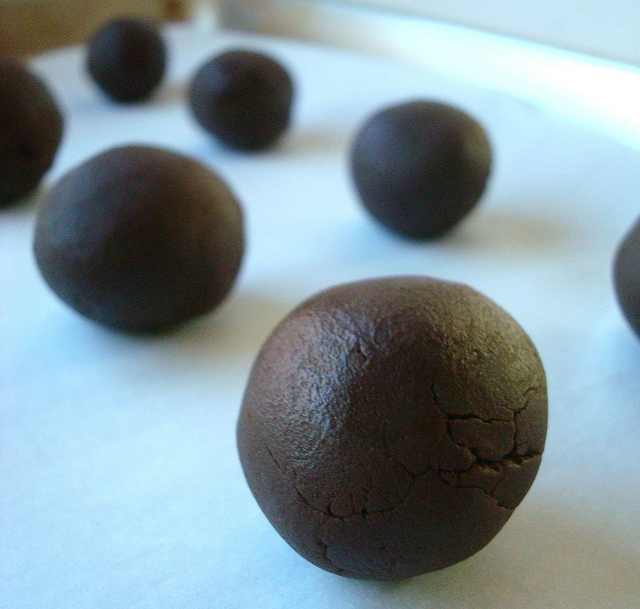 Note: If you want super simple, you could simply roll the chilled chocolate balls in cocoa, toasted coconut or crushed nuts and call it done. Or, you can cover them in more chocolate (do it!).
Step 4:
If you'd like to coat the truffles in chocolate, melt the remaining chocolate in the top of a double boiler. If the chocolates need to last a few days, temper the chocolate for the prettiest results.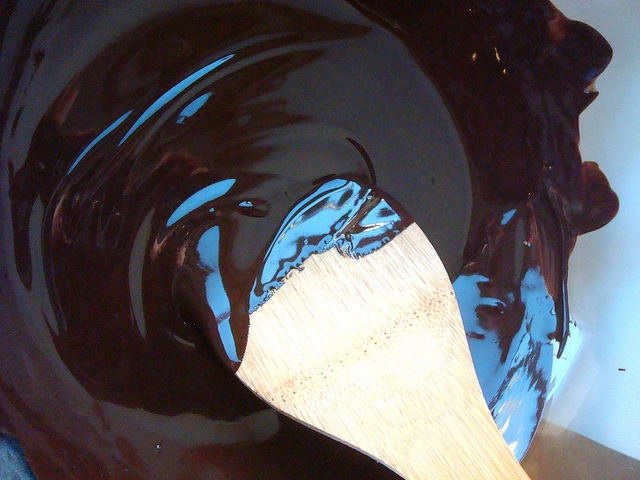 Step 5:
Remove from heat. Remove the chocolate centers from the refrigerator. One at a time, dip the balls in the melted chocolate. Roll gently to coat, and remove gently using a fork. You don't even have to spear the chocolate with the tines — simply use the fork as if it were a spoon to gently remove the chocolate. Excess chocolate will drip off the sides.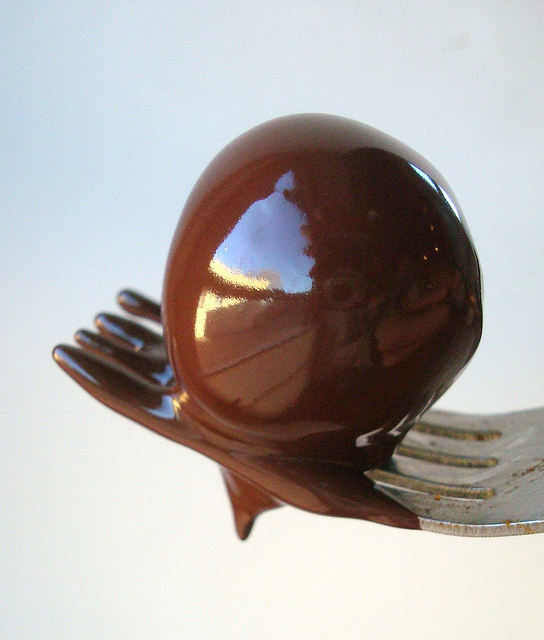 Step 6:
Place on a wire rack over a sheet of waxed paper so that any additional excess chocolate can drip off.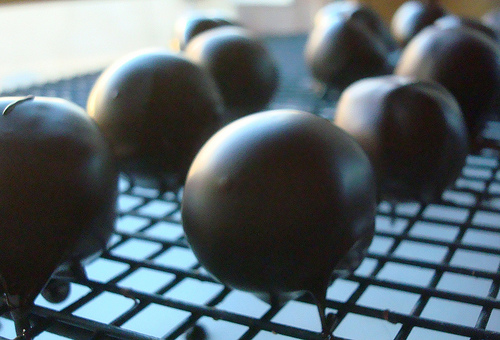 Step 7:
Let the truffles sit until the topping is firm, 1 to 2 hours at cool room temperature. To finish them, you can reserve a bit of the coating chocolate and pipe it into designs or words or hearts on top of the truffles, or you could even get a little fancy and adhere royal icing flowers or hand-sculpted fondant motifs. Wait until the truffles have set before adhering toppers; pipe chocolate directly on top, or adhere any other decorations using a tiny bit of royal icing as "glue."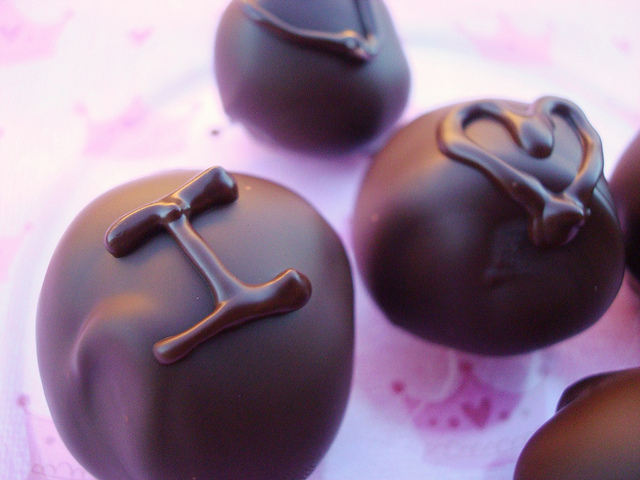 Serve at room temperature. These truffles will keep for up to a week.
What's your favorite type of chocolate in the box?