Head pins are one of those ubiquitous jewelry findings that everyone seems to have a pile of, and I don't know about you but they never seem to be the right length, and if they're the right length they're not the right gauge! Luckily, you can easily create as many head pins as you need with only a hammer and wire to match your project. 
There are MANY designs for head pins out there – you can embed wire into a polymer clay sculpted bead end, curl your wire into a loop or a spiral, or – the simplest version there is – hammer the end of the wire until it's flattened and wide enough to keep your beads from falling off. So let's explore how to make head pins!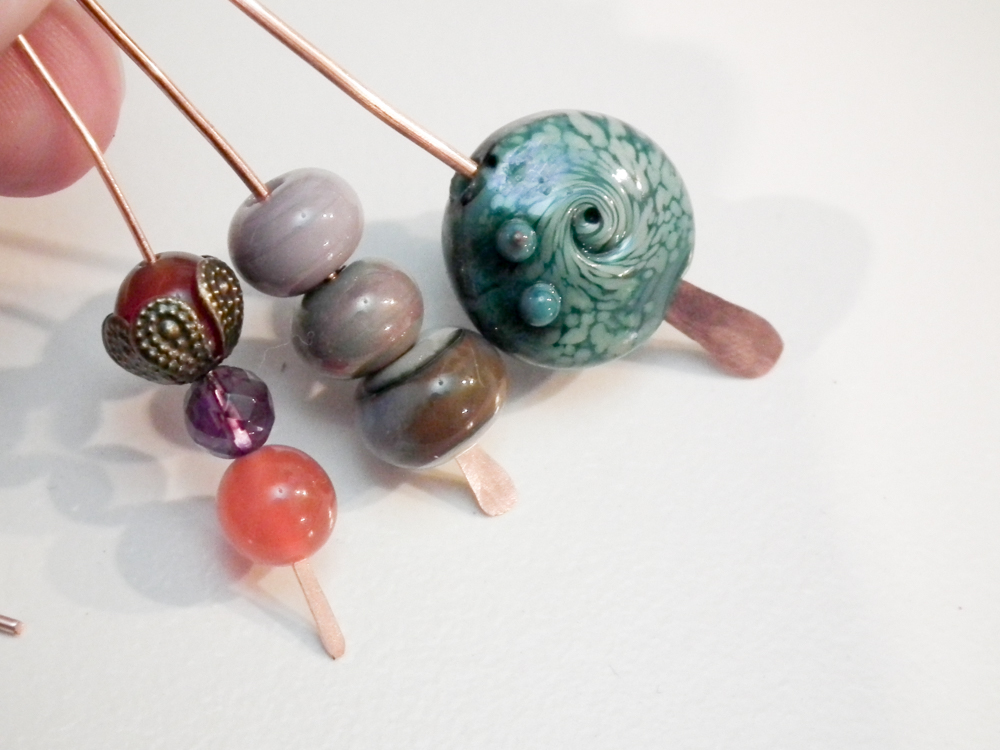 How to make head pins
Materials you'll need:
Copper or silver wire (do not use plated wire for this)
Hammer (a jeweler's chasing hammer is preferred)
Anvil or metal striking surface
Step 1:
Cut your wire to the length you need; longer is better than shorter, but be as precise as you need. The wire's length will change by millimeters, if at all.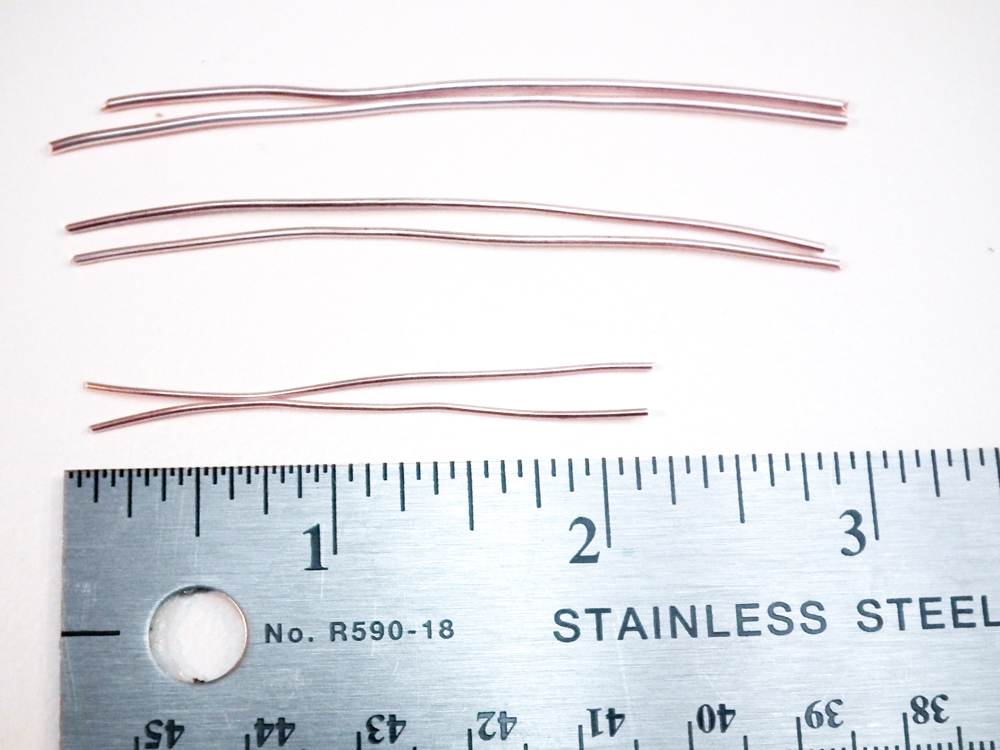 Here, I've cut some 22 gauge wire into 2″ lengths, and some 18 and 16 gauge wire into 3″ lengths, to give you an idea of how this technique can create slightly different results just by changing the materials.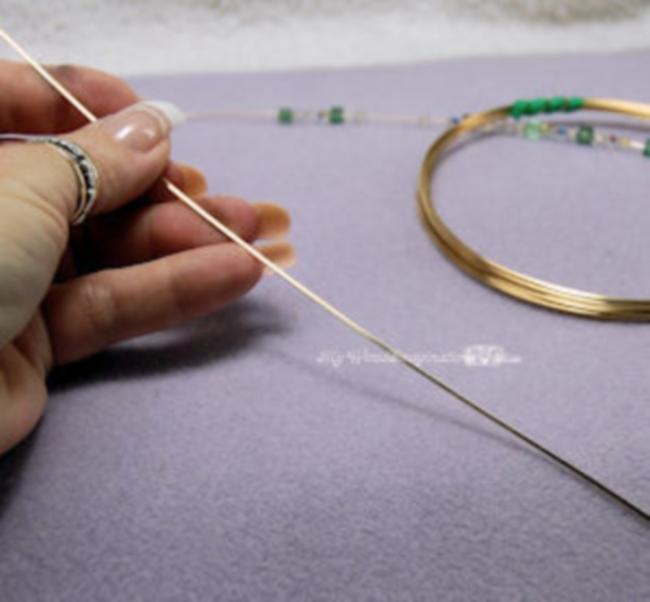 Photo via Craftsy member MyWiredImagination
Step 2:
Straighten the wire along its length using your hands or nylon jaw pliers.
Step 3:
Place the last inch or so of your wire onto your hammering surface. Do NOT put your fingers – or anything else you don't want hammered – onto the surface. Use the large head on your chasing hammer to gradually flatten and bell out the end of the wire. The tip should be the largest, widest part. Use sharp, precise blows, and if you find you've moved the material into a bumpy edge, you can hammer down and out in that direction to fill in the hole. Metal is quite malleable! Flip the bell end over and hammer from the other side, as well.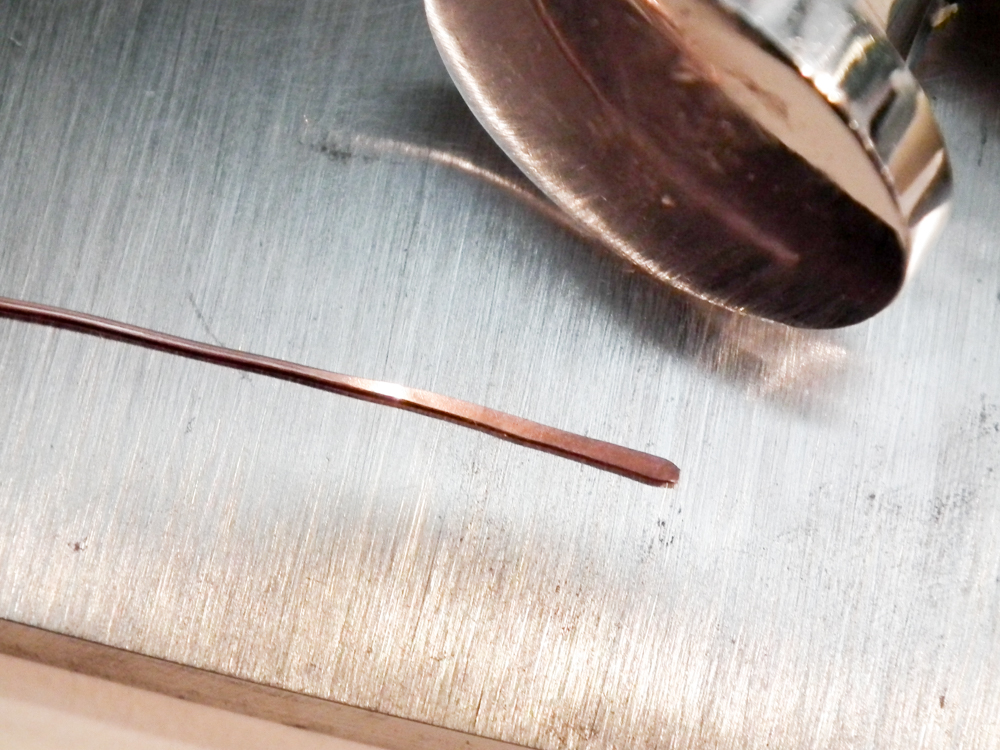 If you end up with pointy ends, you can either keep hammering to smooth them out, or use a file to shape the wire smooth. 
Step 4:
Add your beads and you're done! You can pretty well do anything with this head pin at this point, such as stringing various beads onto a necklace, making a charm bracelet or simply adding ear wires to make earrings. Go nuts!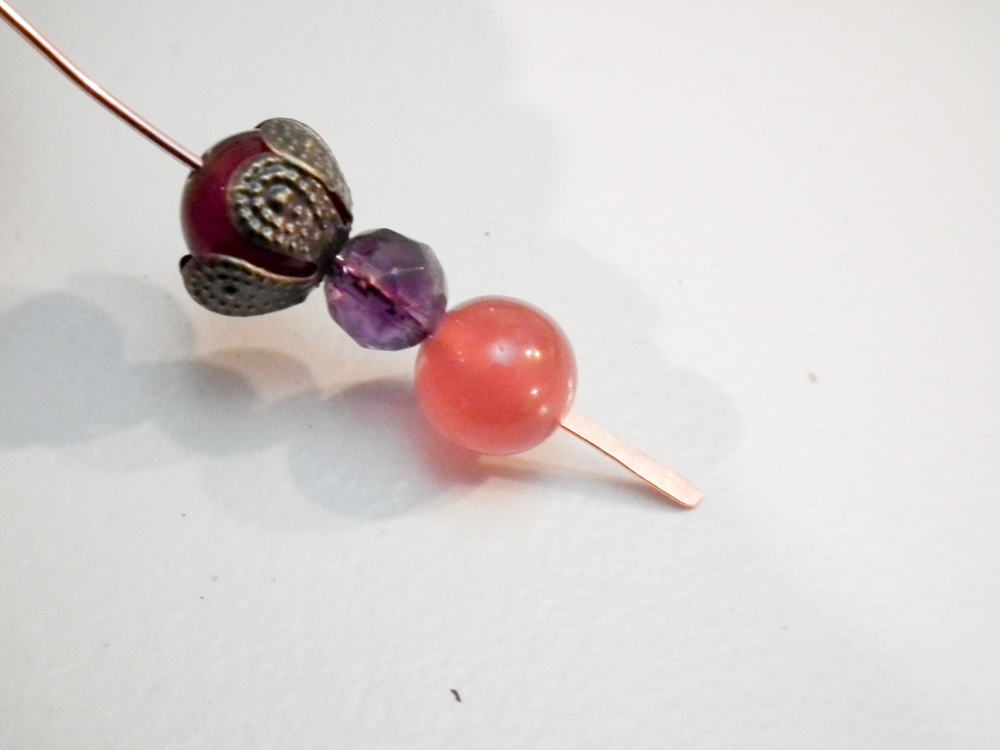 You can easily create a loop in the top of your head pin after adding your beads, for attaching.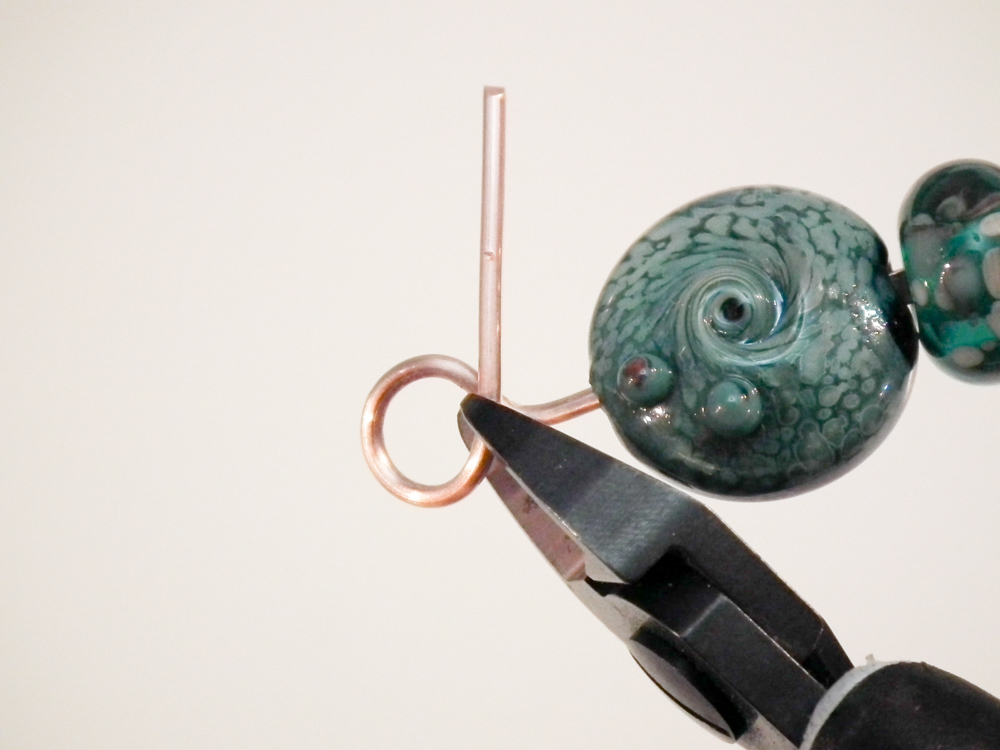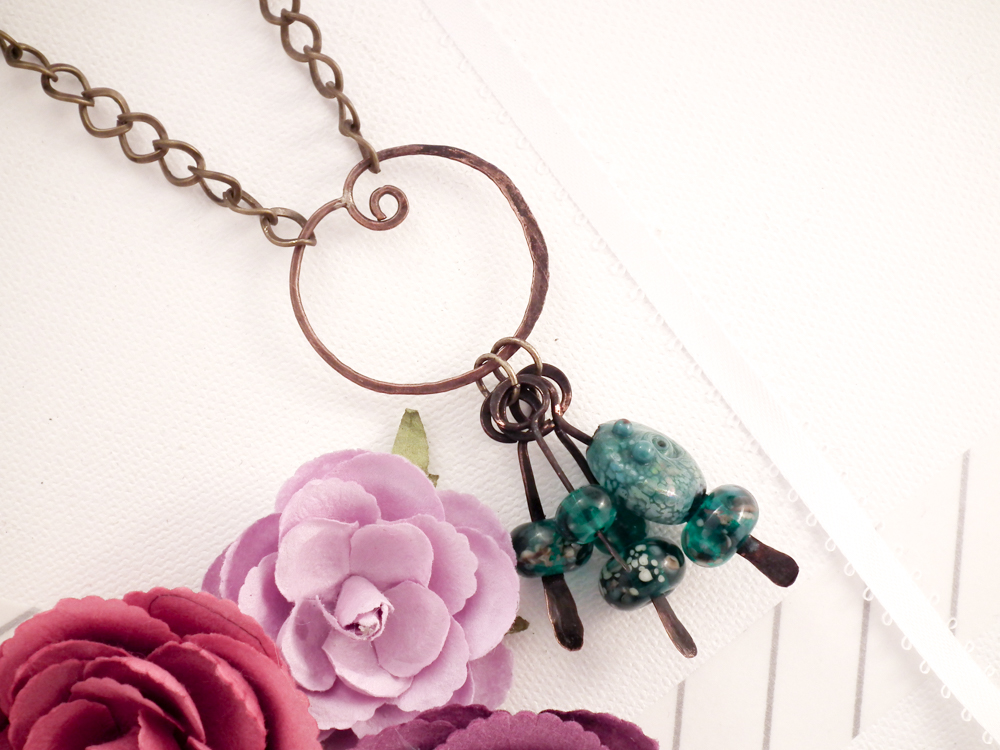 Another option for head pins is to ball the ends of copper.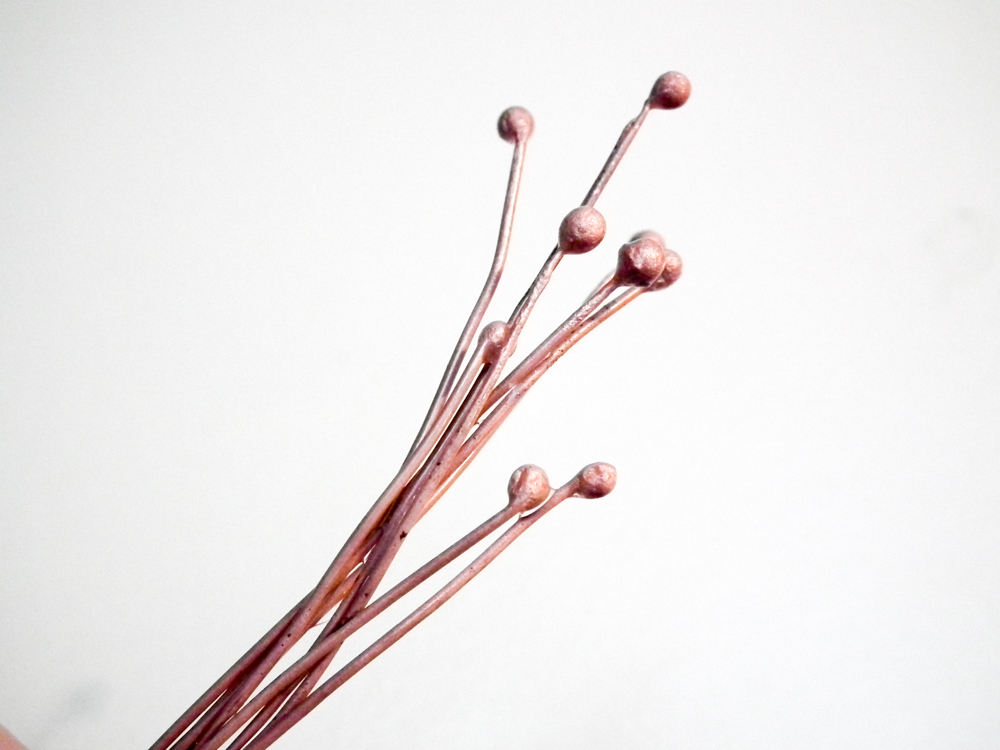 There's a great pattern available on balling copper wire with a propane torch from Craftsy member Cheryl St Pierre that I recommend. 
Give either option a try! You'll be surprised at how easy and useful it is to make your own head pins. 
You might also enjoy our FREE heart head pin tutorial.