Cheese and crackers are my go-to party snack when I'm entertaining — but the same old snack can get a little tired after a while. Next time you're entertaining, skip the crackers and make a batch of gougères, addictive French cheese puffs that everyone will love.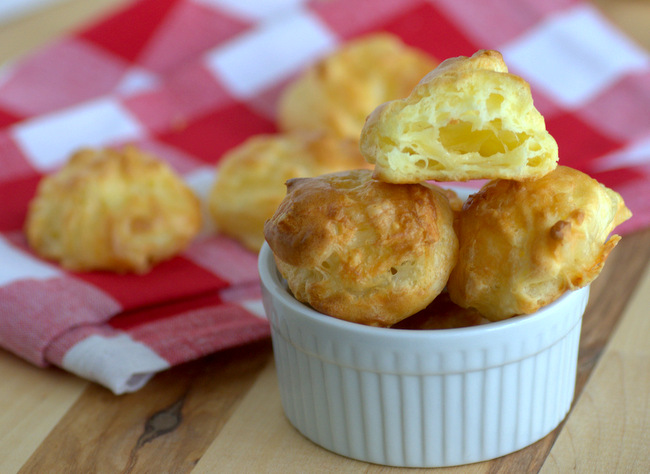 Gougères are made by combining pâte à choux with cheese.
The versatile French pastry dough is piped into rounds and baked until they are crisp, golden puffs with a crisp exterior and cheesy center.
The pâte à choux is the same dough that's used for éclairs and chouquettes, but the cheese makes these French pastries stand out.
You can use almost any kind of cheese, from bleu cheese to cheddar. The most traditional options for gougères include firm French and Swiss cheeses like Gruyere, Comte or Emmentaler, all of which have have a nutty flavor and melt well. I usually use Gruyere or a blend of cheeses, if I happen to have a few options in my fridge.
By the time that the choux is cooked and the eggs are incorporated, it should be about room temperature. The shredded cheese will not melt when you stir it in. You may find that the shreds of cheese make your gougères slightly lumpy when you pipe them — but don't worry about it, as every lump of cheese is especially delicious in the finished puffs.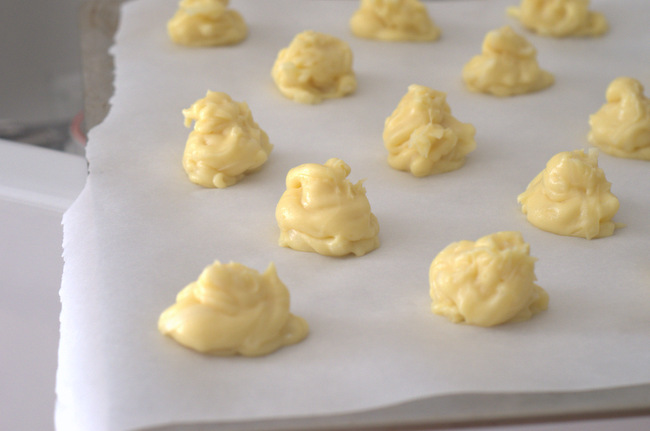 You'll need a pastry bag to pipe these onto a baking sheet in nice, even rounds. You can use a pastry tip if you want, but it's not necessary since they tend to be irregular in shape. If you don't have a pastry bag, transfer the cheesy choux to a large zip-top bag and snip off a corner.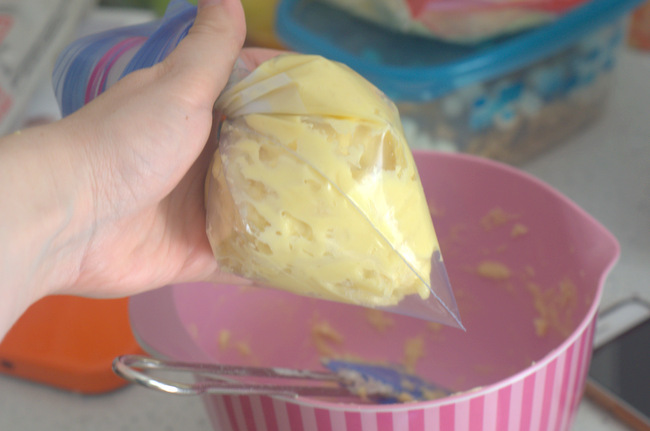 How to serve your gougères
Gougères are at their absolute best fresh from the oven, with slightly crisp edges and a meltingly soft interior. The pastries will become soft as they sit out on the counter and, while they'll still be tasty, they won't be quite as good.
You can refresh them by popping them in the oven for a few minutes to crisp up, but I scaled this recipe to make a relatively small batch so that you don't have to worry about leftovers going to waste. 
You can bake the pastries at the last minute, but you don't have to prepare the choux while your guests are in the kitchen.
The choux can be prepared an hour in advance, transferred to a pastry bag and simply kept on the counter until you're ready to pipe and bake. The choux can also be prepared the night before and stored in the pastry bag in the refrigerator overnight. Storing the choux in the pastry bag will keep it moist and ready to pipe when you're ready to bake.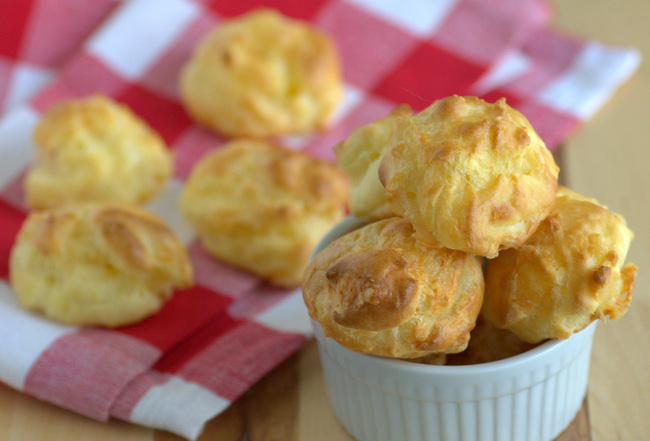 Classic gougères recipe
Makes  20-24 gougères
Ingredients:
¼ cup water
¼ cup milk (preferably whole)
4 tablespoons butter
¼ teaspoon salt
¾ cup all-purpose flour
2 large eggs
2/3 cup Gruyere cheese (or other French/Swiss cheese)
Step 1:
Preheat the oven to 400 F. Line a baking sheet with parchment paper. Combine water, milk, butter and salt in a medium saucepan and bring to a boil over medium heat.
Step 2: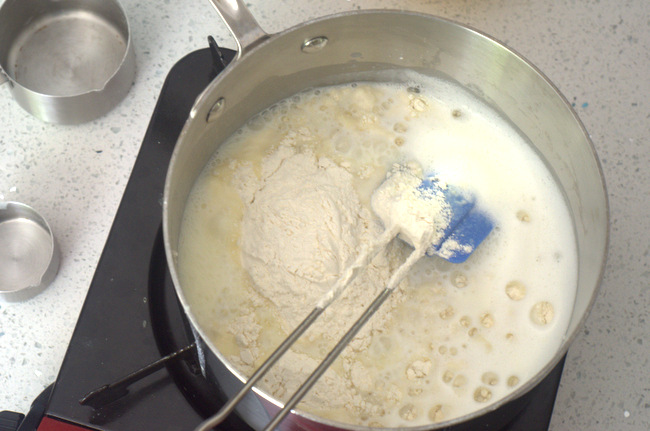 Add the flour to the boiling butter mixture all at once, stirring vigorously with a wooden spoon or spatula until dough comes together in a ball.
Continue to cook and stir for about 1 minute, until dough comes together and begins to look firmer and drier, then turn off the heat.
Step 3:
Transfer dough to mixer or clean bowl, and mix at a low speed for 2-3 minutes or until slightly cooled (bowl should not be too hot to touch). Beat in eggs one at a time, waiting until each egg is fully incorporated to add the next one. Increase mixer speed to make batter smooth and velvety. Stir in grated cheese.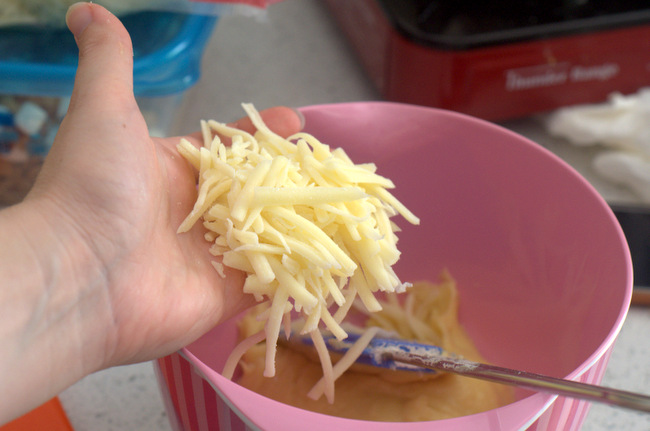 Transfer dough to a piping bag fitted with a large (approximately ½") round tip. Alternatively, use a large zip-top bag and cut the corner off with a pair of scissors.
Step 4:
Pipe dough onto prepared baking sheets in 1″ or 1½" balls. Bake for about 20-25 minutes, or until golden brown. Allow to cool slightly before serving. 
More French Pastries Worth a Try