A delicious AND gluten-free waffle…can it really be done? Is there a gluten-free waffle recipe that is worth eating? The answer is definitely, YES. Today is the day you are going to learn how to make gluten-free waffles. I know you've been curious, so it's time to get excited.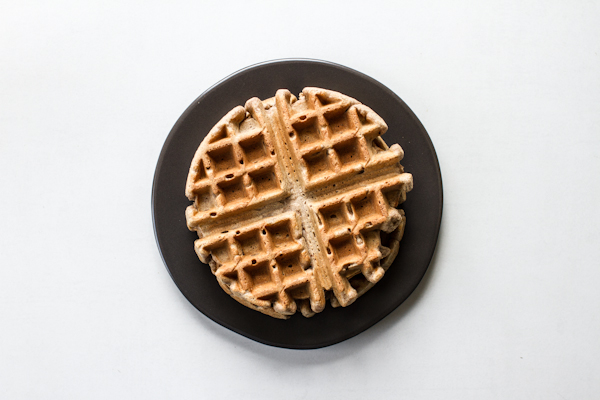 Photos via Edible Perspective
I am about to show you just how easy and delicious it can be to make your own homemade gluten-free waffles.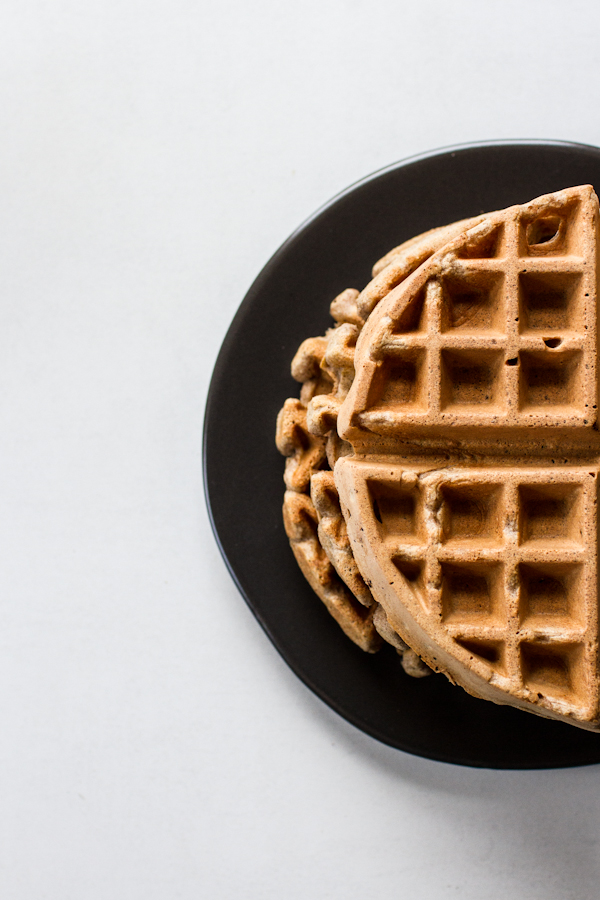 Begin with the perfect gluten-free flour
It all starts with the right flour combination. I tend to find that pre-blended gluten-free all-purpose flours leave much to be desired. The texture is often a bit gummy and/or grainy, and the flavor can sometimes have a strange aftertaste (especially if bean flour is included in the ingredients). While the all-purpose flours are convenient, blending your own gluten-free flours together makes all the difference.
And don't worry, I've figured out the exact ratios for you, so all you have to do is mix them together!
I've included three flours in this recipe:
light/raw buckwheat flour
sweet rice flour
almond meal
While the ratios vary depending on what I'm making, this combination has proven to be a winner time and time again. The fats in almond meal help to keep the waffle moist and also provides a soft texture. Light buckwheat flour adds a bit of heartiness and helps hold the waffles together. Despite "wheat" being in the name, buckwheat flour is naturally gluten-free.
Sweet rice flour (also known as glutinous rice flour) is not actually sweet at all. It's simply made from the sweet rice grain. It's much starchier than white or brown rice flour and is ground into a fine powder. It helps to hold gluten-free baked goods together and give them a bit of a doughier texture, depending on how much you use. For that reason, sweet rice flour can not be substituted.
It may be difficult to find in the regular grocery store but you can definitely find sweet rice flour online.
Asian markets
are also guaranteed to have it. I bought the flour you see above for 1/5 of the cost at a local Asian market in comparison to what I pay for when ordering online.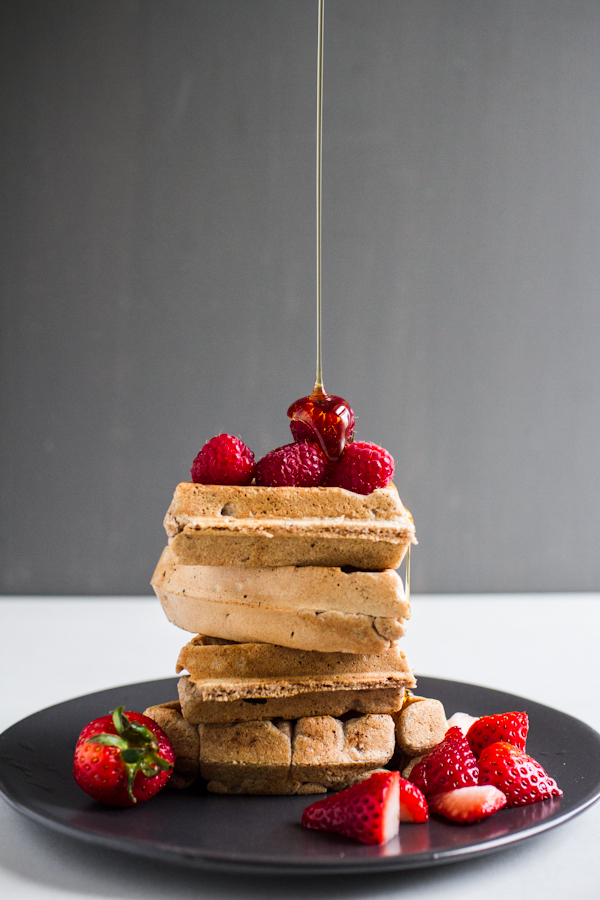 Finally! Homemade gluten-free waffles that everyone will be begging for, whether they eat gluten-free diet or not.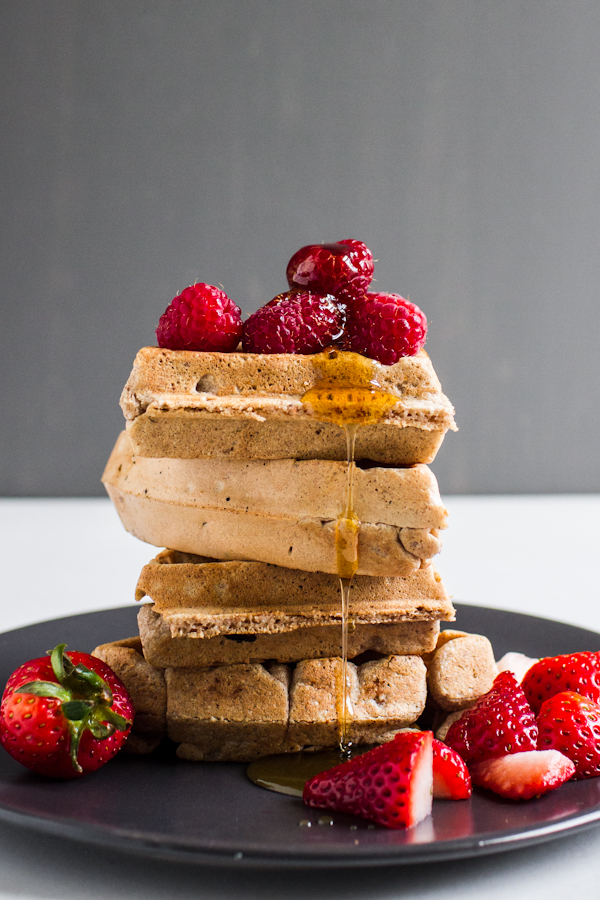 Gummy and grainy gluten-free baked goods are a thing of the past.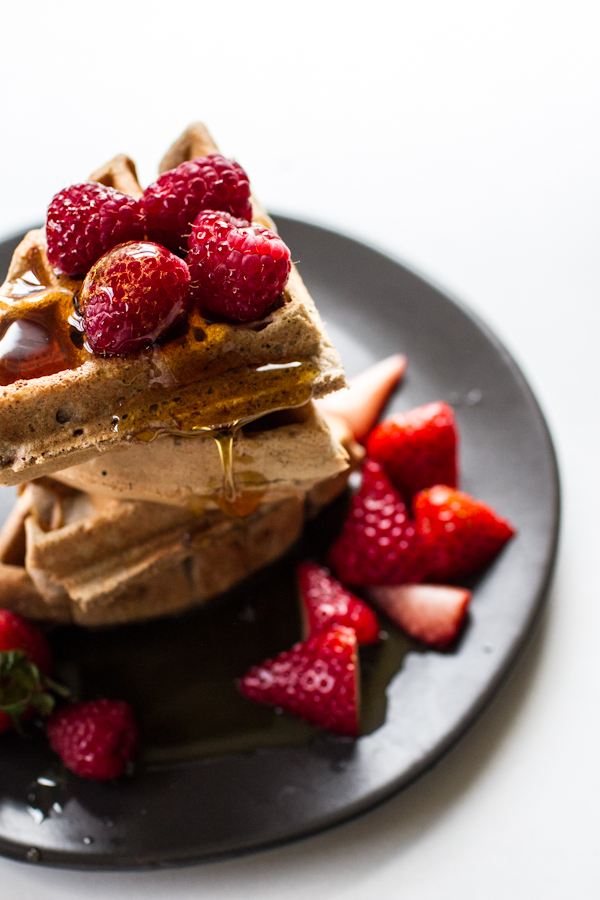 The texture of the waffles is fairly light, with a soft and fluffy center, but they are still hearty enough to fill you up. The exterior turns to a light golden brown and has a nice crispy edge. The buckwheat adds a slight earthiness that is balanced out by the nutty almond meal. This is a recipe I use time and time again and is my go-to when guests come over for breakfast or brunch.
Recipe for the best gluten-free waffles
yields: 2, 6-inch Belgian Waffles
Ingredients
1/2 cup light/raw buckwheat flour*
1/4 cup sweet rice flour
1/4 cup almond meal
1 teaspoon cinnamon (or more)
1/4 teaspoon baking powder
pinch of salt
1 egg
1/2 cup + 1 tablespoon unsweetened almond milk
1/4 cup unsweetened applesauce
1 tablespoon pure maple syrup
1 tablespoon unrefined coconut oil, melted and lightly cooled
1/2 teaspoon pure vanilla extract
*For best results, let cold ingredients come to room temperature before using.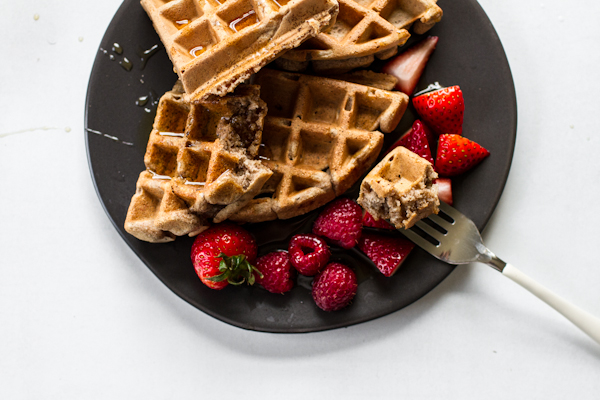 Step 1:
Preheat a 6-inch round Belgian waffle iron over medium heat (or other type of waffle iron).
Step 2:
Stir the dry ingredients together in a bowl.
Step 3:
In a separate bowl, whisk the wet ingredients together until fully combined.
Step 4:
Pour the wet into the dry and whisk until you no longer see dry flour.  Do not over-mix. Let sit for 2-3 minutes.
Step 5:
Grease your waffle iron if needed, then pour about 3/4 cup of the batter into your waffle maker and lightly spread. (Depending on your waffle iron, you may get more/less than 2, 6-inch waffles.)
Step 6:
Cook until finished to your liking. I typically cook mine 1 1/2 cycles on medium heat which leaves the exterior golden brown and crispy and the center soft and fluffy.
Step 7:
Remove & serve immediately. Or, have your oven pre-heated to 200 F, and place waffles on a baking sheet as they finish cooking. This is helpful if you want to double the recipe for more people.
Helpful Tips:
This recipe is a cinch, I promise, but I wanted to provide some extra information about the flours I use and substitution ideas.
Light buckwheat flour can easily be ground in a blender, mini blender, coffee grinder, etc. Be sure to use raw buckwheat groats (not toasted or kasha) and grind in small batches until soft and flour-like. If some hard pieces remain sift out with a fine mesh strainer. Store excess flour in a sealed container in the fridge for 6-8 weeks.
If you cannot find raw buckwheat groats (check bulk bins and Bob's Red Mill packages), feel free to sub in gluten-free oat flour. You'll want to add 1 extra tablespoon of oat flour and use 6 1/2 tablespoons of milk.
There are no substitutions for sweet rice flour. Check Asian markets in your area for the cheapest prices. You're guaranteed to find it there (also known as glutinous rice flour). It can also be ordered online.
If neither buckwheat nor oat flour work for you, sub in 1/2 cup of your favorite gluten-free all purpose flour and use 6 1/2 tablespoons of milk.
For storing: Store fully cooled waffles in an airtight container for about 5 days in the fridge. Or, store in a freezer bag with all of the air squeezed out and wax paper or parchment in between the waffles to prevent sticking. Place in your freezer for up to 3-4 months. Re-heat in the toaster, toaster oven or microwave.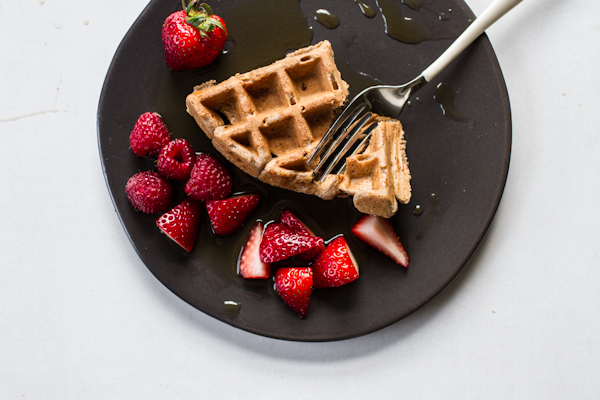 Vegan and GF? You can find a gluten-free, vegan waffle recipe here!
Have you ever attempted to make homemade gluten-free waffles?