Gone are the fussy, pastel buttercream blooms from 1980s wedding cakes. These days, modern frosting florals are quite on trend. They may look intricate, but it's easy to learn how to make frosting flowers with this tutorial and our top tips.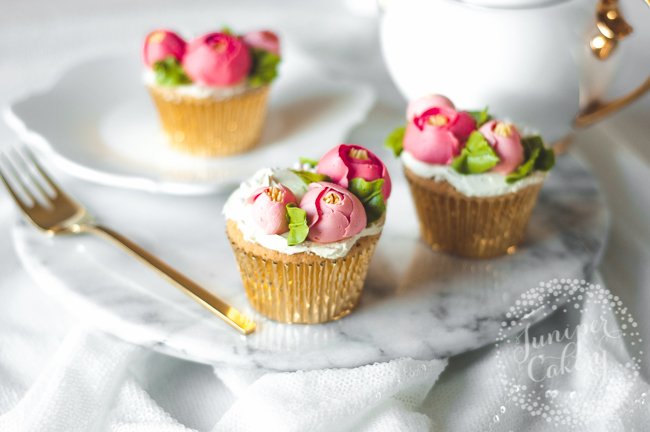 Not only are these frosting flower quick to create, but they're also perfect for anyone who isn't a huge fan of fondant or gum paste.
How to make frosting flowers with a chic, modern twist
What type of frosting should I use?
Buttercream is the go-to choice for most cake decorators! American buttercream is a classic choice, but don't forget about other types of buttercream like crusting buttercream or Swiss meringue buttercream.
What else do I need?
Pale yellow buttercream
Pink (or another petal color) buttercream
Curved petal piping tip (we used the Wilton 123)
Grass piping tip (we used the Ateco 133)
Flower nail
Disposable piping bags
Parchment paper
Fresh cupcakes or cake
Flower lifter (or scissors)
Step 1: Prep the flower nail
First, pipe a small blob of yellow buttercream directly onto your flower nail. This frosting acts as glue for a small piece of parchment paper, which you should place on top of the flower nail.
Piping frosting flowers onto a slip of parchment paper means you can easily slide it up (carefully) and set it aside while you get your flower nail ready to pipe the next flower.
Step 2: Pipe the stamens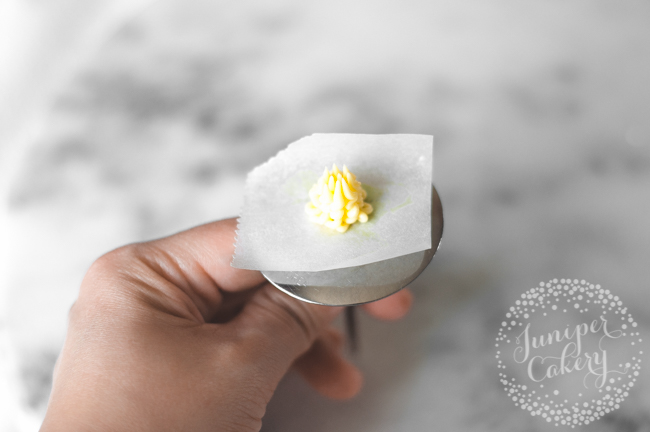 Using a grass tip, pipe the pale yellow buttercream for the center of your flower (stamens and pistils). Pipe in the center of your parchment paper and flower nail.
Try to get your stamens to stand upwards instead of drooping too much. If your piped stamens droop, the rest of your buttercream work will be sloppy. Add a little extra sieved powdered sugar to stiffen it a bit. Of course, make sure not to add so much that it becomes sickly sweet.
If the weather is warm and your buttercream frosting has melted, you can also let the buttercream sit in the fridge for around 5-10 minutes.
Step 3: Start piping the petals
For this step, you need a disposable piping bag fitted with the curved petal tip. Fill up the bag with whatever color buttercream you like.
You can experiment with using two colors to make pretty eye-catching petals. You can make candy stripe style florals by painting gel or paste food color down different sections of your piping bag so that you buttercream gets tinted as you pipe.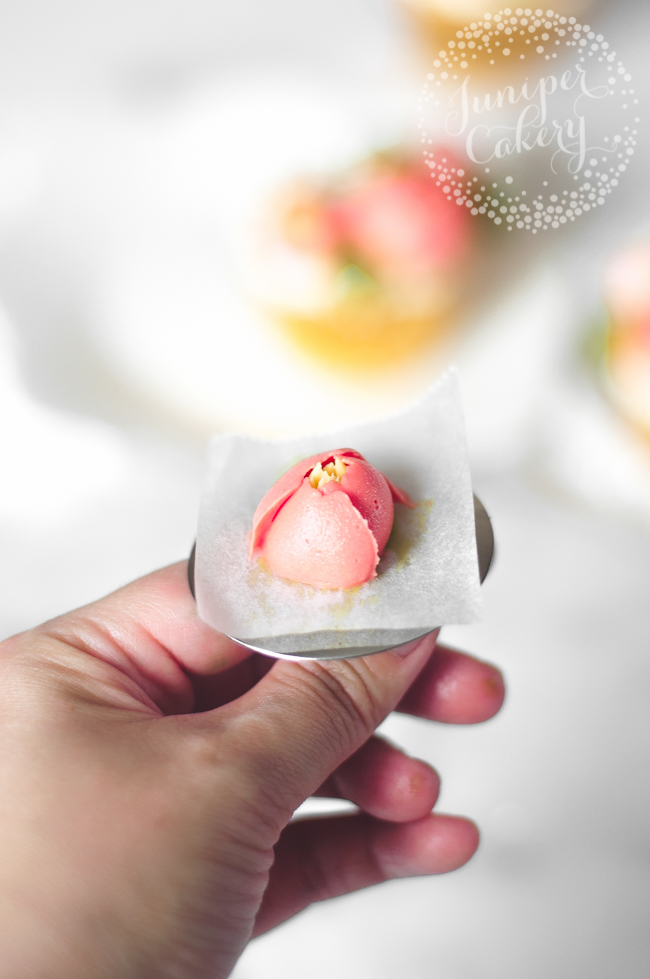 Once you have what you need, pipe two rows of three petals (or, if you want a smaller flower, just one row) that wrap around the stamen. For the first row, hold your piping bag and tip at a 45-degree angle (or at 3 o'clock). Pipe around the stamens in a succession of three petals and stop.
Step 4: Pipe the final round of petals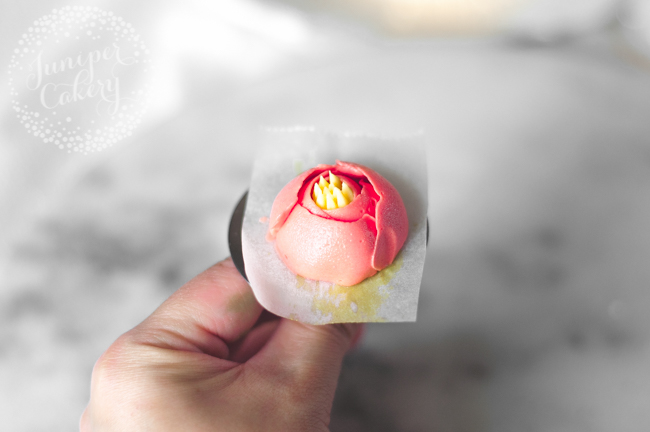 For the next and final row, pipe your petals in the same way as Step 3, but this time you need to begin each petal halfway over each petal in the first row.
Step 5: Put the frosting flowers in place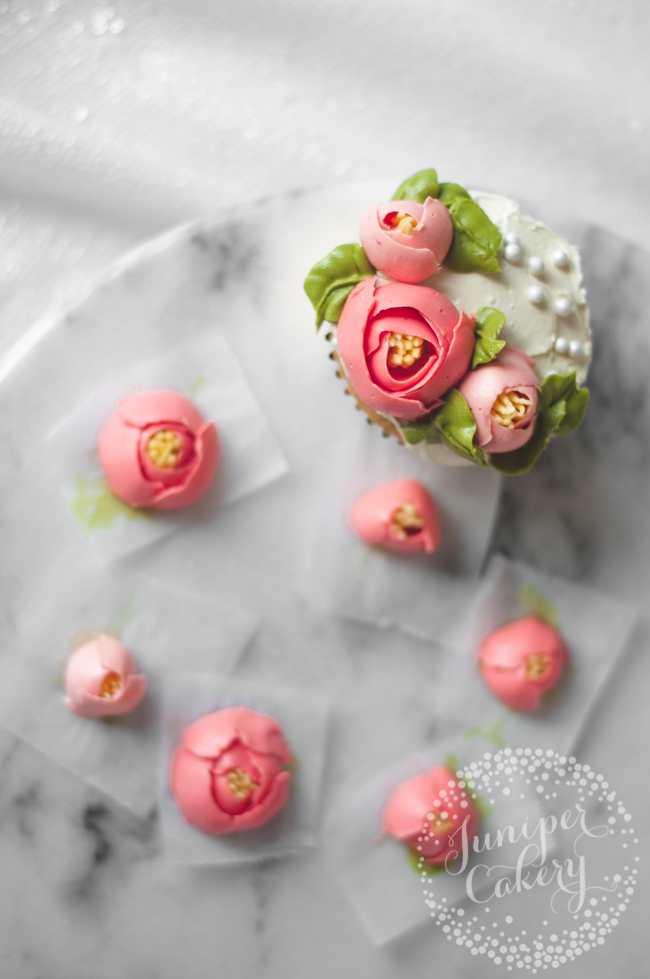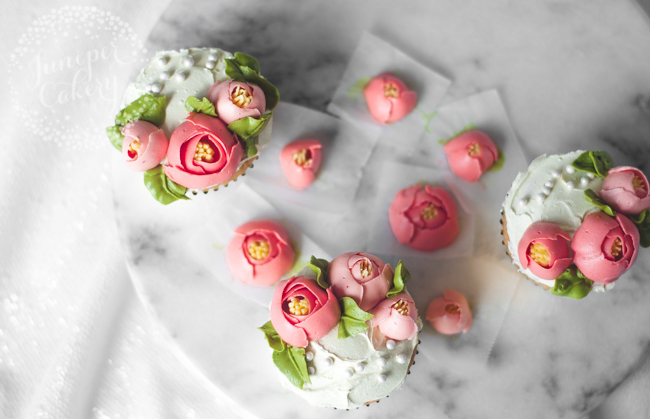 Once your tulips are piped, place them all on a small, flat surface (like a cookie tray) and leave them in a freezer for 30 minutes to an hour to chill. This makes them SO much easier to handle and put in place on your baked treats!