All out of evaporated milk? Instead of rushing to the store, learn how to make evaporated milk at home! All you need is a little time, some milk, and a few simple supplies, and you can create a DIY pantry ingredient that will make your next cooking or baking project taste wonderful.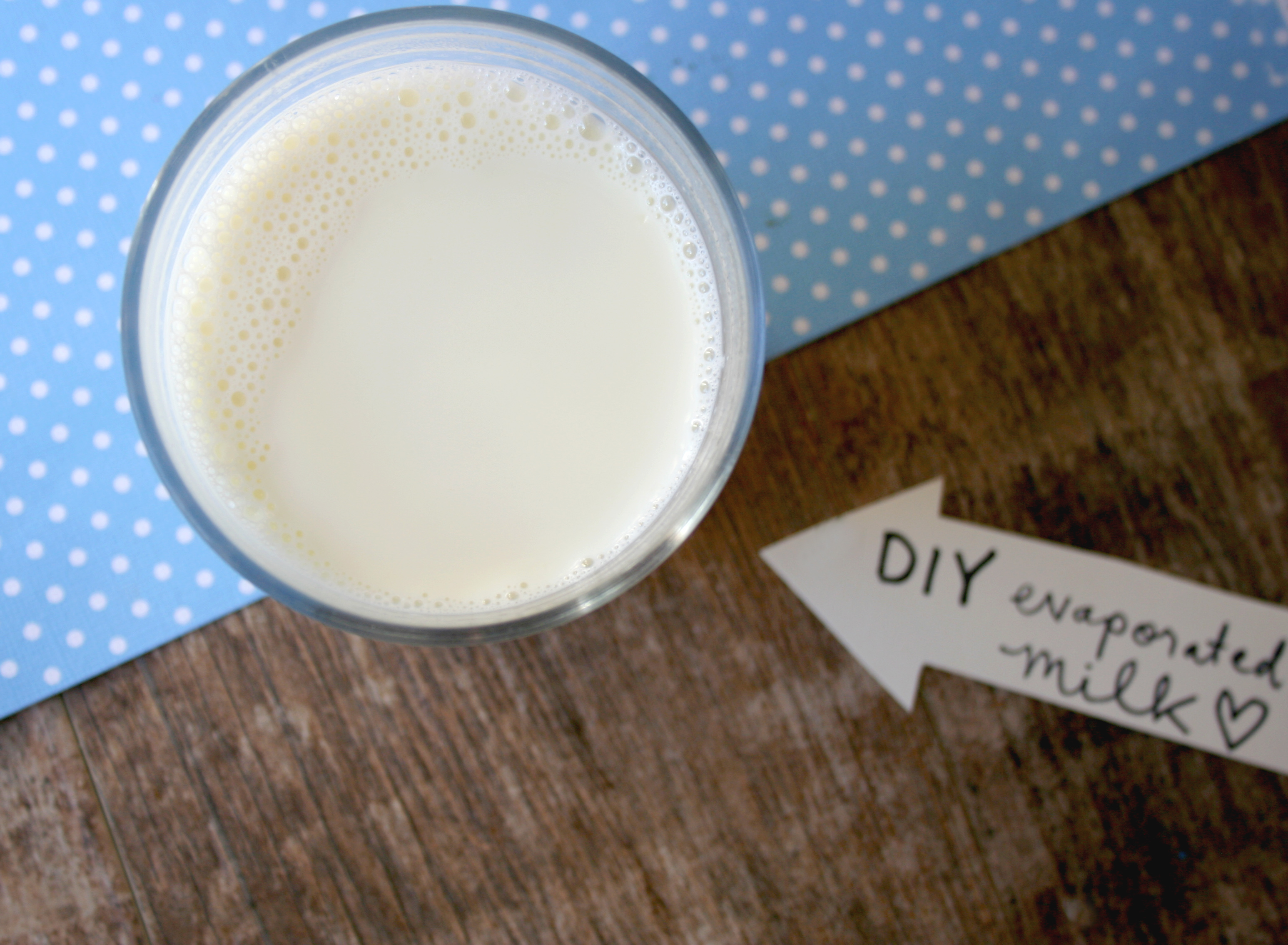 Photos and illustration via CakeSpy
This evaporated milk recipe is incredibly easy to make. While it won't require a ton of activity on your part, it will require your presence: You'll need to be nearby the pan so that you can stir the milk and monitor its progress as it releases moisture through steam while slowly cooking.
Once you make evaporated milk, you'll be glad you did! The incredible flavor will impart lightly sweet, caramel undertones to whatever you're baking. 
What is evaporated milk?
Evaporated milk is milk that has about 60 percent of its water removed. Sometimes called "unsweetened condensed milk," it is similar to its shelf companion, sweetened condensed milk, but made with no added sugar. The naturally occurring sugars in milk make evaporated milk lightly sweet, but it is nowhere near as thick or sweet as sweetened condensed milk.
Why make your own evaporated milk?
Making DIY evaporated milk is incredibly easy. However, as you'll notice as you read the recipe, it is time-consuming, requiring about an hour's worth of attention. So why make your own evaporated milk? Here are some of the reasons why it's worthwhile:
1. It's easy!
While you will need to devote about an hour's time to make evaporated milk, it isn't challenging. You only need to be near the pan to be able to stir it every few minutes. If you're comfortable with multitasking, evaporated milk can easily be done as you perform other kitchen tasks. 
2. It's delicious!
The flavor of homemade evaporated milk blows away that of its canned competition. Milk packed in cans can have a tinny aftertaste, which can impart a metallic flavor on baked goods. Homemade evaporated milk is mellow, sweet, and slightly caramel-like in its undertones. It's delicious in baked goods, and you may find yourself even adding it to your morning coffee!
How to make evaporated milk at home
Makes 12 ounces of evaporated milk (the equivalent of one can)
Ingredients:
30 ounces milk 
Supplies: 
Medium-sized, heavy-bottomed saucepan
Rubber spatula
Whisk
Heatproof liquid measuring cup 
Step 1: 
Pour the milk into a medium-sized, heavy-bottomed saucepan.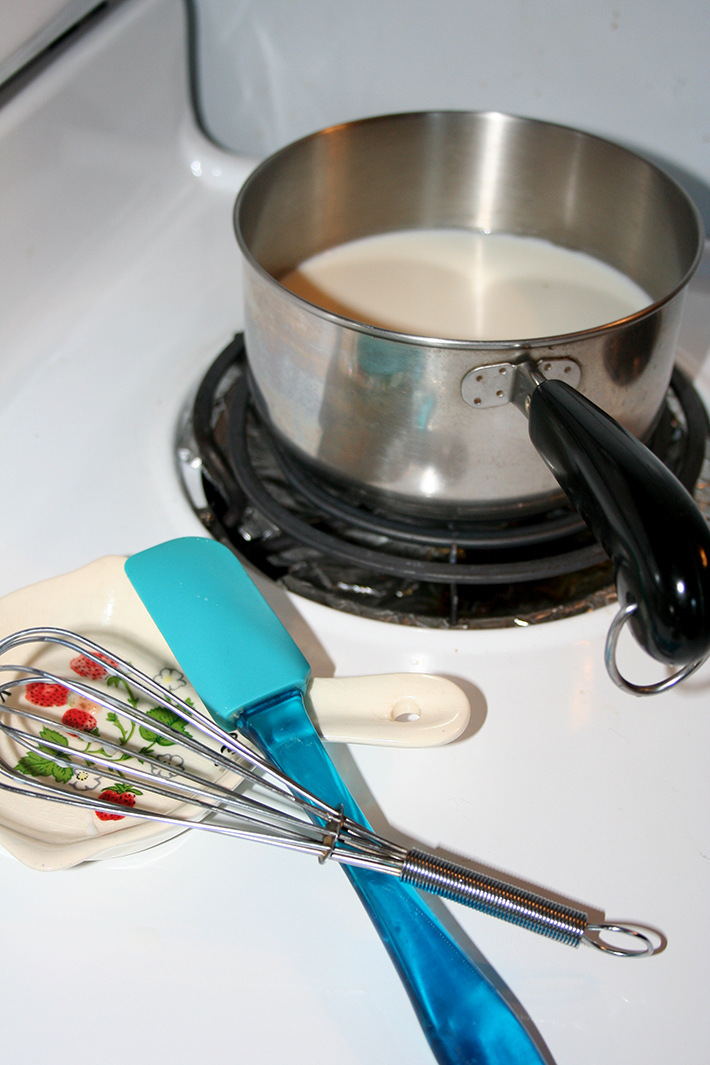 Step 2: 
Set the milk over medium heat and, whisking frequently, bring the milk to a simmer.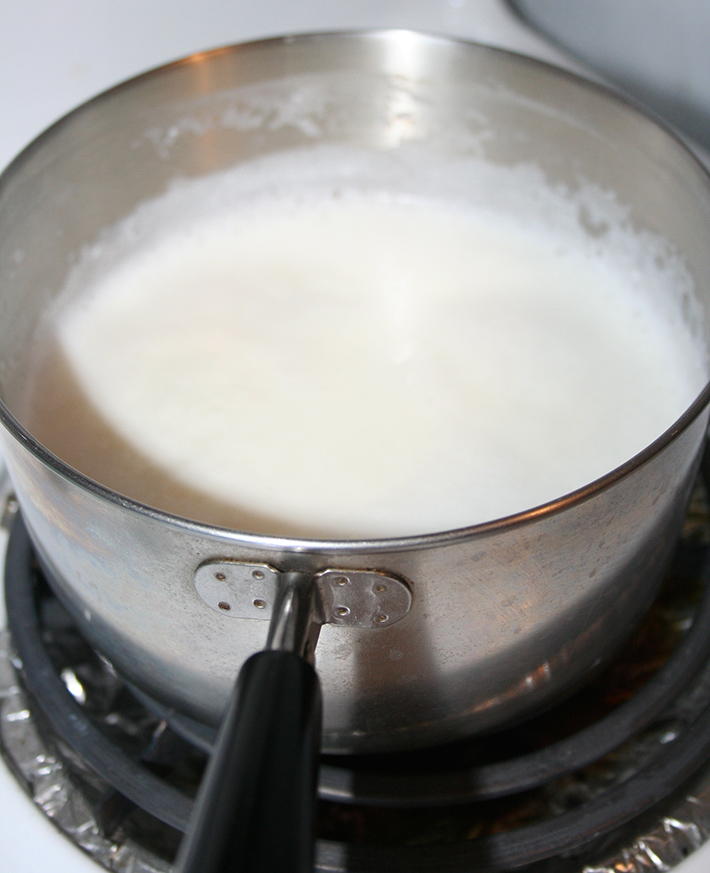 Step 3:
Once the milk reaches a simmer (don't let it boil over, or it could make a big mess!), reduce the heat to medium-low. Stirring frequently, let the mixture simmer for 25 minutes.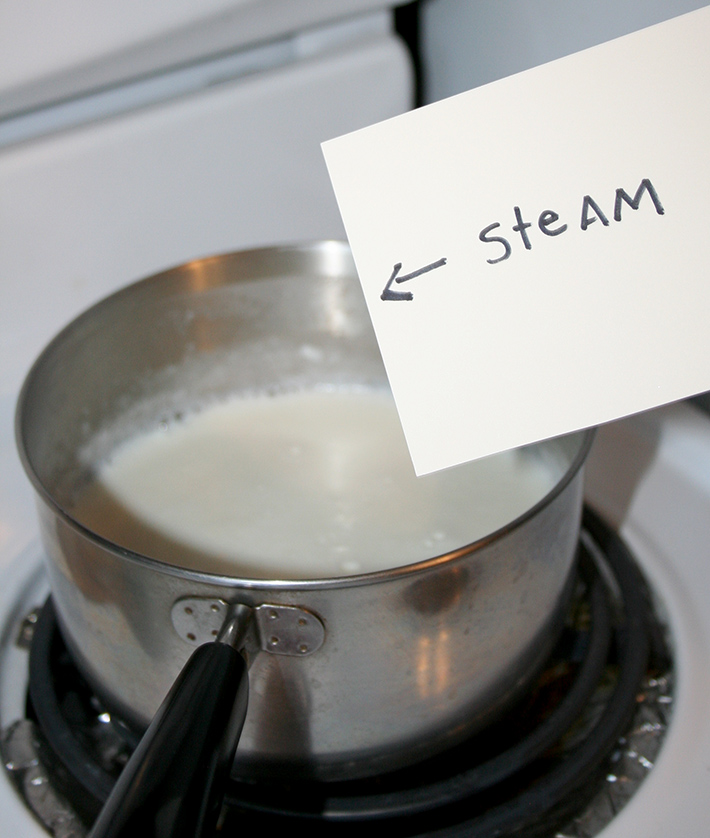 Note: I like to use a combination of a whisk and a rubber spatula for stirring the milk. As the milk heats, it may form deposits on the bottom of the pan — scraping it every now and again with a rubber spatula can discourage the milk from hardening and becoming solid on the bottom of the pan. Whisking can help discourage a "skin" from forming. 
Step 4: 
After the initial 25 minutes of simmering, you can begin to monitor the liquid's volume. You want to keep on reducing the milk until it measures approximately 12 ounces, which can take anywhere from 20 to 40 additional minutes, depending on the heat of your stovetop. This will make this amount the equivalent of one can of evaporated milk, which can be substituted in any recipe.
Strain the milk into a heatproof container; let it cool to room temperature, then cover and refrigerate until ready to use.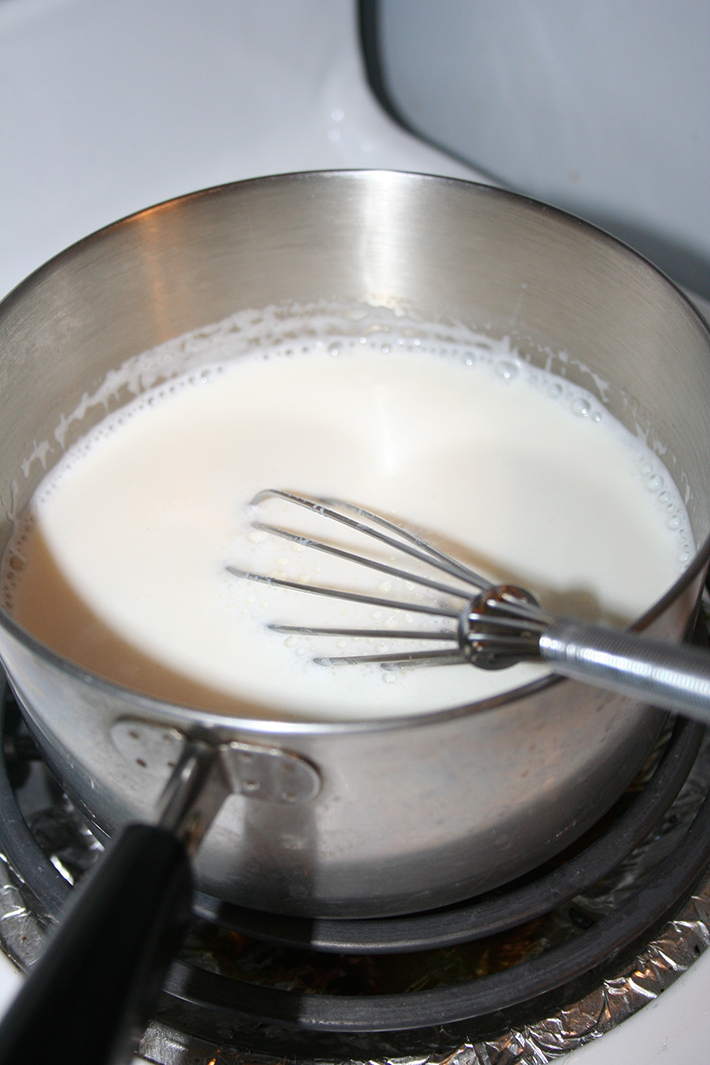 Note: The longer the milk cooks, the more likely there are to be little solids that will form at the bottom of the pan, even as you use your whisk and rubber spatula. This is totally normal; by straining the milk after it has reduced to your desired amount, you can remove these bits from the liquid.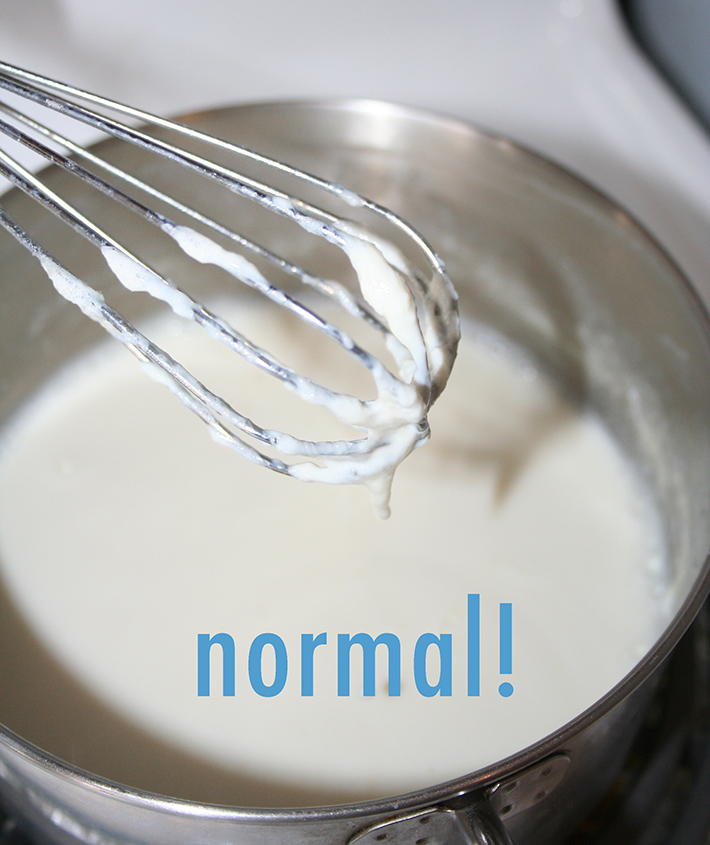 Recipe notes: 
Milk
This recipe was tested with whole milk. While 1 percent or 2 percent milk can be substituted, skim milk is not suggested for this recipe. While this recipe has not been tested with milk alternatives such as nut milks or rice milk — we'd love to hear if you've tried it with positive results!
Recipe yield
This recipe yields 12 ounces of evaporated milk, which is the amount you'd find in a standard can. Don't need 12 ounces of evaporated milk? This recipe can be made at any amount. Basically, you want to reduce the liquid by 60 percent of whatever your starting amount is. So, say you wanted to make 8 ounces of evaporated milk. You'd want to start with approximately 20 ounces (about 2.5 cups) of milk.
Adding flavors
If you know a flavoring will be harmonious with the recipe you'll be making, go ahead and add it to the milk. Slowly simmered milk with vanilla or almond extract can create a whole new world of flavor in your recipe. 
Storage
Unlike the canned variety, DIY evaporated milk is not shelf-stable. Store your evaporated milk in an airtight container in the refrigerator for up to the expiration date listed on your milk carton.
Want to try out another DIY milk masterpiece?
Try out our recipe for easy DIY sweetened condensed milk.