Empanadas, a Latin American street food staple, are very versatile. What I love about them is they can be stuffed with anything, sweet or savory — whatever your heart desires! Plus, empanadas can be prepared either baked or fried, depending on personal preference.
In this post, I'll teach you how to make empanada dough that is not only easy, but as versatile as the empanada itself; one dough for baking or frying! We'll be using very basic ingredients that can probably be already found in your pantry. Lets get started!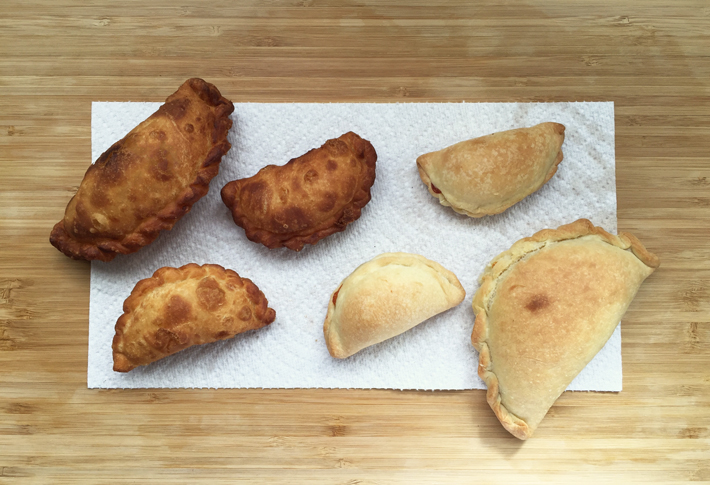 Make delicious empanadas, arepas & tostadas!
Enjoy step-by-step guidance from renowned chef Sandra Gutierrez as you learn the accessible techniques you need to add Latin American street food to your weeknight repertoire. Enroll Now »
How to make empanada dough
Makes about 12-15 large or about 2 dozen small empanadas.
Ingredients:
3 cups (375 g) all-purpose flour
1/2 teaspoon (2 ml) salt
2 teaspoons (10 ml) sugar
3/4 cups (185 ml) cold unsalted butter, cubed
1 egg
6-8 tablespoons (90-120 ml) cold chicken broth depending on your climate; substitute with cold water for sweet empanada fillings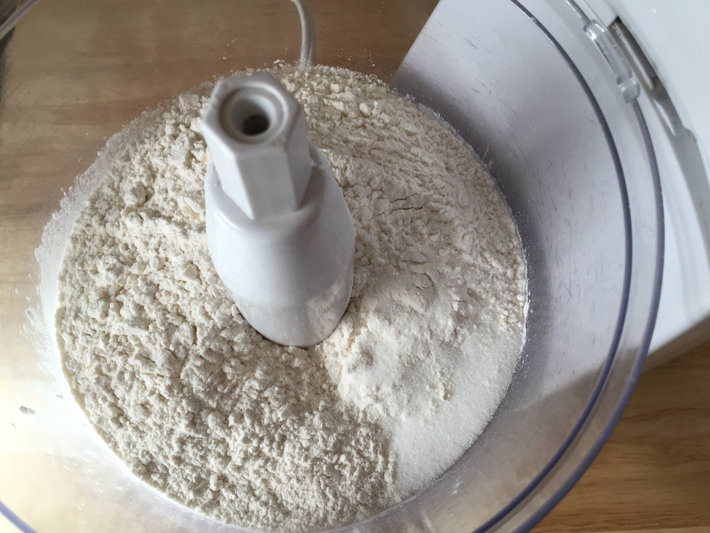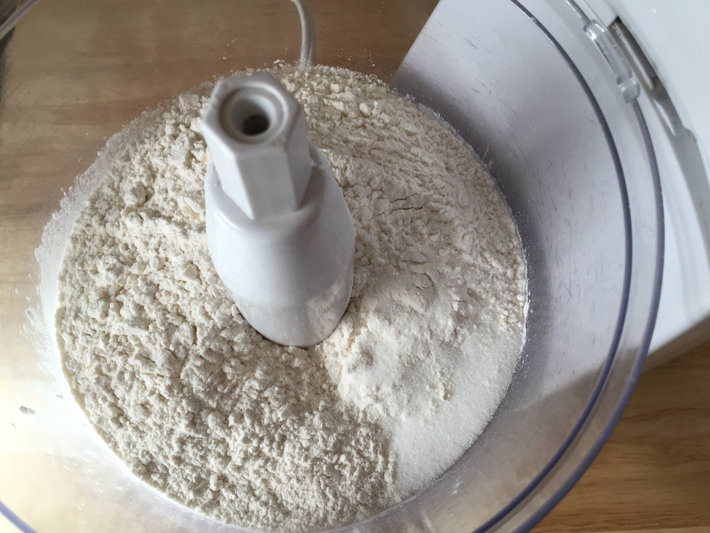 Step 1:
Pulse together the dry ingredients in a food processor.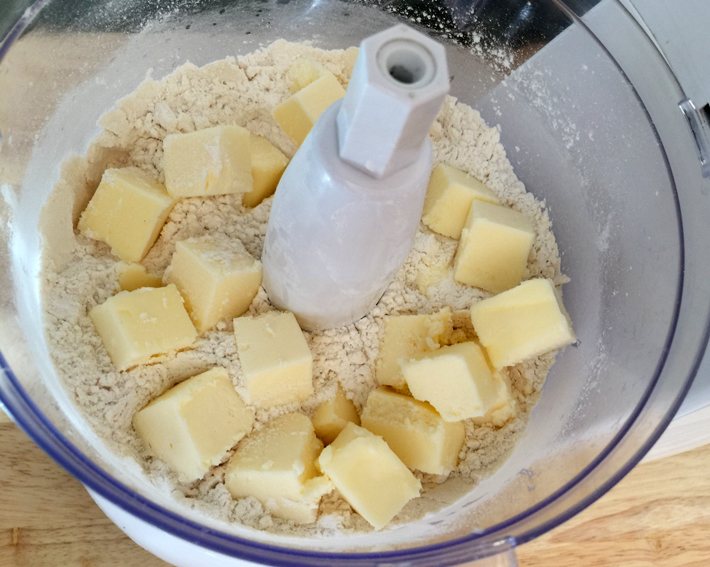 Step 2:
Add cold cubed butter.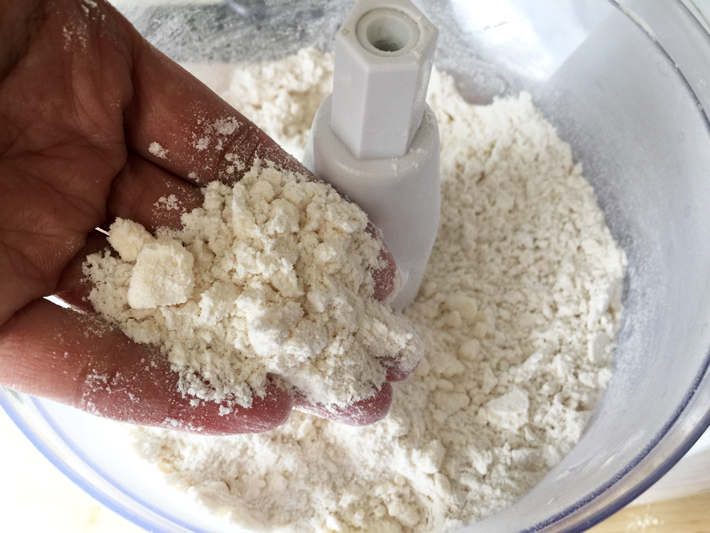 Pulse until the flour looks mostly like breadcrumbs with chunky bits. If you don't have a food processor, that's OK, mash cold butter into dry ingredients with a fork or pastry blender.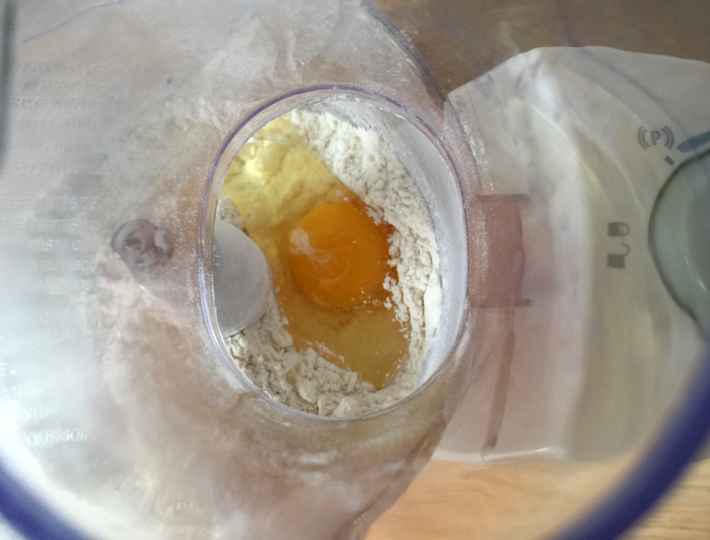 Step 3:
Add broth and egg.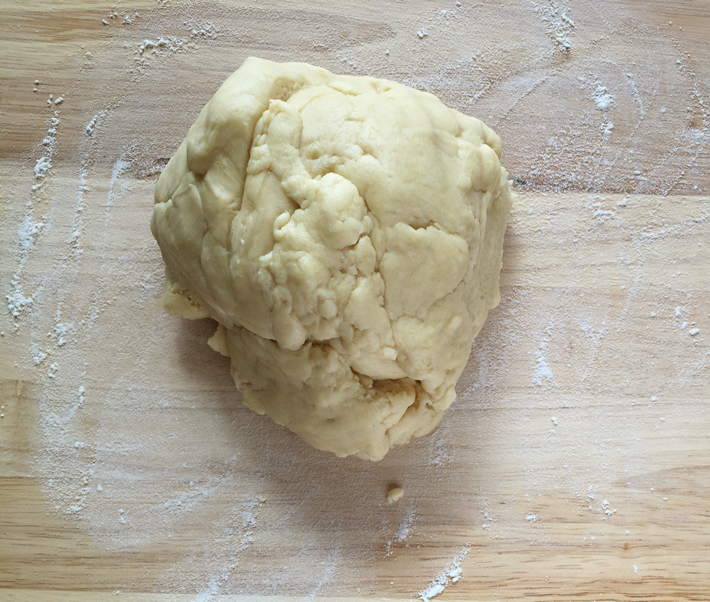 Pulse until a soft dough forms. Turn out onto a lightly floured surface.
Step 4:
Gather the dough, form a ball and flatten to a disc. Wrap in plastic wrap and refrigerate for at least 30 minutes.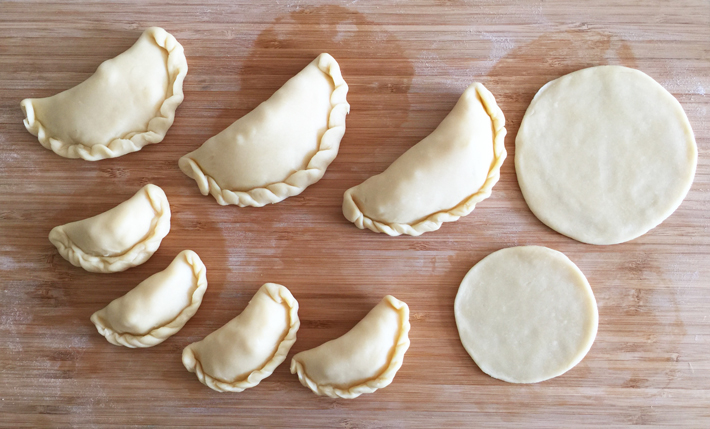 Step 5:
Rollout dough into 1/8 inch thickness and use a pastry cutter to cut circles in desired size. (Drinking glasses and small bowls work well for this too.)
Note: This dough can be made up to 2 days ahead of time, just refrigerate or freeze the circles with wax paper in between.
Step 6:
To make  your empanadas, fill circles with desired filling. Brush edges with water, fold over in half. Press edges together and crimp. This ensures that the filling will stay inside especially when frying.
Tip: It's a good idea to refrigerate them at this point for a few minutes before baking or frying, especially if you're making more than a dozen. Refrigerate for at least 20 minutes.
Step 7:
If baking:
Preheat oven to 400 F. Arrange on an ungreased baking sheet and brush with egg wash, olive oil or butter if desired. Bake small empanadas for 15-18 minutes; larger empanadas for 18-20 minutes or until golden.
If frying:
Fill a pan with enough oil so that the empanadas will be completely submerged when cooking. Heat oil to 350 F; the equivalent would be heating the oil over medium heat. Fry in batches for about 3-4 minutes, flipping over halfway, until desired color/crispness is achieved.
I encourage you to play with this versatile dough! Try adding some fresh herbs or cocoa powder to it for even a more savory or sweet empanada!
Make delicious empanadas, arepas & tostadas!
Enjoy step-by-step guidance from renowned chef Sandra Gutierrez as you learn the accessible techniques you need to add Latin American street food to your weeknight repertoire. Enroll Now »