Being right in the middle of the glorious fall season, I find there is so much inspiration from all the beautiful colors of the leaves falling everywhere! With that in mind I wanted to create a card with the various colors of the fall leaves using my Distress Inks, watercolor paper and some leaf-shaped steel dies. Read on to discover one of my favorite card making techniques: how to make Distress Ink cards!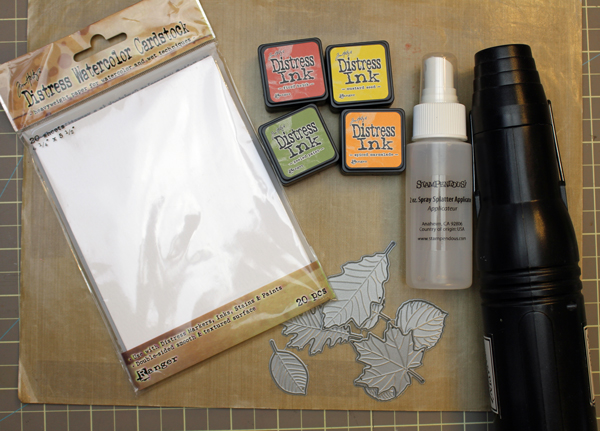 How to make Distress Ink cards
Supplies you'll need:
Distress Inks (I used Mustard Seed, Spiced Marmalade, Fired Brick, Peeled Paint)
Watercolor card stock
Spray bottle with water in it
Craft sheet (or other non-porous surface, such as a plastic plate)
Heat tool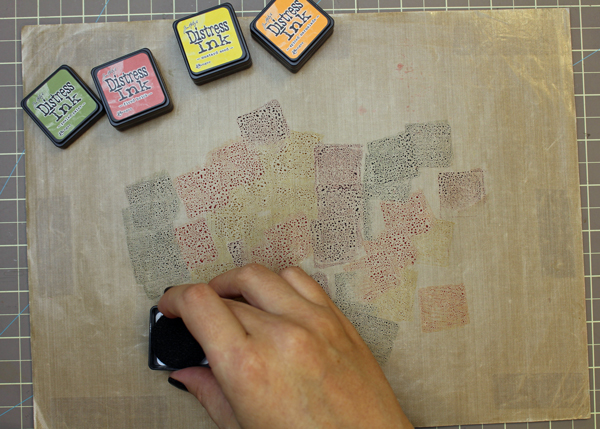 Step 1:
Starting with the lightest ink color, squish the ink pads onto your craft sheet. I prefer going from lightest to darkest so as not to contaminate my ink pads with darker ink colors. Other brands of dye inks will work for this card making technique but I find that Distress Inks work the best as they react so well with water and are meant for techniques like this.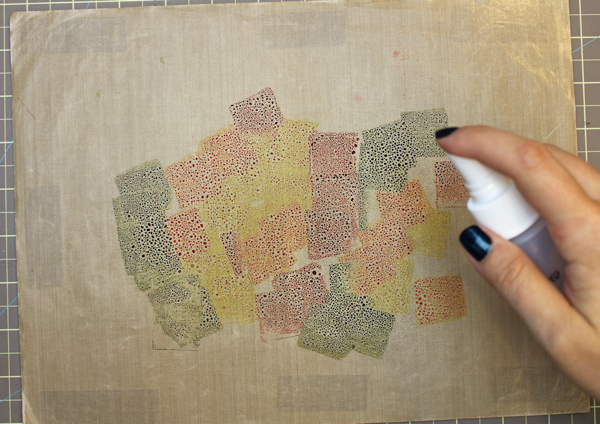 Step 2:
Holding your spray bottle about 8-12 inches above your craft sheet, spray several times over the ink. I generally do around 5 or 6 sprays. If you spray too much water, you can end up with a muddy mess so less is more!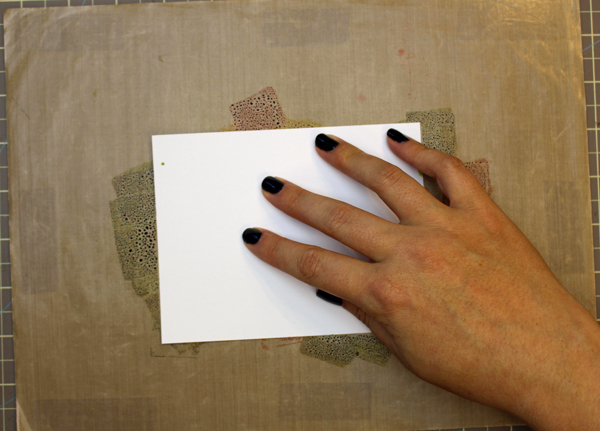 Step 3:
Press your watercolor card stock into the ink. Watercolor card stock is a MUST for this technique — it's meant to hold water whereas regular card stock will curl and pill and not give the vibrant results that watercolor card stock will. I like to wiggle the card stock a little bit to make sure it's absorbing as much of the ink as possible.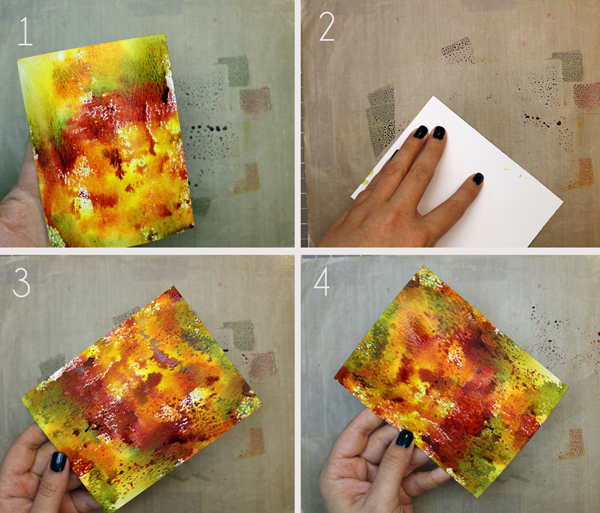 Step 4:
After you pull your card stock up, it will look something like picture 1 above. Don't wipe up the ink splatter on your craft sheet just yet. Make sure to fully dry your card stock with a heat tool, then press it randomly into the splatter again (picture 2). You'll be left with something like in picture 3. Dry your card stock again and keep repeating those steps until you're happy with the end result. I usually press the card stock 3 or 4 times to get the results I want.
The great thing about stamping cards this way is that it will look different every time you do it. You can experiment with different color combinations and amounts of water to see what sort of looks you can create.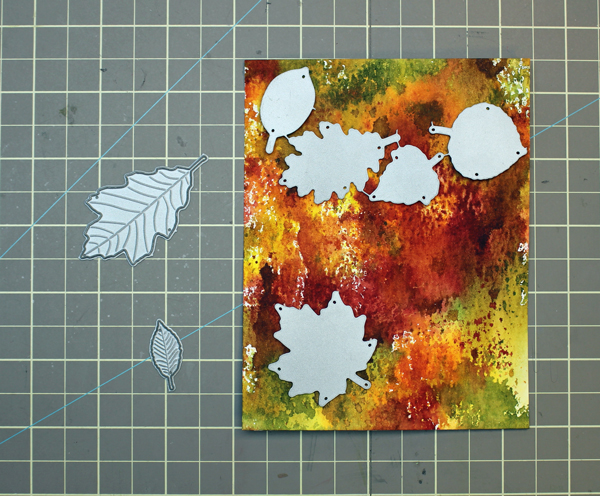 Step 5:
Using the dies of your choice, die cut your finished card stock. Here's I'm using the Falling Leaves Die-namics from My Favorite Things.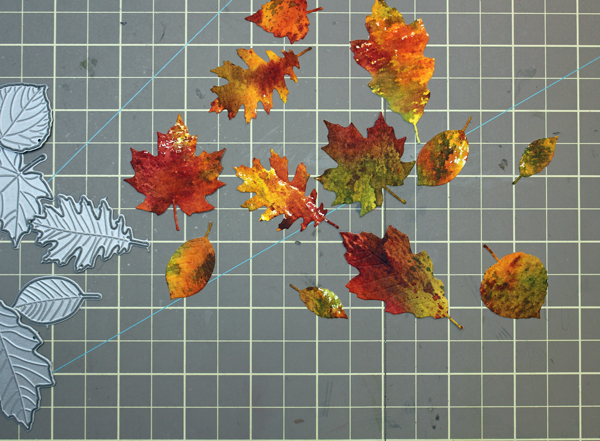 Depending on the size and shape of your dies you might have more than enough to die cut for several cards. From this piece of watercolor card stock (it was 4.25″ x 5.5″) I was able to get a dozen leaves, and all of them are different just like in nature.
All that's left is for you to use your watercolor leaves on your paper creations!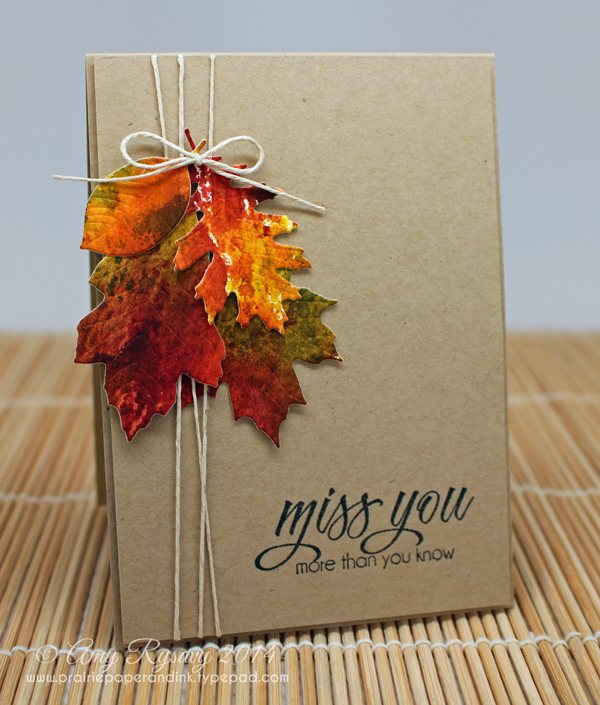 For my finished card I wrapped some hemp cord around some Kraft card stock, then adhered a cluster of my watercolor leaves. I tied the bow separate and adhered it at the top of the cluster to make it look like they were tied together. I finished off my card with a stamped sentiment (from the AmyR Stamps Happy Harvest stamp set) and that was it!