Here's a little trick that just may stir a revolution at the Thanksgiving table: how to make cranberry sauce from scratch.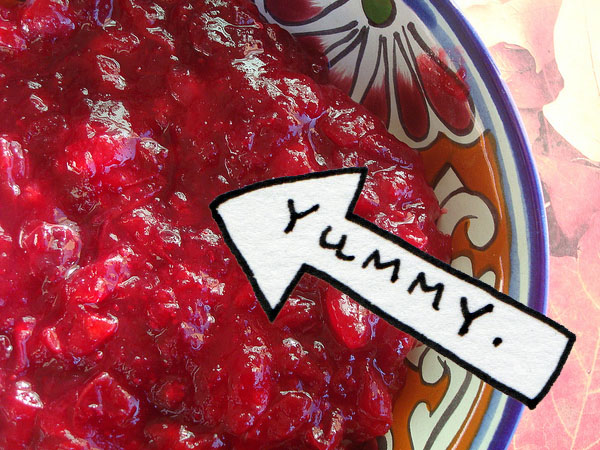 Photos via CakeSpy
After all, if we're honest, cranberry sauce from a can, even if it's expensive stuff, is inferior. At worst, it's over-sweet and mushy; at best, it's unremarkable. There's a reason why it's relegated to side-dish material.
But really, this ought not be the case, because making homemade cranberry sauce is almost sinfully easy. It can be tailored to your texture and flavor tastes, and can even be modified with added ingredients to make it more interesting. It can even be preserved by canning, so that you'll have extra all winter long.
What follows is an easy homemade cranberry sauce recipe, followed by several flavor variations. Don't be scared about the modifications and "choose your own adventure" aspect of the variations — they're all simple, I promise. Armed with these skills, you'll be able to make cranberry sauce so delectable, it might not be among the leftovers the next day.

Some recipe and cranberry notes:
Why cranberry sauce?
Cranberries are a very appropriate food to serve at the Thanksgiving table. When the pilgrims arrived stateside, it would have been one of only three native fruits (along with Concord grapes and blueberries) that were growing on their new terrain. Cranberries in particular were used for many things: as a medicine, foodstuff, and their juices were even used as dye. This made them a powerful bartering tool among the Native American population, and the settlers soon adopted this useful berry for many of the same purposes. Enjoying cranberries now is symbolic of the early settlers' survival during those initial few tough years.
I don't like overly sweet cranberry sauce!
This recipe is for you. It calls for half the sugar in typical cranberry sauces, so that you can taste it and add more sugar to your preference.
Myth buster: cranberries and water.
Believe it or not, cranberries don't grow in the water, though they are typically surrounded by it. They actually grow on vines in beds layered with sand, peat, clay and gravel. These beds, known as "bogs," were originally formed by glacial deposits. These vines are tough — they can survive indefinitely if undamaged. In Massachusetts, some vines are known to be more than 150 years old.
When should I make cranberry sauce?
Cranberry sauce comes together quickly, so if you are timing your Thanksgiving meal, it can be one of the last things you make, about 20 minutes or so before serving the meal.
Can I can cranberry sauce?
Yes! This recipe can easily be adapted for canning by following the methods taught in Bluprint course Jam & Marmalade: The Blue Chair Way.
What does cranberry sauce taste good with?
Cranberry sauce is most famously served with turkey, but it has a number of other great uses. You can use it in cinnamon roll filling, add a dollop of it to your next pecan pie filling for a piquant flavor twist, and on the savory side, it tastes wonderful with goat cheese on bread or crackers. It also tastes wonderful with a variety of braised meats.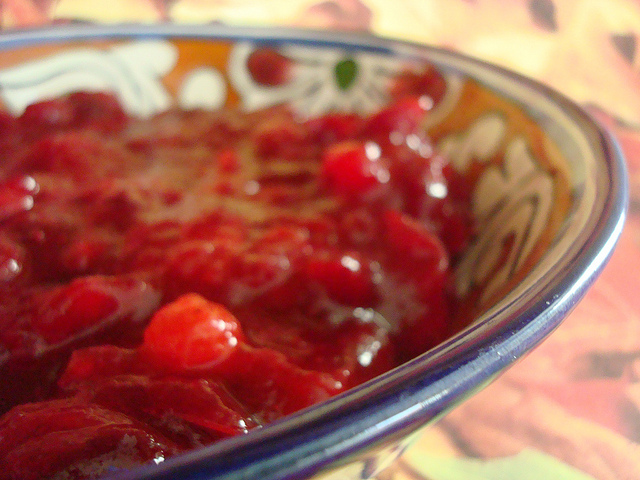 How to make cranberry sauce from scratch
Yield: About 2 cups cranberry sauce
Ingredients:
1 cup water
1/2 cup sugar
12 ounces whole cranberries, washed and dried
1 teaspoon or lemon or orange zest (optional)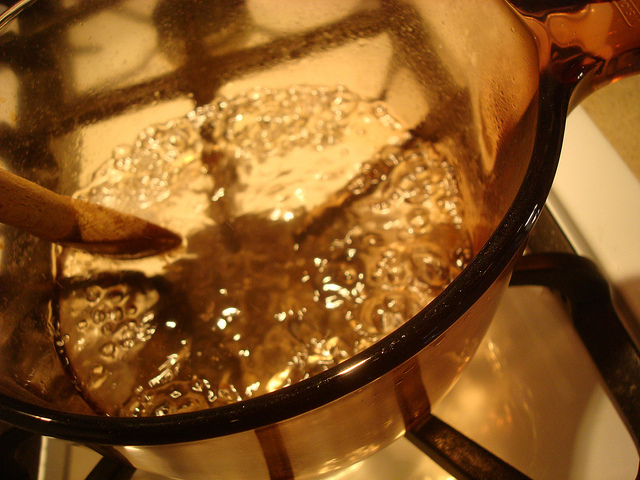 Step 1:
In a medium saucepan, combine the water and sugar. Bring the mixture to a boil over medium-high heat.
Step 2:
Reduce the heat to low-medium and let the bubbling subside. The only reason you're doing this at the moment is so that no errant bubbles of water splash up and burn you when you add the cranberries.
Add the cranberries and lemon or orange zest, if using, to the simmering mixture. Increase the heat to medium-high, and bring back to a low boil.
Step 3:
Once it reaches a boil, reduce the heat again to a simmer, and continue to heat without stirring until the berries have popped, up to but likely no more than 10 minutes.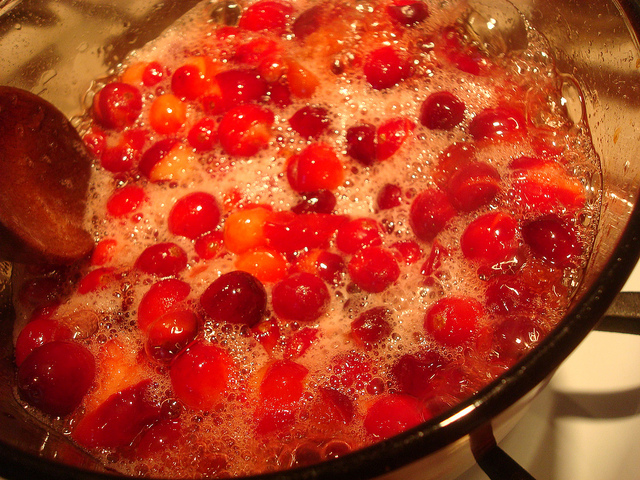 Step 4:
Take a little taste, because this cranberry sauce is on the low end of the sweet spectrum. If desired, add up to 1/2 cup more sugar, to taste.
Step 5:
Remove from heat, and stir occasionally, off-heat. The mixture will thicken as it cools.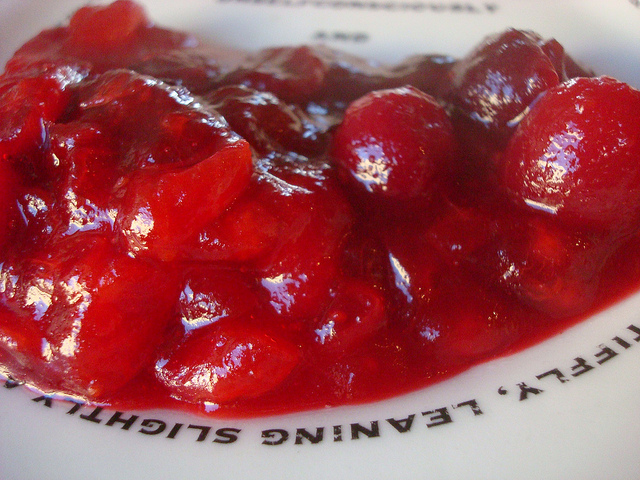 Variations
Whole berry cranberry sauce
The ingredients and basic method will be the same as written above, but you will divide the cranberries into two parts: 8 ounces and 4 ounces. You'll add the 8 ounces in Step 2. After about 5 minutes of simmering the berries in the pan, you'll add the remaining cranberries; these ones will remain firmer and give the sauce an interesting texture.
Soft cranberry sauce
Once again, the ingredients and basic method will be the same, but you will coarsely chop all of the cranberries before you add them to the water and sugar mixture. You won't have the benefit of seeing when they pop, so just heat for 10 minutes as specified in Step 2, and remove from heat and wait for the mixture to thicken before serving.
Jellied-style cranberry sauce
Once you've completed the recipe as written, place a wire mesh over a medium bowl. Pour the sauce into the strainer, and press the mixture using the back of a wooden spoon to push the contents through. You'll be left with the soft, non-pulpy parts of the cranberry sauce in the bowl.
Brown sugar cranberry sauce
Instead of granulated white sugar, use packed light brown sugar. It will give your cranberry sauce a pleasing, mellow undertone.
Citrus cranberry sauce
Substitute orange juice for water in the recipe as written. It lends a pleasingly tangy, bright note to the cranberry sauce.
Apple-walnut cranberry sauce
Follow the recipe as written above. Once you remove the sauce from the heat source to let it thicken, stir in 1/4 cup peeled, cored and chopped apple pieces, and 1/4 cup coarsely chopped toasted walnuts. This also works with pecans or almonds.
Spiced cranberry sauce
Add 1/2 teaspoon nutmeg, 1/4 teaspoon cloves and 1/2 teaspoon cinnamon to the mixture after removing from heat. Stir in until combined. Enjoy.
What is your favorite Thanksgiving side dish?