Working with chocolate can not only be a fabulously fun (and tasty) way to add amazing detail to your cakes with molds. And, did you know that you could even create edible flowers from chocolate? We absolutely love working with melted chocolate to create delicate petals and flowers that are not only 100% edible but also wonderfully elegant for rustic cakes and cupcakes.
Read on for our easy tutorial on how to create a lovely chocolate flower!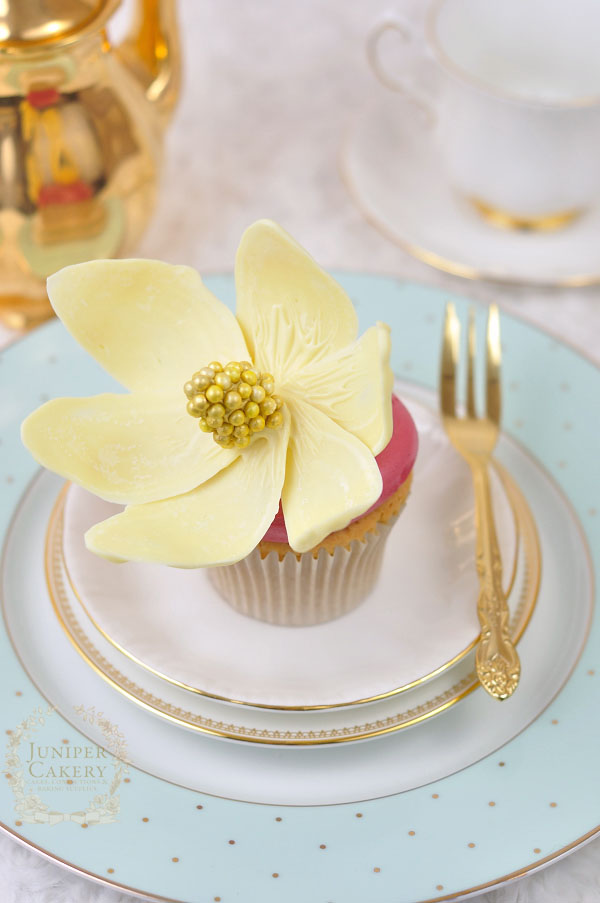 All photos via Juniper Cakery
Materials needed:
Melted white chocolate chips, buttons or callets
Disposable piping bag
Parchment paper
Rolling pin
Foil
Circle cookie or pastry cutter
Edible sugar pearls
Gold or ochre colored lustre or blossom dust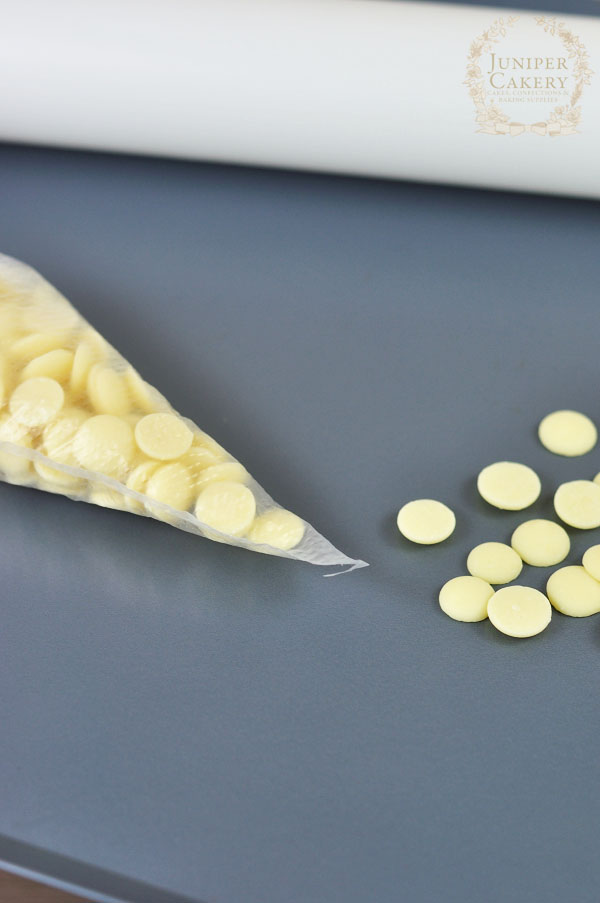 Step 1:
Melt your white chocolate either in a glass bowl over a saucepan of boiling water or in a thin disposable piping bag in a microwave (check every 1o seconds to make sure the chocolate doesn't burn).
Step 2:
Set out a flat piece of parchment paper.
Step 3:
When ready, transfer the melted white chocolate to a piping bag (if you used the saucepan method). If you melted your chocolate via piping bag, just snip the end.
Step 4:
Carefully pipe out six long petal shapes of melted white chocolate. Use a teaspoon to lightly spread the chocolate out if needed.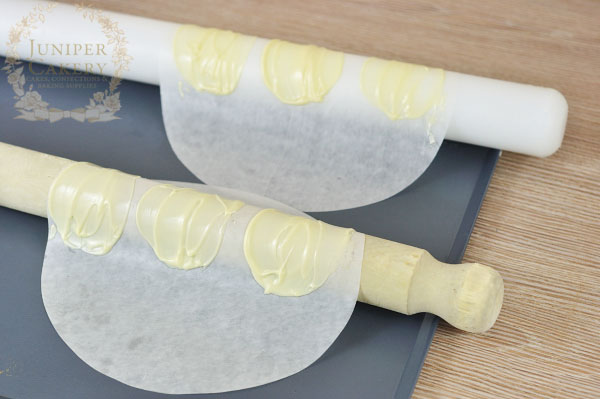 Step 5:
Now transfer both sheets with the shaped melted chocolate in the middle onto a rolling pin to help set them into a nice curved shape. These can take a few hours to fully set depending on humidity so prepare in advance.
Step 6:
Repeat steps 4-5 to make the smaller petals if desired. We've kept our magnolia flower fairly simple with just 6 larger petals, but if you wish to add more detail make sure to create the smaller petals!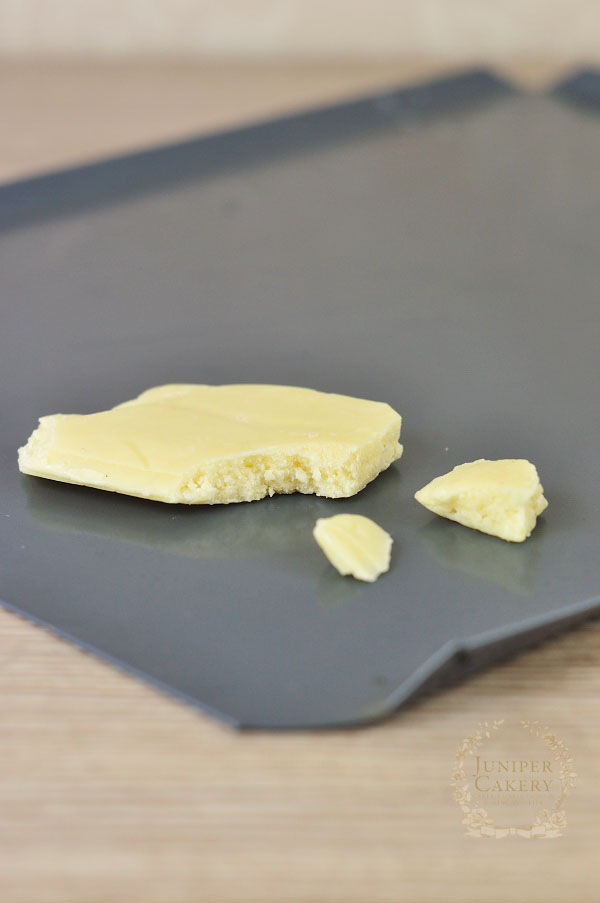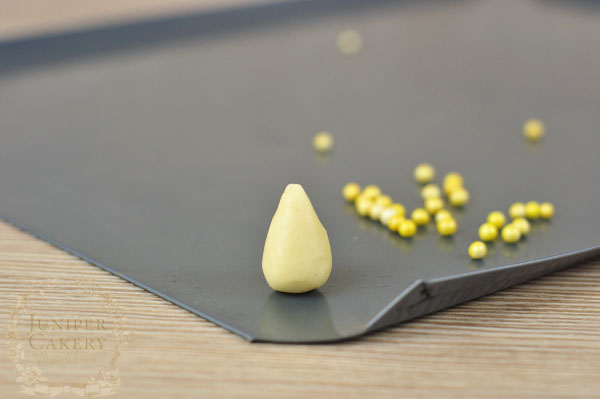 Step 7:
To make your magnolia center shape a rounded conical shape using white modeling chocolate.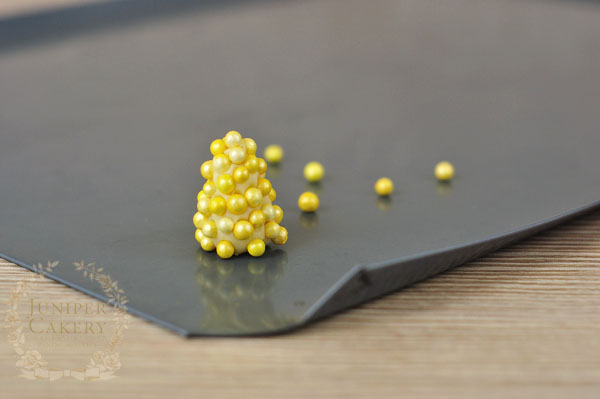 Step 8:
Leave the center to harden a little and then press edible beads into the surface.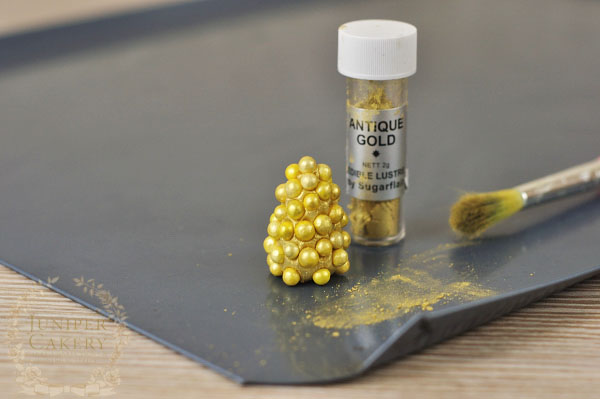 Step 9:
Dust with lustre dust or blossom dust and set aside.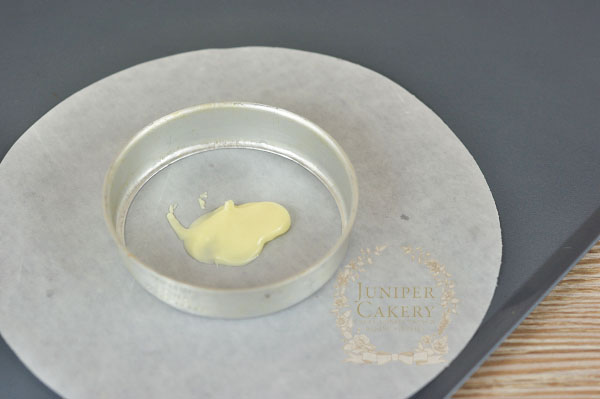 Step 10:
To assemble your flower lay out some parchment paper and place your circle cookie/pastry cutter on top. In the center pipe out a 'blob' of melted white chocolate.
Step 11:
Take your set petals and arrange them with the bottoms sitting in the melted chocolate you just piped. Use foil, bubble wrap or plastic wrap to help prop up the petals further.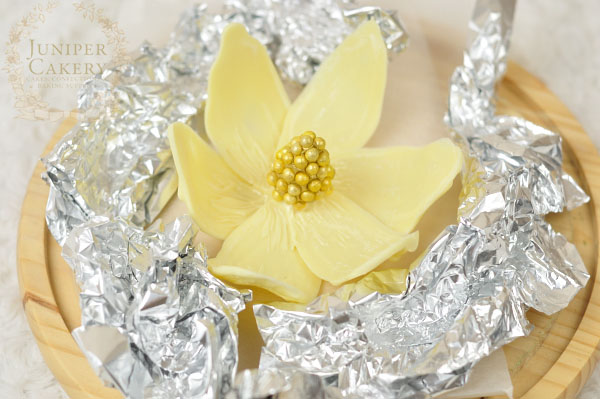 Step 12:
Pipe a little more melted white chocolate into the middle and then gently press your magnolia center inside! If you have any excess white chocolate that has dripped out from under the center then use a dry paintbrush to brush the chocolate up each petal for a nice veining effect!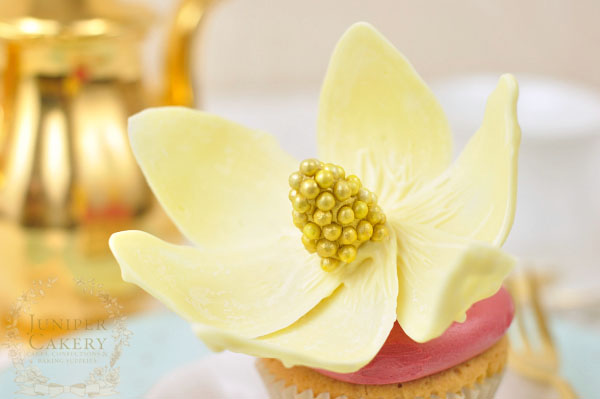 Fabulously striking chocolate magnolia flowers like these are fairly quick and painless to whip up and they're perfect for adorning cupcakes with too. You can even use the same method used to make the dainty white petals to create magnolia leaves from chocolate too!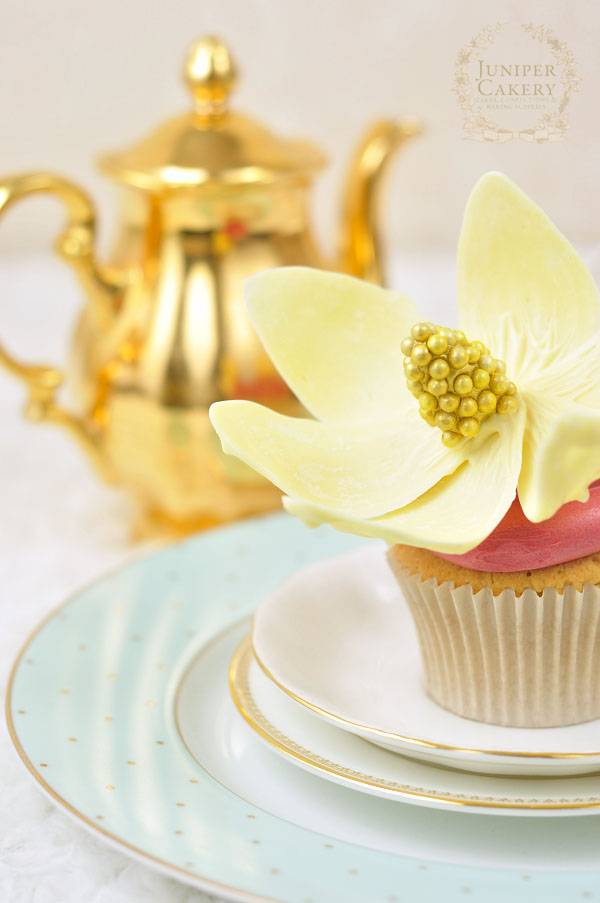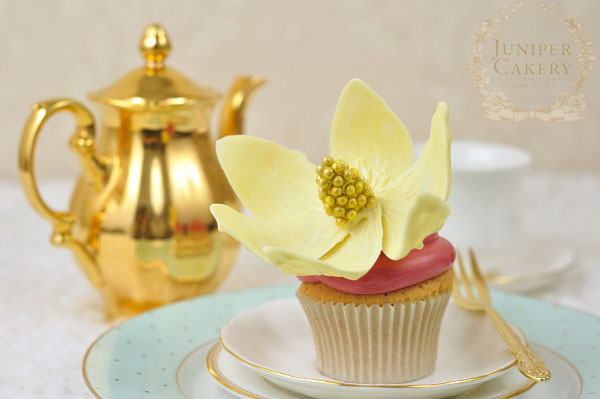 Remember that working with chocolate is relatively painless, but does take a little time and practice to get used to. It can be a little messy and hard to control, but keep practising, and you're sure to find how you prefer to work with this fantastic medium.