Cherries Jubilee is a vintage recipe that deserves a comeback. This dessert was hugely popular in the 1960s, often prepared table-side by a waiter in just a few minutes, so the diners could smell the cherries cooking while enjoying leaping flames bursting from the pan.
But what of it now? The dish is easy to make, absolutely delicious and still has a lot of wow-factor after all these years, making it a great recipe to add to your repertoire!

Photos by Nicole Weston of Baking Bites
Cherries Jubilee starts with a generous quantity of cherries. I always use sweet, dark cherries when I make this dessert. The intense, jammy sweetness of the cherries pairs perfectly with the brandy, and they don't require all that much additional sugar. You can adapt the recipe to use tart cherries, however I find myself adding a lot of extra sugar to tart cherries to try to draw out the same rich cherry flavor.
You can use either fresh cherries, frozen cherries or jarred cherries, packed in juice. You do not want to use canned cherries or any other type of cherry that is pre-sweetened or packed in syrup.
Fresh cherries should be pitted before using.
Frozen cherries are already pitted and can be used from frozen. Jarred cherries should be drained before using.
It is easy to find sweet cherries in all of these formats and they will all give you good results. I recommend working with fresh cherries when they are in-season, then using other cherries for the rest of the year. And you'll probably find yourself making this simple, delicious dessert all year round.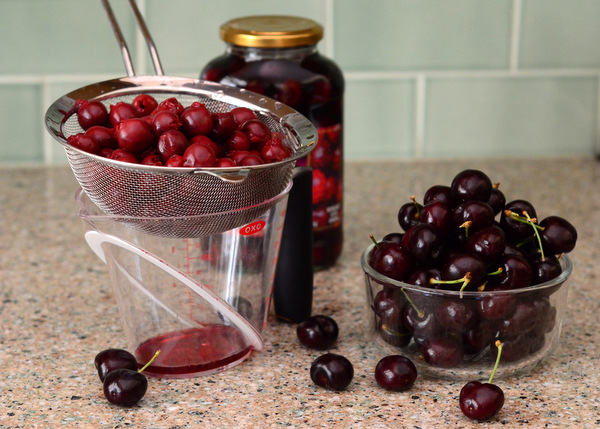 The cherries are cooked with sugar until the cherry juice begins to thicken, then a spirit or liqueur is added and the cherries are flambeed.
Many recipes call for kirsch, a cherry liqueur, to be used so that it will highlight the flavor of the cherries. I prefer to use brandy with my cherries, though I will use a combination of kirsch and brandy together if I have kirsch on hand.
The spirits should be poured into the pan carefully, then you can use a long-handled match or lighter to ignite the alcohol vapors. The flames shouldn't pose a fire danger, however it is best to work in a well-ventilated space.
To serve, spoon the warm sauce over vanilla ice cream.
Cherries Jubilee
Serves: 6
Ingredients:
1 pound sweet cherries, fresh, frozen or jarred
1/3 cup sugar
2 tbsp butter, room temperature
1 tsp vanilla extract
1/4 tsp almond extract
2 tbsp brandy
1 tbsp kirsch (optional)
Vanilla ice cream, for serving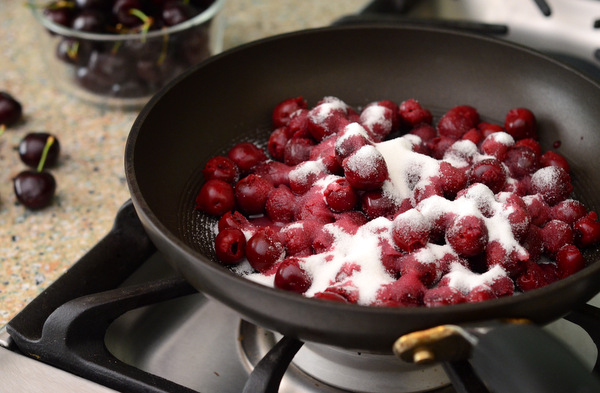 Step 1:
Place cherries into a 10 or 12-inch pan and combine them with sugar and butter. Cook over medium-high heat until the sugar dissolves and the cherries begin to release their juices. Cook for 5-10 minutes, until the juice begins to reduce. Stir in vanilla and almond extracts.
Step 2:
In a small measuring cup, combine brandy and kirsch (if using). Carefully pour the spirits into the pan, then use a long-handled match or lighter to ignite the alcohol. The flames will burn out after 10-20 seconds, leaving the cherries with a nice brandy flavor but not alcohol.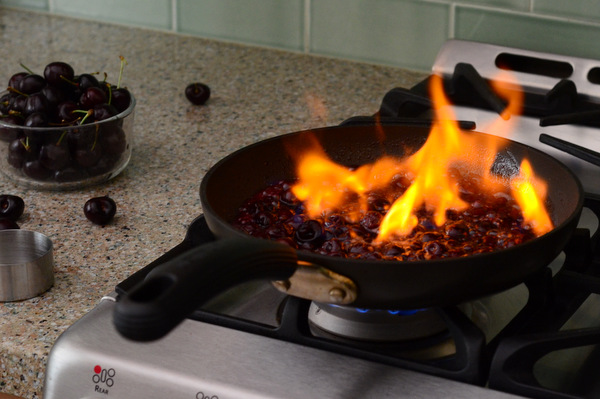 Step 3:
Spoon warm sauce over vanilla ice cream to serve.