The best canelés I've ever eaten were baked by a friend of mine who is a classically trained and extremely experienced pastry chef. He would bake a very small batch, a few days a week, to ensure that none were left sitting around the bakery, and each was eaten at its peak. He has since sold the bakery, which prompted me to learn to make them at home. They're tricky to make but well worth the effort, as there is nothing out there quite like a canelé.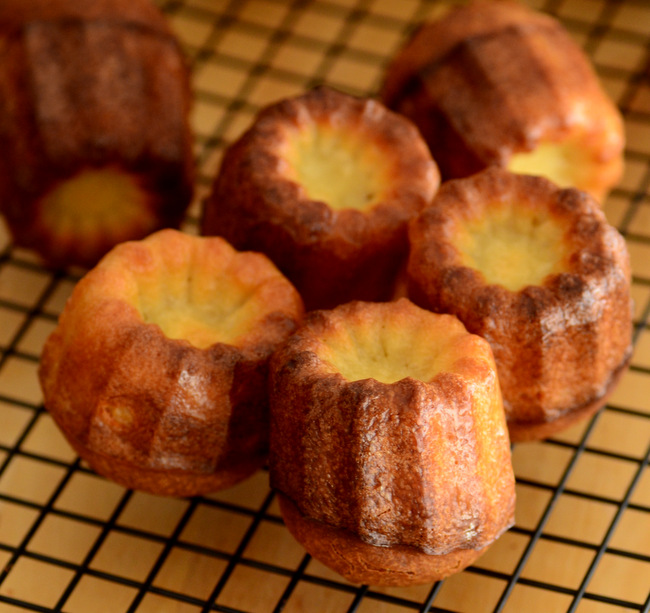 Canelés are made with a simple batter that resembles a crepe batter, but they use quite a bit more sugar than you would usually include in a crepe. The batter is designed to bake into cakes that have some rise in the oven — thanks to the eggs, not leavening agents — but are dense and somewhat custard-like in the center. The combination of sugar, milk and eggs is what really gives these little cakes their unique texture.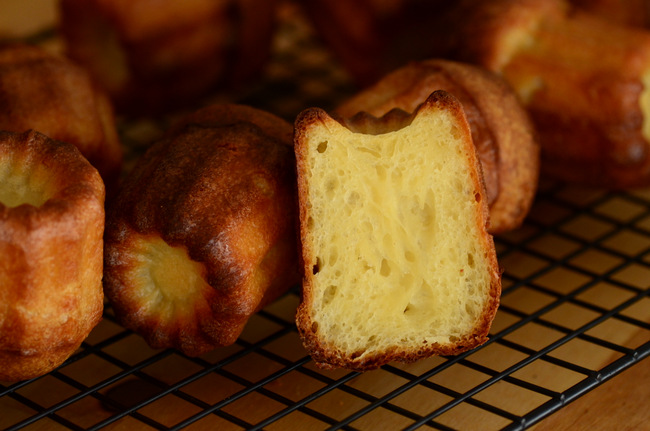 Canelés are traditionally flavored with vanilla and rum. If you want to use vanilla beans, you can scrape the bean into the hot milk mixture at the beginning of the recipe. However, since this recipe is time consuming, I typically opt for pure vanilla extract.
Resting and baking
I should probably mention here that you need to prepare your batter at least 24 hours before you plan to make your canelés, though if you can be patient, it is better to wait for 48 hours.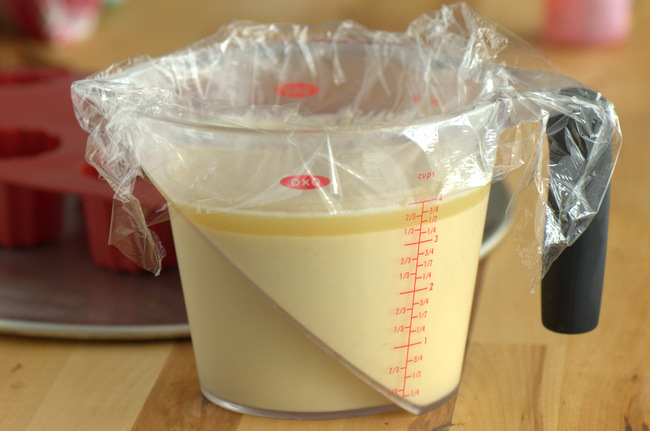 The resting period is essential to producing good canelés because it gives all the air bubbles trapped in the batter a chance to escape. Excess air can cause the pastries to puff up when they bake.  The less air that's in the batter, the more moist and custardy the centers of the canelés will be. 
Once the batter is rested, it may separate and will need to be gently stirred. Then, it should be carefully poured into the molds to bake. Do not fill the molds all the way to the top. Instead, leave about ½" around the top of the mold so that the canelés can expand without overflowing the mold.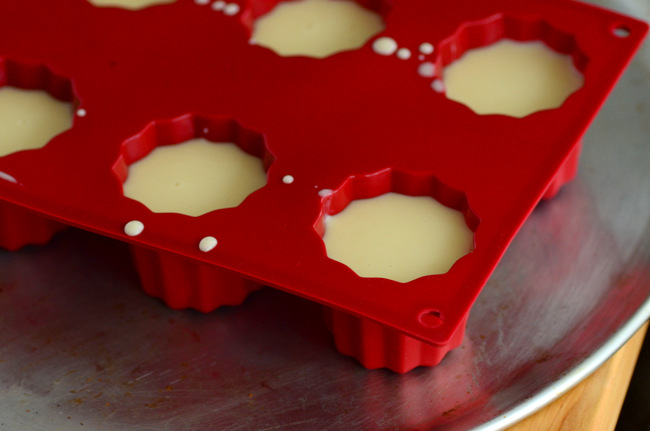 Canelés are initially baked at a very high heat to set the outer crust. When the crust sets, it traps a lot of moisture inside, yielding the custardy center that you want to see in a canelé. That said, you don't want the cakes to come out raw inside, so after the initial set, the cakes will continue to bake at a lower temperature.
Metal or silicone molds?
Traditionally, canelés are baked in individual fluted metal molds. These molds produce beautiful little pastries with a deeply browned exterior and a distinctive look. Unfortunately, canelés tend to stick in metal molds due to all of the caramelization, making them tricky to remove. To combat this, metal pans are usually prepared with a layer of beeswax to give them a non-stick surface.
Keep in mind that the metal molds are rather expensive — running up to $35 a piece depending on the manufacturer — and preparing them in this traditional way is both tricky and very messy.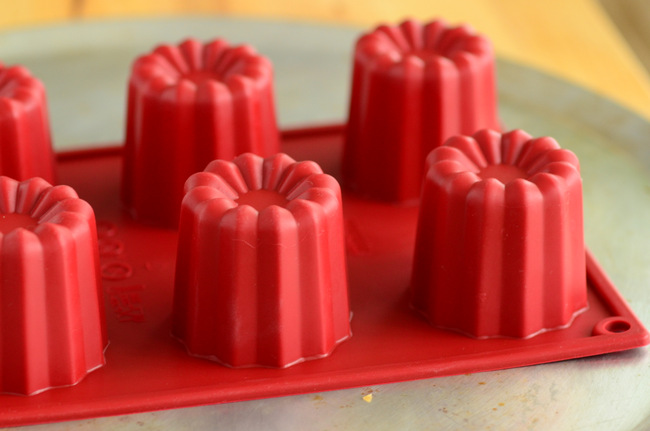 I find that a much friendlier option is to use silicone canelé molds. They are very affordable and require no preparation, which means that you don't have to worry about greasing the pan with butter, let alone with beeswax. This recipe uses silicone molds, which makes it a great choice if you're just learning to make these sweet treats.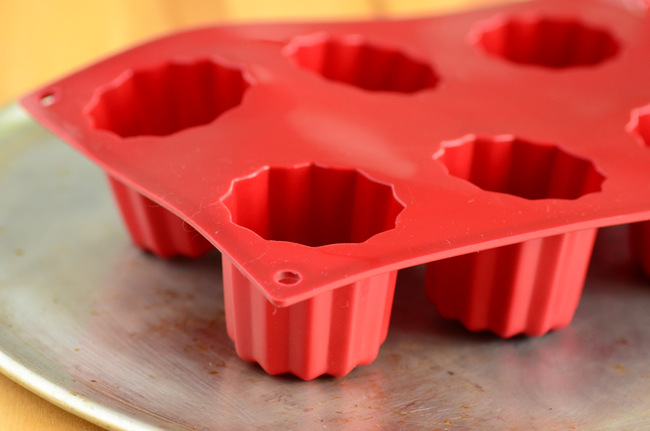 While both the metal and silicone will bake up fine, tasty canelés, the main difference is that a metal mold will produce canelés with a slightly darker exterior than a silicone mold. If you're planning to make these a regular part of your rotation, spring for the metal molds — or put them on your next birthday wish list.
How to serve your canelés
Canelés are best eaten when they're fresh from the oven, or within an hour or two of baking. Since the batter rests for so long, you can leave the leftovers in the fridge and bake a fresh batch the next day!
If you can't eat them all at once, you can pop them into a 400 F–oven for 4-5 minutes to crisp them up. But even then, they're best on the day that they are baked. 
One last tip
Canelés are sensitive pastries and yours may not come out looking quite like mine on your first few tries. Mixing the batter, resting the batter, the pan and your oven all play a part in how they turn out. Don't be afraid to experiment with your equipment until you get it just right because I can assure you,  even a funny-looking canelé will still be delicious.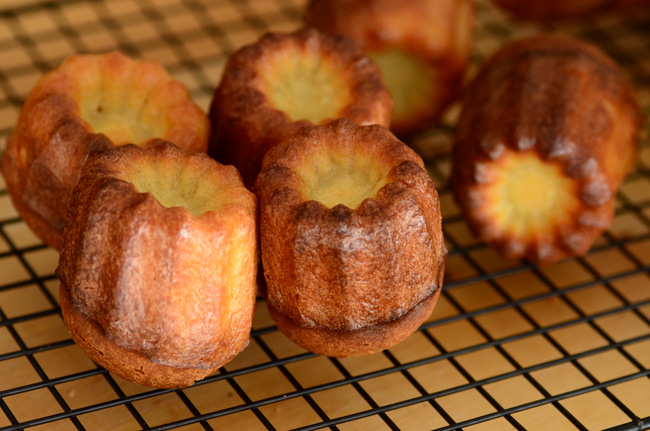 Homemade canelés recipe
Makes 16 canelés
Ingredients:
2 cups whole milk
2 tablespoons butter
1 cup cake flour
1 cup +2 tablespoons sugar
½ teaspoon salt
2 large eggs
2 large egg yolks
1 tablespoon vanilla extract
3 tablespoons rum
Step 1:
In a small saucepan, bring milk and butter to a simmer. In a large bowl, sift together cake flour, sugar and salt. Whisk in eggs, egg yolks, vanilla extract and rum until smooth.
Step 2: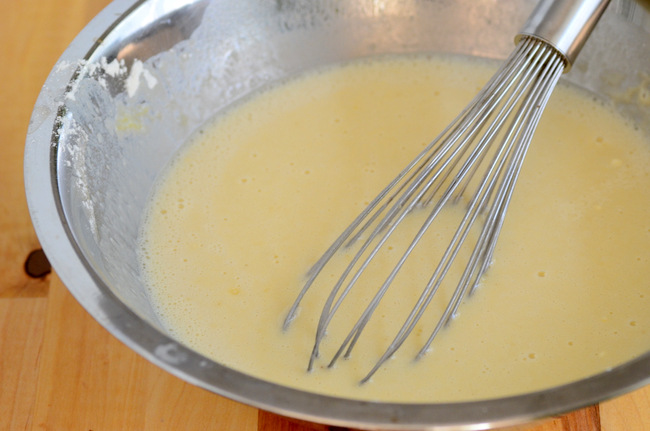 Whisking continuously, but gently, carefully stream in the hot milk to create a smooth batter.
Strain batter into a large measuring cup and refrigerate for 24-48 hours. You should have about 4 cups of batter. 
Step 3:
Preheat oven to 475 F. Place an eight-cavity silicone canelé mold on a baking sheet, making sure the cups sit flat on the pan. 
Carefully pour the batter into each of the cups, leaving about ½" of room at the top. 
Step 4:
Bake for 20 minutes at 475 F. Open the door of the oven to release some heat and rotate the pan. Turn the oven down to 350 F. Bake for an additional 30-40 minutes, until the canelés are dark golden.
Allow canelés to cool in the pan for about 5 minutes, then carefully turn out onto a wire rack to cool for at least 20 minutes before serving.