Making your own jewelry is a great way to get exactly the kind of accessories you've always wanted, at a portion of the price. There are countless styles and techniques to try, as well as endless variations depending on the colors and supplies you use. If you enjoy wearing bracelets, there are lots of options for creating stylish pieces that require very few materials.
In this post, we're sharing five fun ideas for how to make bracelets, that will be useful to you whether you're new to making jewelry or a seasoned pro.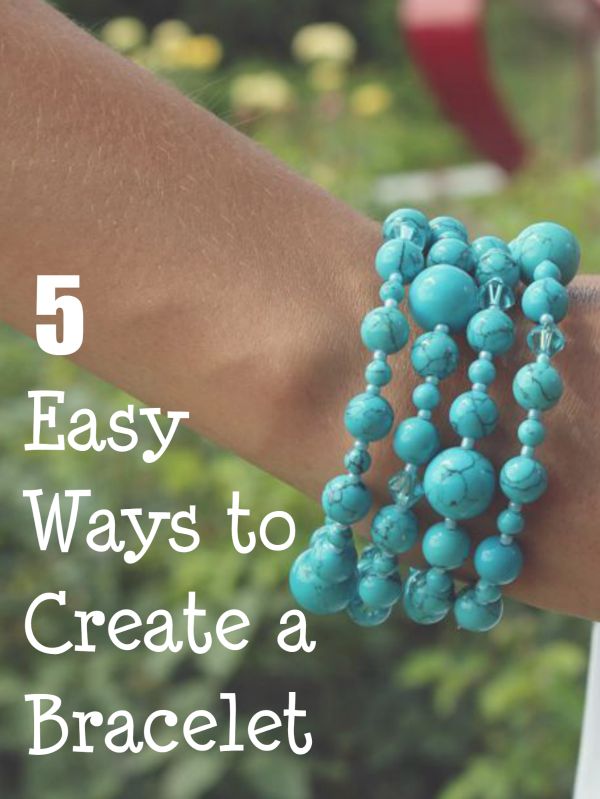 1. Memory wire bracelets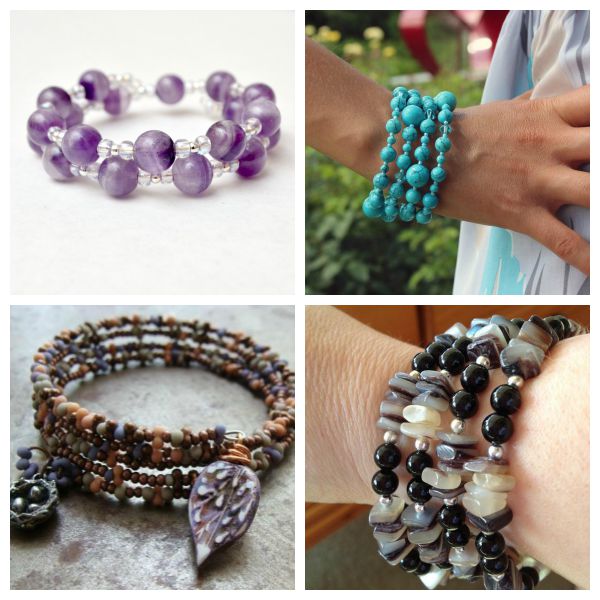 Photos via Craftsy Members DafnaDar, Humblebeads, MelAbrahamson
You'll need:
Memory wire
Wire cutters
Beads of your choice
End caps and glue
Making bracelets from memory wire is one of the simplest ways to create a fabulous statement piece. The wire naturally retains its coiled shape, so all you have to do is cut it to the length you want, then add whatever beads you choose.
Seed beads, gemstones, wooden beads, and shell beads are all excellent choices for this type of project. While you can certainly use beads that are all the same size and shape, it's fun to add visual interest by mixing smaller and larger beads together and using a variety of colors.
To finish off the ends, you can form simple wire loops, which can be tricky due to the strength of the wire, or glue on end caps.
For more in-depth step-by-step, see our full photo tutorial for how to make a beaded wrap bracelet.
2. Elastic beaded bracelets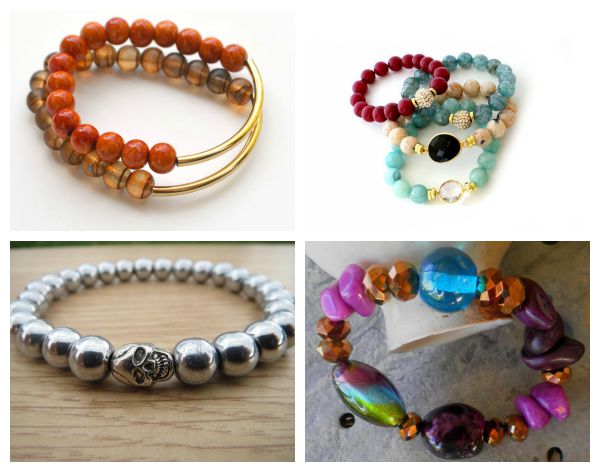 Photos via Craftsy members Aga Kruk, bohochic, Didora Designs
You'll need:
Elastic cord
Beads of your choice
Scissors
Elastic beaded bracelets may be literally the easiest type of DIY jewelry there is. Simply string any beads you like onto the cord, then tie it tightly in a knot. If you want to make the knot extra secure, you can add a tiny dab of super glue or clear nail polish.
The sky's the limit for this type of bracelet because it all depends on the color, size, style and combination of beads you choose. Combine gemstones, metal beads and spacers, tube beads, and more to create one of a kind pieces. Make a bracelet that stands alone, or create several to stack!
3. Charm bracelet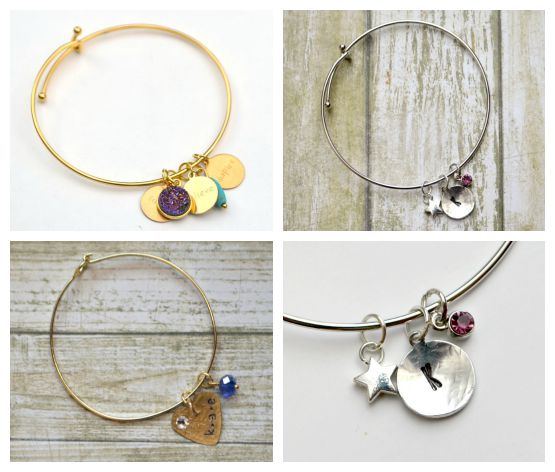 You'll need:
Expandable bangle bracelet
Charms of your choice
Jump rings
Pliers
This style of charm bracelet has become incredibly on-trend recently. Instead of paying top dollar for one in a store, create your own for less that's actually a reflection of you. All you have to do is purchase an expandable bangle base from your local craft store or jewelry supplier (usually these cost between $3-$8). Then, find an assortment of beads and charms that mean something to you, like birthstones, initials, hobbies and other favorite things.
Some charms may already have jump rings attached, while you'll need to add them to others. (See our tutorial on how to make a jump ring to create your own!) Gently twist the rings open, place them on the bangle, and twist them closed to secure. That's all there is to it!
4. Wrap bracelets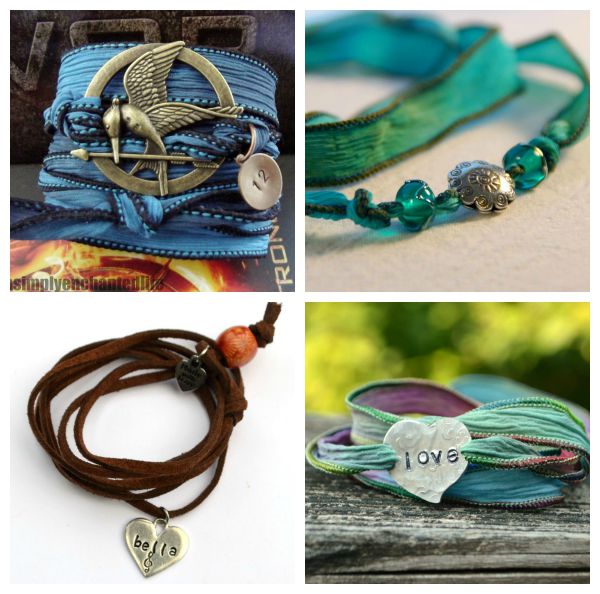 Photos via Craftsy members SimplyEnchanted, Daw B Designs
You'll need:
Leather cord or silk ribbon
Scissors
Optional: beads, charms, etc.
Another popular trend is the wrap bracelet. To create this style, all you need is the wrap material of your choice, like leather cord or silk ribbon. You can dress it up by sliding on any charms or beads you like, or leave it simple. Secure it by adding a toggle clasp or just tying it in place. (See our tutorial on how to make a toggle clasp to make your own!)
5. Metal cuffs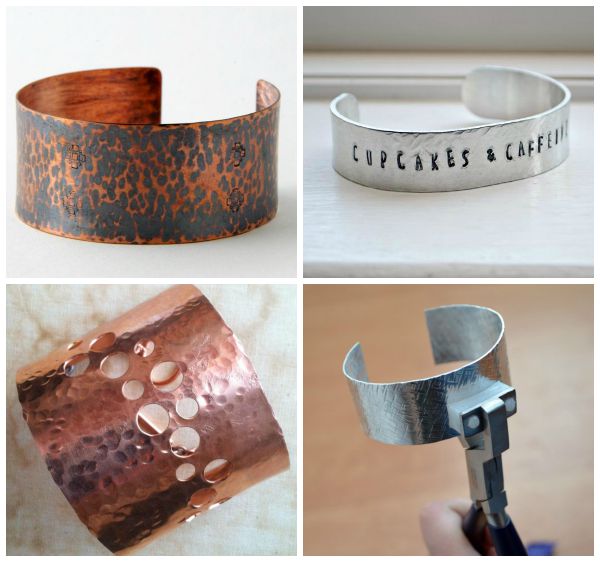 Photos via Craftsy Members Daw B Designs, OneArtsyMama, roycecreative
You'll need:
A metal blank or piece of metal you cut for yourself
Bracelet bending bar or bracelet bending pliers
Optional: Metal stamps, texture hammers, etc.
If you feel like attempting something a little more challenging, try your hand at making a simple metal cuff. Start with a long, flat rectangular shaped blank or piece of metal. You can add texture by using a texture hammer all over the surface of the metal, and if you want to add a message you can do so with the help of some metal stamps. Shape the metal into a cuff by gently bending it on a bracelet bar or using a pair of special pliers made just for the job. 
See also our tutorial on how to make a classic metal cuff in 8 simple steps.