If the early bird gets the worm, what do the other birds get? They get the cake pops that the early bird made, of course! This tutorial will help you beautifully glide through learning how to make bird cake pops. Puns totally intended.
These sweet "tweets" can be made using any color combination, but for this tutorial I'm going with basic white birds and yellow beaks. With these bird cake pops, the cute factor is the wow factor. And, trust me, these birds are also some of the easiest custom cake pops you'll ever make!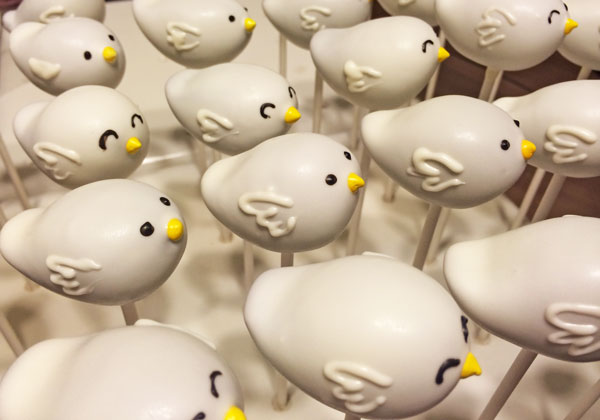 How to make bird cake pops
You'll need:
Cake pop dough
Lollipop sticks
Candy wafers in white
Candy wafers in black (or dark brown) – about 10 pieces
Wilton Rainbow Chip Crunch Sprinkles
Angled tweezers (optional)
Toothpicks
Wax paper
2 ziplock bags
Styrofoam block
*Note: Before you even get started, be sure to line your work surface with wax paper.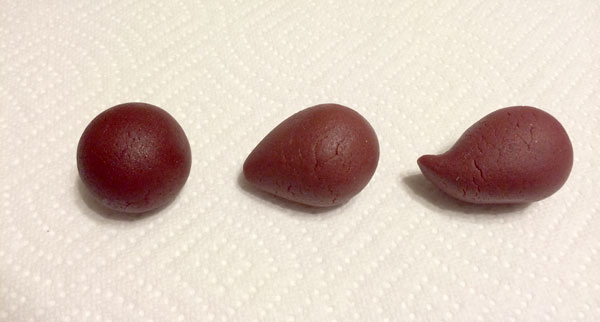 Step 1:
To start, use a cookie scoop to portion the cake pop dough. Roll the dough into a ball then into a teardrop. Using your finger tips, gently push/shape the tip end of the droplet facing upward. This will be the tail.
Refrigerate all the pieces after shaping.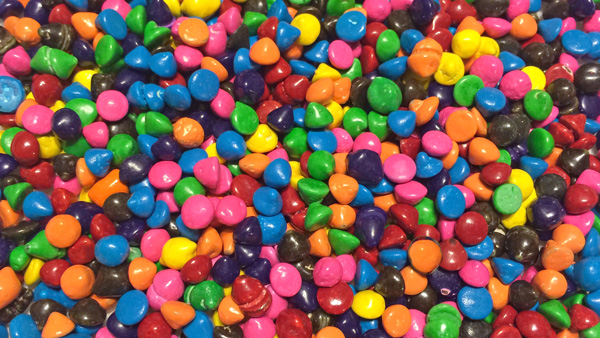 Step 2:
Sort out and put aside only the yellow rainbow chip crunch sprinkles, for the amount of bird cake balls you formed, plus a few extra. We'll use these for the beaks. I have really small and steady fingers, so I prefer not to use tweezers, but you may need to use a pair.
I like to kill two birds with one stone and separate all the colors while I have a handful of sprinkles already poured out. I use little snack bags to keep each color sorted for future use. You never know when they'll come in handy but at least you'll save some time for when you need 'em!
This is also a great time to get your lollipop sticks, toothpicks and styrofoam block ready. Remove cake balls from fridge and let sit in room temp for a few minutes as you do the next step.
Step 3:
Melt the white candy wafers in a microwave-safe plastic bowl or cup.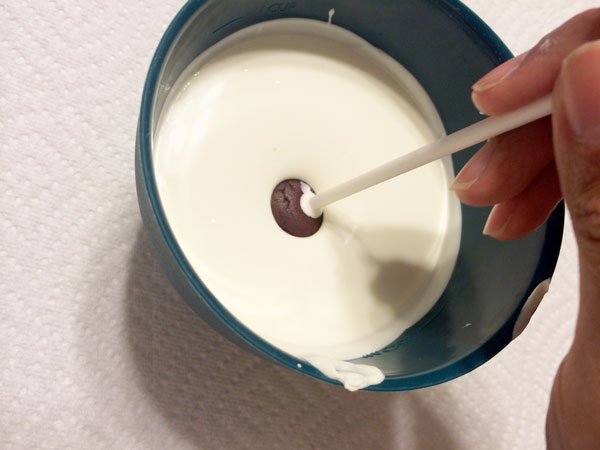 Step 4:
This step is going to go fast and may seem tricky, but I'm so positive you'll fly right through it! Have your yellow chips ready.
Dip about 1/3-inch of a lollipop stick into the candy coating, then insert the stick into the underside of the bird cake ball. Repeat for all the portions. Now you're ready to dip!
Dip each cake pop by submerging it completely until the coating meets the stick and then pulling it straight out. Gently shake to allow the excess to glide off of the tail end. At this time, if you notice any air bubbles, pierce it with a toothpick and gently shake to allow the coating to even itself out. Add a yellow chip to the middle of the rounded end before the coating sets. Place it on the styrofoam block and let dry completely. Repeat for all the pieces.

Step 5:
Once all your birds are dipped and chipped, the next step is to give them wings! Pour the excess white coating into a corner of a small ziplock bag. Twist the excess plastic and snip the tip using scissors.
Practice this next part on your wax paper work surface if it makes you nervous. On the right side of the bird, think of it as piping a number three with an extra hump. On the left side of the bird, think of it as piping a cursive letter "E" with an extra hump! It's not as nerve racking when you look at it that way. Place on the styrofoam block and let dry completely.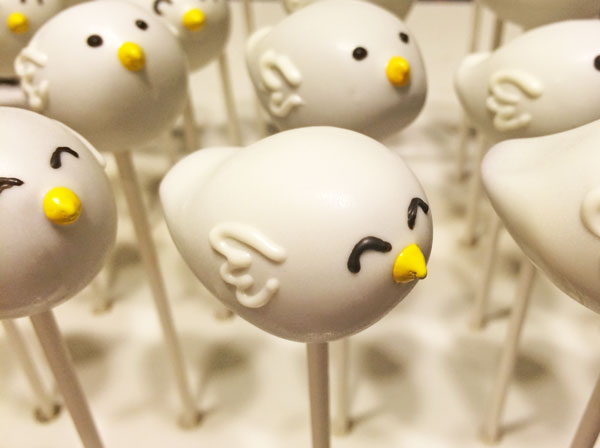 Step 6:
Place a few black or dark brown candy wafers in a corner of a ziplock bag. Place in the microwave at 30 second intervals at 50% power until it's melted. Kneed the bag with your fingers in between intervals.
Snip the corner and add a pair of eyes to each bird. I made mine with regular dots and also with happy eyes!
See, I told you worry was for the birds!