Doughnuts are great, but sometimes you don't want heavy, fried food in the morning. Happily, there is a solution: it's possible to bake fried doughnut recipes.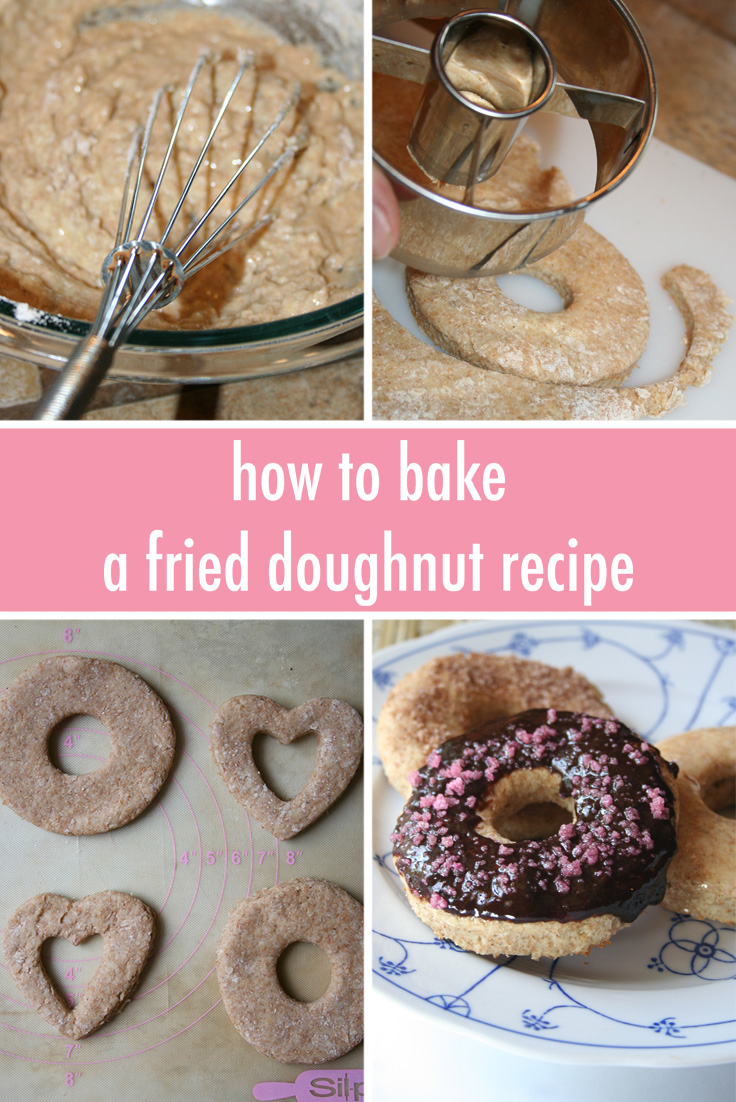 Photos via CakeSpy
Baking doughnuts instead of frying them is a simple yet effective way to lighten up your favorite holey treats, and it's easy to do with just about any doughnut recipe. All you have to do is prepare the recipe per the instructions, but instead of frying, bake the doughnuts on a baking sheet until they have attained toasty, tasty perfection. You'll have all of the deliciousness with just a little less decadence.
Instead of frying, these doughnuts are baked until golden, yielding a delicate, cakey-textured treat. Once baked, you can garnish them however you'd like to make a lighter version of your favorite doughnut. 
Recipe notes
Here are some answers to common questions about baked doughnuts.
Can I use this method for another doughnut recipe? 
We have tried this method with a variety of cake (as opposed to yeast raised) doughnut recipes and it has worked with all of them so far. Simply bake the doughnuts at 400 F until golden rather than frying them. This method has not yet been tested with yeast-raised doughnuts. If you give it a try, let us know how they turn out in the comments!
Do these taste just like fried doughnuts?
Baked doughnuts are prepared differently, so naturally there is a difference in the flavor. The baked version is a bit less moist, more like a cookie-like bread or a tender scone. While they are not exactly the same flavor as a fried doughnut, they are delicious in their own unique way. 
Can I make them even healthier?
These doughnuts are healthier than their fried counterpart, but they're still a sweet treat. To increase the health quotient, you can use part whole wheat flour, and employ reduced fat milk or yogurt, to name a few suggestions. Also, enjoying them plain versus garnished with sugar or icing will make them a more virtuous treat.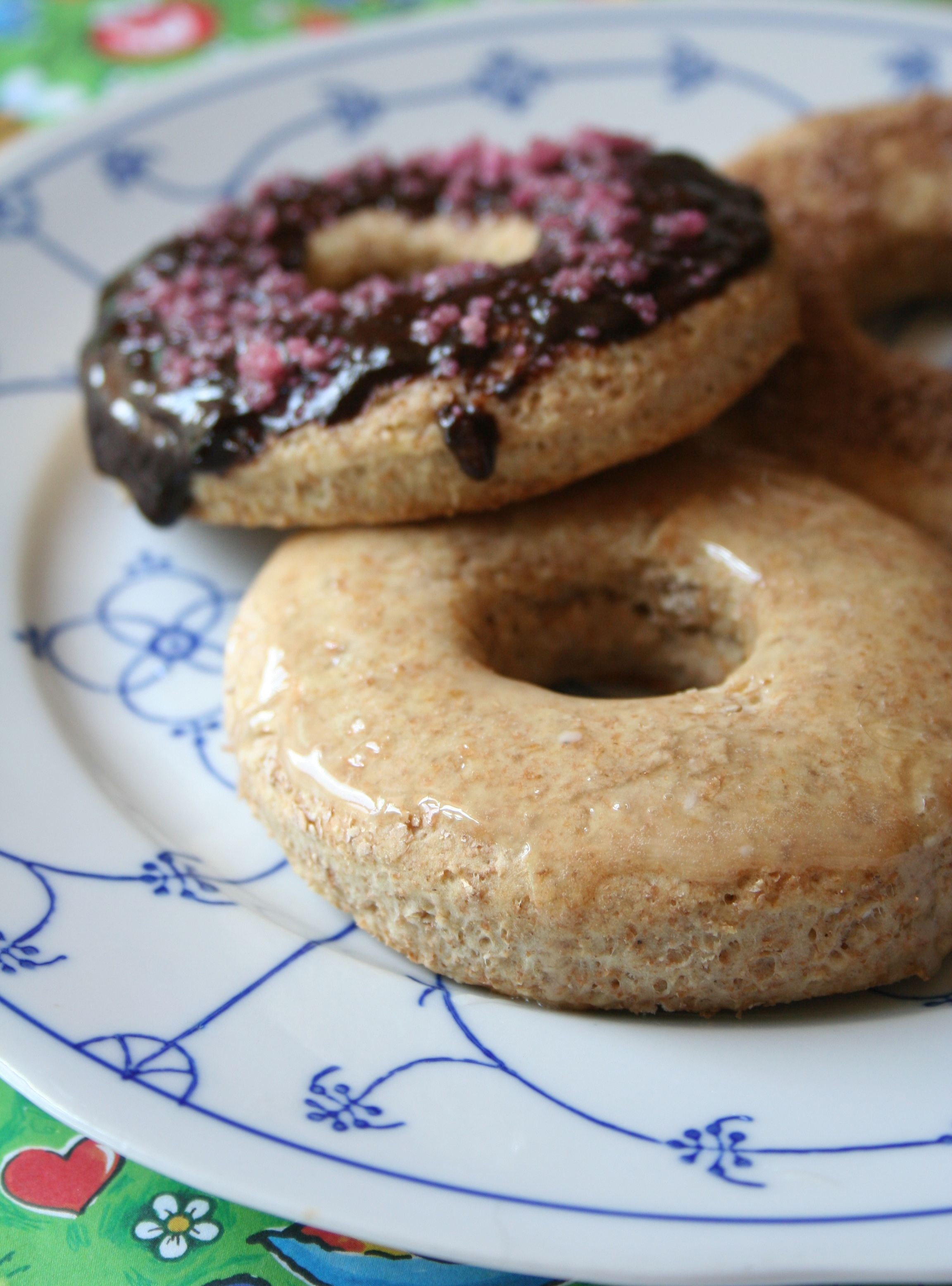 Baked doughnuts from a fried doughnut recipe
Makes about 18 3″-diameter doughnuts, plus holes
Equipment: 
Doughnut cutter (2 or 3-inch)
Ingredients:
4 cups all purpose flour, plus more for rolling (can substitute up to half whole wheat flour)
2 teaspoons baking powder
1/4 teaspoon salt
2/3 cup sour cream or plain yogurt 
1/3 cup milk
3/4 cup sugar
3 large eggs
1 teaspoon vanilla extract
Optional: Confectioners' sugar glaze, melted butter and cinnamon sugar, chocolate ganache and/or sprinkles, to top.
Step 1:
In a large bowl, sift together the flour, baking powder and salt. Set aside.
Step 2:
In another large bowl, whisk the sour cream, buttermilk and sugar until smooth and combined.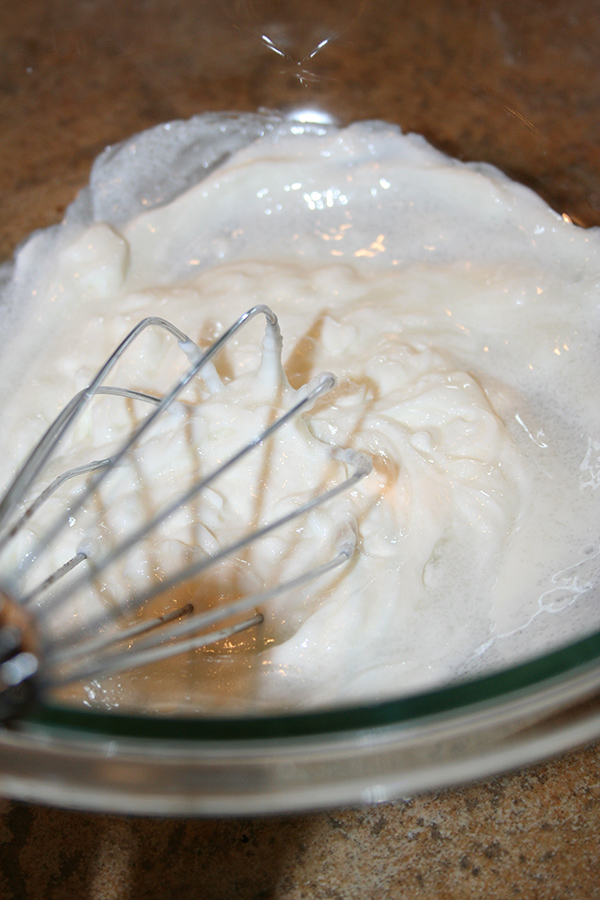 Step 3:
Beat in the eggs and vanilla until just combined. If needed, scrape the sides of the bowl with a rubber spatula.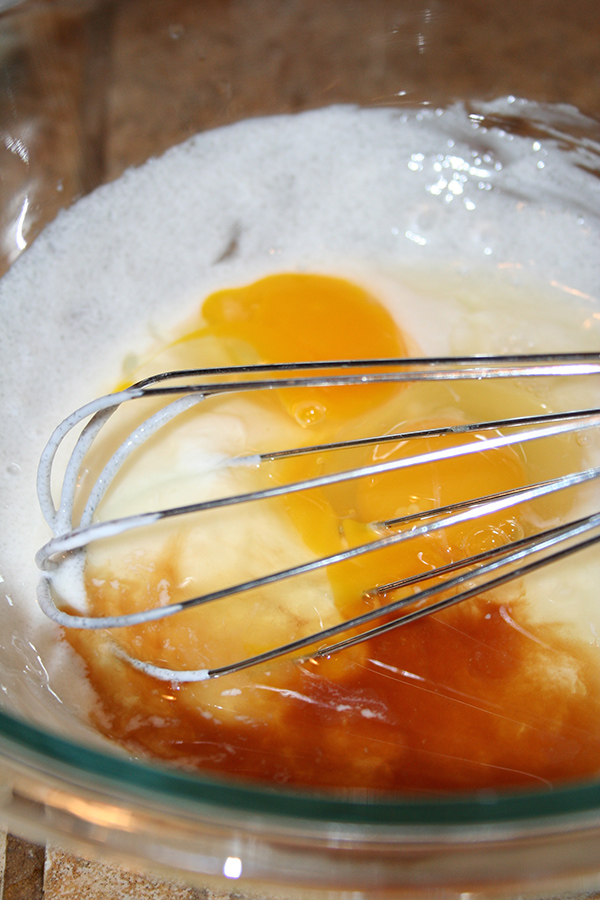 Step 4:
In 2-3 increments, add the flour mixture to this wet mixture, stirring with a wooden spoon until just combined. The dough will be somewhat sticky.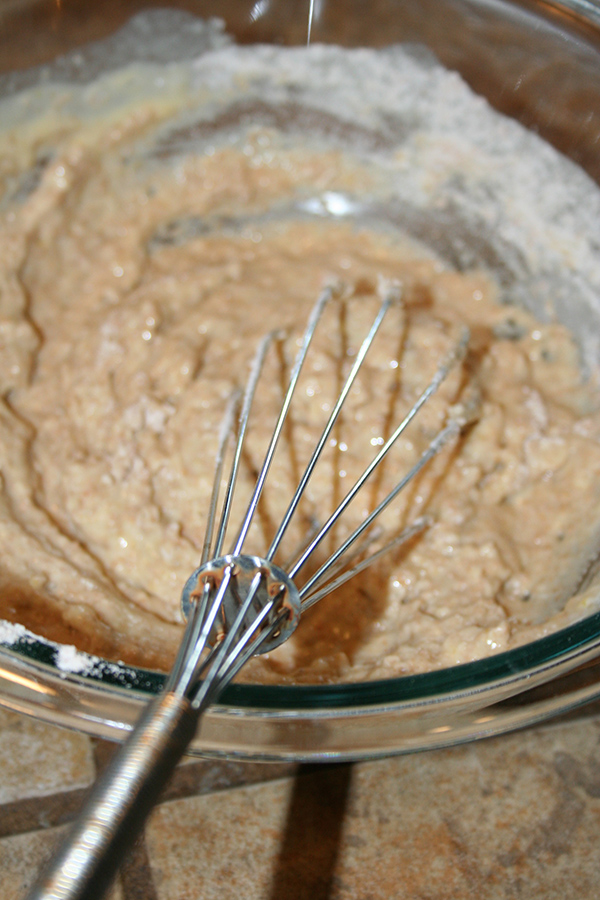 Step 5:
Clump the dough into a ball, and slightly flatten. Wrap in plastic. Refrigerate it for 20 minutes, or up to two hours. This chilling time will make the dough far easier to handle. Near the end of your chilling period, preheat the oven to 400 F. Line one large and one small baking sheet with parchment paper or silicone baking sheets.
Step 6:
Turn the dough on to a very generously floured surface. Knead for 2 minutes, or until the dough is smooth and elastic.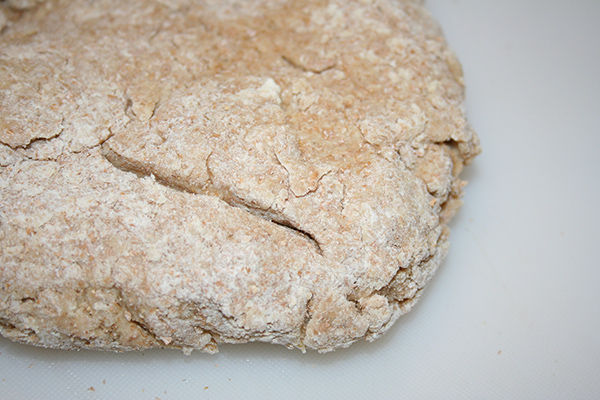 Step 7:
Turn the dough out on to a generously floured work surface. Roll the dough to about a 1/2″ thickness. Using a floured cutter, cut as many doughnut shapes as you can from the rolled dough. When cutting, try not to twist the cutter too much, as a clean cut will ensure a better rise. Set the "holes" to the side. (You can bake those, too!)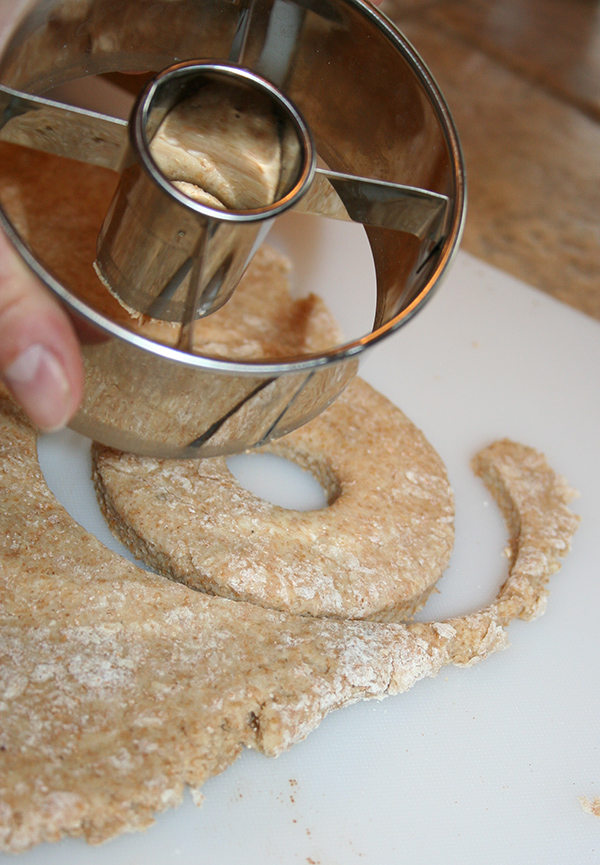 Step 8:
Transfer the doughnuts to a parchment-lined baking sheet. Transfer the holes to a smaller sheet lined with parchment, as you'll take them out of the oven quicker than the whole doughnuts.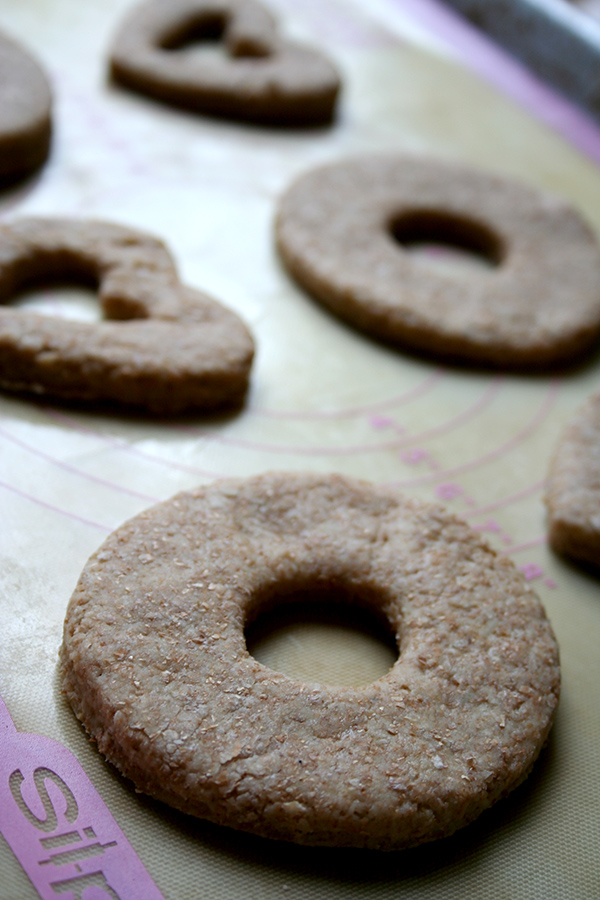 Step 9:
Bake the doughnuts until golden and puffed. The doughnut holes will take 10 minutes or less to bake while the whole doughnuts will take 12-18 minutes. Remove from the oven when done, and transfer to a wire rack.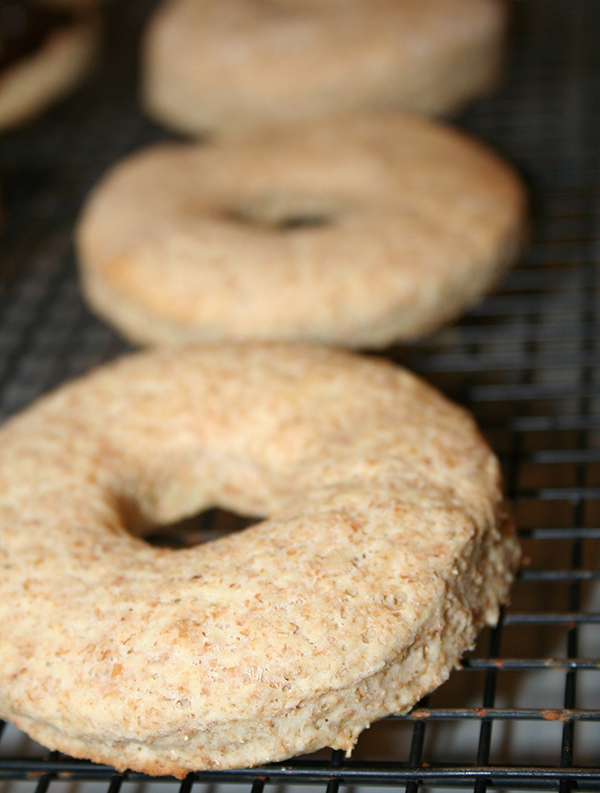 Step 10:
Whew! You're done, and nobody was spattered with hot frying oil. Garnish the doughnuts as you'd like. You can lightly brush the tops with olive oil or melted butter and sprinkle with cinnamon-sugar or you can brush them all over with a confectioners' sugar glaze or, you can wait until they cool and ice them with buttercream or ganache and sprinkles on top.
These doughnuts are best the same day they are made. If you have leftovers, either store in an airtight container or freeze. Refrigerating is not suggested.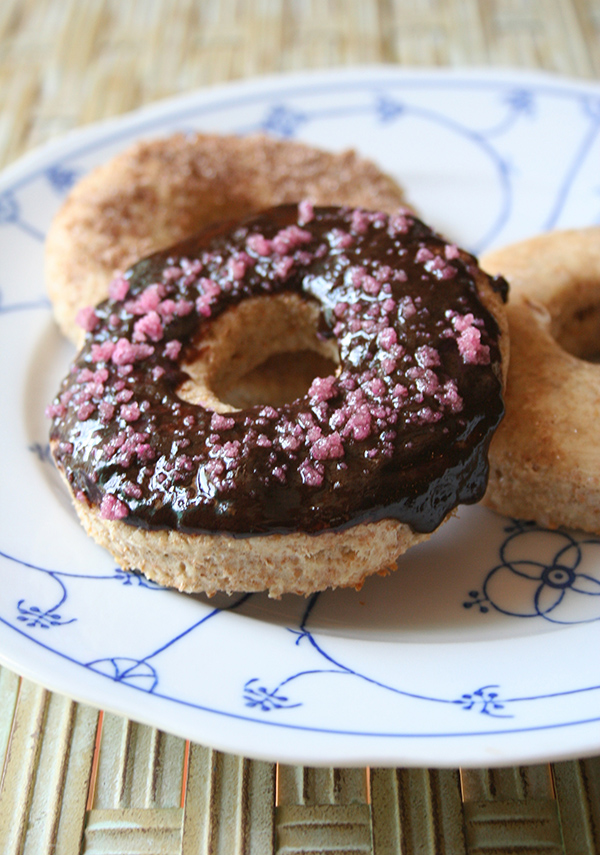 Have you ever baked a fried doughnut recipe?