What's the only smell that gives freshly brewed coffee a run for its money in the morning? The smell of freshly cooked bacon.
Bacon is always delicious, whether you're eating it with eggs, as part of a BLT or adding it to a salty-sweet dessert (bacon pancakes, anyone?). However, the mess it typically makes can make cooking it a burden.
Learn how to to make bacon mess-free with this simple method, so you can enjoy it as often as you'd like!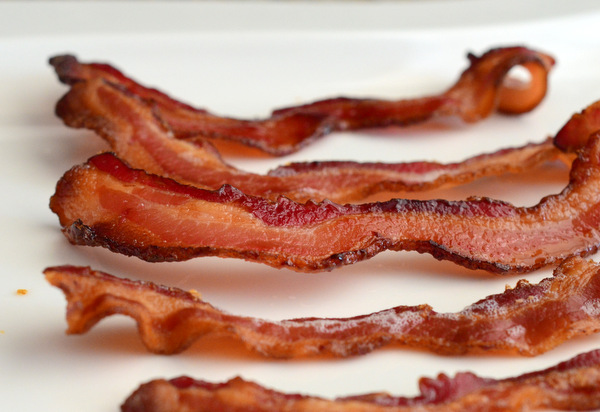 Photos by Nicole Weston of Baking Bites
Thin-cut bacon strips twist and curl as they cook, leaving you with strangely shaped slices. Thick-cut bacon strips seem to take forever to cook, and never end up quite as crisp as you would like. When you cook in a skillet on the stove top, whether you are making thick or thin-cut bacon, the hot bacon fat sizzles and splatters onto the cooktop, your shirt and even your floor. The secret to making bacon with no mess is the oven.
Advantages to making bacon in the oven.
The even heat from the oven allows the bacon to cook evenly, so the bacon remains flat and doesn't curl up, even if it is sliced very thin.
Even heat also helps minimize grease splatter, so the bacon fat pools in the baking pan without spattering all over the interior of your oven. The fat can later be poured off and disposed of, or used to add bacon flavor to other dishes.
It is easy to make your bacon as crispy as you like by leaving it in the oven longer, even if you are cooking very thick cuts. Oven-roasting will change the way you cook bacon for the better, allowing you to enjoy it more often with less work!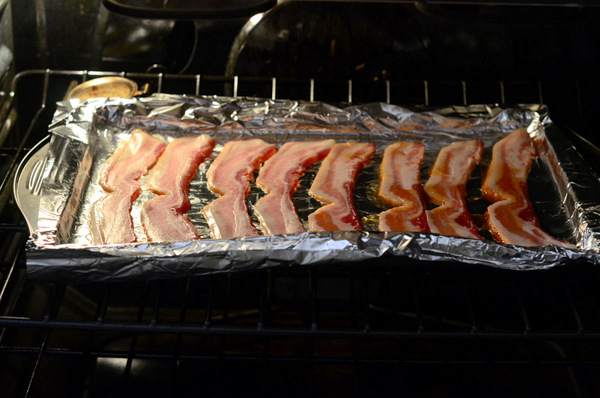 Oven-Cooked Bacon
Ingredients
8 (or more) strips of bacon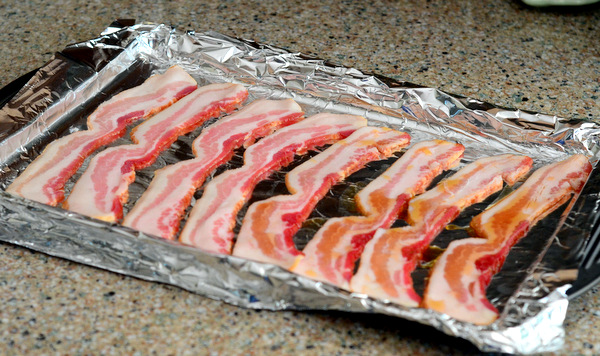 Step 1:
Preheat oven to 400 F. Line a rimmed baking sheet with aluminum foil. Arrange slices of bacon in a single layer on the baking sheet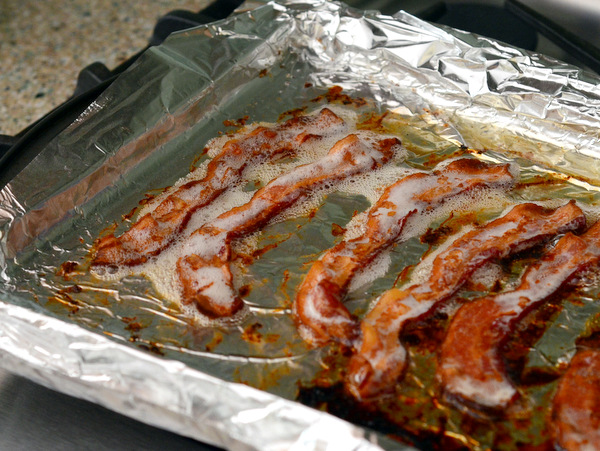 Step 2:
Cook bacon for 10-12 minutes, or until crispy. Cook thick-cut bacon for 15-18 minutes.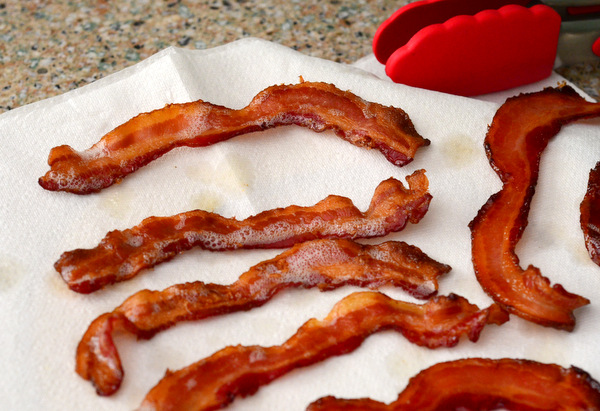 Using tongs, transfer bacon to a paper towel-lined plate to drain before serving. 
That's it! Your perfectly cooked bacon is hot and ready for munching pleasure!