Are you in love with ombré? Learn how to make an ombré cake that will stun guests. Best of all, the sweetly graphic, "striped" buttercream cake design can be completed in a few easy steps! A pretty in pink cake — and prettier still, when made with pink cake layers — this adorable cake design will be the standout at your next party.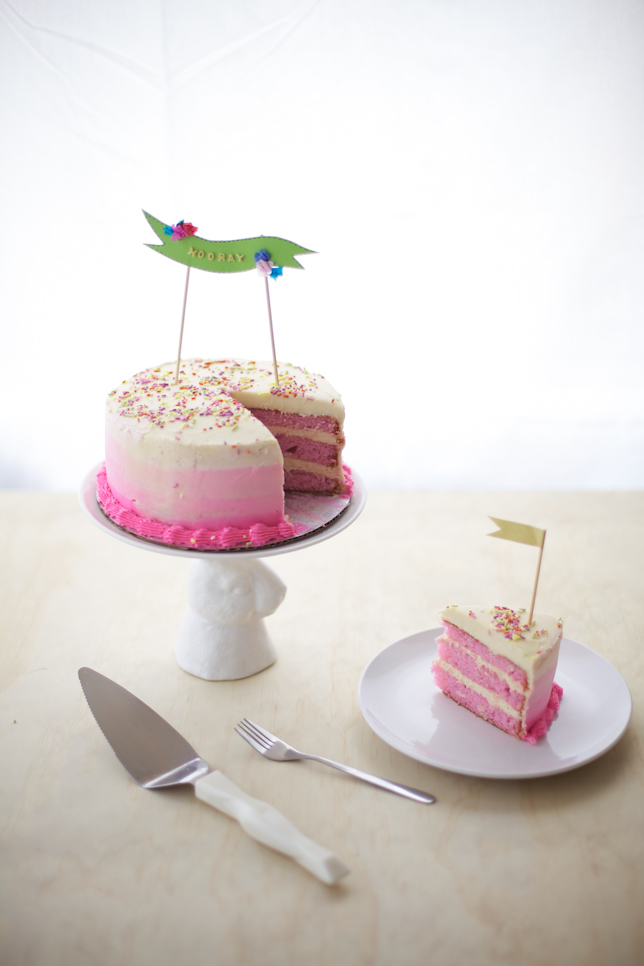 Photos by Lyndsay Sung // Coco Cake Land 
How to make a perfectly pretty pink striped ombré cake!
You will need:
A vanilla cake recipe of your choice, or 1 boxed vanilla cake mix
4 cups of vanilla buttercream
Pink gel food coloring (I used electric pink)
An offset spatula
A piping bag fitted with an open circle tip
A multi-star tip (I used Wilton #4B)
Bench scraper
A cake board or plate
Rotating cake stand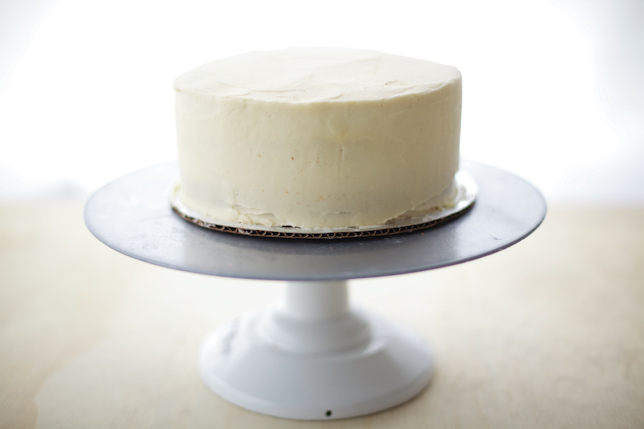 Step one:
Make your cake batter: Tint it pink using the pink gel coloring. Bake according to recipe's instructions; let cool completely. Make your buttercream while you wait!
Once your cake is cooled (you can power-chill it in the freezer if you like), frost your cake with buttercream to the crumb coat stage. Chill the cake in the freezer for 15 minutes. Frost it one more time, using your bench scraper to create a smooth exterior.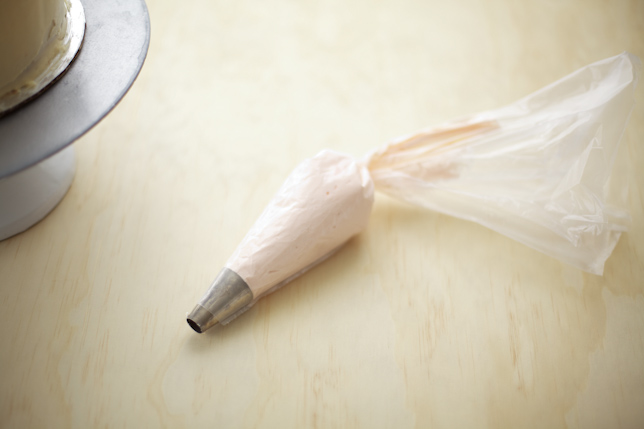 Step two:
With the remaining buttercream, you are going to make four shades of pink — start off by adding a tiny amount of pink gel coloring to your buttercream; beat until incorporated. Fill your piping bag, fitted with the open circle tip, with the pink buttercream.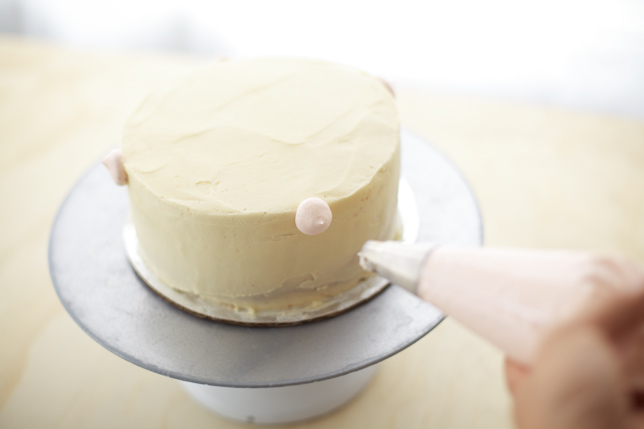 Step three:
Pipe a drop circle at the top edge of your cake. Pipe more circles along the same edge; I piped four in total. Now, put the remaining buttercream back into the bowl of your mixer. Add another small amount of pink gel color and mix until incorporated!
Step four:
Now, refill the piping bag with the tinted slightly brighter pink buttercream.
Step five
Continue this process two more times, until your final buttercream is at a very vibrant shade of pink and you have four dots in a vertical ombré line on four parts of the sides of your cake.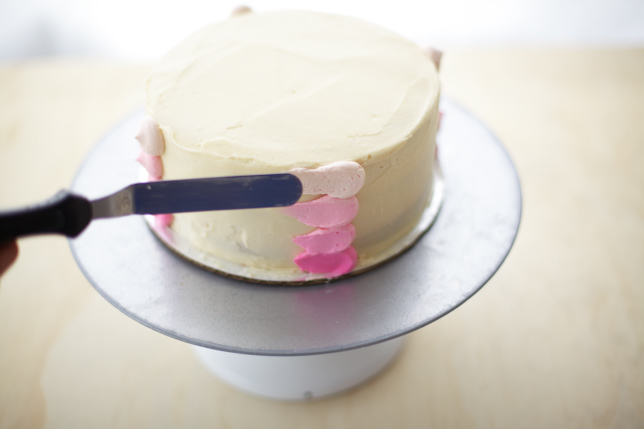 Step six:
Taking your metal offset spatula, place onto each buttercream dot and pull it to the left.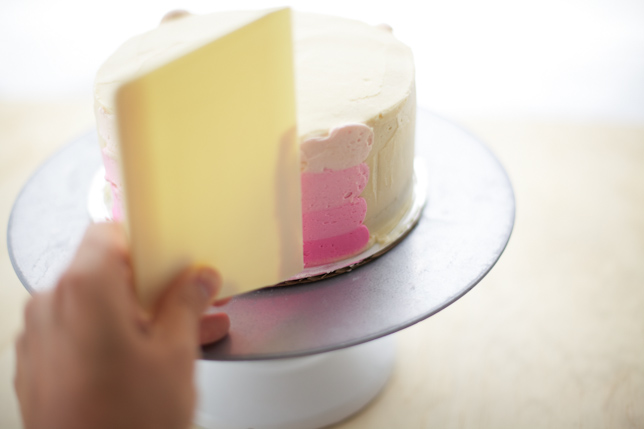 Step seven:
Taking your bench scraper, place the scraper against your cake, into the buttercream. Begin pulling the buttercream to the left while slowly turning the cake stand.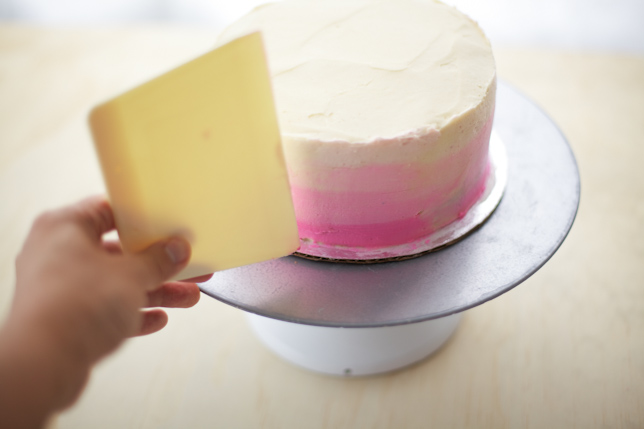 Step eight:
Continue pulling the buttercream all around the side exterior of the cake. You can do this a few times over until you get a smooth, ombré look!
Step nine:
Finally, add a piped shell buttercream border using an open star tip such as Wilton #4B. Dust your cake with fun matching sprinkles and anticipate the cake cutting!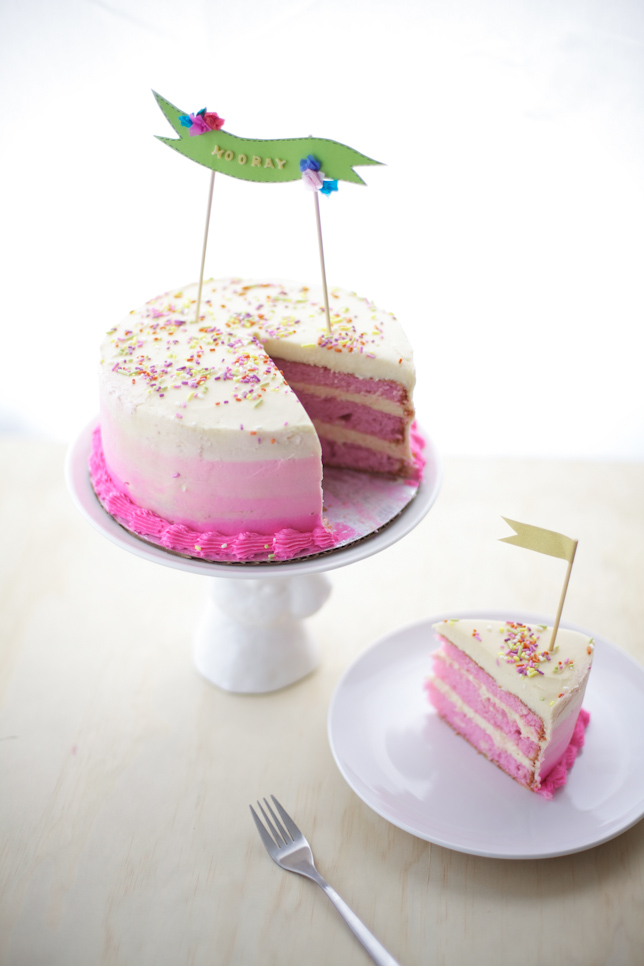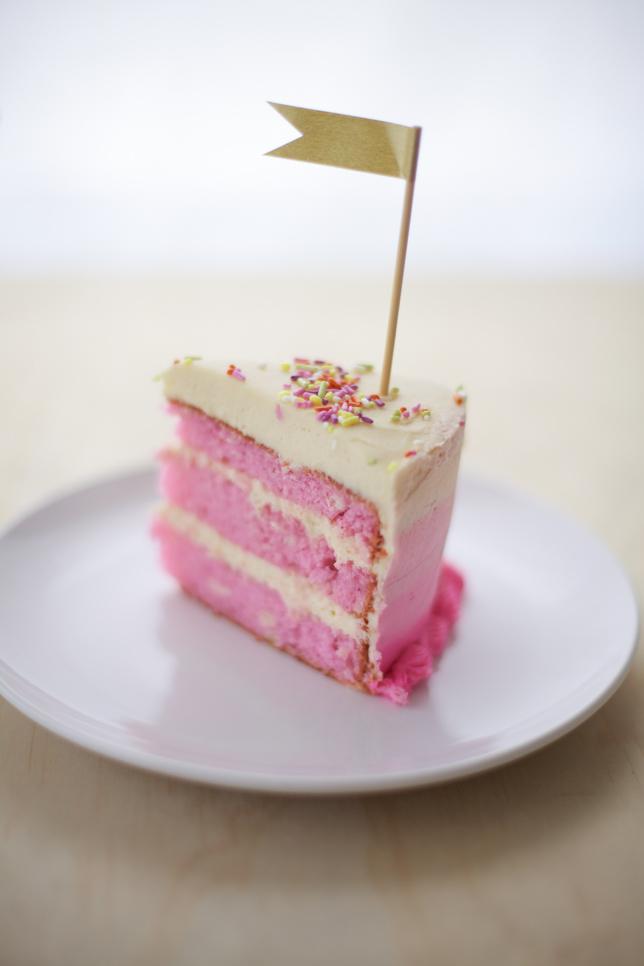 Happiness is just a pink cake slice away! Happy cake decorating, everyone!
[box type="shadow"]
If ombré cake frills are more your fancy, then you must take a look at Maggie Austin's now-classic online Bluprint class Fondant Frills, which will teach you how to create elegant ombre cakes using her signature frilling technique!
[/box]
What do you prefer: Ombré cake layers, ombré icing or both?