This summer, why not garden with wildlife in mind? May is Garden for Wildlife Month, so the timing couldn't be better to attract more birds, butterflies, beneficial insects and other critters to your outdoor spaces. Whether you garden on a city balcony or a large suburban yard, here's advice on how to make a wildlife habitat.
Hummingbird photo by Victoria Williams 
Certified Wildlife Habitats
Creating a wildlife habitat is important all four seasons. But it's especially important now, because these habitats provides a natural source of food, water and protective cover for the migratory birds and butterflies at this time of year, according to David Mizejewski, naturalist with the National Wildlife Federation, which has certified more than 150,000 wildlife habitats over the years.
"May is one of the best times to garden for wildlife," explains Mizejewski. "So many migratory birds and butterflies are returning, animals emerging from hibernation, and many babies are being born."
My friend Victoria Williams built a certified wildlife habitat in her front yard in Boise, Idaho, about 10 years ago, and she's glad she did.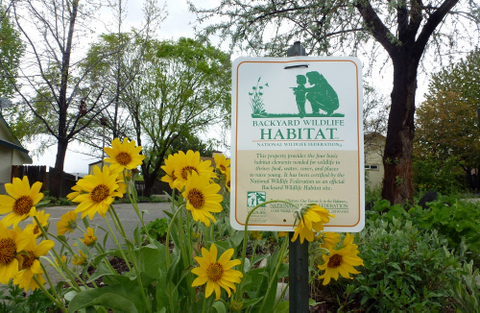 Backyard wildlife habitat sign photo via Victoria Williams 
The family proudly displays the National Wildlife Federation sign in their garden, with native arrowleaf balsamroot growing nearby. Many of their garden adventures and nature encounters are covered in the blog Williams writes with her husband called Our Life in Idaho.
"Making the wildlife habitat in our front yard has improved our life with the variety of wildlife we've been able to attract and view," says Williams. "We decided to apply for the certification to help support the local wildlife and to encourage others by way of the signage."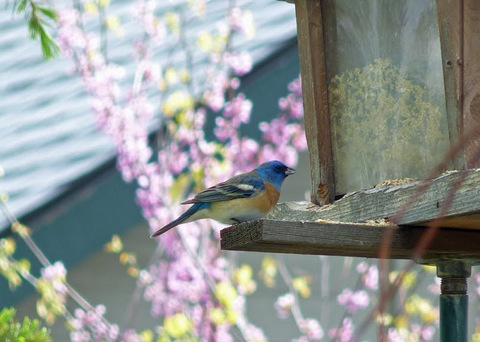 Bird feeder photo via Victoria Williams 
There are four factors to consider when creating a wildlife habitat:
1. Food
Whether you hang bird feeders or plant native shrubs and trees, you'll want to add at least three food sources for different types of wildlife. These include everything from berries and nuts to sap and pollen. You can also add feeders for butterflies, hummingbirds and deer.
2. Water
Your habitat will need at least one source of water, whether it's a birdbath, fountain, lake, pool, river or wetland. This provides valuable water for different wildlife, and is an important way to attract birds and other animals to your garden.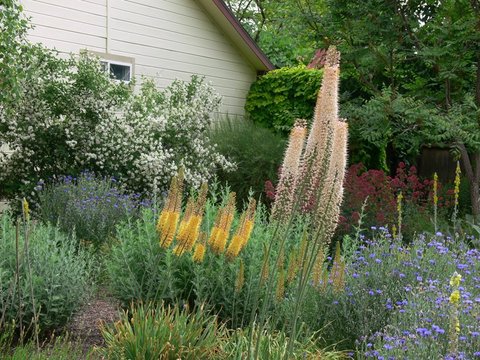 Habitat garden photo by Victoria Williams
At the same time, your habitat should use water wisely. The Williams' front yard is planted with drought-tolerant plants that thrive in Idaho's arid climate, and require very little care or water. "It can get very hot and dry during the summer here," explains Williams. "But we only irrigate our front yard once a month during those months. So, we're saving a lot of water too."
3. Shelter
To protect wildlife from people, predators and bad weather, include at least two types of shelter in your garden. This might be anything from the bushy shrubs in the Williams' front yard to roosting boxes, evergreens, meadows or wooded areas.
4. Place to Reproduce and Raise Young
You'll also want to support the entire lifecycle of a species in your habitat, advises National Wildlife Federation. Provide at least two places for wildlife to mate and give birth, as well as raise their young. Some good spots are wildflower patches, meadows, mature trees, wetlands, dead trees or bushy shrubs.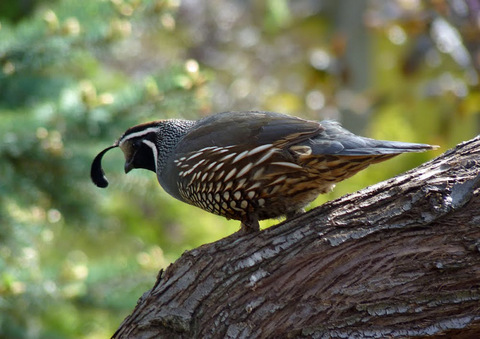 Quail photo via Victoria Williams
Get Certified
When your garden includes these four wildlife-friendly elements, it's ready for certification by National Wildlife Federation. For a $20 fee, you'll receive a personalized certificate, one-year subscription to National Wildlife magazine and a monthly e-newsletter. Plus, you'll join tens of thousands of citizens nationwide in supporting Mother Nature.
During the month of May 2014, the National Wildlife Federation will plant one tree for every garden certified as a wildlife habitat.
You can also build awareness of wildlife conservancy by displaying an official Certified Wildlife Habitat sign in your garden. Select a classic sign like the Williams did for $30. Or, splurge for an elegant, personalized wall sign for $125.
Don't want certification? No problem. Just by creating a wildlife habitat with food, water and shelter, you're already helping to support a healthier ecosystem in your garden and community.
How are you attracting wildlife to your garden?