Stuffed crust pizza is an undeniably brilliant feat of cooking.
Unfortunately, the concept seems to be primarily carried out by commercial pizza giants who employ lesser quality ingredients and ultimately churn out a sub-par slice. But when you learn how to make an artisan pizza with a stuffed crust (with cheese, herbs, etc), it a thing of beauty indeed: a savory surprise at the end of your slice, with a gooey and flavorful cheesy filling to delight the palate.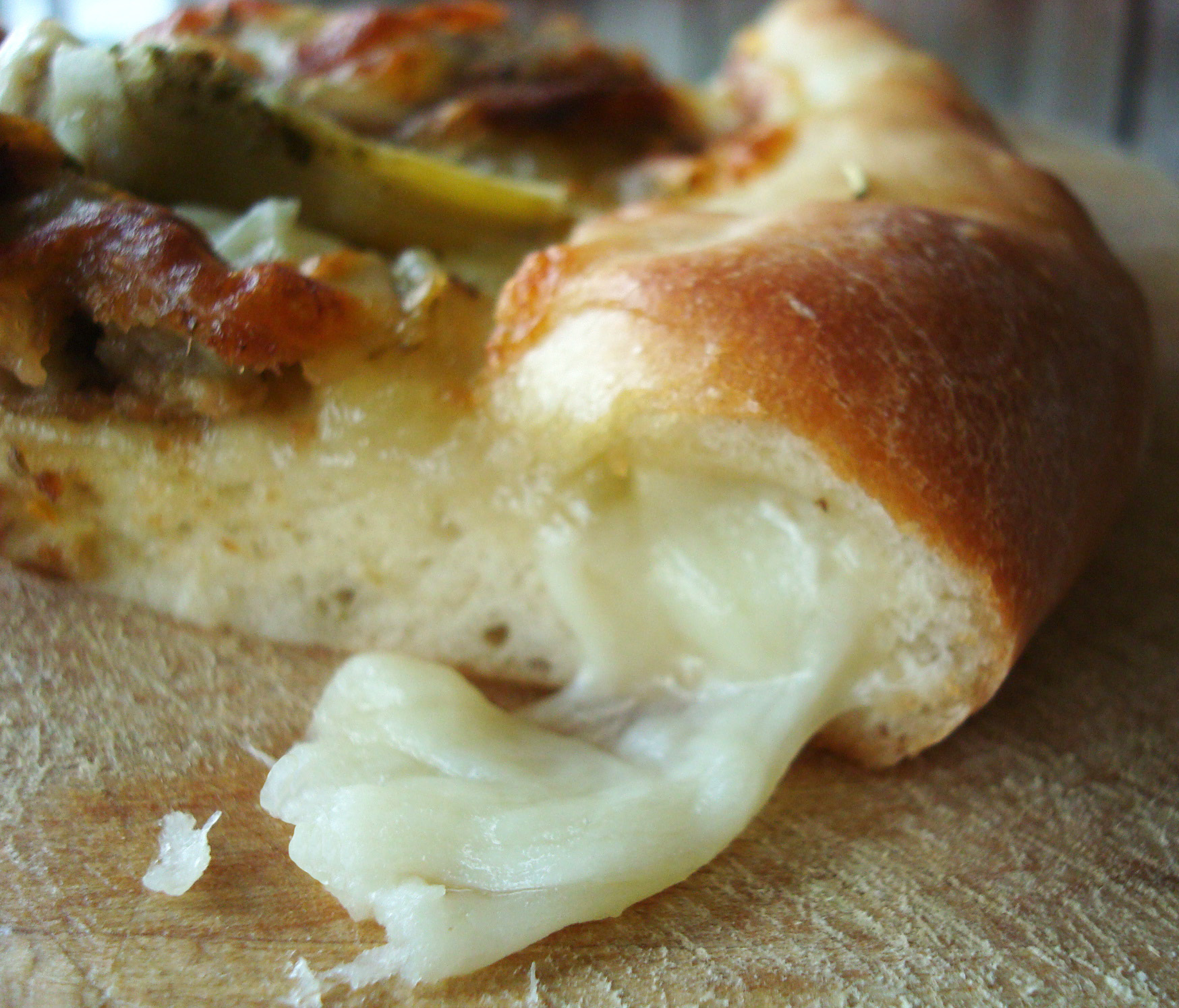 Photos via CakeSpy
Making a stuffed crust pizza at home is really quite easy: it just requires a little extra cheese, and a gentle fold of the crust to contain the goods. It's a fantastic way to fancy up any pizza recipe.
Stuffed crust pizza considerations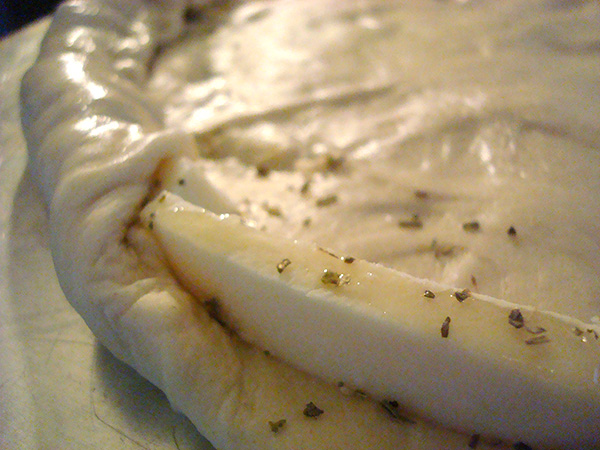 Fillings
You can dress up your stuffed crust further by adding additional flavors. You can augment your cheesy crust by adding finely chopped pepperoni, vegetables or spices to add a little more flavor.
Regarding the cheese
Slice about 6 ounces of solid whole milk mozzarella from a brick into strips, lengthwise. You'll use these strips to line the perimeter of the dough with cheese. You probably won't need all of the cheese from one 8 or 16-ounce brick; the remainder can be used to top the pizza or can be stored for your next cooking project.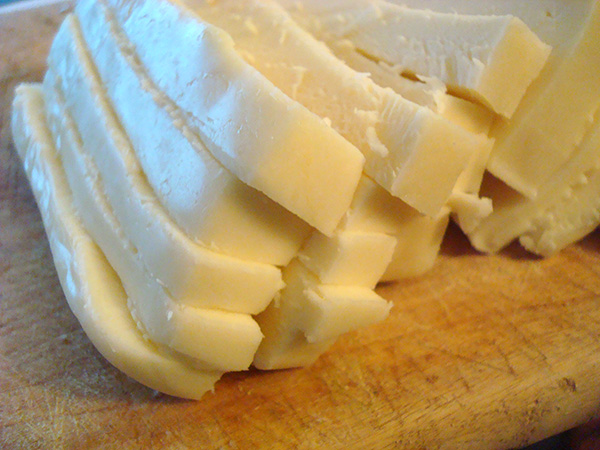 Temperature matters
If you are using a baking stone or similar, heat your oven as high as you can — typically 500 F or so. If you're baking on a regular baking sheet, you'll want to bake the pizza longer, at a lower heat, so that it will cook evenly. Generally, 400 F to 450 F is a good temperature range to try for a pizza baked without a pre-heated surface.
Dough thickness
To make stuffed crust pizza, you'll have to roll the dough out a little wider in circumference than you normally would, to accommodate the folding over of the crust. This means that your pizza may be smaller in final size, or that you will have to roll it out thinner than normal. If you'd like your crust to be thicker, consider using 1 1/2 balls of dough rolled together so that you can stuff your crust and maintain a substantial bottom crust as well.
How to make a stuffed crust pizza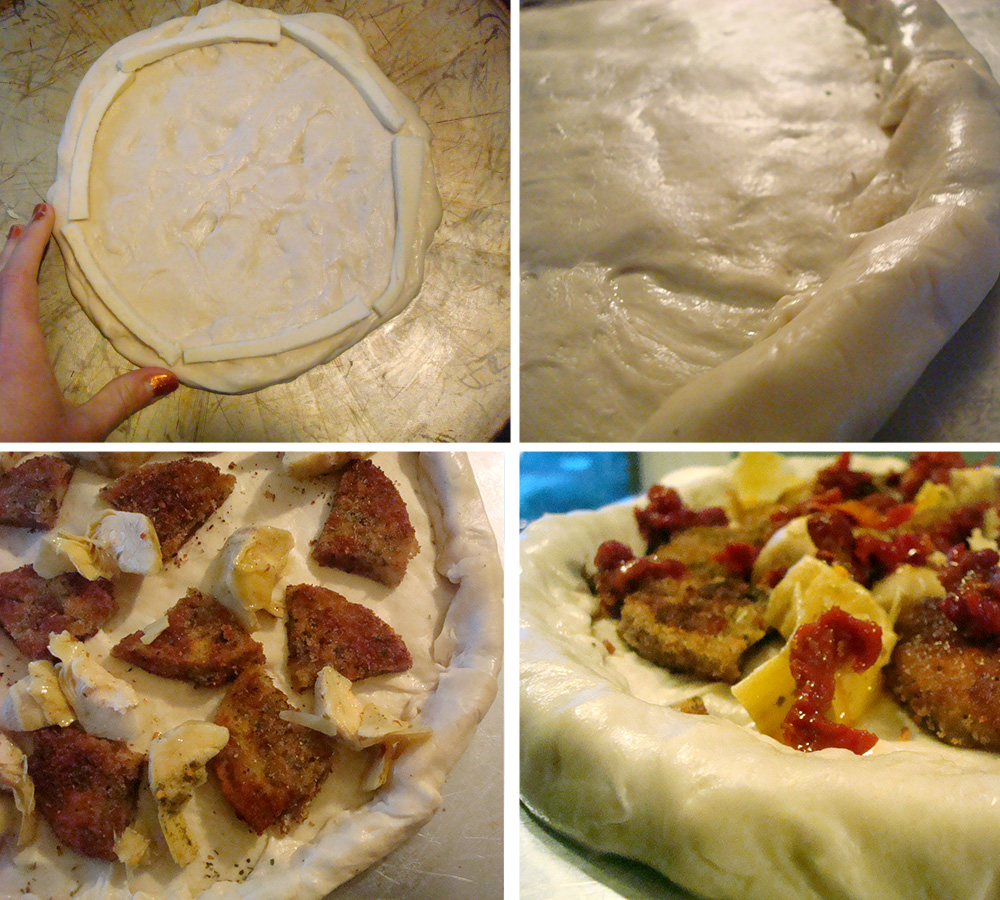 For the crust, you'll need:
1 or 1.5 portions artisan pizza dough, depending on your desired crust thickness
Approximately 6 ounces of solid whole milk mozzarella, cut into strips
Olive oil
Spices or herbs (optional)
To top, you'll need:
Approximately 4 ounces of mozzarella cheese
Sauce
Other toppings of your choice (we used fried eggplant, marinated artichokes and sun-dried tomatoes)
Step 1:
Preheat the oven. If you are using a pizza stone, heat the oven to 500 F; if you are not using a preheated surface, heat the oven to 400 F.
Note: If you are using a baking stone, let the oven heat at 500 F for about 45 minutes before proceeding.
Step 2:
Roll your pizza dough out to about 1.5 inches wider than you want the finished pie to be. It's OK if the dough comes to the edge of a baking pan at this point, because you will be folding it over and it will become smaller once you've done that. You can roll the pizza dough out on a pizza peel if baking on a stone, or directly on a greased baking sheet if baking on a sheet pan.
Step 3:
Line the perimeter of the dough with a small gap to the outside with strips of mozzarella cheese. You can drizzle olive oil or herbs on top of it if desired.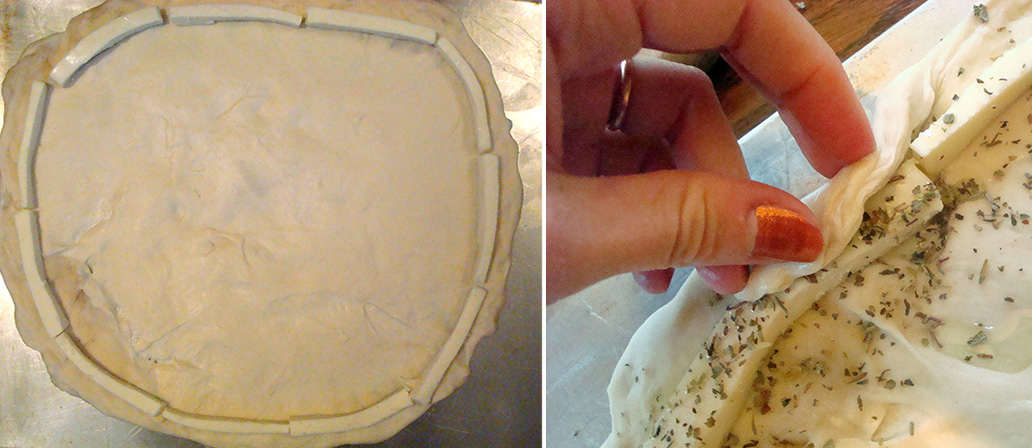 Step 4:
Fold the crust over so that it contains the cheese within, and pinch the edges to form a seal where the dough is folded over, to keep the cheese from leaking out once you bake.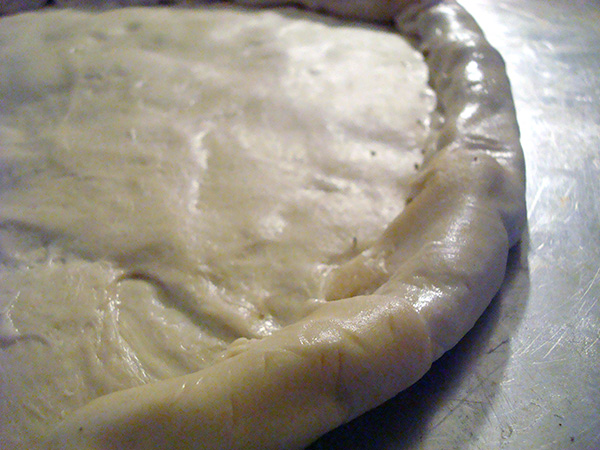 Step 5:
Top the pizza as desired.
Step 6:
Place the pizza on the stone from the peel, or place the baking sheet directly on top of the stone. Bake until the crust is browned to your liking and the cheese is bubbling and browned as well. This can be a personal choice. On a stone or steel, this can take between 4 and 10 minutes at 500 F, depending on the thickness of the crust. If you're baking the pizza directly on a baking sheet, bake at 15-20 minutes at 400 F to 450 F (the former for a softer crust, the latter for a crispier crust).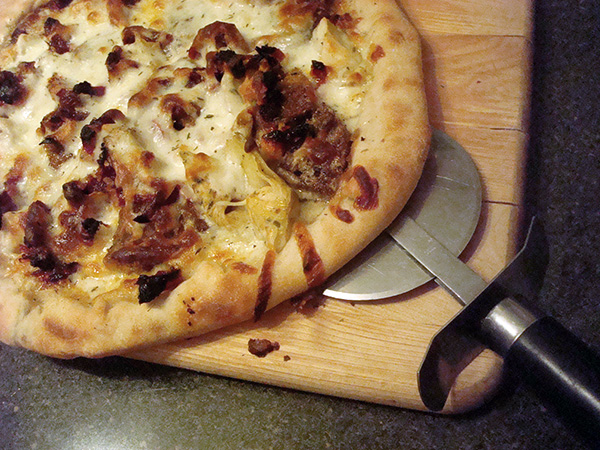 Let the pizza cool for about 5 minutes before serving. Enjoy the cheesy crust!