Learning to make a basic sheet metal pendant is an easy skill that once learned can be adapted for projects as versatile as cuffs, earrings and simple rings. And you can further customize the pieces by using some of the texturing techniques we've covered in our post on how to texture metal. Start making your own custom pendants today with this super simple step-by-step tutorial!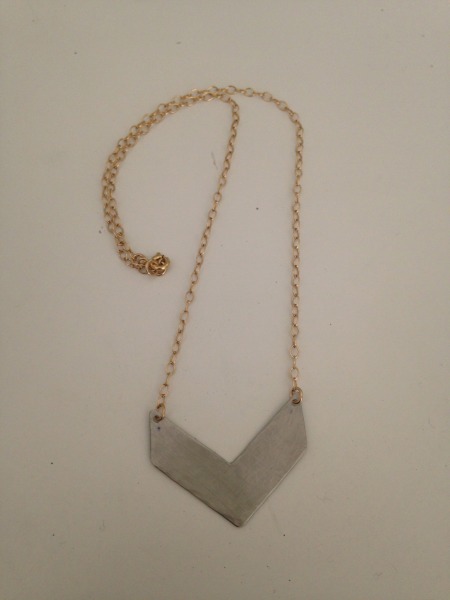 Elevate your jewelry making skills with Craftsy's growing collection of online jewelry making classes! Learn how to make wirework jewelry, take beading lessons and more — all from the world's best instructors in the comfort of your own home.
How to make a sheet metal pendant
Tools you'll need:
Metal shears or a jeweler's saw and blades for more extensive design work
Sheet metal (22-26 gauge usually works well)
A drill press for making the hole, or a precision hole punch
A file and/or a nail file with a foam core
Chain
Jump rings (2-4, depending on your design)
Flat-nosed pliers
Round-nosed pliers
Optional: Texturing hammers
Clasp and connector
Step 1:
Draw your design on a piece of paper. For the sake of ease, I'll be making a pretty simple design that works well with metal shears and doesn't have a lot of curves. Swirls and curls can make things a lot more difficult, so let's get down the basics first. Then you can start to play more on your own.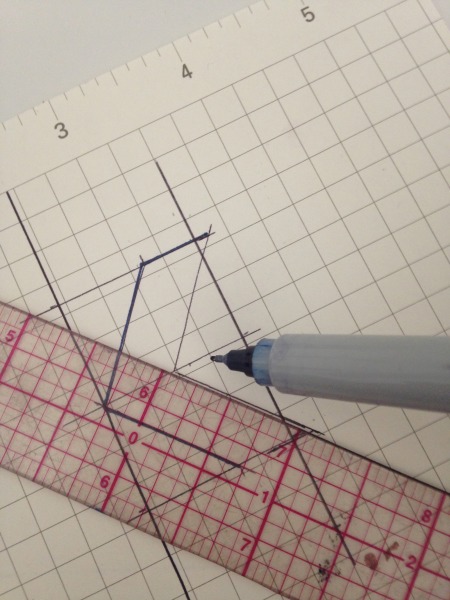 Tip: I LOVE my graphing ruler for this phase.  You can quickly align the lines to ones that have previously been drawn to make them parallel or perpendicular.  I swear, if you do a lot of technical drawings this ruler will change your life.
Step 2:
Trim the edges off your paper and grab a Sharpie. While you hold your pattern in place, trace the edges with the marker, but be careful, as the Sharpie will rub off if you work your hand over your design. If you think you might, consider using rubber cement to glue your pattern down. (You'll need to give it a few minutes to dry completely.) At the end a little water will help you remove it.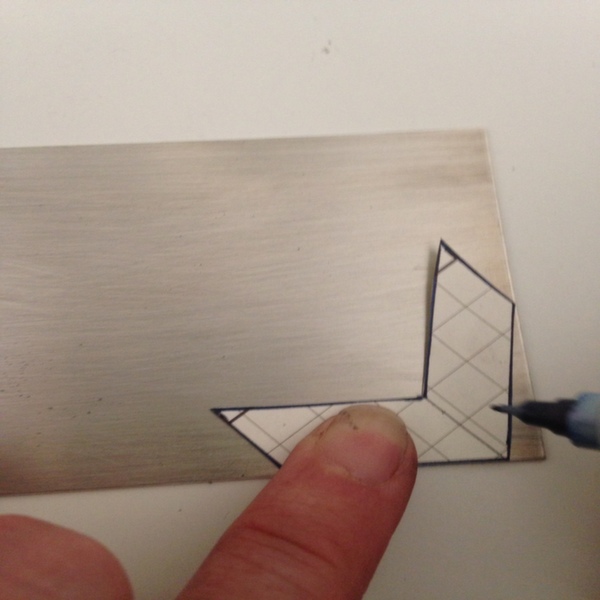 Step 3:
Let's get cutting! Grab a pair of metal shears that don't have little serrated blades on them — if you use those, you'll make a lot more work for yourself when you have to file off all the tiny little edges. Cut out your design and be careful — those edges are SHARP!
Step 4:
Once your design is trimmed out, grab your file and make sure to smooth out the edges. Think about slightly rounding the edges of the points and giving the edges a small bezel. You can also use a nail file to make sure the edges are completely smooth.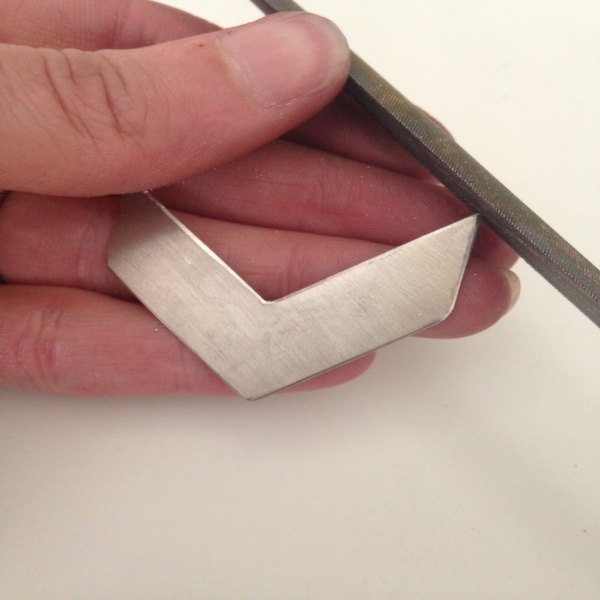 Note: If you've chosen gold fill, go easy on the beveling as you're exposing the brass core by doing so. In the long term, that will tarnish quicker and you'll end up with a not so lovely dark border.
Step 5:
Mark where you want your holes to go. Using either your drill bit or some other hole maker, complete your holes. I'm using a rivet kit that happens to have a hole punch on one end. If you look closely you'll notice that I changed my mind midway through. That's when it's handy to have done it in Sharpie first — it's not permanent! If you have any sharp edges on the back afterward, file them down.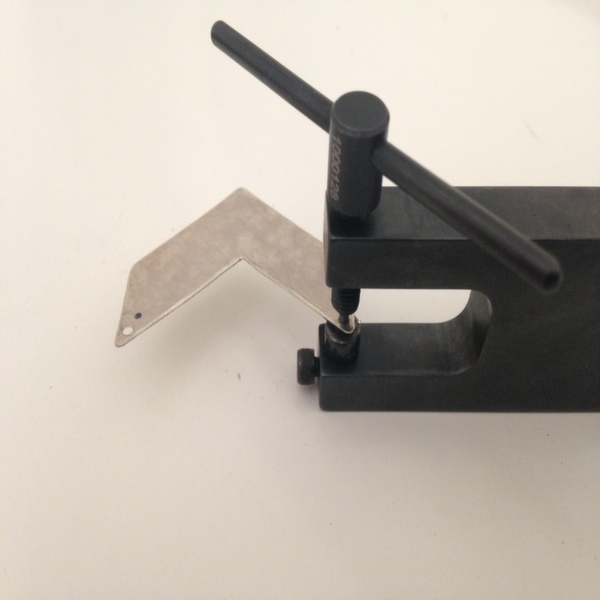 Step 6:
If you want to texture your piece, now is a good time to break out the hammer. I like the look of gently hammered edges and center, so I'll be using my hammer with a slightly rounded end to add that texture.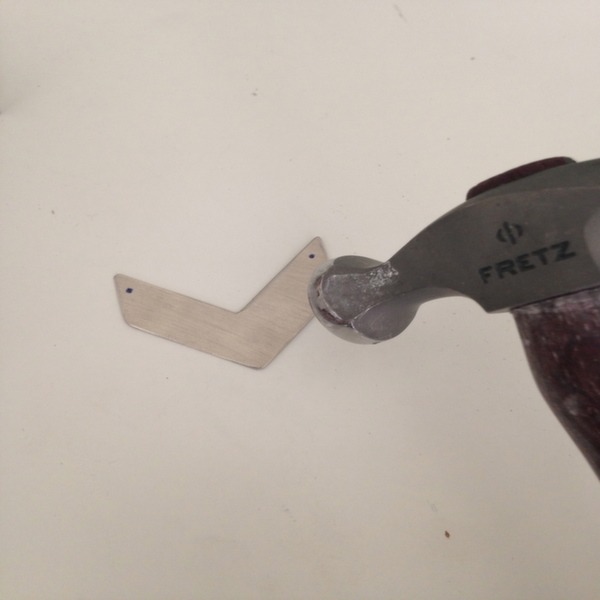 Step 7:
Chose the length that you'd like your piece to be and cut your chain. If you chose something long you can skip a clasp here or divide the chain in two and add a clasp and connector.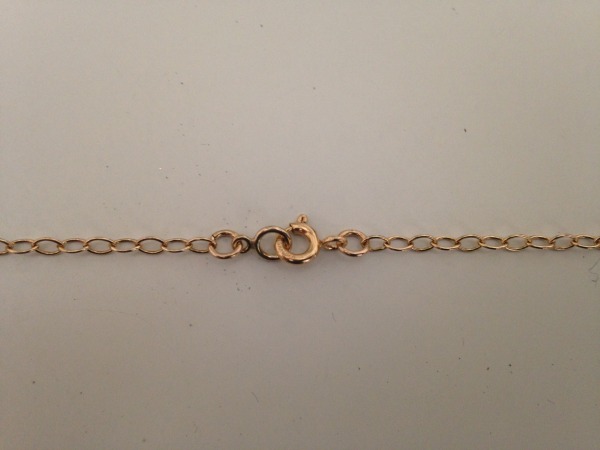 Step 8:
Assemble your piece with your jump rings using your flat-nosed pliers. See also our post on how to make your own jump rings.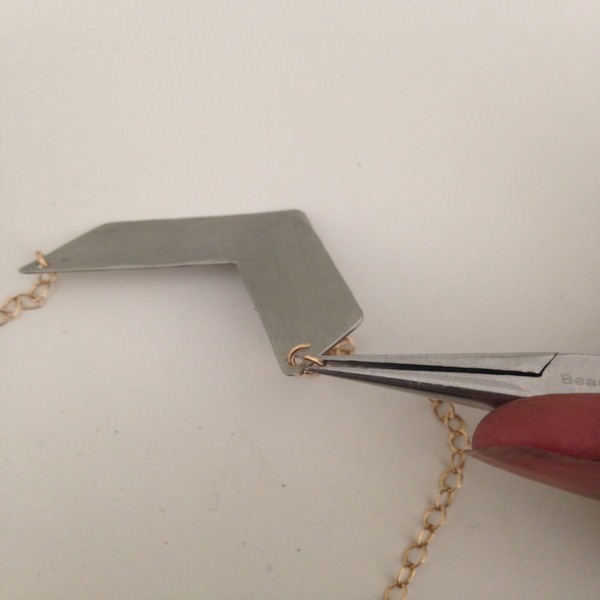 This is an easy piece to combine with all the necklaces in your jewelry wardrobe. Or, get those creative juices flowing and make a few of differing lengths to layer yourself! And be sure to show off your handmade jewelry designs by uploading photos to Craftsy's Jewelry Projects Gallery! [box type="shadow"]
Like what you've read?
Have more jewelry making tutorials, tips and inspiration delivered directly to your inbox by subscribing today!