There are many stamp sets containing images that can easily be combined to create a scene. By staggering these images throughout a multi-layer shadow box, not only can a great deal of dimension be achieved, it adds a lot of interest as well.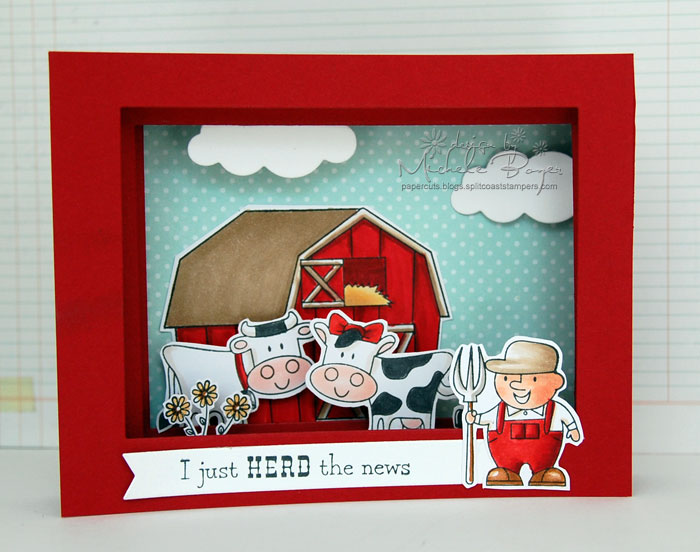 A shadow box card is not a standard card that open and closes. The magic is in the layering of the images. This particular technique includes an accordion fold on each side. The folds hold the layers within as well as compress for easy mailing.
Since the card doesn't open like a typical greeting card, a personal message can be written on the back panel, or a standard folded card may be attached to the back.
How to make a shadow box card
Before beginning, I stamped random images from the stamp set, colored and cut out each. Using a block of patterned paper cut a little larger than the card openings, I arranged the pieces until I was satisfied with the layout. I had a few pieces leftover which I will use on another project.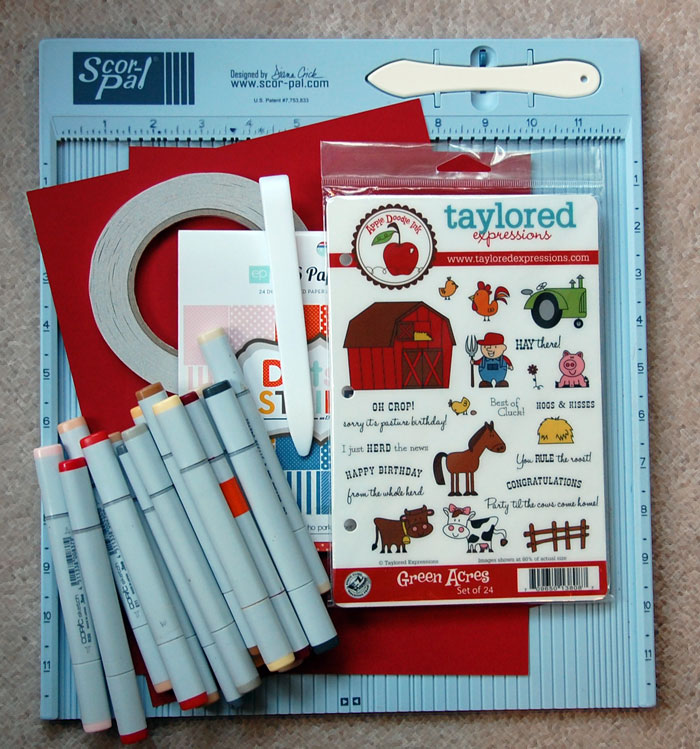 Supplies you'll need:
Paper trimmer
Scoreboard and bone folder (I used a Scor-Pal and a teflon bone folder)
1/4″ High-tack double-sided adhesive tape
4 1/4″ x 3″ Rectangle die
Cloud dies (I used Cute Clouds by Paper Smooches)
Patterned paper (I used Echo Park Dots & Stripes Homefront, 6×6)
White cardstock (I used X-Press It Blending Card)
Black ink (I used Memento Tuxedo Black)
Stamps (I used Green Acres by Taylored Expressions)/acrylic block
Copic markers (I used E00, E11, E33, E35, E42, E43, R24, R29, R30, R39, Y21, YR21, N3, N5, N7)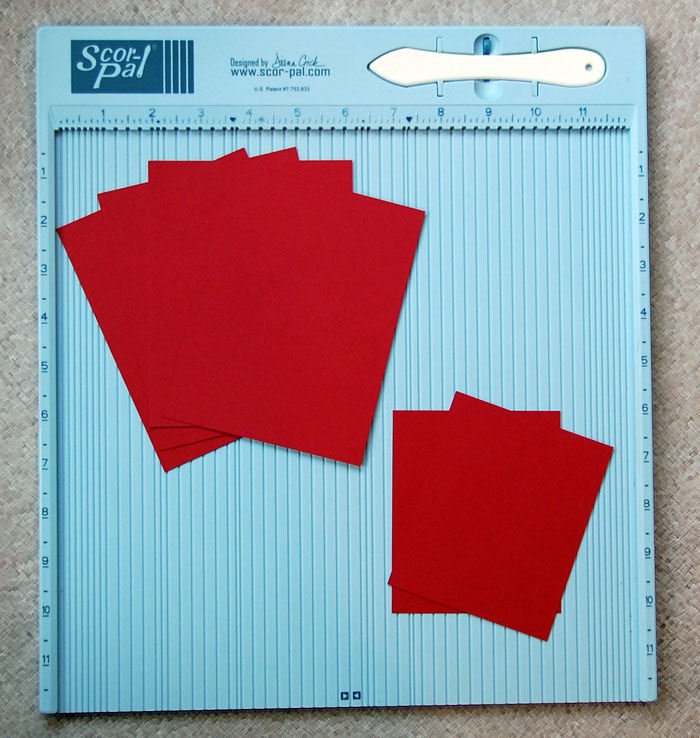 Step 1:
From the two sheets of red cardstock, cut four 5 1/2″ x 4 1/4″ pieces and two 3 1/2″ x 4 1/4″.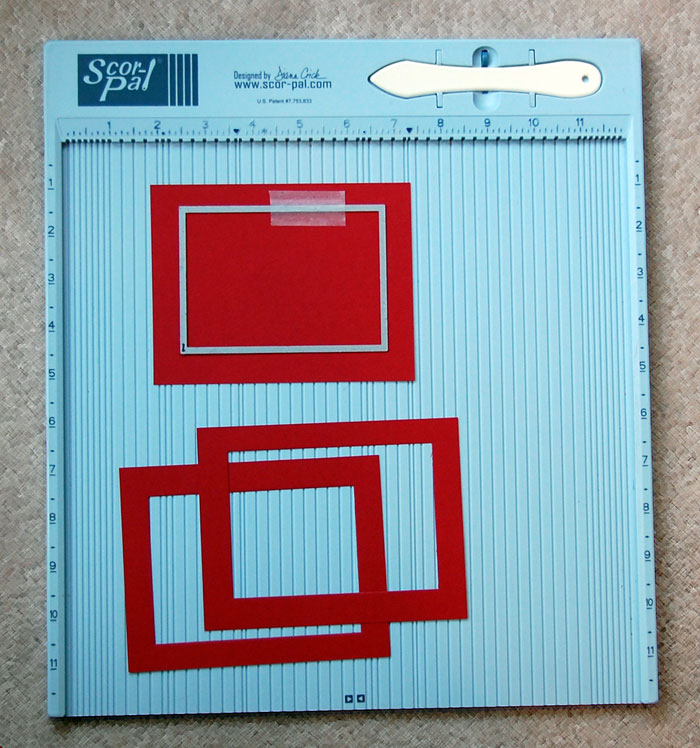 Step 2:
Centering the rectangle die from left to right onto one of the 5 1/2″ x 4 1/4″ pieces, tape and die-cut rectangle opening. I left a slightly wider border at the bottom to accommodate the sentiment.
Die-cut opening from two additional 5 1/2″ x 4 1/4″ blocks. It is not imperative that the openings align perfectly. "Close" will work.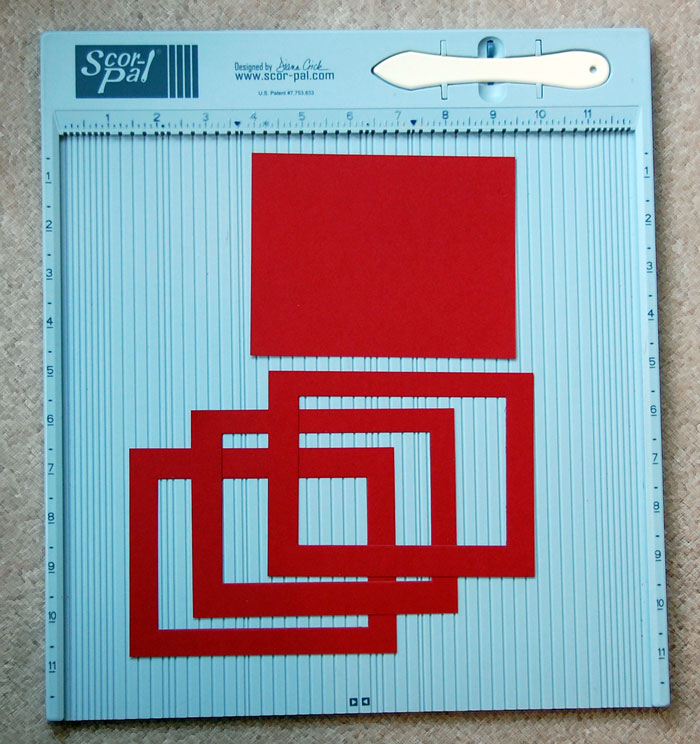 You should now have three die-cut pieces and one solid. The solid piece will create the back.
Step 3:
With the 3 1/2″ edge at the top of the Scor-Pal, use a bone folder to score every 1/2″. Repeat with second 3 1/2″ x 4 1/4″ piece.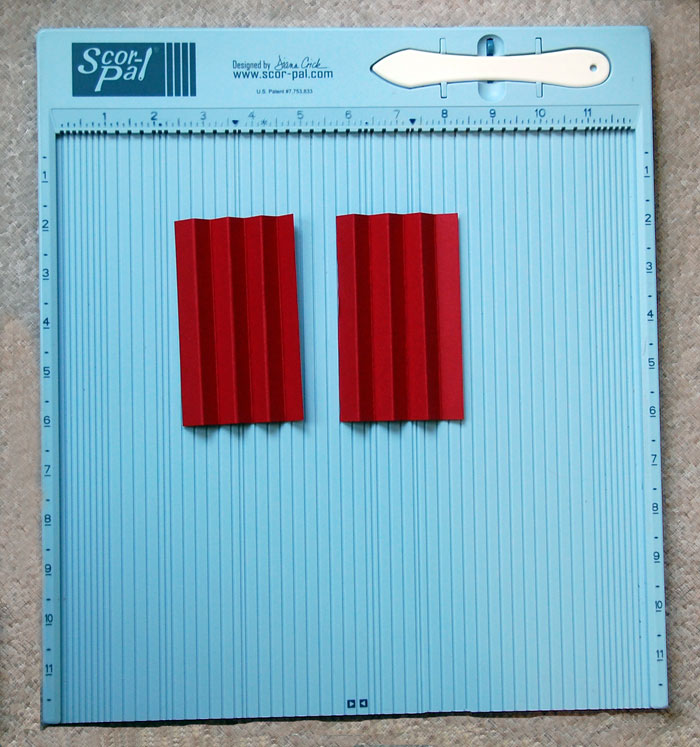 Step 4:
Fold along score lines to create accordion-type folds. Use bone folder to firm creases.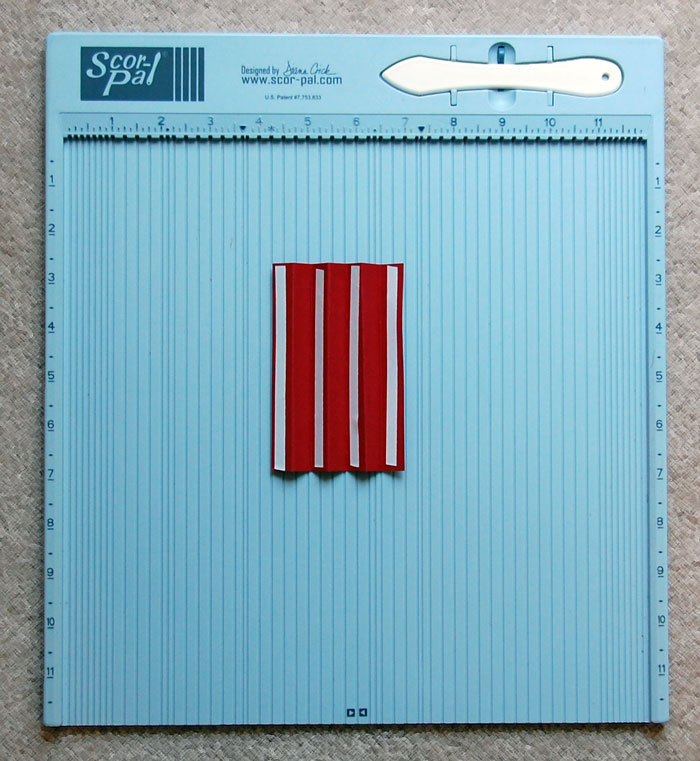 Step 5:
Adhere double-sided tape to left side of first fold, then every other fold. Repeat with second accordion piece.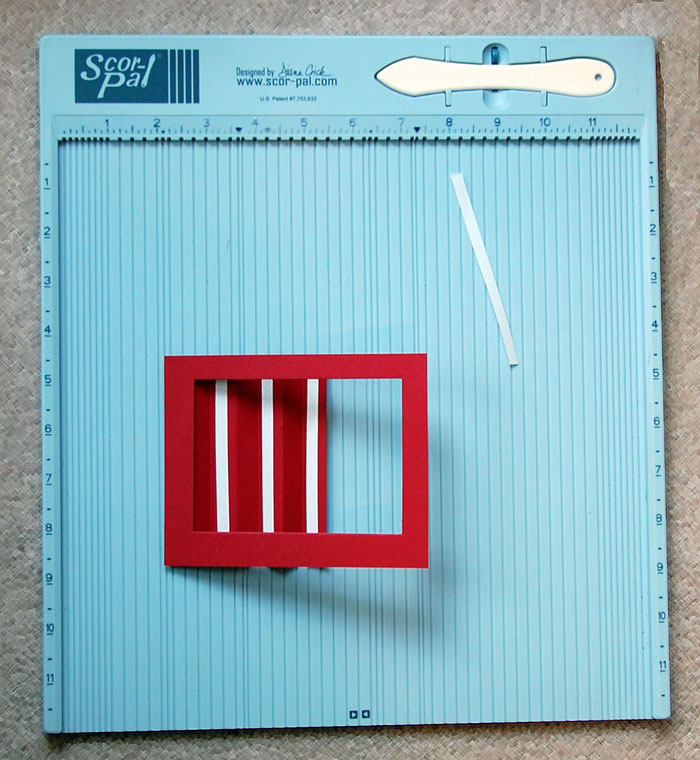 Step 6:
Remove adhesive backing from first fold. Align left edge of first frame and adhere.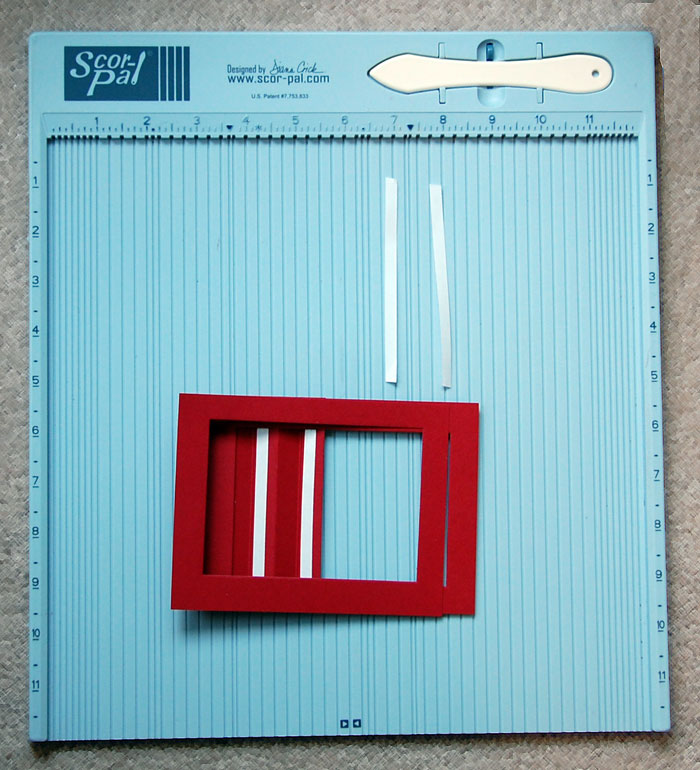 Step 7:
Remove second strip of adhesive backing. Align left edge of second frame and adhere. Repeat with remaining frame and back.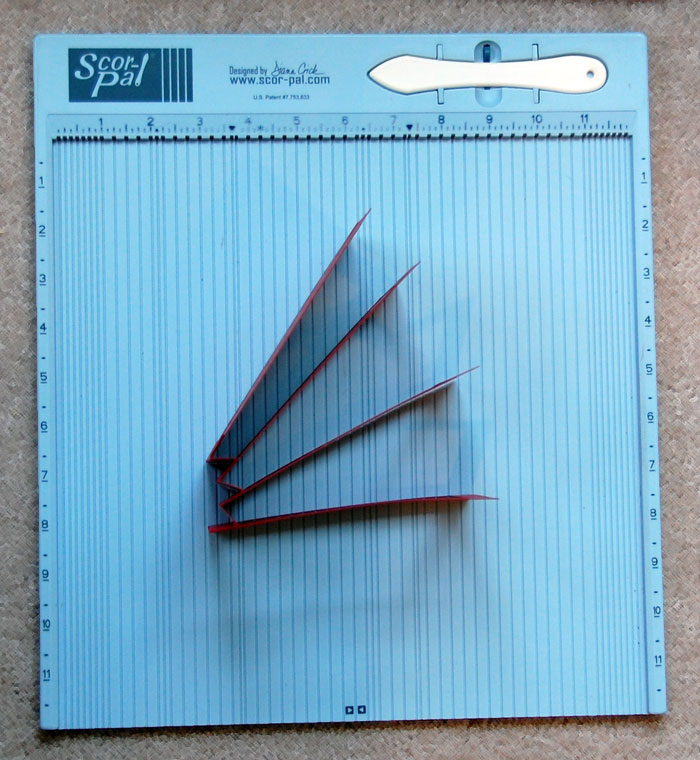 The assembled piece should like this (above).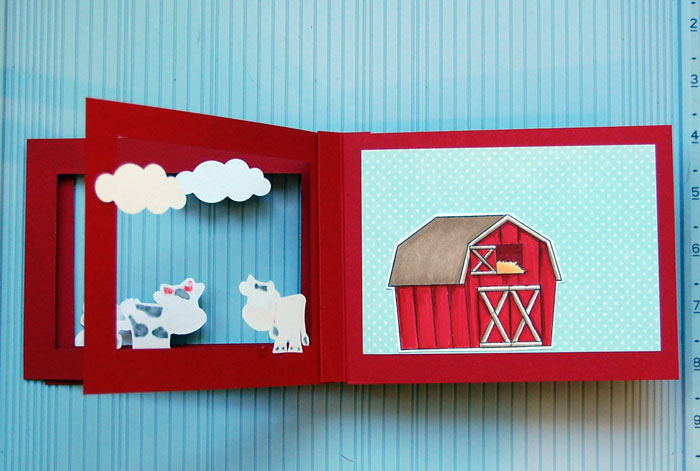 Step 8:
Adhere patterned block to the inside of the back panel. Layer stamped/colored and die-cut pieces throughout. I adhered one cloud and one cow to the back edges of the last frame. On the middle frame, I adhered a cloud, a cow, and the flowers.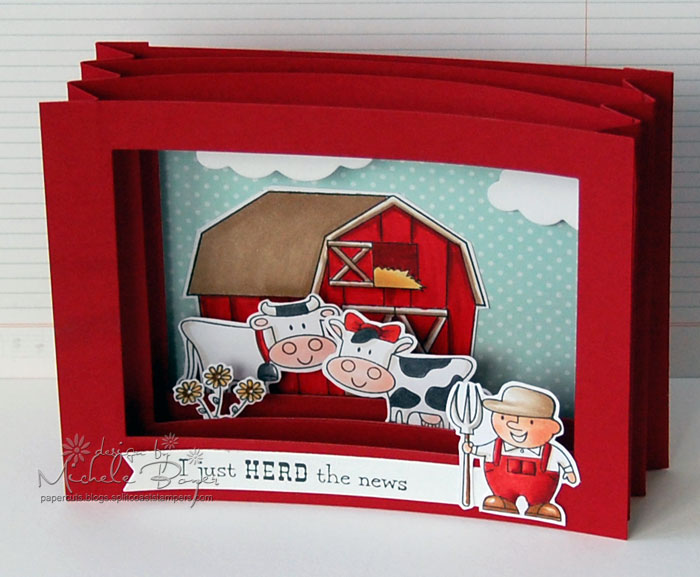 Step 9:
Once all stamped pieces are in place, adhere the second accordion piece as in Steps 6 and 7. If necessary, trim right frame edges before adhering to ensure that card folds flat when compressed.
Finish front of the card as desired.