New to quilting? You've probably heard the term "quilt sandwich" tossed about, and you might be wondering what it is. Simply put, a quilt sandwich is the two layers of fabric and one layer of batting that are "stacked" on top of each other just before the quilting process. You've pieced together a quilt top and back and you're hungry for the next step in making your quilt; now what?
Read our foolproof recipe below for how to make a quilt sandwich!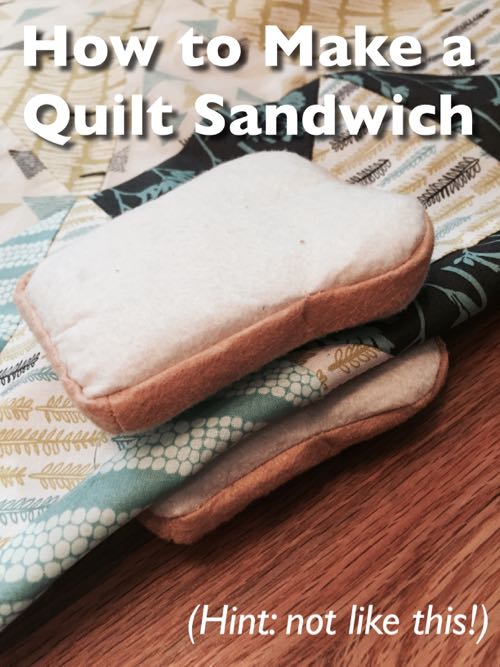 What is a quilt, anyway?
The quilt sandwich is actually what makes a quilt a quilt! What differentiates a quilt from a blanket is multiple layers of fabric and batting stitched together. The result is a somewhat lofty, puffy and warm comforter or throw, and the different layers of fabric allow the stitching to stand out. (It's worth noting that summer quilts sometimes leave the batting out on purpose, but they still include a top and a back.) In theory, making a quilt sandwich is easy, but here are a few tricks to make sure that yours is smooth, straight and free from wrinkles!
1. Prepare your pieces
Your quilt back should be at least 3″ larger than your quilt top on all sides, and it's a good idea to make your batting the same size as that quilt back. While you'll trim your whole quilt after it's finished, now's also a good time to make sure your quilt top is straight and square; it will make quilting easier.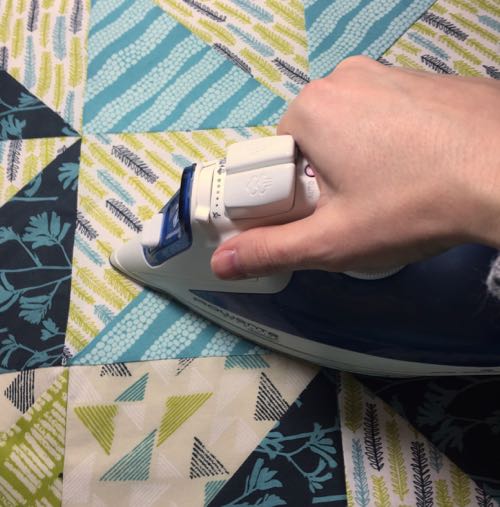 Photos via Right Sides Together
Perhaps the most important step in getting a wrinkle-free quilt is pressing. Press your quilt top and back, preferably with starch, and make sure that your seams are all pressed either open or to the side, as you decided when you stitched them together. If your batting has wrinkles, don't iron it! Instead, throw it in the dryer with a wet washcloth or sprinkle it with water first. This will get any residual folds or wrinkles out of the batting so that you're starting with a clean, flat surface.
2. Arrange and baste your layers
When you're reading to assemble the quilt sandwich, it will go together like this: the quilt back goes down first, wrong-side up, on your floor or table. Follow this with the batting, then lay the quilt top right-side up. Somehow, you will need to baste (or secure) the layers together. Again: easy in theory, a bit more difficult in practice.
There are many, many different approaches to arranging and basting a quilt sandwich. You can use basting pins (which look like bent safety pins), washable adhesive quilting spray or needle and thread to make long stitches across the quilt at regular intervals. If you're just beginning, pins might be the best option; if you make a mistake, they're less "permanent" than the stitches or basting spray.
It's better to err on the side of too many pins or basting stitches than not enough. If you don't secure the layers together sufficiently, they'll start to bunch or wrinkle as you quilt.
For larger quilts, I enjoy the board basting method, which I think is a great technique to avoid introducing wrinkles into the sandwich as you line up your layers. I also recommend using masking tape to tape down the quilt back to the floor so that it doesn't slide around.
3. Get quilting!
Once you've basted the layers together, start quilting! All the layers should feel securely fastened. If you're working on a home machine, begin quilting in the middle of your sandwich so that any irregularities can be smoothed to the perimeter. Happy stitching!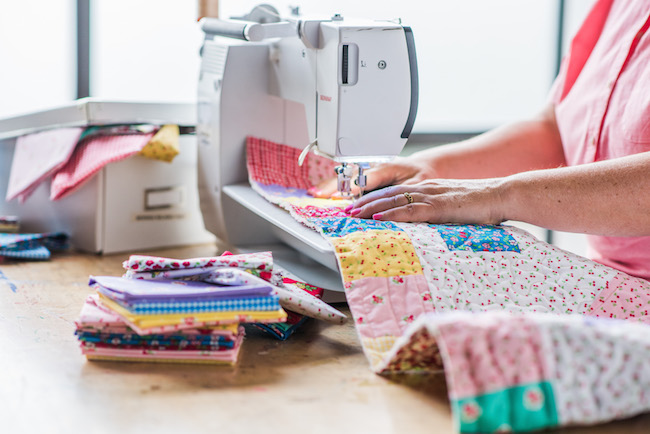 Learn How to Quilt
See the entire quilting process, step by step. Plus, you'll find patterns, projects, and our comprehensive beginner's quilting class.See the Tutorial