Looking for a show-stopping dessert? Look no further!
We're going to learn how to make an incredible piñata cake that's sure to be a hit at your next celebration!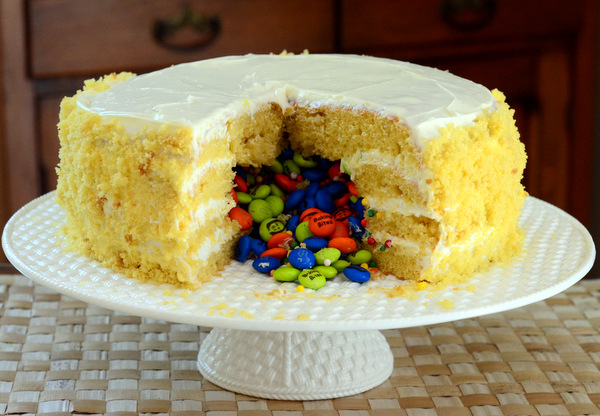 Photos by Nicole Weston of Baking Bites
Piñata cakes are all about the assembly. Essentially, a layer cake is hollowed out to create a space that you can fill with candies, sprinkles and other goodies — goodies that will spill out into a colorful display as soon as you slice into the cake.
Piñata cakes can be made in almost any size, from a small, single-serving cake to a full-sized layer cake. I used 9-inch round cake layers in the cake pictured here and opted to work with a classic vanilla layer cake recipe, however you can use any cake and frosting combination that you like.
You will need:
Four layers of cake
Your favorite frosting
A variety of small candies, such as M&Ms or jelly beans
Assembly
Step 1: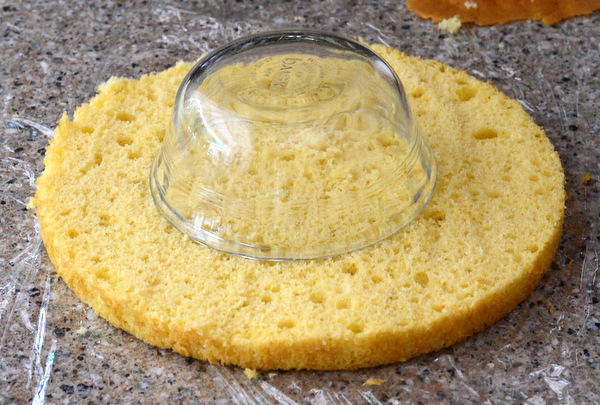 Remove the center from two of your cake layers, giving each layer a ring shape. To do this, place a small bowl in the center of each layer and trace around the edge of the bowl with a knife, then lift out the inner circle.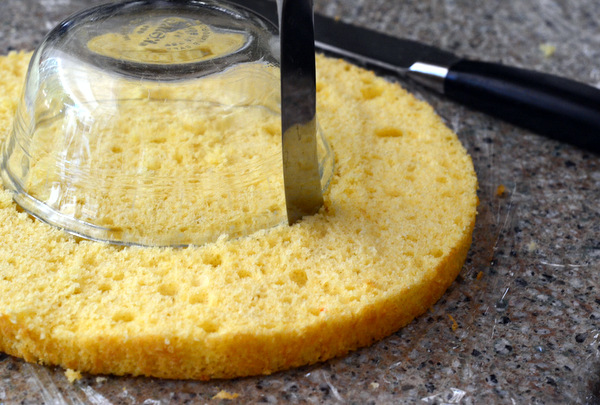 The circles should be no more than half the width of the cake. This will ensure that you have room for plenty of piñata filling, while still having a cake that is very stable.
Step 2: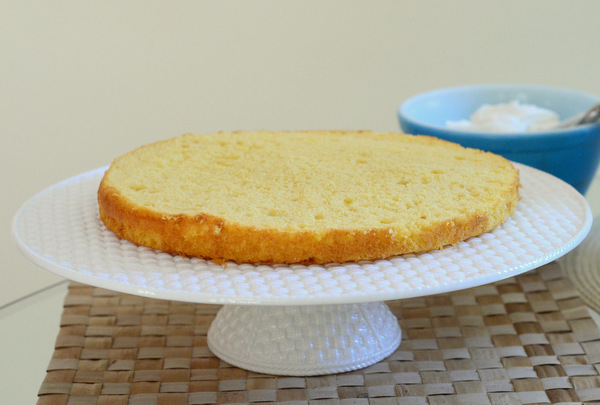 Place one full layer of cake on a cake plate or other serving platter.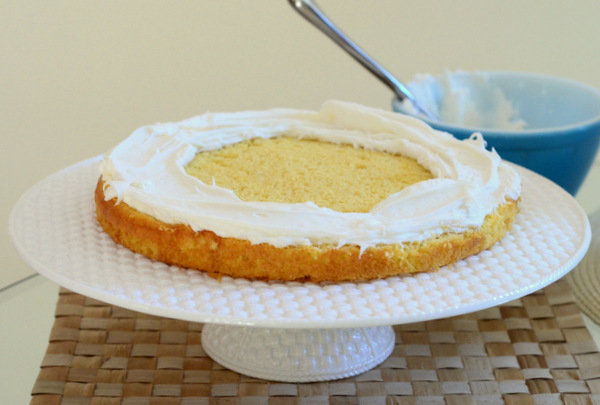 Spread frosting around the edge of the base layer, forming a ring that is approximately the width of one of your ring-shaped layers of cake. You don't want to have too much frosting inside the inner cavity of the cake, or your candy filling will stick in place instead of spilling out.
Step 3: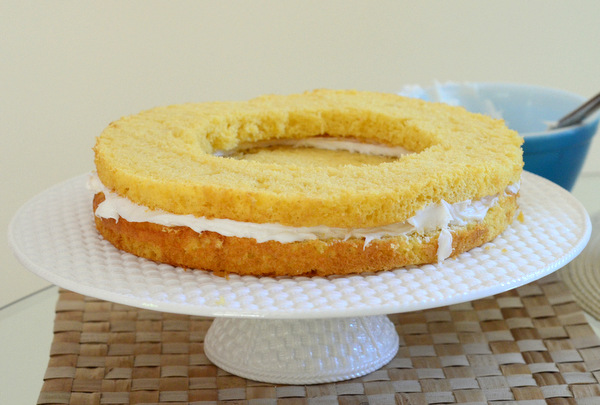 Place one of the ring layers on top of the ring of frosting. Repeat with the next ring-shaped layer of cake.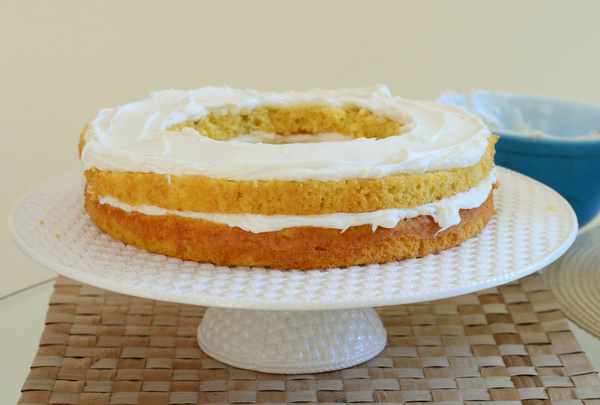 Step 4: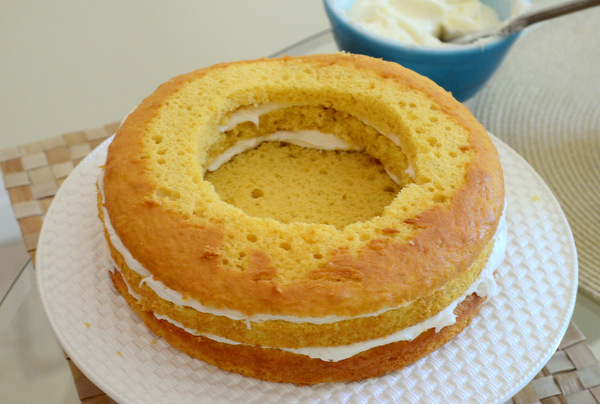 Now your cake has a hollow center. Fill it with the candies of your choice. I used a combination of M&Ms and rainbow sprinkles. The M&Ms are tastier and look more impressive when they spill out of the cake, however the sprinkles add a nice additional pop of color. Fill the cavity as close to the top as possible.
Step 5:
Frost the top ring of cake and place the remaining cake layer on top. Your cake is now ready to frost and decorate in any way you would like.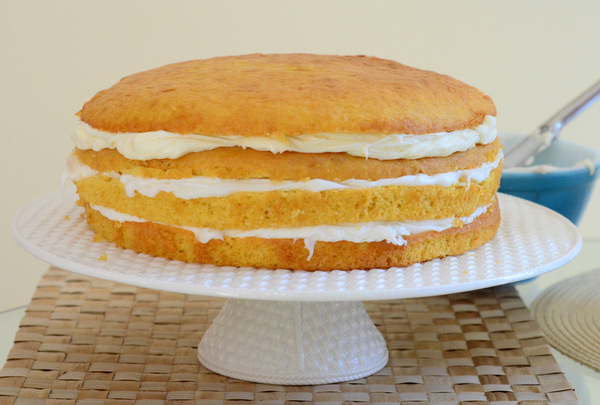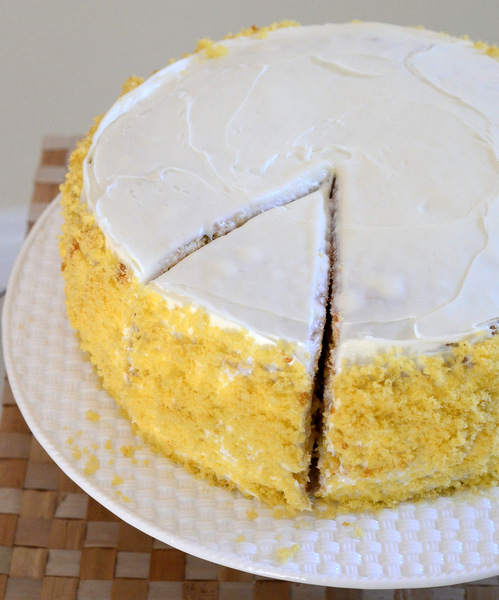 I coated my cake in vanilla buttercream, beginning with a crumb coat to ensure that the final frosting looked neat and clean, and pressed extra cake crumbs onto the sides of the cake. This is a very easy cake decorating technique that is also an excellent way to use up the cake that you cut out of the center cake layers – if you didn't snack on them while you were working!