What is the one thing all paper crafts enthusiasts have in common? No matter how big a craft room you may have — or how small a corner in the dining room you've carved out — there is one thing that is true of all of us: we sure know how to make a mess! Sometimes I like to joke that half my job is just figuring out how to corral and contain my insane mess of paper crafts supplies — it can get overwhelming pretty quickly.
I have found one of the best ways to ensure an easy cleanup is to have pretty and functional storage for everything. The pretty paper bowls I'll show you how to make today are a perfect way to keep the inevitable odds and ends in your stash organized.
Follow along with this fun tutorial to learn how to make a paper bowl to corral all your crafting supplies!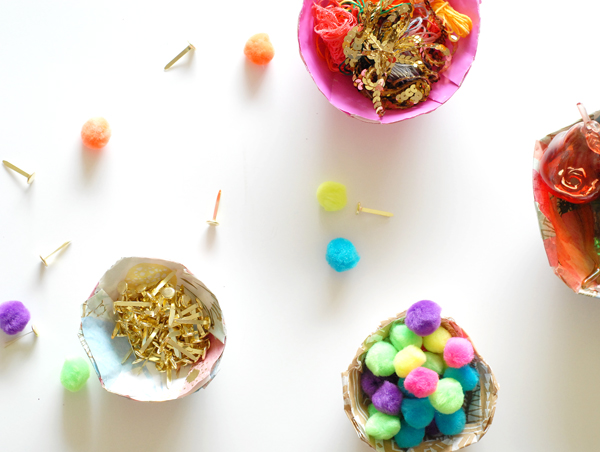 How to make a paper bowl
You will need:
Scraps of paper for molding*
Mod Podge
A small bowl to use as a template
*Note: I like to use thinner paper (think wrapping paper) for this project. They allow for some really fun textures. Thicker papers will be sturdier, but tend to be more more difficult to mold into place.

Directions
Step 1:
Cut strips of paper about 1″ wide and long enough to go completely over the bowl you are molding it against.
Step 2:
Fill a bowl with Mod Podge and dredge the paper inside until it is fully wet.
Step 3:
Lay the wet paper over the bowl. Repeat the steps until the entire circumference of the bowl has been filled. If you have a patterned paper, don't worry too much about matching the design. The differing texture gives the bowls a great design look.
Step 4:
Allow the bowl to fully dry for about 24 hours. Once dry, lift the bowl off the mold and trim around the edges.
Step 5:
Turn in the edges and glue them down.
If the paper used is one-sided, the inside of the bowl will look white. Leave it as is (if you like the look) or cut a section of the paper to fit into the bowl and gently Mod Podge the paper (right side up) so that the inside will match the outside. Fold the edges down over the paper to finish off.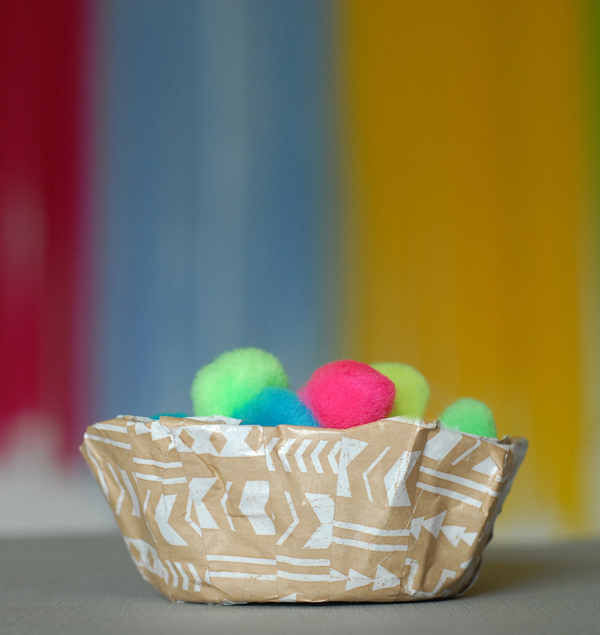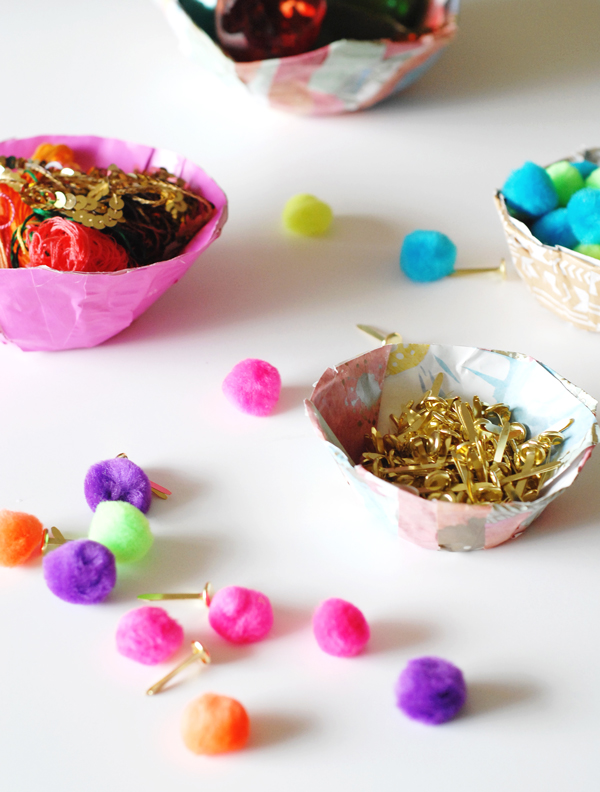 Fill these bowls with all the goodies you can manage and set out for display. They keep my tiniest (and often prettiest) supplies right on hand and in good grabbing distance for my next paper crafts project. These would also make a fun gift for your paper-loving friends.