Sweater knitting is no simple feat. In fact, all the steps before the actual knitting are just as important as the sweater itself! You're going to spend a lot of hours knitting the sweater, so you'll want to do everything you can to ensure you're ready to knit. And trust us when we say that all that extra work is worth it. Do the prep work and knitting the sweater will be smooth sailing!
Use this little checklist to plan your next knitted sweater project from start to finish.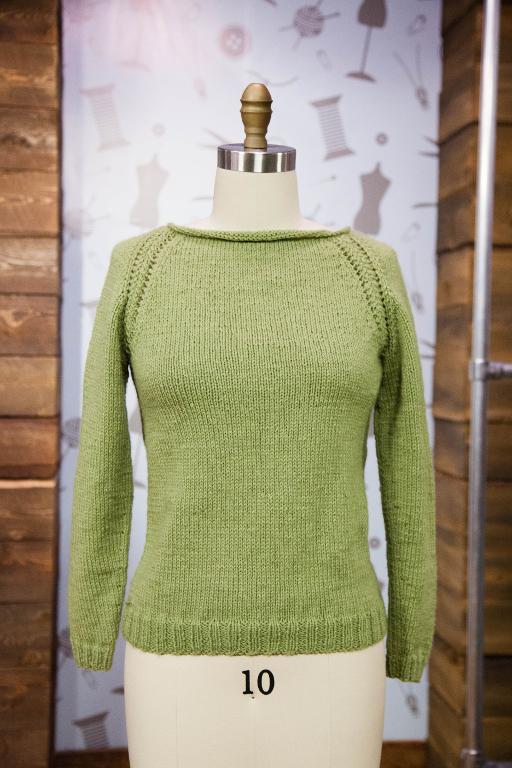 Photo via Craftsy instructor Amy Ross
1. Choose a style
Who is your sweater for? Does the recipient like loose sweaters with a lot of positive ease? Maybe the wearer would prefer a tighter fit. You should also consider the sweater style. It could be a pullover — like the one shown above from Amy Ross's My First Sweater class — or even a cardigan.
2. Size it up
If you're knitting the sweater for yourself, ask a friend to help take your measurements. If you're knitting the sweater for a friend or family member, you'll need to measure them. Write down all the measurements so you can match them to the correct pattern size.
4. Go yarn shopping
Are you happy with the yarn suggested in the pattern? Is it easy to find? Great! You're all set. But if you need to make a yarn substitution, things can get tricky. Be sure to substitute a yarn that will help you achieve the same gauge as the pattern, otherwise you'll end up with a really funky-looking sweater. Our yarn substitution how-to can help you out with that.
5. Pick a pretty palette
My favorite part of knitting a new project is choosing a color. Think about the colors the recipient of the sweater wears most. Do they wear more neutrals, or are they a fan of bright colors? You might even consider using more than one color. In that case, consider using a color wheel and you might even discover some new color combinations.
6. Get to know the stitches
After you've chosen a pattern and yarn, you'll need to swatch. The swatching step is also a great time to test out some of the stitches and techniques in the sweater pattern. Does your sweater have an eyelet border? Practice those yarn-overs when you swatch. If there are any special stitches, practice those now, too, so that when you knit the sweater, there won't be any surprises.
7. Conduct some knitting research
Read over the entire pattern before you get started. Is there anything there that looks unfamiliar? Look up any abbreviations or stitches you've never knitted and get all that squared away before you even pick up a needle.
If knitting an entire sweater on your own is both daunting and frightening, we have a solution: Amy Ross's My First Sweater class!
Amy will walk you through creating each piece of the sweater, from the sweater back right down to the sleeves.
And every student's sweater looks different because there are so many combinations to choose from, including three variations on the actual sweater. Just check out the student project photos and you'll see what I mean!
Have you tried to knit a sweater yet? How did it go?